It's true what they say — all the great ones are a little bit crazy. And Taylor Swift, being such a genius at music making, is no exception. Her new album, 1989, sold 1.287 million copies in the first week of its release. It is also already the second biggest seller of 2014, just right after Disney's Frozen soundtrack. Note that Taylor either wrote or co-wrote all of the songs in this album, so you could say the girl is truly sick — and we mean that in a good, super-brilliant way.
Speaking of which, the singer-songwriter actually went ahead and admitted that she can be a little "insane" in her new music video, "Blank Space," which was released yesterday. The reception for this particular single has been massive, and the video has certainly done it justice. Once you see it, you'll understand why.
"Blank Space" is about how the media portrays Taylor as a serial dater — a reputation that she was more than glad to write about. It's filled with humor, and you'll find Taylor demonstrating some cool acting chops. The song is also very catchy, but the highlight of the video would have to be the fashion. You'll see the former country crooner in a plethora of outfits and heels worth daydreaming about.
Among the many looks Taylor put out for this video, what really stood out for us was the bold all-leopard attire she wore as she broke down and went cuckoo after finding out that her man (male model Sean O'Pry) was cheating.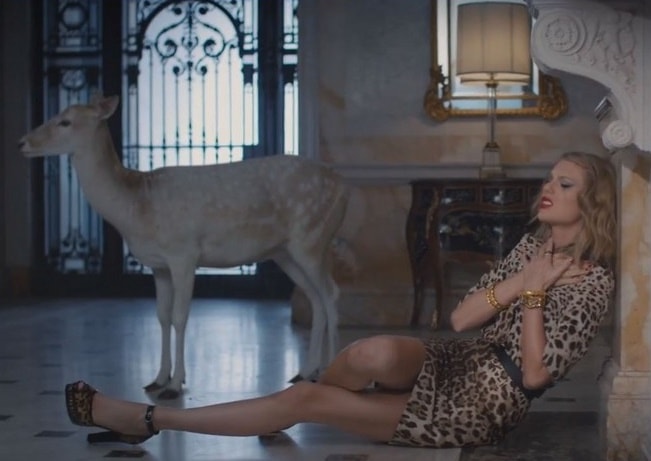 Taylor Swift getting animalistic in two doses of leopard as she goes insane over her leading man (Sean O'Pry) in the music video for "Blank Space"
We don't know who made the leopard-print dress, but we did manage to find out where the successful recording artist scored the leopard-print heels. Well, sort of.
There's no official word yet, but the animalistic platform sandals appear to be these ankle-strap shoes from Ralph Lauren. Ultimately, what make these shoes unique are the bold leopard-print calf-hair add-ons decorating the insets of the 1.25-inch-thick platforms:
Ralph Lauren Leopard-Print Calf-Hair Sandals, $995
The sandals also feature black patent leather trim around the edges, black ankle straps, and black 5-inch-tall self-covered heels. If you fancy Taylor's sandals, you can find them on the Ralph Laurent website. We have no doubt they'll sell out soon, considering the recent publicity. For gals on a budget, you can try the following animal-print sandals under $150:
Privileged "Huff" Platform Sandals, $110
Jessica Simpson "Carys 2" Sandals, $110
Credit: YouTube