Few brands scream 'British fashion' as loudly as Ted Baker. The brand has a loyal following among influencers, celebrities, and even the Princess of Wales. The British high-street brand offers high-quality and classic fashion at a more accessible price point than its designer counterparts.
Ted Baker has expanded internationally in recent years with a growing presence in the United States. It's the perfect choice if you're building a capsule closet, investing in workwear, or want to elevate your everyday style.

Ted Baker is a British high-street clothing company known for its suits, shirts, and dresses
We're deep-diving into the world of Ted Baker to determine whether it's worth the price tag and what products are the most popular from the brand.
Ted Baker: A Brand With a Glamorous Backstory
Ted Baker was founded by Ray Kelvin, who gave the brand the name of his self-styled fashion alter ego. Kelvin described Ted Baker as an "intrepid aviator, an all-round sportsman and the consort of princesses and Hollywood beauties."
This glamorous backstory remains at the brand's heart, focusing on classic silhouettes and high-quality fabrics. Ted Baker originally operated as a shirt specialist with a slowly expanding menswear collection.
The original Ted Baker store was opened in Glasgow in March 1988 before other stores quickly popped up across Britain, with its first store opening in London in Covent Garden in 1990. The 'Ted Baker Woman' range was introduced in 1995 after the brand originally launched as a menswear brand.
Ted Baker was founded in Glasgow, Scotland, in 1988 before it opened its first London store in Covent Garden in 1990 (Credit: William Barton / Shutterstock)
Ted Baker has focused on quality since its inception, gaining a reputation for its subtle but quirky style with an attention to detail. The early Ted Baker stores offered a laundry service for each shirt purchased, giving the brand the tagline "No Ordinary Designer Label."
It's one of the fastest-growing lifestyle brands in the UK, with a wide range of product categories, including womenswear, menswear, accessories, footwear, eyewear, watches, fragrances, and workout wear.
While Ted Baker has its flagship stores internationally, you'll commonly find the brand at leading department stores, including Bloomingdale's and Nordstrom.
How Does Ted Baker Sizing Work?
Ted Baker doesn't use a standard sizing chart for its clothing. When shopping at Ted Baker, the numbers typically range from 0 to 5. These sizes convert to a US women's size 2 to 12.
You'll want to use Ted Baker's size converter to determine what your Ted Baker size is by comparing it to your standard US size.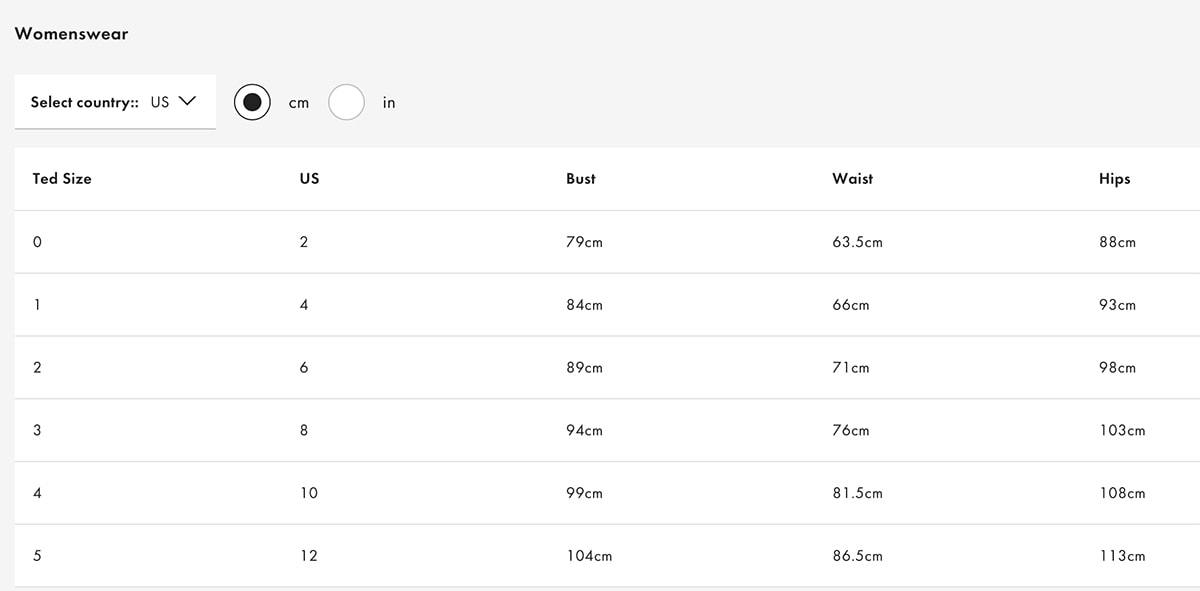 Sizes for Ted Baker range from 0 to 5, which corresponds to US women's sizes 2 to 12 (Credit: Ted Baker)
It's worth noting that Ted Baker sizing can differ between products. We recommend checking the sizing guidance for the item you want to determine the correct Ted Baker size before ordering.
Is Ted Baker a Luxury Brand?
Ted Baker is a luxury high-street brand at an accessible price point. While it's not as expensive as heritage brands like Burberry, Ted Baker encapsulates the traditional British fashion trends with a similar quality as brands at a significantly higher price point.
A luxury high-street brand, Ted Baker offers high-quality clothing for men and women at an accessible price point
Ted Baker is a brand that offers a juxtaposition – giving customers high-quality craftsmanship at a more entry-level price as a high street brand.
While you won't often see Ted Baker referred to as a 'luxury brand,' it's a designer high-street brand famous for its quality and craftsmanship.
Ted Baker's Most Popular Products
Ted Baker offers a full range of clothing, accessories, and lifestyle products. While they release seasonal collections, you'll see some hero products re-released each season in new color options.
One of Ted Baker's most popular categories is its outerwear. You'll regularly see news presenters and public figures wearing Ted Baker's famous wool wrap coat.
Ted Baker's popular products include its wool wrap coats and the Icon bag
Other best-selling Ted Baker products include its 'Icon Bag' with the signature Ted Baker branding. Bow detailing and floral prints appear throughout the Ted Baker product range, featuring heavily in its nightwear and accessories. You'll find similar patterns to luxury brands like Zimmerman at a more accessible price point.
Among Ted Baker's best-selling products are its makeup and cosmetic bags. These washbags come in leather and PVC for easy wear, with most retailing under $50.
Ted Baker's makeup and cosmetic bags are one of its best-selling products
Who Owns Ted Baker?
Authentic Brands Group acquired Ted Baker in October 2022 for £211 million. The acquisition took Ted Baker off the London Stock Exchange and returned it to being a private company.
Authentic Brands Group acquired Ted Baker in October 2022 to diversify its portfolio with international brands
Authentic Brands Group acquired Ted Baker in October 2022 after a period of financial downturn. Ted Baker is now focusing on a licensing business model, which means that Authentic Brands Group will license the Ted Baker brand to other companies to design, produce, and sell Ted Baker products.
It acquired Ted Baker as part of its plans to diversify its portfolio with brands outside the United States, bringing international brands stateside. Authentic Brands Group also plans to continue Ted Baker's expansion across Asia.
Are Ted Baker Watches Worth It?
One of Ted Baker's best-selling product categories is its watches. The Ted Baker watches are stainless steel, designed to stand the test of time with a hardwearing face.
These watches are fitted with a Japanese movement and are popular for their durability. Ted Baker watches typically retail between $150 and $200.
Ted Baker watches are fitted with a Japanese movement and are popular for their durability
Where Can You Buy Ted Baker in the US?
Ted Baker products can be purchased directly through the brand's US website or official stockists. Zappos is the leading stockist of Ted Baker in the United States.
Ted Baker has several stand-alone stores throughout the United States, including the Mall at Millenia and King of Prussia. Ted Baker also operates outlet stores in several popular locations, including Las Vegas, Orlando, and San Francisco.
Ted Baker can be purchased through the brand's website, official stockists, and stand-alone stores (Credit: JHVEPhoto / Shutterstock)
You can find your nearest retailer in the United States using Ted Baker's store finder.
Frequently Asked Questions About Ted Baker
1. Are Ted Baker Suits Expensive?
Ted Baker is a popular choice of brand for workwear and evening wear. Its suits are also amongst the best-selling styles for weddings. As a premium high street brand, you can expect to pay between $500 and $650 for a men's Ted Baker suit jacket and $250 to $350 for trousers.
2. Is Ted Baker from London?
Although Ted Baker is a famous British brand, it was established as a shirt specialist in Glasgow. The brand has several stores across London, with its flagship in Regent's Street.
3. Is Ted Baker a Designer or a High Street Brand?
Ted Baker is a premium high-street brand that offers luxury, high-quality clothing at an accessible price point.