Since premiering in 2020, Ted Lasso has seemingly taken the television world by storm with its unique blend of feel-good comedy and its talented cast, helmed by Jason Sudeikis (who plays the titular character).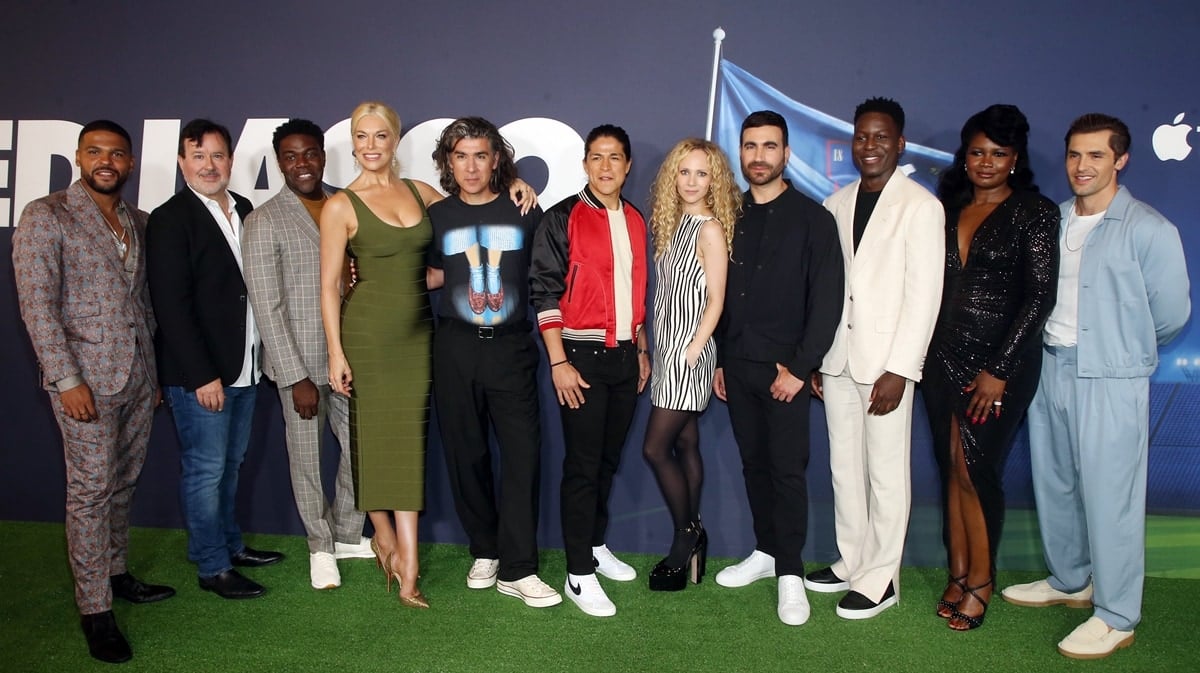 Ted Lasso cast members Kola Bokinni, Jeremy Swift, Sam Richardson, Hannah Waddingham, James Lance, Cristo Fernández, Juno Temple, Brett Goldstein, Toheeb Jimoh, Sarah Niles, and Phil Dunster attend the Los Angeles FYC Special Screening of Apple TV+'s "Ted Lasso" at The Maybourne Beverly Hills on July 18, 2022, in Beverly Hills, California (Credit: Faye's Vision / Cover Images)
With two seasons released thus far, Ted Lasso is obviously doing something right. The show has even managed to clean up in the awards department, with the first season boasting 20 Primetime Emmy Award nominations, a record for a new comedy series.
At the 2020 and 2021 Primetime Emmy Awards, the show took home the Award for Outstanding Comedy Series, beating out popular comedy shows like Curb Your Enthusiasm, Hacks, and Barry.
Jeremy Swift, Moe Jeudy-Lamour, Hannah Waddingham, Jason Sudeikis, Juno Temple, Cristo Fernández, Brendan Hunt, and Brett Goldstein attend Apple's "Ted Lasso" Season 2 Premiere at Pacific Design Center on July 15, 2021, in West Hollywood, California (Credit: Faye's Vision / Cover Images)
In this article, we'll look at the talented cast that makes it all happen while ranking them by height. Lets get into it!
1. Jason Sudeikis (Ted Lasso) – 6ft ¼ in. (185.42 cm)
The show's protagonist, Jason Sudeikis, clocks in at a respectable 6ft and ¼ in. The actor, who's primarily known for his comedic roles, was born in 1975 in the city of Fairfax, Virginia.
Hannah Waddingham and Jason Sudeikis on the blue carpet with their much shorter Ted Lasso co-star Juno Temple (Credit: Abby Grant / Cover Images)
At a young age, his family eventually relocated to Kansas, where Sudeikis pursued his ambitions to become a basketball player, enrolling at the Fort Scott Community College on a basketball scholarship. This was short-lived, as Sudeikis dropped out of school before completing his studies.
He got his acting start in comedy improv groups in Chicago before getting his big break by being hired to join the cast of Saturday Night Live, in which he took part from 2005-2013.
He experienced his breakthrough into Hollywood cinema with popular roles in comedy films like Horrible Bosses (2011), where he starred alongside Jason Bateman and Charlie Day.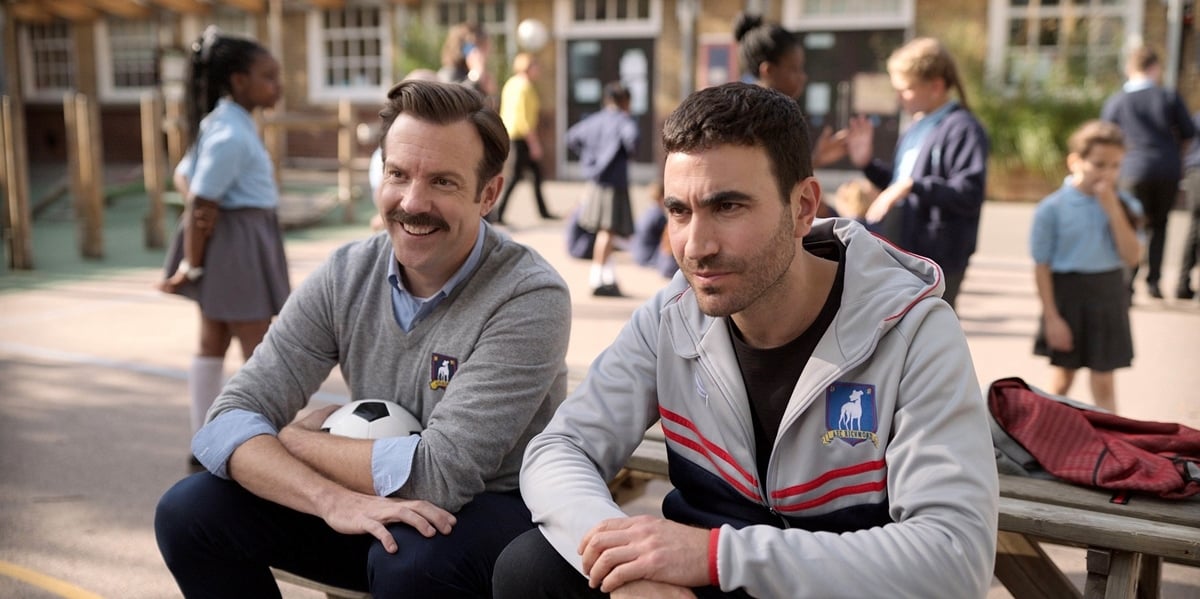 Brett Goldstein as Roy Kent and Jason Sudeikis as Ted Lasso in the American sports comedy-drama television series Ted Lasso (Credit: Apple+)
Since 2020, he's played the role of Ted Lasso, the lovable American football coach thrust into a fish-out-of-water situation when he's tasked with coaching an English football club called AFC Richmond.
Sudeikis co-developed the television show, so the casting process for the show was certainly different than it would be if he had to audition for the role!
2. Brendan Hunt (Coach Beard) – 6ft (182.88 cm)
One of the only other Americans to be cast in the show, Brendan Hunt, hails from Chicago, Illinois, where he was born in 1972.
Hunt and Sudeikis are long-time collaborators, as they both were members of the Boom Chicago comedy troupe from the late 90s to the mid-00s.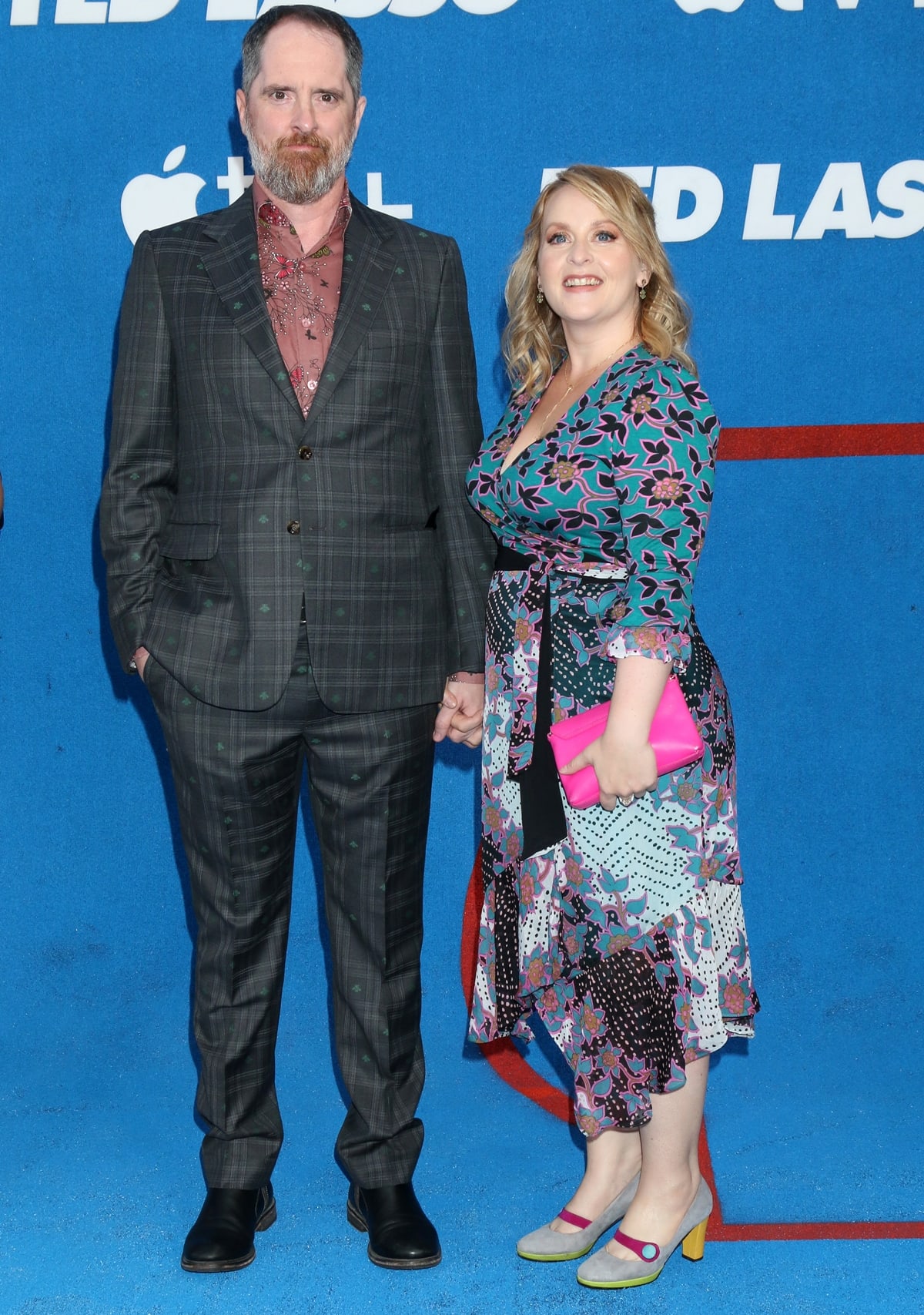 Ted Lasso co-creator Brendan Hunt is married to actress Shannon Nelson, who has appeared in Drop Dead Gorgeous and Alice And The Monster (Credit: Abby Grant / Cover Images)
In the show, Hunt plays the role of Coach Beard, who acts as coach Lasso's assistant coach and long-time friend.
The role is not too far off from reality, as Hunt is a long-time friend of Sudeikis and acted as a co-collaborator during the creation process of the show!
3. Hannah Waddingham (Rebecca Welton) – 5ft 11 in. (180.34 cm)
With a show featuring the premise of an American being hired to coach an English team, you're bound to have some English actors enter the fold as well. Hannah Waddingham was born in London, England, in 1974.
She was always enamored with the theatre, as her mother was an opera singer, and joined the English National Opera when Hannah was a child.
Hannah Waddingham in a pink tulle Dolce and Gabbana gown before the 2022 Emmy Awards held on September 12 at the Microsoft Theater in Los Angeles, where she won Outstanding Supporting Actress in a Comedy Series (Credit: Michael Simon / Startraksphoto / Cover Images)
Waddingham pursued acting and became well known for her performance as the Lady of the Lake in Spamalot, a musical-comedy written by members of the legendary British comedy troupe Monty Python.
She continued to work within the theatre before transitioning to television roles in shows like Game of Thrones and Not Going Out.
Juno Temple as Keeley Jones and Hannah Waddingham as Rebecca Welton in Ted Lasso (Credit: Apple+)
She was cast in the role of Rebecca Welton, the owner of AFC Richmond, during the development of the show.
Describing her casting process, Waddingham stated: "I just thought there was no chance at all that I was going to get this and previous to that… my little girl had been very ill when she was younger, and I went out into my garden, and I thought, I'm going to ask the universe for something, which is probably unreasonable." Looks like it wasn't so unreasonable after all!
How tall is Juno Temple?
Hannah Waddingham towers over her much shorter co-star, Juno Temple, whose height is just 5 ft 2 inches (157 cm). The two Ted Lasso actresses have become best friends despite their age difference of 15 years.
"She and I have gone more and more insular about our relationship because if you talk about it too much, it can never do justice to what she and I have found together as human beings," Waddingham told THR. Juno Temple portrays publicist Keeley Jones who works for team owner Rebecca Welton.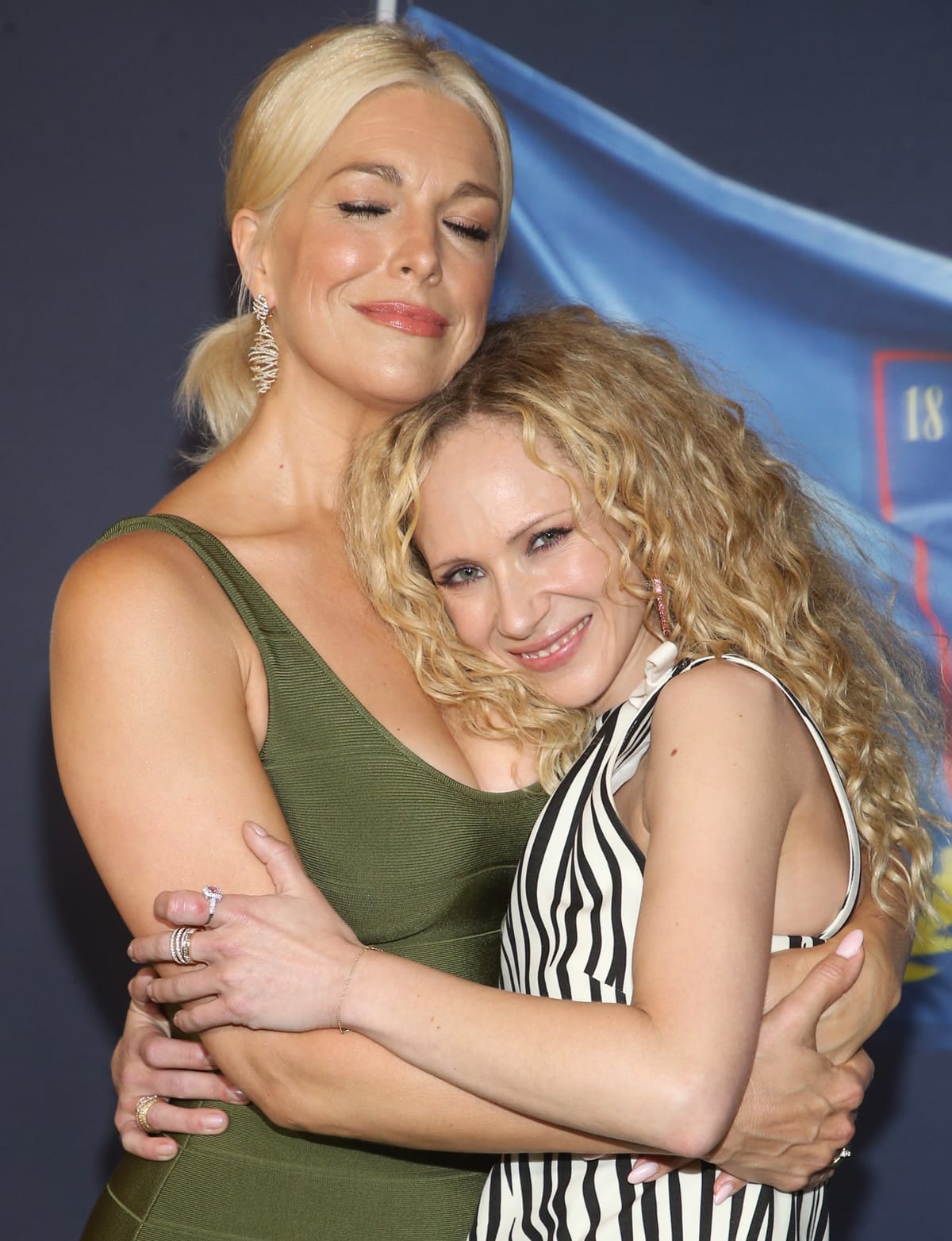 Hannah Waddingham and Juno Temple have become best friends in real life (Credit: Faye's Vision / Cover Images)
"It's not fake. It's real," Temple said about their friendship. "I love her so much, and what we have is a safe place. It's so important to put out into the world that girlfriends are the most important people in your life. Ultimately, they keep the world spinning."
4. Brett Goldstein (Roy Kent) – 5ft 10 8/4" (180 cm)
Born in London, England, in 1980, Goldstein experienced an interesting upbringing when he was forcibly relocated to Marbella, Spain, to work in a strip club that his father spontaneously purchased.
This experience fuelled Goldstein's early comedy work, and he built his first stand-up show around the experience.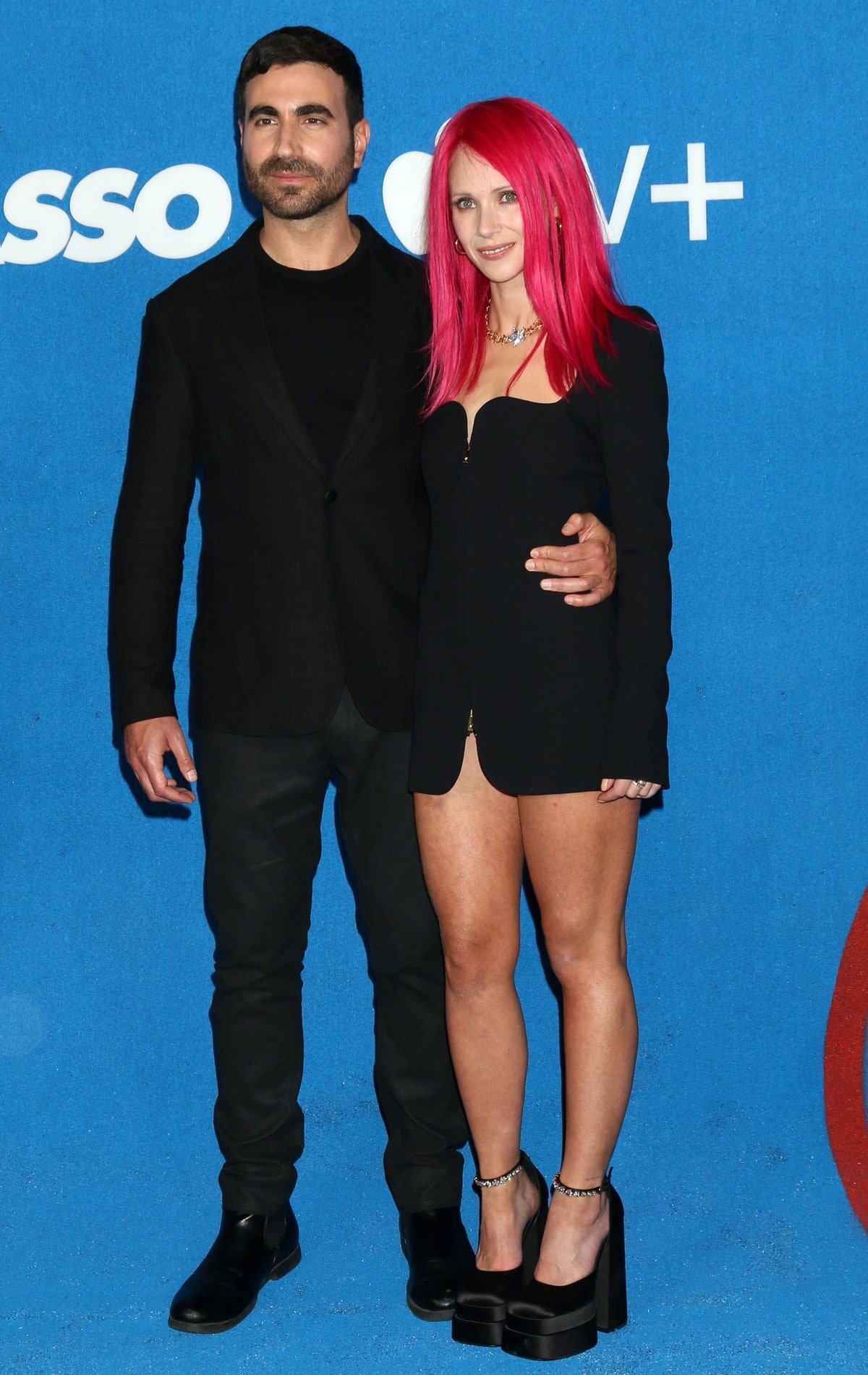 Brett Goldstein and his much shorter co-star Juno Temple play a couple on Ted Lasso (Credit: Abby Grant / Cover Images)
Goldstein was cast as the stoic veteran footballer Roy Kent in a somewhat unorthodox way. He was initially hired as a writer for the television show, eventually allowing him to be cast in the role.
Talk about a fortunate turn of events! So far, Goldstein has received two Primetime Emmy Awards for his role as Kent.
5. Nick Mohammed (Nathan Shelley) – 5ft 4 ½" (162.56 cm)
Nich Mohammed hails from the English city of Leeds, where he was born in 1980. Born to immigrant parents, Mohammed followed musical pursuits and played violin in the university orchestra at St Aidan's College.
Nick Mohammed (R) and his taller wife Becka attend the Royal Television Society Programme Awards at The Grosvenor House Hotel on March 29, 2022, in London, England (Credit: Matt Crossick / Empics / PA Images / INSTARimages / Cover Images)
He eventually found success in comedy and became a mainstay at the BBC for his roles in shows such as Reggie Perrin, The King is Dead, and Sorry, I've Got No Head, and for his recurring role of Mr. Swallow.
Mohammed was cast in the role of Nate, who is initially Lasso's friend before aligning himself with West Ham United F.C., a rival football club.
6. Jeremy Swift (Leslie Higgins) – 5 ft 4 (162 cm)
Jeremy Swift is an English actor hailing from Stockton-on-Tees, a market town in Durham. He received his big breakthrough in comedy in the 2000s, where he appeared in high-profile films such as Roman Polanski's Oliver Twist (2005), where he played the role of Mr. Bumble.
Other large roles for Mr. Swift include the role of Shaun Greenhalgh in The Antiques' Rogue Show for BBC2 and the role of Septimus Spratt in the long-running British show Downtown Abbey.
Mary Roscoe and Jeremy Swift, who have been married since 1992, attend as BAFTA celebrate "Downton Abbey" at Richmond Theatre on August 11, 2015, in Richmond, England (Credit: David Jensen / PA Images / Startraks)
Swift plays the role of Leslie Higgins in the show and won a Primetime Emmy Award for the performance as well!
In the show, Higgins acts as the assistant to Rebecca Welton, and his in-show wife, Julie Higgins, is played by his real-life wife, Mary Roscoe!
Conclusion
Although the multiple Emmy awards the show (and its cast) has accrued should be proof enough that this show is worth watching, we truly believe that everyone could find enjoyment in the upbeat, happy-go-lucky comedy Ted Lasso.
If you haven't seen it yet, what are you waiting for? Check out Ted Lasso now, as its third season is currently on hold and was initially supposed to begin production in September of 2021. The third season is supposed to be the last, so catch up now and prepare for the finale!