At the premiere of her new movie The Peanut Butter Falcon, fans of Dakota Johnson noticed that she had lost her signature gap tooth.
Dakota Johnson recently explained how the space between her teeth closed
In August, the star of the "Fifty Shades" trilogy appeared on the "The Tonight Show" and explained to Jimmy Fallon how that space between her teeth closed.
"I had a permanent retainer since I was, like, 13, and it was just glued to the back of my teeth," the actress said. "And I was having a lot of neck problems recently, so my orthodontist, she decided it would be a good idea to take it off and see if my jaw sort of expanded and it helped me and my gap closed by itself and I'm really sad about it, too."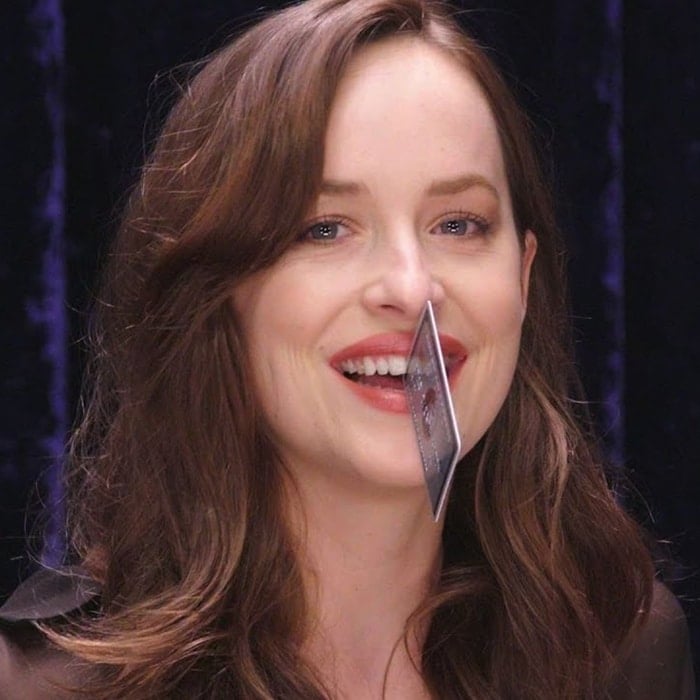 Dakota Johnson could fit a credit card between her two front teeth
"I'm sad about my gap tooth, too, so I'd really appreciate some privacy in this time," she joked about her new smile.
When Fallon commented that he thinks the gap looks beautiful, Johnson humorously replied that her world has been rocked.
"I have to deal with a whole new world of problems, getting food stuck in my tooth," she said. "'Cause before it would just slide right through."
Fans don't need to worry about her new teeth, though. Johnson said the gap will return. "Other retainers," she explained. "The world of dentistry is so advanced."
In February 2017, Dakota Johnson showed Vanity Fair just some of the things she can fit in her gap teeth. Using the gap in her teeth as a party trick, she managed to fit a range of objects including dollar bills, a credit card, and a lollipop stick.
Four years earlier, Dakota Johnson attended the 2015 Venice Film Festival photocall for "A Bigger Splash" held at Palazzo del Casino in Venice, Italy. Before fixing her teeth, she used to hide the gap between her teeth by smiling with closed lips.
Dakota Johnson hiding her teeth at the 2015 Venice Film Festival photocall for "A Bigger Splash" held at Palazzo del Casino in Venice, Italy on September 6, 2015
The then 25-year-old actress came dressed in a strapless frock from Rodarte's Fall 2015 collection.
Dakota Johnson poses in front of a backdrop at the Venice Film Festival
She styled the retro floral-printed dress with a lovely pair of sky-high suede platform sandals from US-based footwear and accessory designer Paul Andrew.
Matthias Schoenaerts, Dakota Johnson, Luca Guadagnino, Tilda Swinton and Ralph Fiennes pose at the 2015 Venice Film Festival photocall for "A Bigger Splash"
Dakota's sandals were selected by Net-A-Porter buyer Ida Petersson as "the perfect platform for Fall-Winter '15."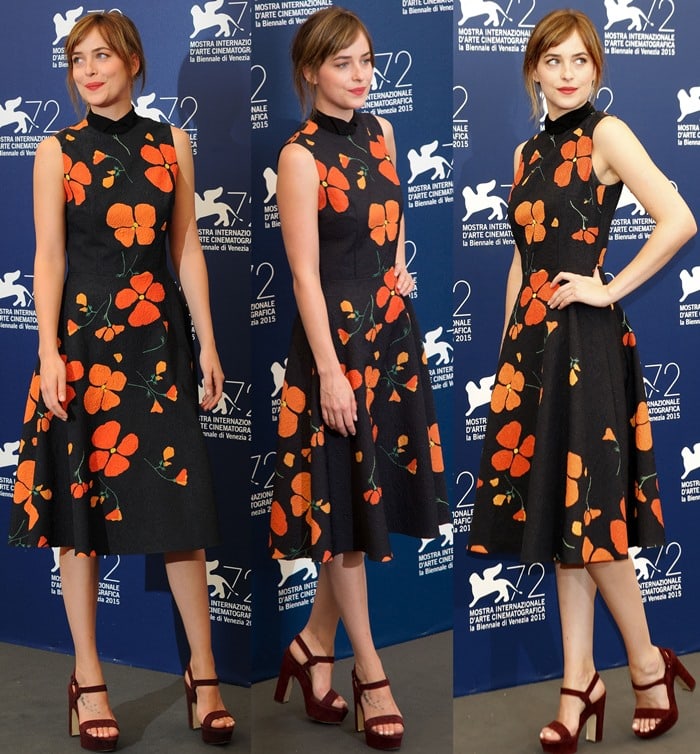 Dakota Johnson shows off the playful retro styling of her Rodarte dress as she poses for photos
They are crafted in Italy from dark-brown suede and feature block heels that measure approximately 130mm/ 5 inches with 40mm/ 1.5 inches platforms.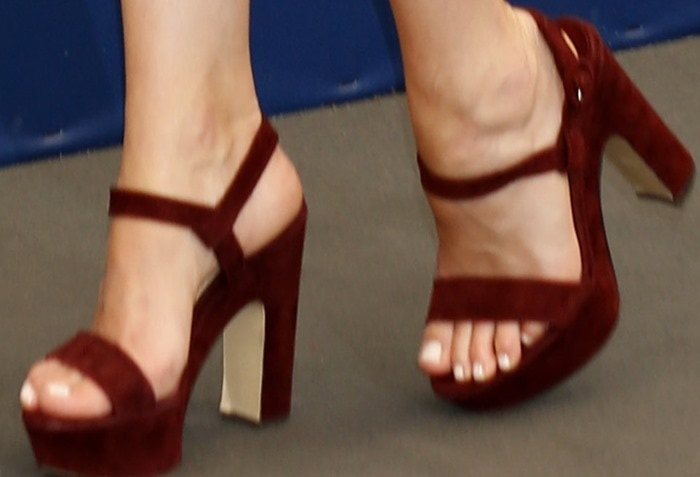 Dakota Johnson flashes her white pedicure in a pair of Paul Andrew platform sandals
How would you style these sandals for fall?
Paul Andrew Stanton Suede Platform Sandals, $845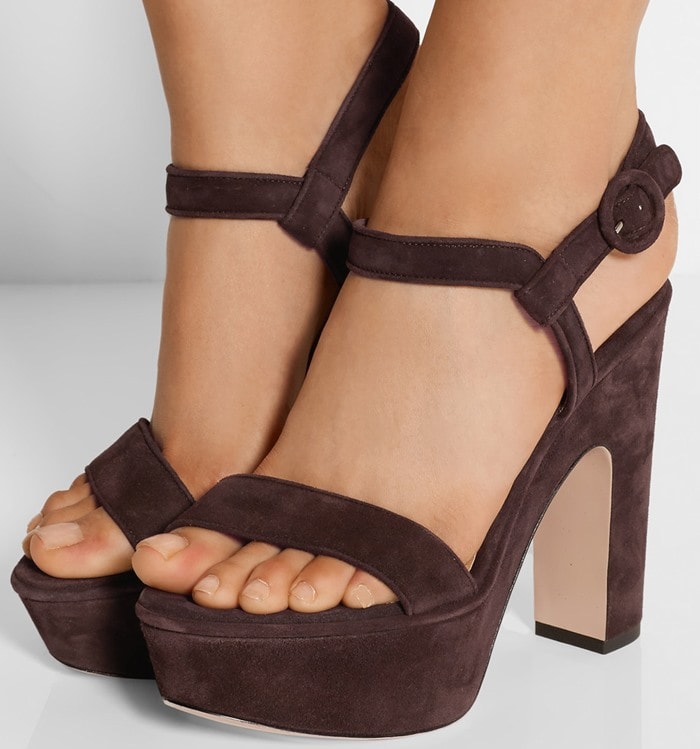 Credit: WENN / Dave Bedrosian / Future Image / Nicky Nelson