Tia Dashon Mowry-Hardrict and her husband Cory Hardrict attended the 2020 Essence Black Women in Hollywood Luncheon held at the Four Seasons Beverly Wilshire Hotel in Beverly Hills, California.
Cory Hardrict and his wife Tia Mowry-Hardrict attend the 13th Annual Essence Black Women In Hollywood Awards Luncheon at the Beverly Wilshire Four Seasons Hotel on February 6, 2020, in Beverly Hills, California
How did Tia Mowry meet her husband Cory Hardrict?
Tia met her husband, actor Cory Hardrict while filming the independent horror movie Hollywood Horror in 1999.
"I was waiting on a bus stop … Her sister and her drove by, they saw me waiting and asked to give me a ride," Cory said in an interview on The No Judgment Zone with BlogXilla. "They gave me a ride and we were friends ever since."
They were friends for a year and started dating in 2000.
"I just held out. We weren't physical, we didn't do anything for a while to make sure this was something special and this was something real," Tia told OK! in 2013.
"We courted each other for about a year. We didn't go on dates with just him and I, there were other people around. We waited a year to kiss."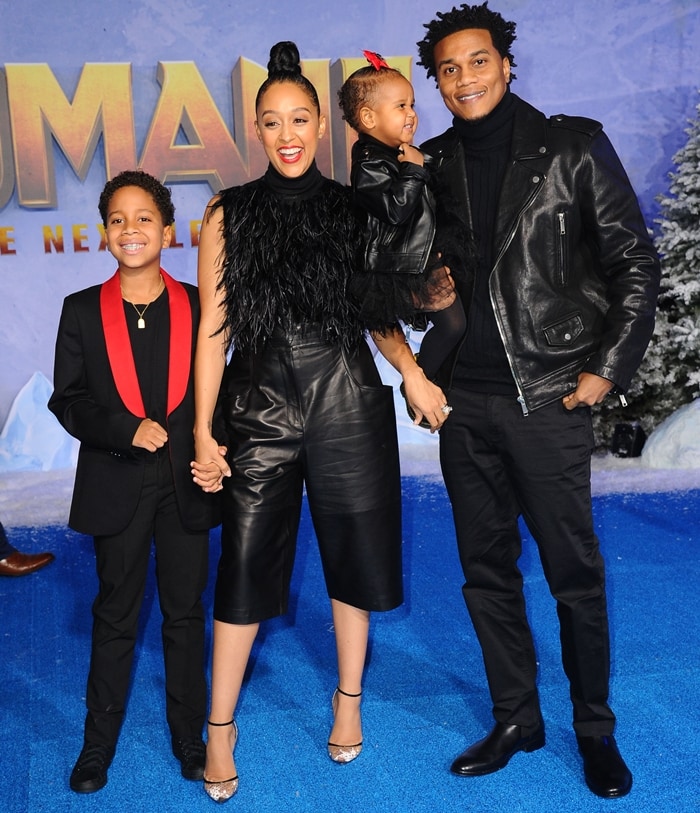 Cree Hardrict, Tia Mowry-Hardrict, Cory Hardrict, and Cairo Tiahna Hardrict arrive at the Premiere Of Sony Pictures' "Jumanji: The Next Level" on December 9, 2019, in Hollywood, California
Six years later, with her whole family in on the surprise, Cory proposed on Christmas Day 2006. While eating dinner, Cory handed Tia a card, which prompted her brother, actor/singer Tahj Dayton Mowry, to play "Let's Get Married," a song by American contemporary R&B group Jagged Edge.
Cory proceeded to get down on one knee and popped the question, leaving Tia speechless.
"I knew Tia was the one for me when she was in my corner when I moved to L.A.," he said on Quick Fix.
Cory Hardrict and Tia Mowry during Screen Gems presents the world premiere of 'Stomp The Yard' at Cinerama Dome in Hollywood on January 8, 2017
"I was dirt poor, I didn't have anything, and she appreciated everything for what it was, and she loved me for me. And I knew once I could get in a financially better situation that I'm going to buy her a ring and that's going to be my wife."
They married on April 20, 2008, at the Four Seasons in Santa Barbara, California. Set amongst 22-acres of lush jungle and tranquil gardens, Tia and Cory often spent time at the luxury resort when they were dating.
Their first child, a son named Cree Taylor Hardrict, was born on June 28, 2011. 7 years later, Tia gave birth to their second child, a baby girl named Cairo Tiahna Hardrict, on May 5, 2018.
In December 2015, Tia Mowry addressed her body critics during her appearance on HuffPost Live.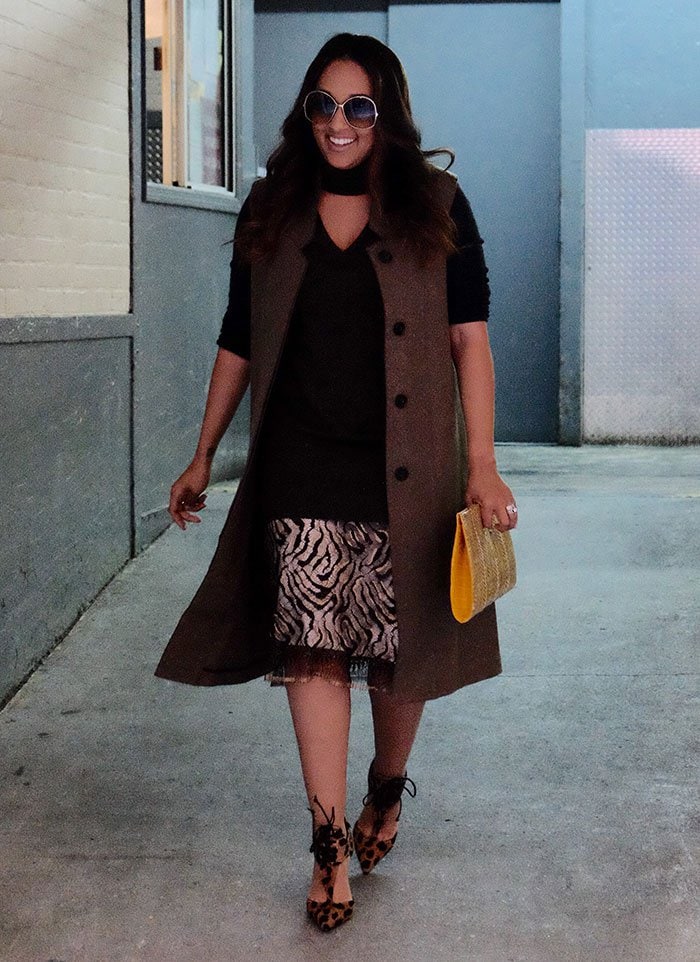 Tia Mowry wears her hair down as she leaves The Huffington Post in Manhattan, New York City on December 4, 2015
"I am not pregnant, I am just happy," she said. "I've gained these extra 10 [or] 15 pounds because of my cooking show. I'm just enjoying life, and when I want to drop the pounds, I will, but right now I'm happy with who I am."
"It is a form of body shaming, I will say that, and it's pretty unfortunate," she added.
Tia Mowry arrives at the HuffPost Live studios in a long vest coat over a black dress
The then 37-year-old actress made an appearance at the HuffPost Live studios to promote her cooking show "Tia Mowry at Home," while taking time to jab back at her body shamers.
She also spoke to Nancy Redd about her Fox TV series "Rosewood," motherhood, and tips for preventing flu this season.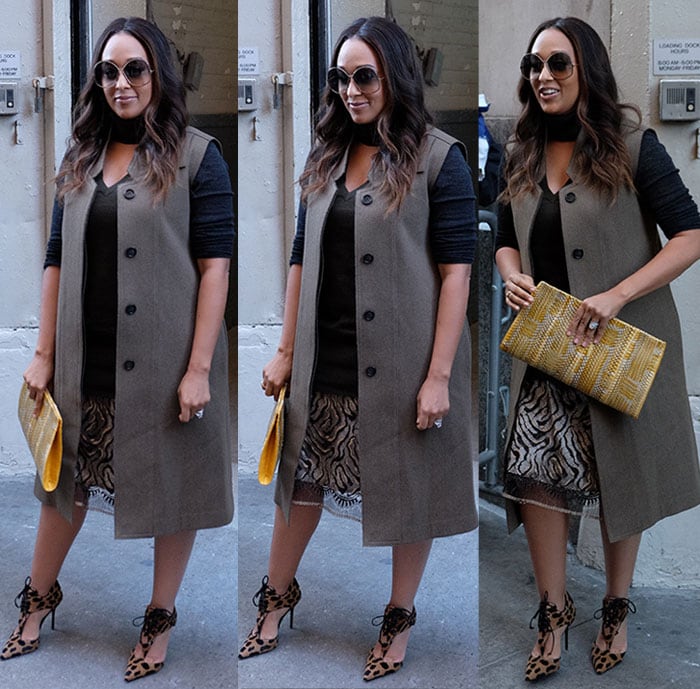 Tia Mowry carries a colorful clutch and wears a pair of large sunglasses
Tia went for a fall-perfect neutral look for the interview.
She wore a long vest coat over a black dress that featured a sheer lace skirt, and styled the busy ensemble with an oversized gold clutch, a pair of large sunglasses and a pair of leopard-print pumps.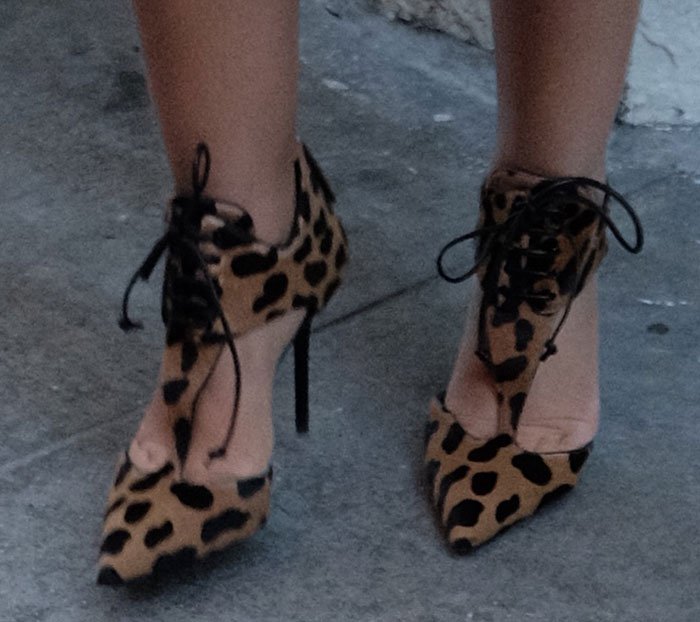 Tia Mowry's feet in leopard-print shoes
Tia looked confident as she left the studio in a pair of Giuseppe Zanotti "Frida" pumps.
These four-inch stiletto. heels are made of a leopard-print haircalf material, and feature t-straps, lace-up fastenings, pointed toes and back zip fastenings.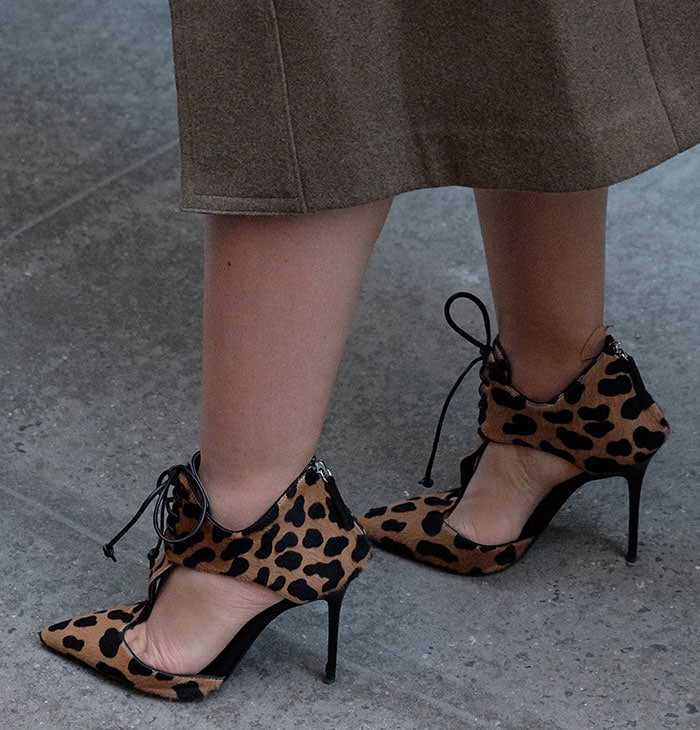 Tia Mowry's feet in "Frida" pumps
If you like these pumps, you can get them at Nordstrom and Farfetch.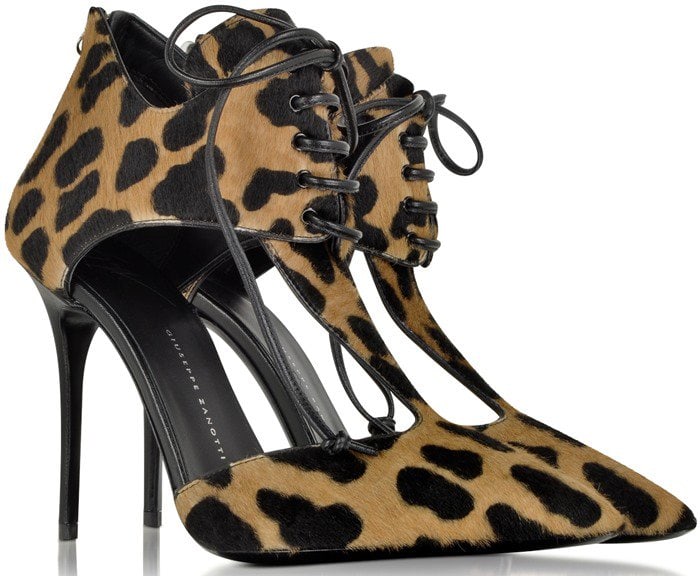 Giuseppe Zanotti "Frida" Leopard-Print Lace-Up Pumps, $1,075
Credit: TNYF / WENN / Avalon / Instar / Rachel Worth