Chloe Bridges was all out in support of boyfriend Adam DeVine at the premiere of his latest film The Righteous Gemstones in LA on Thursday.
In return, the 27-year-old actress got a public profession of love from her long-time beau of four years. Chloe got a tight hug and a kiss on the cheek from Adam right there in front of all the cameras. Too sweet!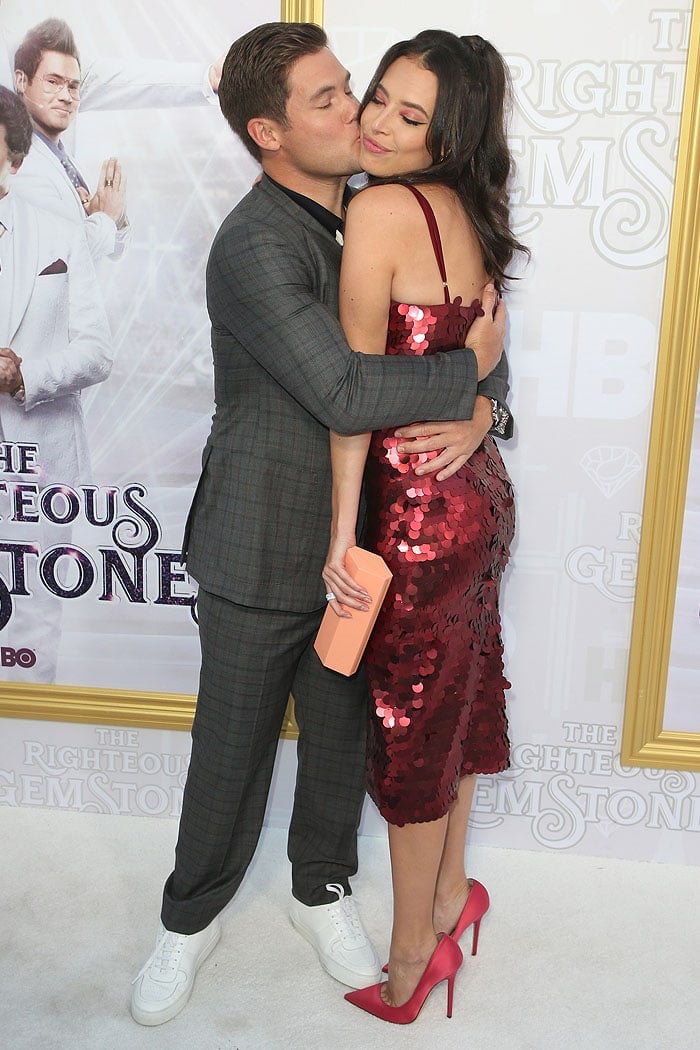 Chloe Bridges getting a hug and a kiss from boyfriend Adam DeVine
Chloe and Adam do seem like such a fun-loving couple, don't they? In one of Chloe's Instagram posts, she claimed she's starting to get laugh lines because of Adam.
We think they're all worth it, though. They give even more character to her signature big smile.
Chloe Bridges wearing pink eyeshadow and flashing her famous big smile
As much as we want to just gush over these two, we have to abruptly stop because of Chloe's crime against shoemanity.
She was wearing what appeared to be way too big pumps. They look to be at least a full size too big for her.
Chloe Bridges' sexy feet in pink-satin pointy-toe pumps that look to be about a size too big for her
We're also confused by the color palette Chloe decided on for her ensemble.
The Cavanagh Baker sequined dress is wine red but the satin pumps are a pale raspberry color. The eyeshadow is pink but then, for some reason, the clutch accessory is apricot orange.
Adam DeVine and Chloe Bridges posing together at HBO's The Righteous Gemstones premiere at the Paramount Theatre in Los Angeles, California, on July 25, 2019
Have you got a pair of too big shoes lying around? If they're only a half-size or a size too big, you can make them smaller!
Also, read up on our 9 tips on how to keep your feet from slipping out of shoes.
Closeup of Chloe Bridges' feet in too big pumps
Credit: FayesVision / Nicky Nelson / WENN