Laverne Cox is a trailblazing superstar and an advocate for equal rights.
She's been through it all – from questioning her sense of identity to struggling financially and finding her place in the industry.
Mattel has honored transgender icon Laverne Cox with her own Barbie (Credit: Tinseltown / Shutterstock)
Eventually, the stars aligned and she landed the role of Sophia Burset in Orange Is the New Black.
Her stellar performance eventually led to the first Primetime Emmy Award nomination for a transgender person in an acting category.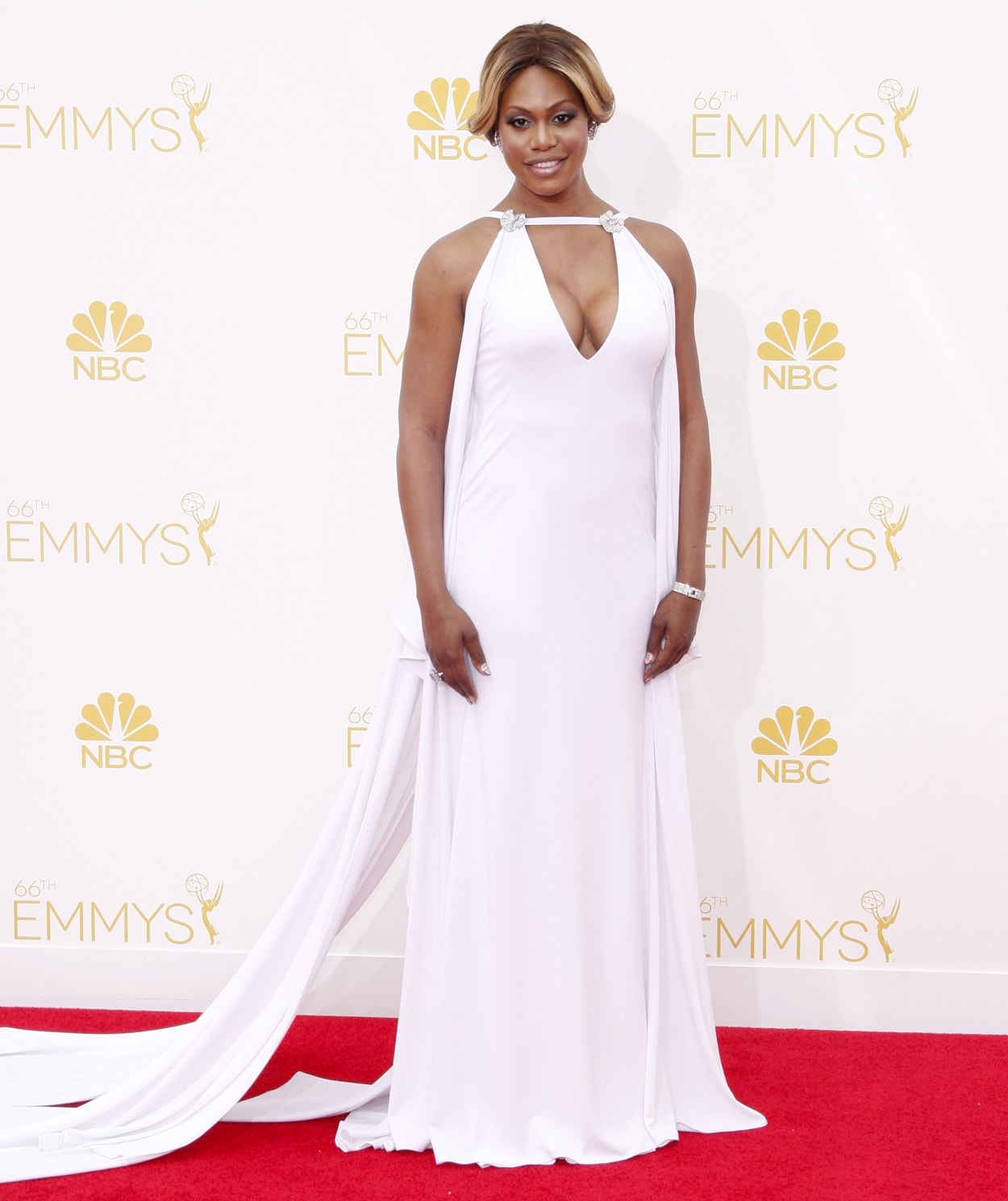 Best Guest Actress nominee Laverne Cox in a custom white Marc Bouwer floor-length dress at the 66th Annual Primetime Emmy Awards held at the Nokia Theatre on August 25, 2014, in Los Angeles, California (Credit: Tinseltown / Shutterstock)
A beacon of hope
Laverne inspires just by being unapologetically herself and continues to use her influence to amplify unheard voices.
In honor of her 50th birthday, Mattel presented the first transgender Barbie doll in her likeness.
Laverne Cox in a custom-made Johanna Johnson cape with silver Beladora jewelry and glittering Garo Sparo gloves at The Academy Museum of Motion Pictures Opening Gala at Academy Museum of Motion Pictures on September 25, 2021, in Los Angeles, California (Credit: DFree / Shutterstock)
The Barbie Instagram account shared photos of the doll as they welcomed Laverne into the Mattel family.
In the caption, it was also mentioned that the company celebrated her birthday with a donation to TransFamily Support Services "because everyone deserves to feel safe, seen, and celebrated for who they are."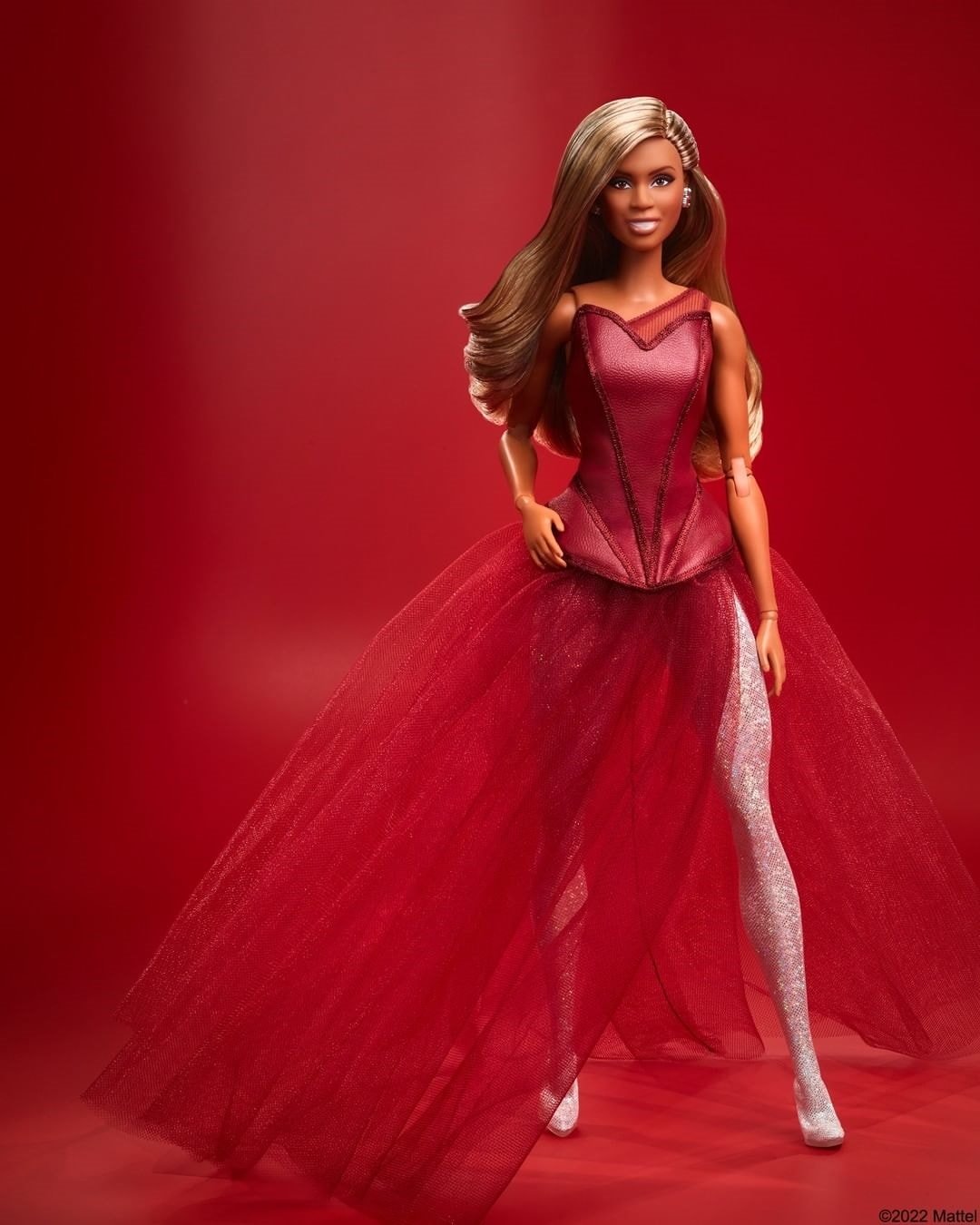 Laverne Cox is honored as the first transgender Barbie in a burgundy corset featuring a long, sheer skirt (Credit: Mattel)
The multi-hyphenate star also posted a clip from her TODAY interview, where she unveiled the Laverne Cox Barbie doll.
She wrote, "I am so deeply humbled and I hope this doll will be a beacon of hope and possibility for Barbie fans and beyond of all ages."
Representation and inclusion
Laverne joins influential celebrities such as Jennifer Lopez, Ashley Graham, and Zendaya, who have been immortalized as Barbie dolls.
The Laverne Cox doll is part of the Tribute Collection, and it highlights her significant contributions to the world. Its creation also emphasizes the importance of inclusion and representation.
In an interview with People, Laverne shared her excitement that "trans young people can see her."
She added that they will "know that there's a Barbie made by Mattel, for the first time, in the likeness of a trans person."
Laverne Cox in a brown Marmar Halim dress and a massive necklace from the same Egyptian semi-couture designer at the 33rd Annual GLAAD Media Awards at The Hilton Midtown on May 6, 2022, in New York City (Credit: Lev Radin / Shutterstock)
Laverne was involved in creative planning, design, and execution. While she was receptive to ideas from the creative team, she also didn't hesitate to give feedback.
Designed by Carlyle Nuera, the Laverne Cox doll wears layered pieces that you can easily mix and match.
This was Laverne's cost-effective idea for the doll to have multiple outfits without upping the price.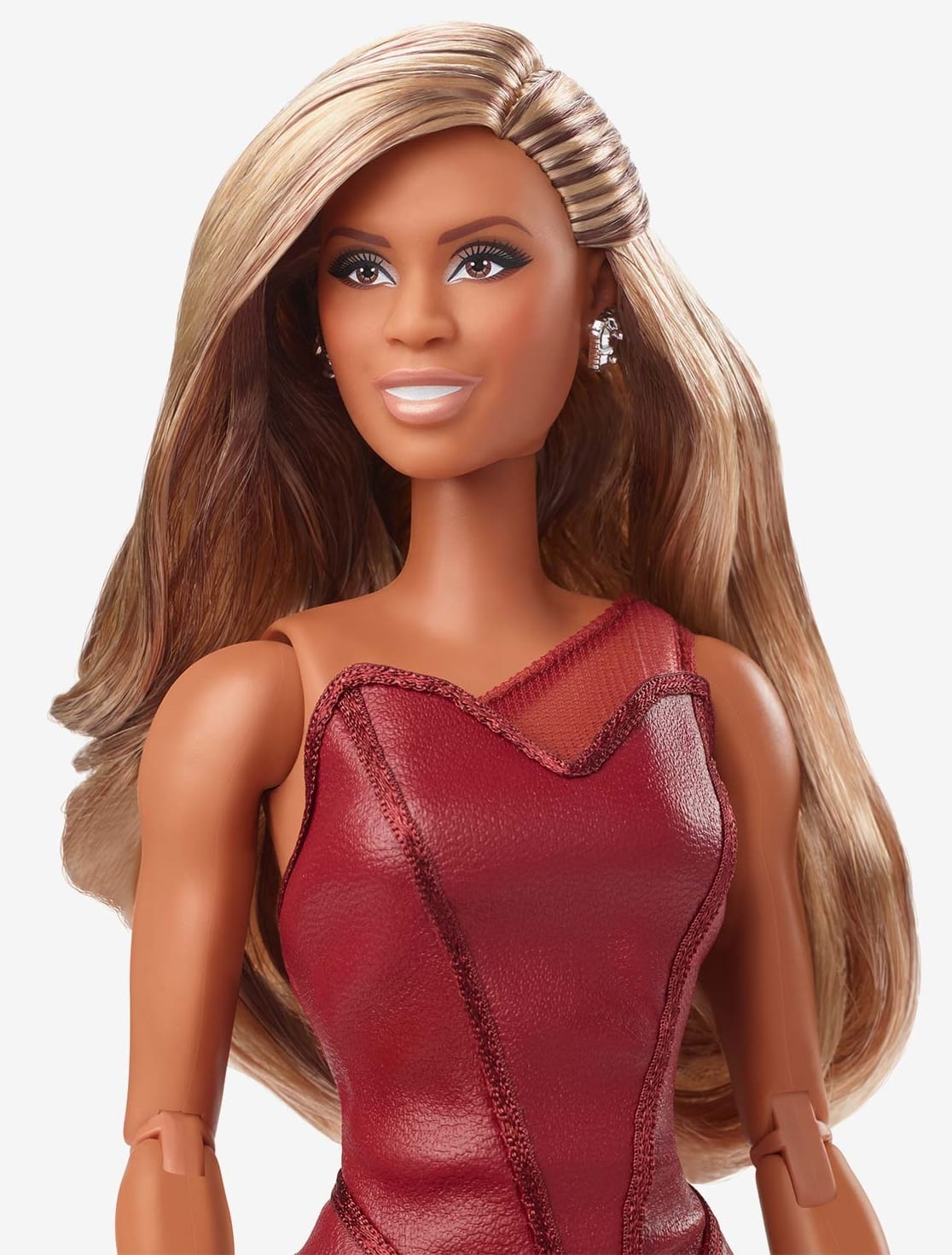 The Laverne Cox Barbie with her hair swept into glamorous Hollywood waves (Credit: Mattel)
The pieces include a dark red corset, a matching tulle skirt, and a metallic silver bodysuit. Side-swept waves and sky-high heels finish off the glamorous look.
"She gives you a catsuit fantasy, honey," Laverne told E! News about her doll. "Transgender Barbie is in effect. She's giving you looks. She's giving you everything."
You can purchase the Laverne Cox doll for $40 at Mattel.
Part of the Tribute Collection, the Laverne Cox doll is Mattel's first transgender Barbie
A healing process
The Emmy-nominated actress also shared that Barbie played an important role in her healing.
"I was telling my therapist how I was really shamed by my mother when I was a kid when I wanted to play with a Barbie doll but I was denied. And I had a lot of shame and trauma about that," Cox shared on TODAY.
"And my therapist said to me, 'It is never too late to have a happy childhood.' She said, 'Go out and buy yourself a Barbie and play with her. There's a little kid that lives inside of you. Give her space to play.' And I did."
In an emotional clip she posted on Instagram, she said that "it was a way for me to heal my inner child."
View this post on Instagram
"I'm just so grateful that I've been able to be in this process," Laverne told People. "It's a process of reclaiming my inner child, healing her, giving her what she didn't have the first go-round."
She added that "to be turning 50 years old and be transgender and have a Barbie in my life, that feels just like a full-circle kind of healing moment."
50 and fabulous
On her Instagram, Laverne shared a behind-the-scenes video of her 50th birthday party and Barbie doll launch.
View this post on Instagram
She was dressed to the nines for her milestone birthday, recreating her Barbie doll's glamorous outfit.
Laverne posted a series of photos on Instagram, calling the night "PERFECT" and thanking everyone for making "all of my birthday Barbie dreams come true."
View this post on Instagram