Earlier this week, we asked for your opinion on the black suede strappy "Alessandra" pheasant feather sandals from Sophia Webster's Runway AW15 collection, and the responses we received on Facebook were hilarious!
Crafted from a mix of black suede and printed satin, the Brazilian-made "Alessandra" sandals are trimmed with pheasant feathers and boast colorful 4″ beaded heels and adjustable wraparound ankle straps. They are available for purchase at Net-A-Porter and Neiman Marcus.
Sophia Webster Alessandra Pastel Feather Sandals, $950
Miley would not even go near this hot mess

Ain't no right outfit for this. This design is all over the place. Get a vision and stick with the plan

What are these type of shoes for HALLOWEEN. Lol
Words can not express how effin horrible those shoes are, wtf

Looks like something thrown together from leftover scraps of materials

Looks like a kindergarten craft where everything had to be used

This takes horrible to a whole new level. What a waste of time making this crap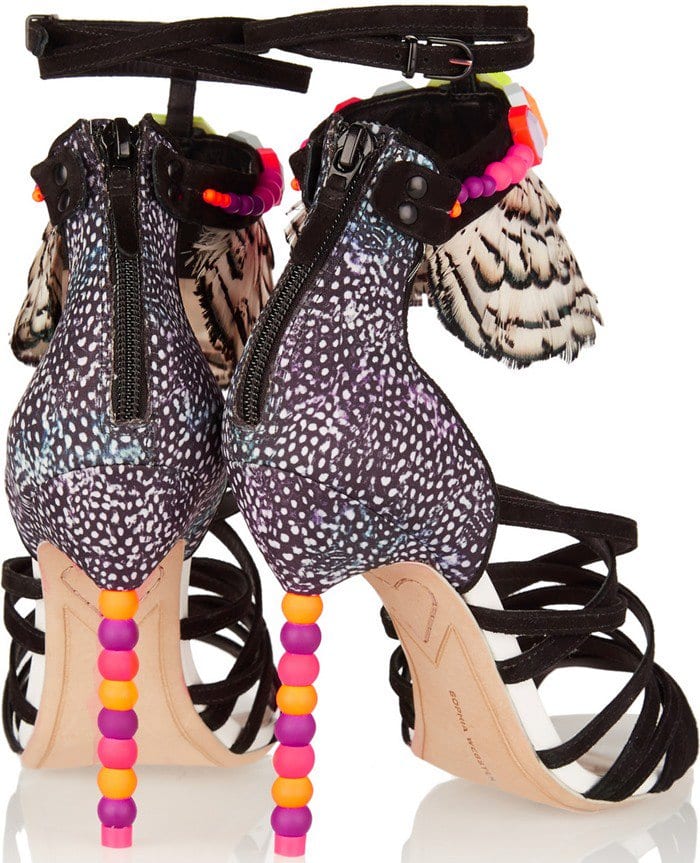 Are you kidding me! Really! What a monstrosity!

All the cheesy plastic gems on top of the shoe ruined it…they could have been OK..its a NO

Only if there is a costume attached..otherwise they look like sesame street meets kindergarten bedazzled

Feathers,candy shapes and straps…ohh my lol way to busy
Awful, who wants to wear a dead bird on their foot?

The ugliest shoe I ever seen

Looks like a 1st grader designed them.
Do you agree that it could be the ugliest shoe ever made?
Credit: Katie Cassidy Instagram