With a classically gorgeous face, her sculpted post-Catwoman body and the fact that no less than Valentino Garavani had committed to design her big white dress, you know Anne Hathaway can only be but a beautiful blushing bride on her wedding day.
And what a bride she made out to be: Anne Hathaway's off-the-shoulder, cascading custom Valentino gown made her look like as if she was floating on a cloud and if she was missing her flowing locks, we're sure her floor-length lace veil made her forget them that day.
Roberta Armani, Anne Hathaway and Adam Shulman at the Armani Haute Couture Spring/Summer 2010 fashion show held at the Palais de Chaillot Paris, France on January 25, 2010
We're sure the dress is inspiring new wedding-themed Pinterest accounts as we speak but you know what we we're focusing all our attention on: finding out what shoes Anne Hathaway wore on her wedding day.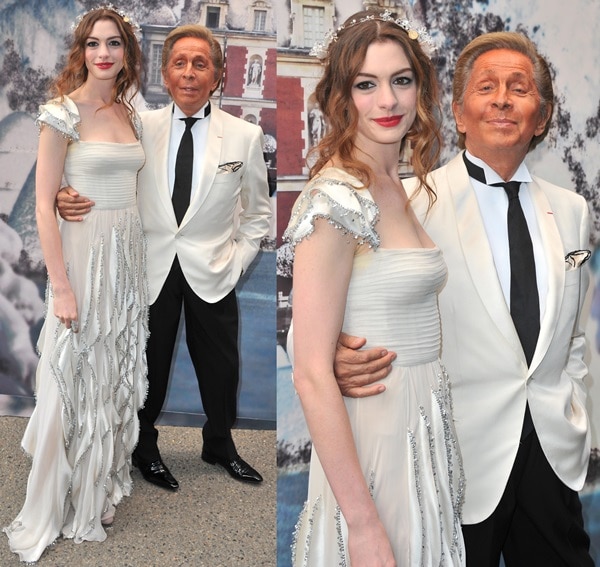 Anne Hathaway and Valentino Garavani at The White Fairy Tale Love Ball at the Chateau de Wideville in Paris, France on July 6, 2011
You can see glimpses of the shoes in some of the pictures and they appear to be simple white satin pumps like these: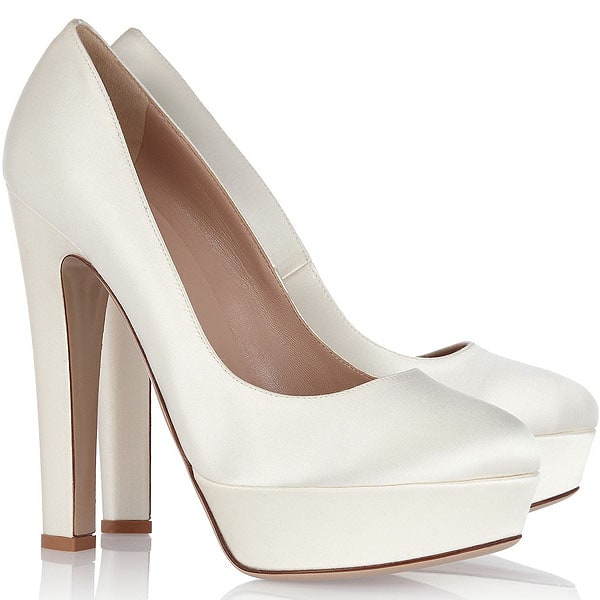 Valentino Satin Platform Pumps, $675.00 at Net-A-Porter
There's actually no word yet on whether Anne Hathaway's wedding shoes are by Valentino as well but we think they might as well be!
Since we're talking about Valentino here, a designer label known for its ultra-feminine and romantic aesthetic, we think Anne Hathaway could've done better than just simple white satin pumps.
She could've gone for these dreamy satin-trimmed lace pumps that would've gone perfectly with the rustic farm wedding theme:
Valentino Satin Trimmed Lace Pumps, $845.00 at Net-A-Porter
Or since her dress has embroidery floating on the tulle, these satin and lace pumps with subtle crystal embroidery would've been a great choice:
Valentino Satin and Crystal Embroidered Lace Pumps, $975.00 at Net-A-Porter
Lastly, is it just us or does her dress have hints of light beige and pink in it? If it does then these classic Valentino bow lace pumps and her dress would've been a match made in heaven: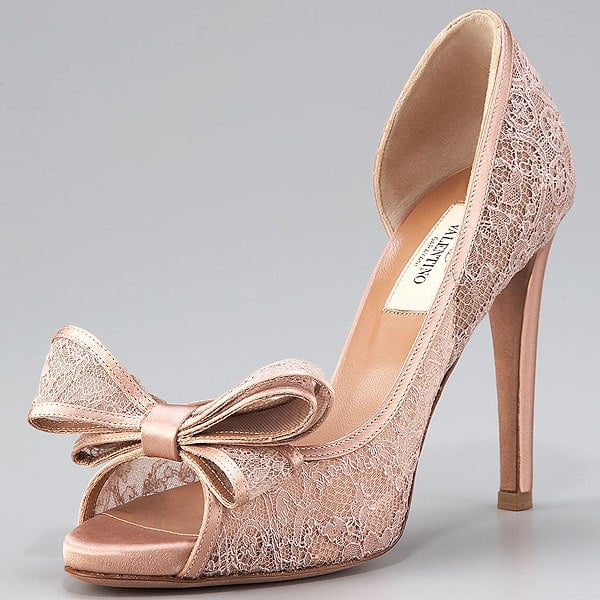 Valentino Couture Lace Platform d'Orsay, $895.00 at Neiman Marcus
Which pair do you think Anne Hathaway could've worn on her wedding day or do you love her bridal look as is?
Congratulations to the new husband and wife!
Credit: WENN