Poor Baby V! Vanessa Hudgens uploaded a photo of her broken finger for all her 9.7 million followers to see, captioning it with a wry "My finger isn't meant to bend that way…is it? #brokenfinger". In the photo, the actress sported a semi-amused face at her bent finger.
Vanessa Hudgens breaks her finger after leaving London Chiltern Firehouse on August 5, 2015, captioning this photo with "My finger isn't meant to bend that way…is it? #brokenfinger 🚑🚨😳😁 #ouchie"
The Gigi star sported a cast on her right hand as she spent a casual day out shopping in Los Angeles.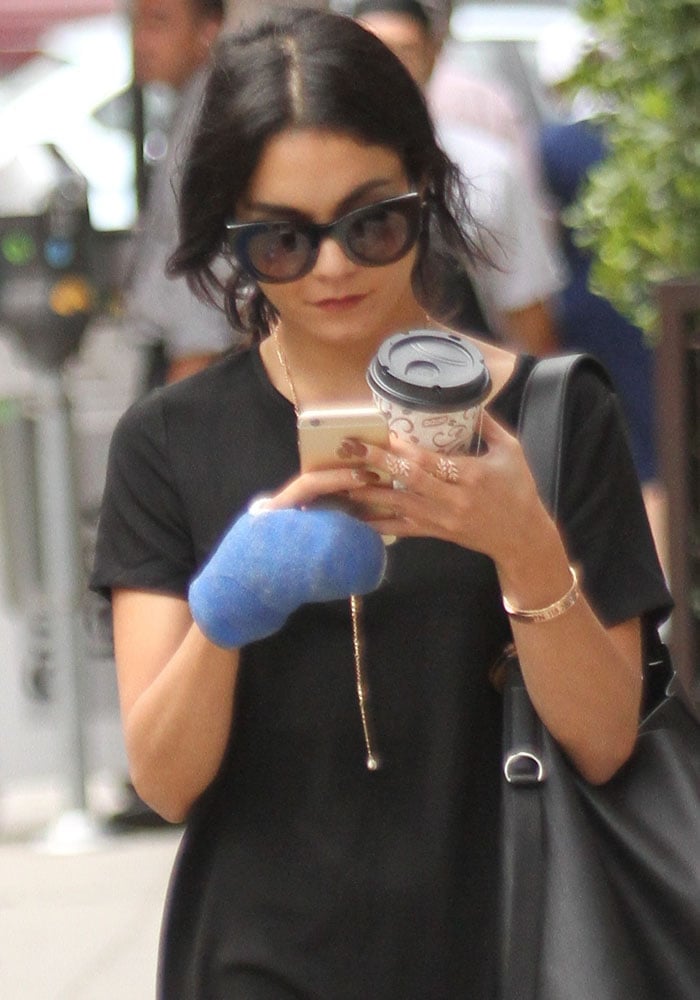 Rumor has it that Vanessa injured herself after making a trip to London's celebrity hotspot, Chiltern Firehouse. However, the actress has not expounded on the details of her fracture, wordlessly showing up instead to receive her dance award while trying to hide her hand earlier this month.
Vanessa wore a black shift dress with a pair of Valentino "Rockstud" ballet flats.
Vanessa Hudgens sports a hand cast as she shops around Los Angeles on August 25, 2015
Vanessa Hudgens finally patches her fracture up, captioning this photo upload with "Can't f*** with this😝 finally got my finger fixed. I now feel like Rocky. HA #firstbreak"
There are days when we just reach out for our staple casual black dress, and a great way to dress it up is to slip on a studded flat. When we talk studs, we can't find a better closet staple than the Valentino "Rockstud" flats.
Grab a pair over at Neiman Marcus.
Valentino Noir Rockstud Leather Ballet Flat in Black, $775
Credit: Vanessa Hudgens' Instagram / WENN