As one of the cover girls of their latest issue, Vanessa Hudgens attended Nylon Magazine's 12th Anniversary Issue Party held at Tru Hollywood last Thursday. Vanessa was joined by her other 'Sucker Punch' female co-stars but it was Vanessa stood out for us among them in a "we're not quite sure if it's good or bad yet" way.
Why? Well, it's because of Vanessa's footwear fashion foible (try saying that five times fast!). The 22-year-old actress was lookin' very much like her lovely boho chic self in a slinky white dress topped off with a loose white cardigan, but her look suddenly became confusing when we got to her shoes.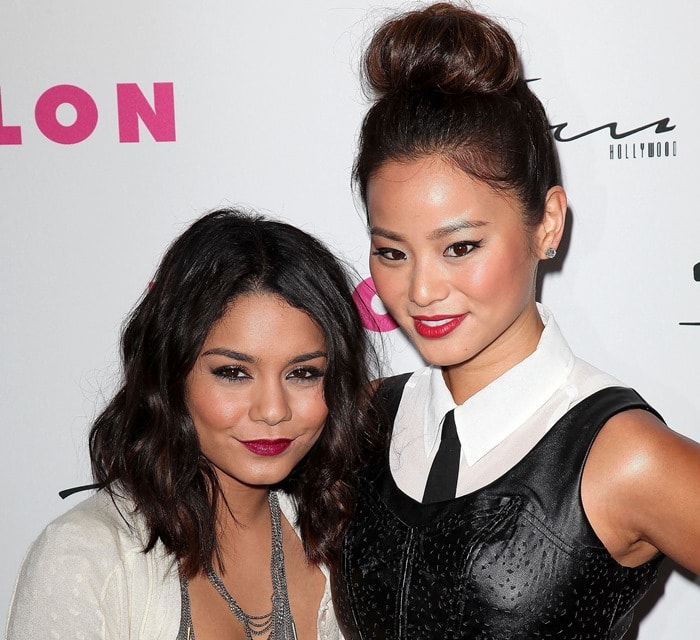 Vanessa Hudgens and Jamie Chung attend the Nylon Magazine 12th Anniversary Issue Party with the rest of the "Sucker Punch" cast held at Tru Hollywood in Hollywood on March 24, 2011
Yep, those are glittery black nylon socks she's wearing with her Pollini Spring 2011 t-strap sandals. Straight up socks with sandals.
Don't get me wrong, I'm really actually a fan of wearing socks with sandals but for some reason, the style is not translating so well on Vanessa Hudgens here. I think this would've worked better if Vanessa's clothes had color or prints and not just a stark black and white contrast. Either way, the socks with sandals style looks great as part of street fashion but I don't think it's ready yet for the red carpet.
What's your opinion on Vanessa Hudgens's socks with sandals look – HOT or NOT?
I looked for a bigger picture of Vanessa Hudgens's shoes and not only did I find this close-up but I think I also found a good reason why she's wearing socks:
Maybe she wanted to cover up that painful-looking wound on her leg? Vanessa's socks aren't long enough but maybe they just fell down as the night wore on. I also just want to add that I'm guessing she got that wound from a motorcycle burn (I had one exactly like it and on the same part of the leg myself). I wonder if Vanessa has been riding motorcycles lately…. ? I can hear the rumor mills starting to turn.
Vanessa Hudgens's shoes are these Pollini t-strap sandals: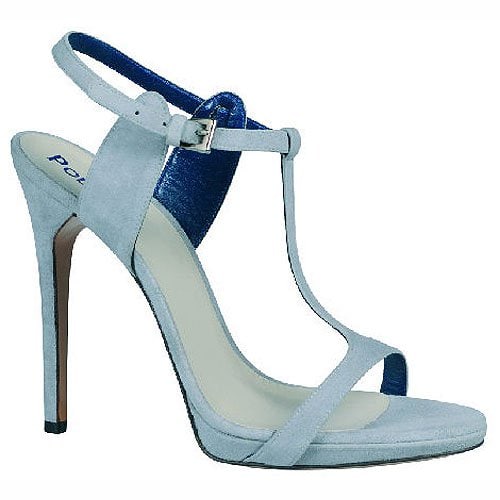 Famed shoe designer Nicholas Kirkwood, who had just been appointed as Creative Director for Pollini, enlisted the help of 5 other designers to create the Pollini Spring/Summer 2011 line. This particular sandal is the collaboration between Pollini/Kirkwood and Preen. Like Preen's aesthetics, this sandal is minimalistic spliced with modern touches.
Credit: WENN