Considering that Zendaya and Taylor Swift were in short shorts and Sarah Hyland was barely clothed, Brittany Snow might've been overdressed for the 2019 Teen Choice Awards.
The Pitch Perfect star looked like she was more ready for cocktails than the beach in a Fausto Puglisi Pre-Fall 2019 dress trailed by a polka-dotted and printed train.
Brittany Snow in a Fausto Puglisi Pre-Fall 2019 dotted-and-printed train dress at the 2019 Teen Choice Awards held at Hermosa Beach Pier Plaza in Los Angeles, California, on August 11, 2019
Actually, we do appreciate Brittany's overdressed-ness because she has so many more interesting details in her outfit compared to the other attendees.
Check out her dazzling $8,500 Hearts on Fire 'Triplicity' 18-karat yellow gold earrings. And her sparkly cat eye makeup? That's something that zoomed straight to the top of our looks-to-try list.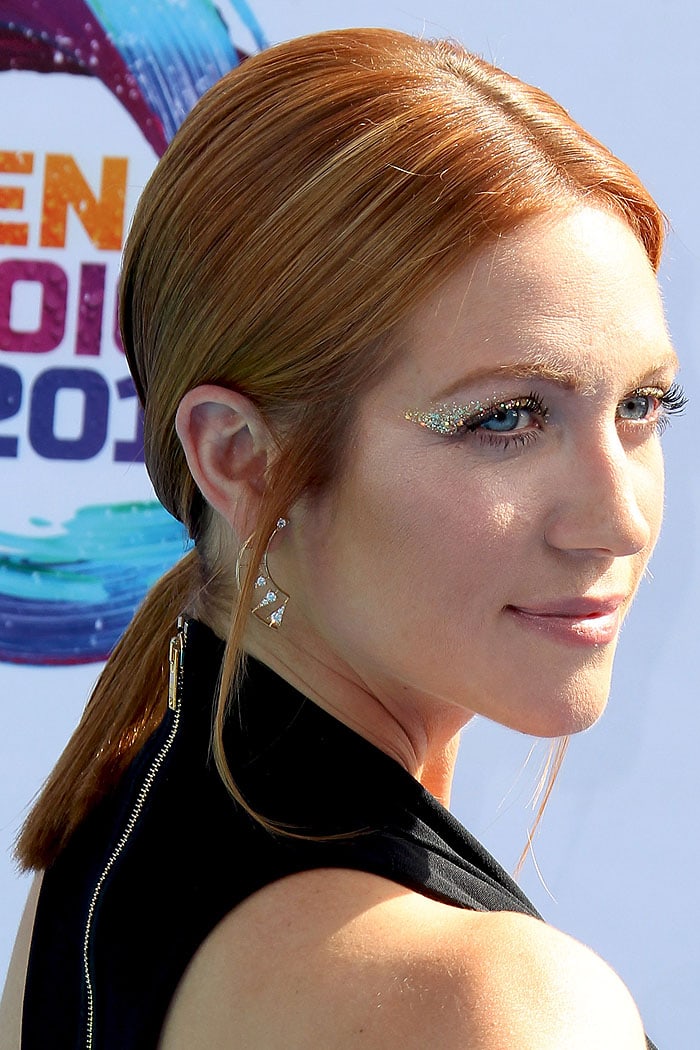 Brittany Snow sporting sparkly cat eye makeup and $8,500 Hearts on Fire 'Triplicity' golden earrings
Get a load of Brittany's Marzook gold mini trunk with a little see-through porthole protruding from the side. It gives a whole new meaning to the clear/transparent fashion trend.
Closeup of Brittany Snow's Marzook gold mini trunk with see-through porthole detail
In our perusal of the intricate details of Brittany's ensemble, we, also saw that she had an unfortunate toe overhang situation go down that afternoon.
Brittany Snow suffering toe overhang in vegan AERA 'Alexandra' slingbacks
The 33-year-old actress's poor toes were spilling out of the front of her sandals. We're not sure if too-long toes or too-small shoes are to blame for this wardrobe malfunction.
Brittany Snow's toes spilling out of AERA 'Alexandra' sandals
Brittany's heels aren't just any regular pair of sandals. The suede-effect slingbacks are from AERA, a vegan luxury shoe brand spearheaded by NY-based shoe designer Jean-Michel Cazabat and fashion industry veteran Tina Bhojwani.
AERA is committed to producing "110% sustainable" fashion, which, hopefully, is the direction that the entire industry will be going from here on out.
AERA 'Alexandra' Slingback Sandals, $345
Credit: Adriana M. Barraza / WENN