Earlier this month, Kim Kardashian revealed that she's following a plant-based diet. During a Twitter Q&A session, fans asked how she feeds herself and her family.
The 38-year-old reality star made clear she is no longer a carnivore just days before making an appearance on Good Morning America in strappy sandals from Bottega Veneta ($840 at Mytheresa).
Kim Kardashian leaves Good Morning America after an appearance on the morning show in New York City on February 5, 2020
The ShoeDazzle shoe club founder responded, "I eat mostly plant-based. No meat anymore." When asked if her kids are vegan as well, she confirmed that her four children also eat plant-based. "Yes they do! North is a pescatarian though." Pescatarians incorporate seafood as the only source of meat in an otherwise vegetarian diet.
In May 2019, Kim Kardashian picked a fight with Jack in the Box, an American fast-food restaurant. The mother of four and law student took to her Twitter to contact the restaurant about something she witnessed in one of their stores.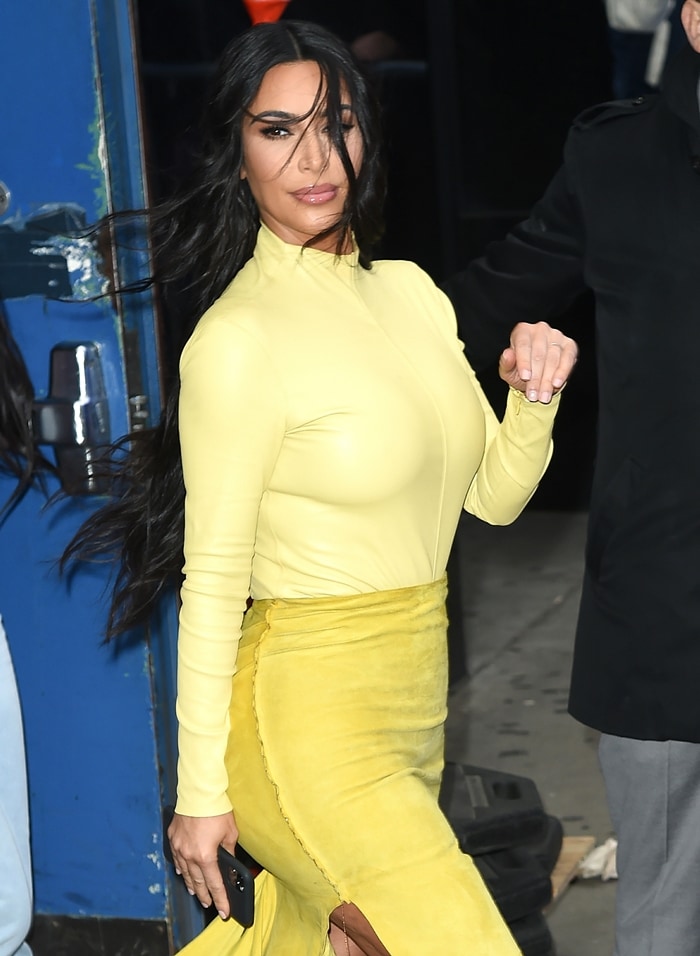 Kim Kardashian is officially vegan and follows a plant-based diet
"Hey, Jack In The Box I have a serious complaint but I won't fully put you on blast, check your corporate email inbox or send me a DM with direct person for my team to contact. Pronto!" Kim wrote.
She later followed up, "I would like to add that this is not about me or a wrong order. Nobody recognized me and it's something that I observed that affected other customers at this particular location that was concerning."
Kim Kardashian styled a Bottega Veneta leather top with a Roberto Cavalli suede skirt
While on the Good Morning America, Kim spoke about her work in criminal justice reform, her law school work, and her Skims shapewear line. She rocked a leather top from Bottega Veneta with a vintage Roberto Cavalli suede skirt and carried an Apple iPhone 11 Pro leather case.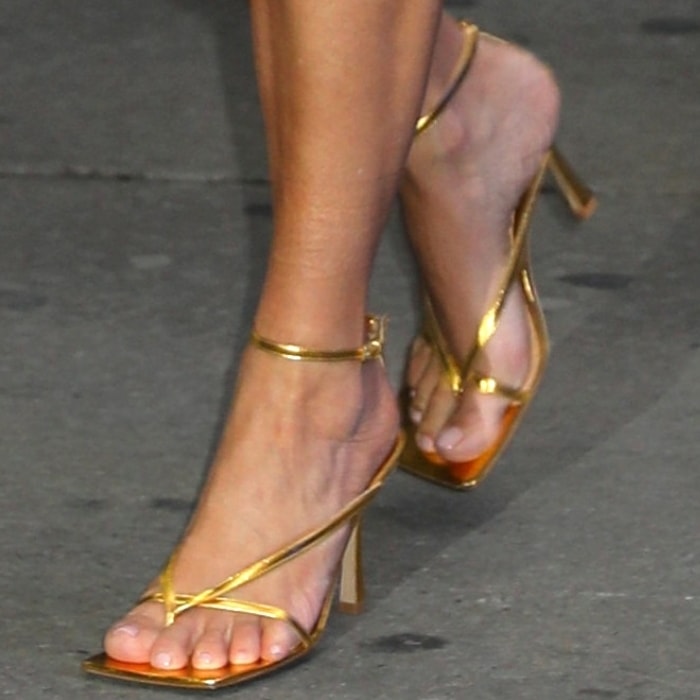 Kim Kardashian's hot feet in Bottega Veneta sandals crafted from glossy golden leather
About law school, the vegan reality star said, "I mean it's so hard. I just finished year one. I'm about to take the baby bar in a few months, which is a necessity in order to continue on for the next three years in California, so it feels good having finished year one. It's very hard."
Crafted in Italy, her strappy sandals are sculpted with a modern square-toe silhouette that's set on angular heels and held together with foot-framing straps. Don't you think her shoes are offensively ugly?
Bottega Veneta Metallic Leather Sandals, $840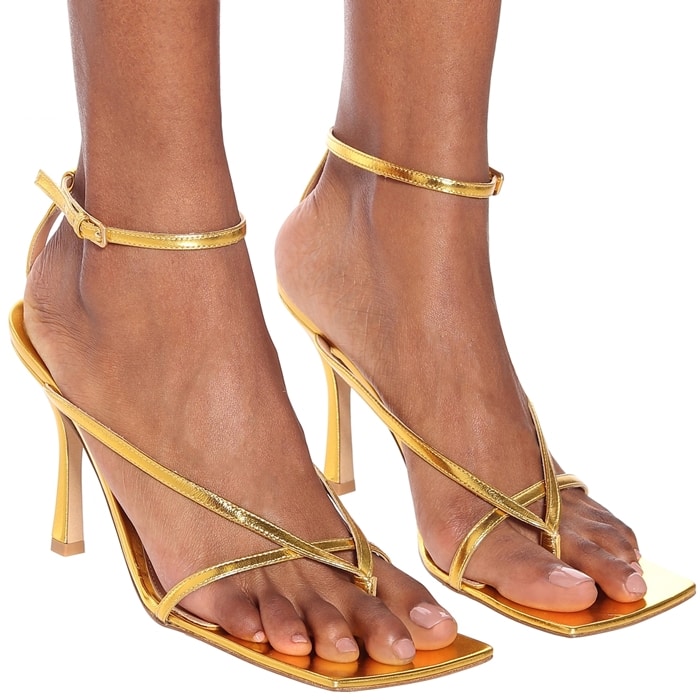 Credit: Instar / WENN