Zendaya became a vegetarian after watching PETA's 2009 documentary Glass Walls, which was narrated by Sir Paul McCartney. It is known for the tagline that says "if slaughterhouses had glass walls, everyone would be vegetarian."
Zendaya attends the Bvlgari B.zero1 Rock collection event in a plunging leaf-inspired dress at Duggal Greenhouse on February 6, 2020, in Brooklyn, New York
In a post published on her app in December 2016, Zendaya explained that she considered becoming vegetarian for the first time when she was just 11. Zendaya and her dad Kazembe Ajamu Coleman drove past a slaughterhouse while on a road trip. When her father revealed what happened inside, it made her rethink her diet.
"I thought it was awful, all those animals getting packed up in there waiting to be killed," she said about her decision to adhere to a plant-based diet. "I couldn't believe that's how I'd been getting my meat!"
"My main reason for being a vegetarian is that I'm an animal lover," she shared, "definitely NOT because I love vegetables."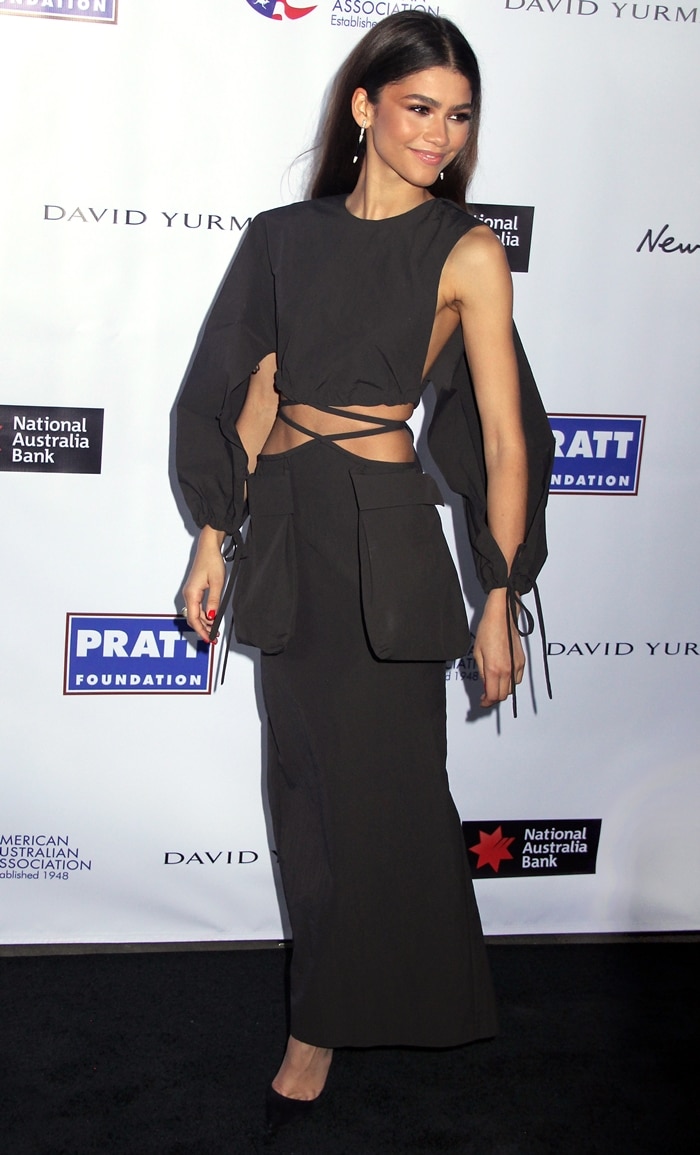 Zendaya attends the American Australian Association Arts Awards at the Skylight Modern in New York City on January 30, 2020
For the first couple of days after she decided to go vegetarian, Zendaya would dream about meat.
"I had this crazy dream about raining hamburgers," she wrote. "You know that book Cloudy with a Chance of Meatballs? It was like that, with giant food falling out of the sky. And I still remember the dream so clearly."
Luckily, those days are long gone, and now she only misses her mother Claire Stoermer's cooking.
"I don't like the taste of meat," she says. "It actually makes me feel weird. The only thing I kind of miss are my mom's famous turkey burgers, but that's it!"
Zendaya became vegetarian after watching PETA's 2009 documentary Glass Walls
While she still eats fast food from time to time, she simply won't order meat. "Grilled cheese with grilled onions and extra spread," she writes about her favorite In-N-Out order. "It tastes just as good as the burger. And the animal style fries are unreal."
Credit: Derrick Salters / WENN / Instar