Having the worst wide opening weekend of all-time, Blake Lively's poorly received The Rhythm Section earned just $2.8 million for its first three days during Super Bowl weekend.
According to Peter Travers, an American film critic for Rolling Stone, "grinding monotony is the real killer in this formulaic action thriller that leaps off the cliff of cliche into the valley of banality."
Hollywood actress Blake Lively is down-and-out in Dublin filming espionage thriller 'The Rhythm Section' in Dublin, Ireland, on November 6, 2017
"We are obviously disappointed with the box office, but we're proud of [director Reed Morano] and our movie and the overwhelmingly positive reaction to Blake's performance," the producers Barbara Broccoli and Michael G. Wilson said in a statement to Deadline.
Blake Lively in a belted Ulyana Sergeenko silk dress with a matching blue Max Mara coat in New York City on January 28, 2020
While Blake Lively has been praised for her performance, Paramount Pictures will likely lose between $30-40 million on the movie directed by Reed Morano based on Mark Burnell's novel of the same name (available on Amazon).
Blake Lively promoting 'The Rhythm Section' in classic black and white outfit from Alaïa in New York City on January 28, 2020
In an interview with People, she talked about the intense role of plane crash survivor Stephanie Patrick she plays in the film.
"It was a really intense character, a really intense role…It was really the humanity that I connected with because she's a woman who's lost everything. She's a woman who's being discounted and undervalued. And she also believes it."
Blake Lively's Christian Louboutin Calypso pumps
Blake added, "I think that to me, you know, people are talking about this being a movie about revenge. To me, it's a love story…She's lost everyone that she loves and she has nothing left to lose and she doesn't love herself because of the guilt that she carries. So when she goes off on this mission, she reclaims that and the love story isn't necessarily a romantic one, it's that with herself. You know? She gets to claim love and respect."
While promoting her box office bomb during an appearance at Good Morning America, the 32-year-old actress rocked a belted maple trench coat from Fendi that you can buy for $2,890 at Saks Fifth Avenue.
She styled her coat with APM Monaco jewelry and Valentino Garavani Soul Rockstud lace-up booties. When asked about her new baby girl, she responded that they're outnumbered at home.
Blake Lively's maple trench coat has a slightly oversized cut cinched with an adjustable belt and is finished with polished tortoise-effect trim
"At one point we had three [kids] four and under," Blake said, before being asked if she's noticed a difference going from two kids to three kids.
"It's like going from two to 3,000!," Blake responded. "We have so many children. We're outnumbered. And it's a lot. People say that going from 2 to 3 it's the same. Those people do not have three kids! It is crazy."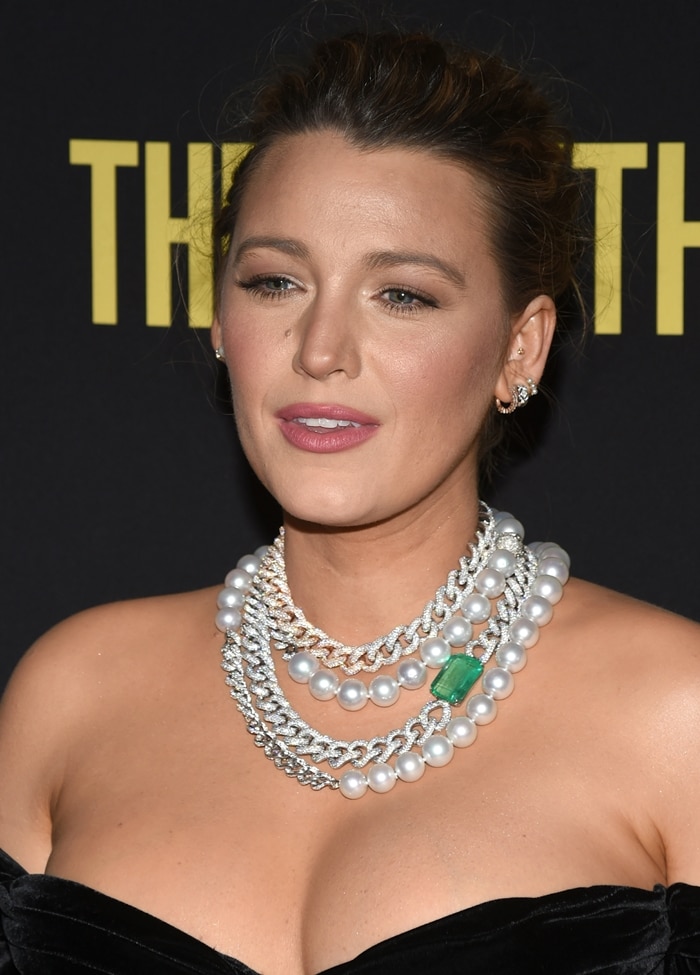 Blake Lively's Lorraine Schwartz statement necklace with South Sea Pearls, diamond link chains, and a 50 carat Colombian emerald
Wearing an off-the-shoulder Dolce & Gabbana dress with Christian Louboutin Fabiola boots and Lorraine Schwartz jewelry to the premiere of her new movie, Blake was joined by her mom Elaine and sister Robyn.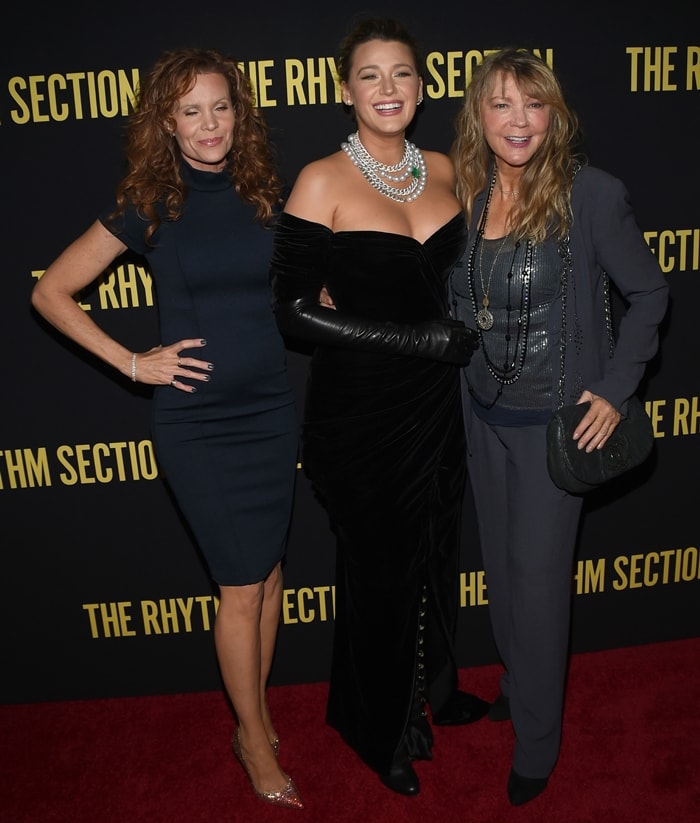 Robyn Lively, Blake Lively, and Elaine Lively attend "The Rhythm Section" New York Screening at Brooklyn Academy of Music on January 27, 2020, in New York City
Credit: Instar / WENN