It's fashion for a cause! Victoria Beckham recently tweeted a photo of a mountain of her designer shoes.
Want some? You're in luck! The designer will be selling them all to aid the British Red Cross as it continues to help the survivors of Typhoon Haiyan.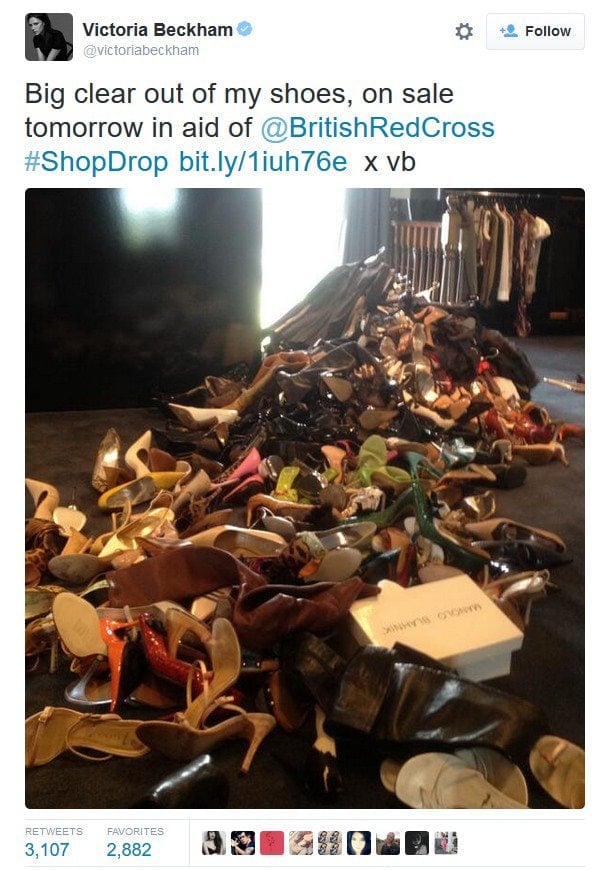 Victoria Beckham shows all the shoes she's planning to sell
She also posted a photo in which she could be seen wearing jeans and sneakers — a rare sight! In the snap, Victoria was sitting with boxes of old clothes from her closet.
Victoria and her husband, David Beckham, will be donating the clothing to help fund the charity's work in assisting the victims of the super typhoon which made landfall in the Philippines on November 8.
Victoria Beckham donates clothes to benefit Typhoon Haiyan victims
The clothes and shoes are said to come from designers like Dolce and Gabbana, Jimmy Choo, Manolo Blahnik, and Roberto Cavalli. She issued the following statement"
Typhoon Haiyan has devastated the Philippines, killing thousands and leaving hundreds of thousands homeless, and the Red Cross is carrying out an enormous relief project to help all those in desperate need.

David and I urge everyone in Britain to join us in supporting the Shop Drop for the Philippines campaign. Everyone has something in their closet they were holding onto – a dress, suit, or pair of shoes they thought they might wear again.

Dig them out, bag them up, drop them off and give someone else the chance to buy them. You'll be raising much-needed funds for the Red Cross' aid effort.
With big names like these, the sale will hopefully encourage a lot of buyers and raise enough money to help out those whose lives have been ravaged by the recent tragedy.
Kudos to Victoria and David for this proactive show of support!
Victoria Beckham attends the fourth annual Global Gift Gala in London on November 19, 2013
And in case you also want to help, Solestruck, in partnership with Portland charity and the relief organization Mercy Corps, is also raising funds to help out the typhoon survivors. You can visit their blog to find out more.
Credit: Lia Toby / WENN / Victoria Beckham Twitter