Is there anything better than a pretty, talented girl with a good heart? Probably not.
In June 2016, The Boy Who Cried Werewolf actress Victoria Justice got all dolled up to support amFAR, a foundation focused on AIDS research.
Victoria Justice wears her dark hair down at the 7th annual amfAR Inspiration Gala held on June 10, 2016, in New York (Credit: Ivan Nikolov / WENN)
Six years earlier, Victoria Justice starred in the 2010 Nickelodeon television movie, "The Boy Who Cried Werewolf," where she portrayed the character of Jordan Sands.
In the film, Jordan is transformed into a werewolf after her family moves to a mysterious manor.
Despite their characters' perceived age difference in "The Boy Who Cried Werewolf," Victoria Justice and Chase Ellison, who played Jordan Sands and the titular boy, respectively, are actually close in age. The two actors were born only seven months apart, adding an extra layer of symmetry to their on-screen dynamic.
Brooke Shields as the steely castle housekeeper Madame Varcolac and Victoria Justice as the awkward and nerdy 17-year-old girl Jordan Sands in The Boy Who Cried Werewolf (Credit: Nickelodeon)
Victoria Justice (Jordan Sands) was 17, Chase Ellison (Hunter Sands) was 17, Matt Winston (David Sands) was 40, Brooke D'Orsay (Paulina Von Eckberg) was 28, Steven Grayhm (Goran) was 29, and Brooke Shields (Madame Olga Varcolac) was 45 at the time of the release of "The Boy Who Cried Werewolf" on October 23, 2010.
The film "The Boy Who Cried Werewolf" pays homage to the classic comedy "Young Frankenstein" through its use of auditory cues.
Whenever the character Madame Varcolac's name is mentioned, the audience is treated to the sound of a wolf's howl. This is reminiscent of how Frau Blucher's name (Cloris Leachman) is accompanied by the sound of horses braying in "Young Frankenstein." Additionally, the name Varcolac has roots in Romanian folklore.
The term "vârcolac" is typically used to refer to a werewolf, a creature that transforms from a human into a wolf or a wolf-like being, often due to a curse or spell. However, in some regions of Romania, the term may also be used to refer to a goblin or other similar mythical creature.
Victoria Justice shimmers on the red carpet in a silver Pamella Roland dress (Credit: Ivan Nikolov / WENN)
amfAR, the Foundation for AIDS Research, annually holds a star-studded gala to raise money for research.
Victoria was definitely one of the best dressed on the red carpet, in our opinion. The Victorious actress showed off her svelte body in a custom-made silver gown from Pamella Roland. The couturier crafted the dress from sequins, stitches, and sheer cutouts.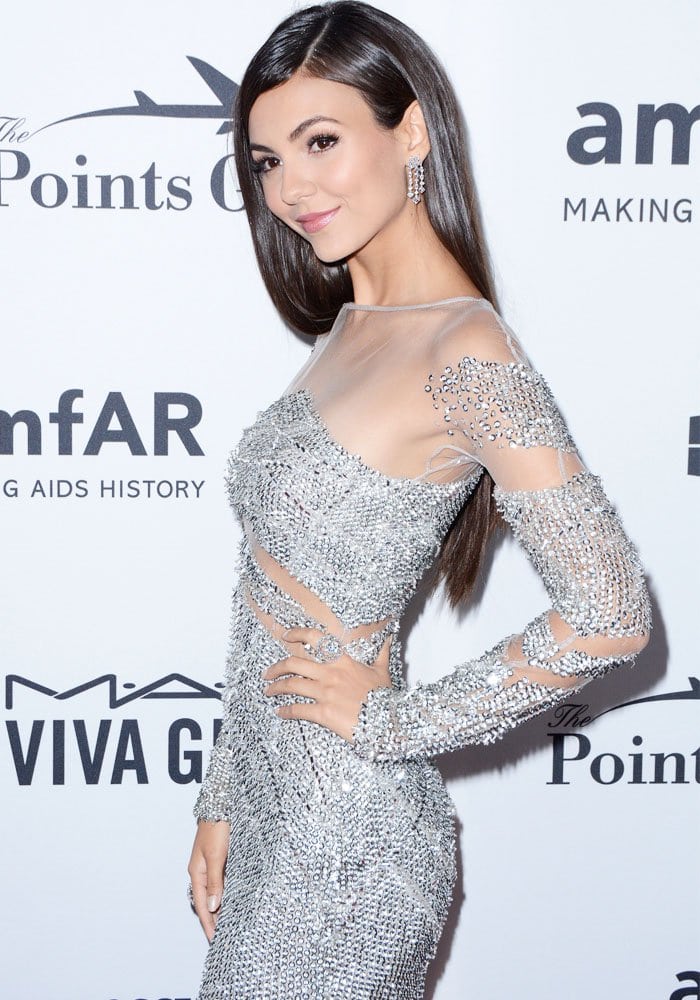 Victoria Justice tastefully flashes some flesh in a silver Pamella Roland gown (Credit: Ivan Nikolov / WENN)
The then-23-year-old styled her gown with jewelry from Harry Winston, a purple satin clutch by Jimmy Choo, and "Hesper" sandals in silver, also a Jimmy Choo creation.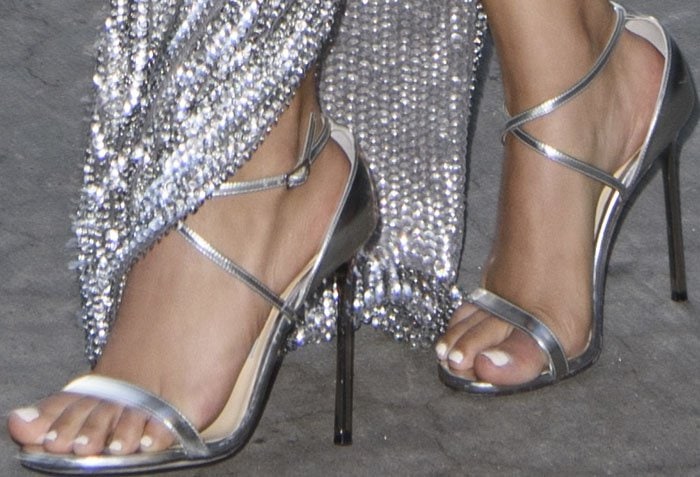 Victoria Justice's feet in loose silver Jimmy Choo sandals (Credit: Ivan Nikolov / WENN)
Victoria shone in her outfit, and she made sure her Instagram followers knew it.
After the gala, the actress uploaded a collage of her appearance that night, with shoutouts to her styling team and designers. Victoria mentioned that the gala was an "incredible night."
Nina Dobrev's lookalike seemed to really have enjoyed her night! She posted a fun video featuring her stylist, Madison Guest, to Snapchat.
You can order Victoria's popular "Hesper" sandals by Jimmy Choo at Mytheresa and Farfetch.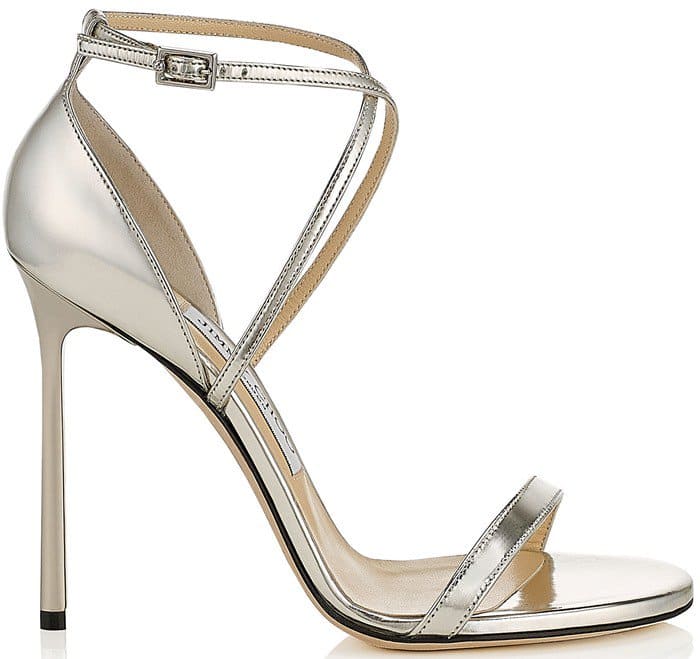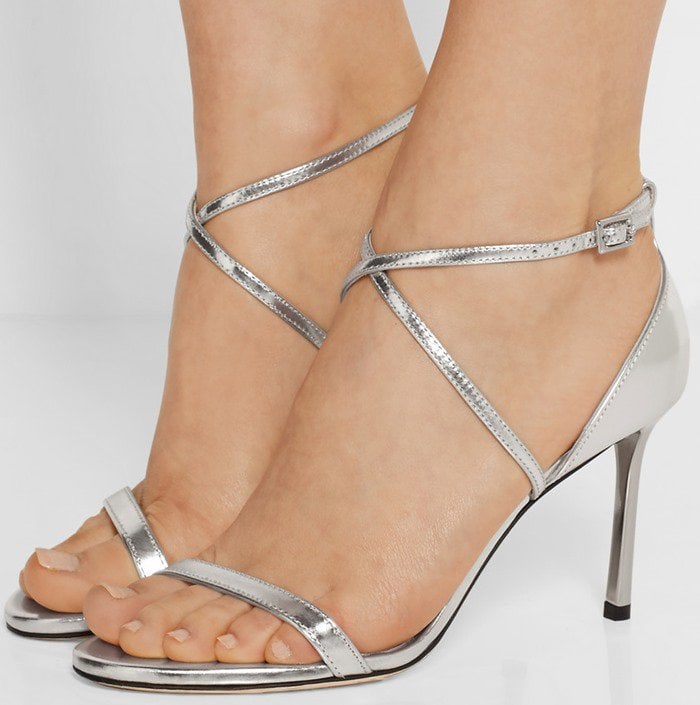 Jimmy Choo "Hesper" Ankle Strap Sandals, $695 – $795