Emily Blunt went for an all-black — yet, forgettable — look with a voluminous high ponytail as she took to the red carpet at the 2015 HFPA Annual Grants Banquet held at the Beverly Wilshire Four Seasons Hotel in Beverly Hills, California.
Emily Blunt attends the 2015 HFPA Annual Grants Banquet at the Beverly Wilshire Four Seasons Hotel in Beverly Hills on August 13, 2015
Wearing her hair in a voluminous high ponytail, she was joined by her husband John Krasinski. They married at George Clooney's house on Lake Como in Italy on July 10, 2010.
How did Emily Blunt Meet John Krasinski?
During an interview with Seth Meyers in April 2018, Blunt revealed how she met her husband. Apparently, she was enjoying a meal with a friend when her dinner companion saw Krasinski at the same restaurant in 2008. He came by their table and the rest is history!
'I was in a restaurant. He was in the restaurant. I was sitting with a mutual friend,' explained Emily. 'My friend goes, "Oh my God. There's my friend John." And that was it.'
"It was me asking for a while and you took some time, and then we finally had a date," John revealed a few months later in an interview with The Hollywood Reporter.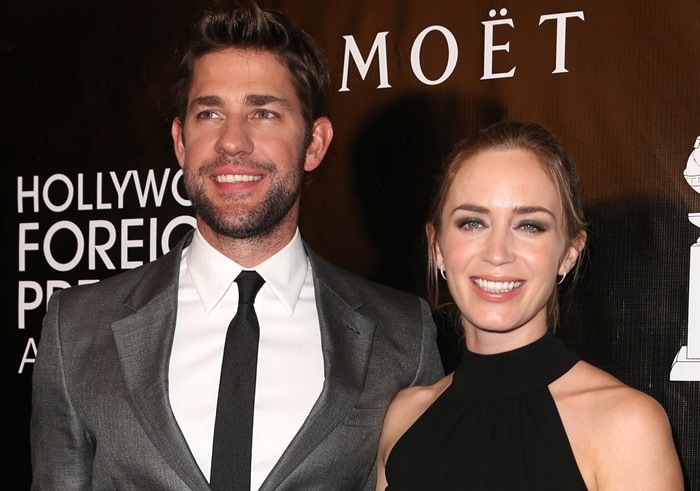 Emily Blunt and husband John Krasinski smile from the red carpet in matching monochrome looks
The then 32-year-old British actress, who is not related to James Blunt, disappointed in a black halter dress from the Michael Kors Resort 2016 collection. Don't get us wrong, she definitely looked elegant! Unfortunately, that elegance was outweighed by boredom.
Emily Blunt shows off a voluminous high ponytail as she affectionately glances toward her husband, John Krasinski
Emily carried a Milly clutch and accessorized with a Dana Rebecca bracelet, a Melissa Kaye ring, and EF Collection earrings.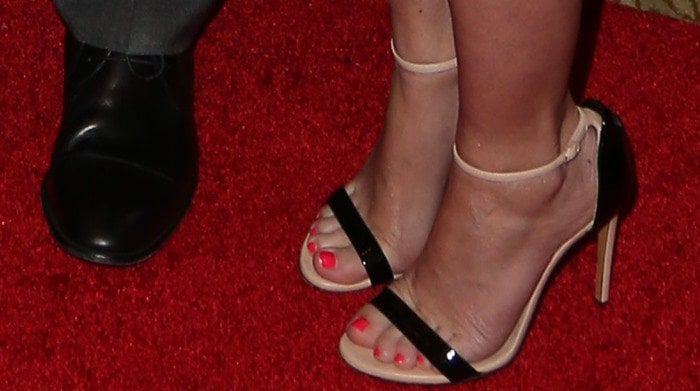 Emily Blunt's neon coral toenails – the only pop of color in her ensemble – peek out from her Casadei sandals
Emily's demure ensemble was almost saved by her amazing Casadei sandals.
These neutral-colored stilettos feature buckle-fastening ankle straps in black candylux and calf leather.
Casadei Black Evening "Tulip" Sandal, €263 at Casadei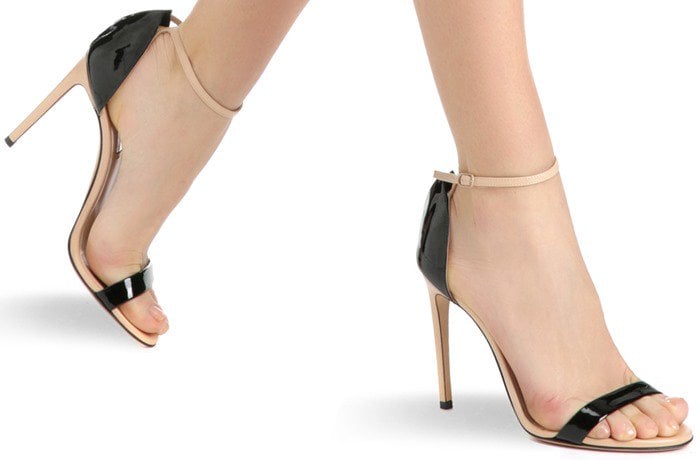 Credit: WENN / FayesVision