With Glastonbury opening in full magnificent force this week, there will be a rush of festival-inspired fashion again.
And with the English countryside bound for the usual wet weather, we expect the denim cutoffs and the swishy skirts to once again be matched with the ultimate tough boots: the Wellington.
A guest on the first day of the Royal Ascot wearing a colorful pair of Wellies covered in clownfish
Based on the leather Hessian boots, which were standard issue military boots, the Wellington was made popular by Arthur Wellesley, 1st Duke of Wellington. It went on to become the go-to footwear for hunting and outdoor wear for the British aristocracy in the early 19th century.
Of course, now everybody wears them, and for a lot of things, too, whether you're enjoying indie music in the muddy countryside or just doing errands around the city on a wet, rainy day.
Sarah Jessica Parker and son off to school in Wellington boots
Gwen Stefani in Wellies as she takes her cute dog out for a walk on a rainy day
Hunter is one of the more popular brands of Wellies, if not the most popular, and below are some styles that are more than just standard issue. Just make sure you stay away from fakes!
Hunter Carnaby Rain Boots, $195 at Nordstrom and Zappos
Turquoise, serpentine texture, and purple trim spell edgy all over these rain boots.
Hunter Packable Tour Rain Boots, $140 at Nordstrom and Zappos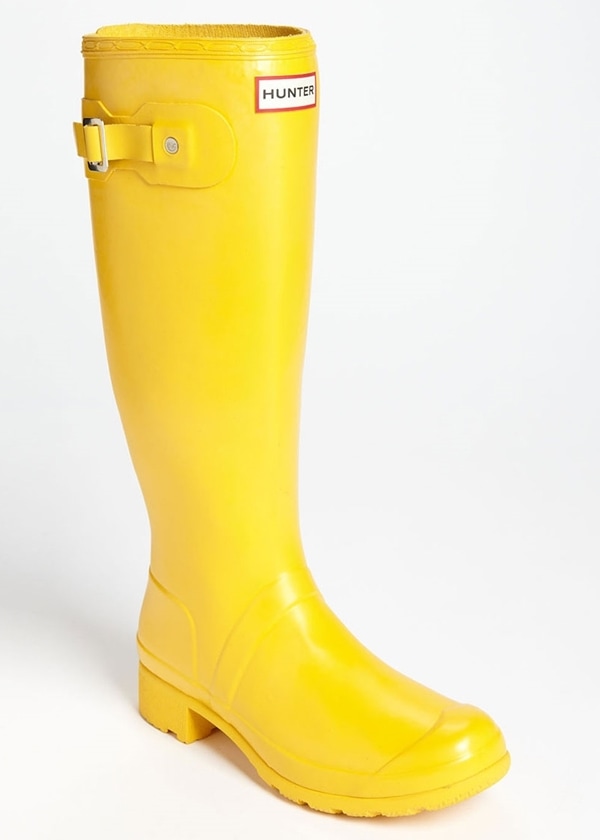 Sunshine yellow boots are good for dreary, wet days.
Hunter Bessy Rain Boots, $134.98 at Nordstrom and Zappos
Equestrian boots and Wellies reach a fashionable compromise.
Hunter Regent Savoy Rain Boots, $195 at Nordstrom and Zappos
The quilted style gives these boots a posh touch, even after layers of mud.
Credit: TNYF / WENN