Going for a job interview is always a nerve-wracking experience. You want to put your best foot forward and make an unforgettable first impression. Your clothing is one of the ways that people build their first impression of you.
While it's easy to get caught up in your interview prep, deciding the right outfit to wear for your interview is just as important. The phrase 'dress to impress' is more than just a cliché.
It's important to wear appropriate clothing to a job interview as it can significantly impact the first impression you make on potential employers (Credit: GBJSTOCK / Shutterstock)
While every office – or work-from-home – set-up and environment is different, there are a few universal rules when choosing your interview outfit.
It's easy to feel overwhelmed or frazzled when pulling together your outfit. Can you wear a bold color? Should you show off your personality or keep it simple?
We're answering all these questions and more with our guide on what to wear for a job interview. Whether it's your first job or an interview for a promotion, this guide will help you choose an outfit that makes you feel confident and ready to impress your interviewer.
Start With Your Hair and Makeup
Before putting your outfit together, start with your hair and makeup. You want to keep both as natural as possible. Bold makeup can be distracting, and it's best to choose an easy hairstyle.
Stay away from heavy perfumes and choose a 'soft glam' or 'skin-first' approach to your beauty routine. You want to look bright-eyed and alert without showing off your eyeliner or heavy contouring skills.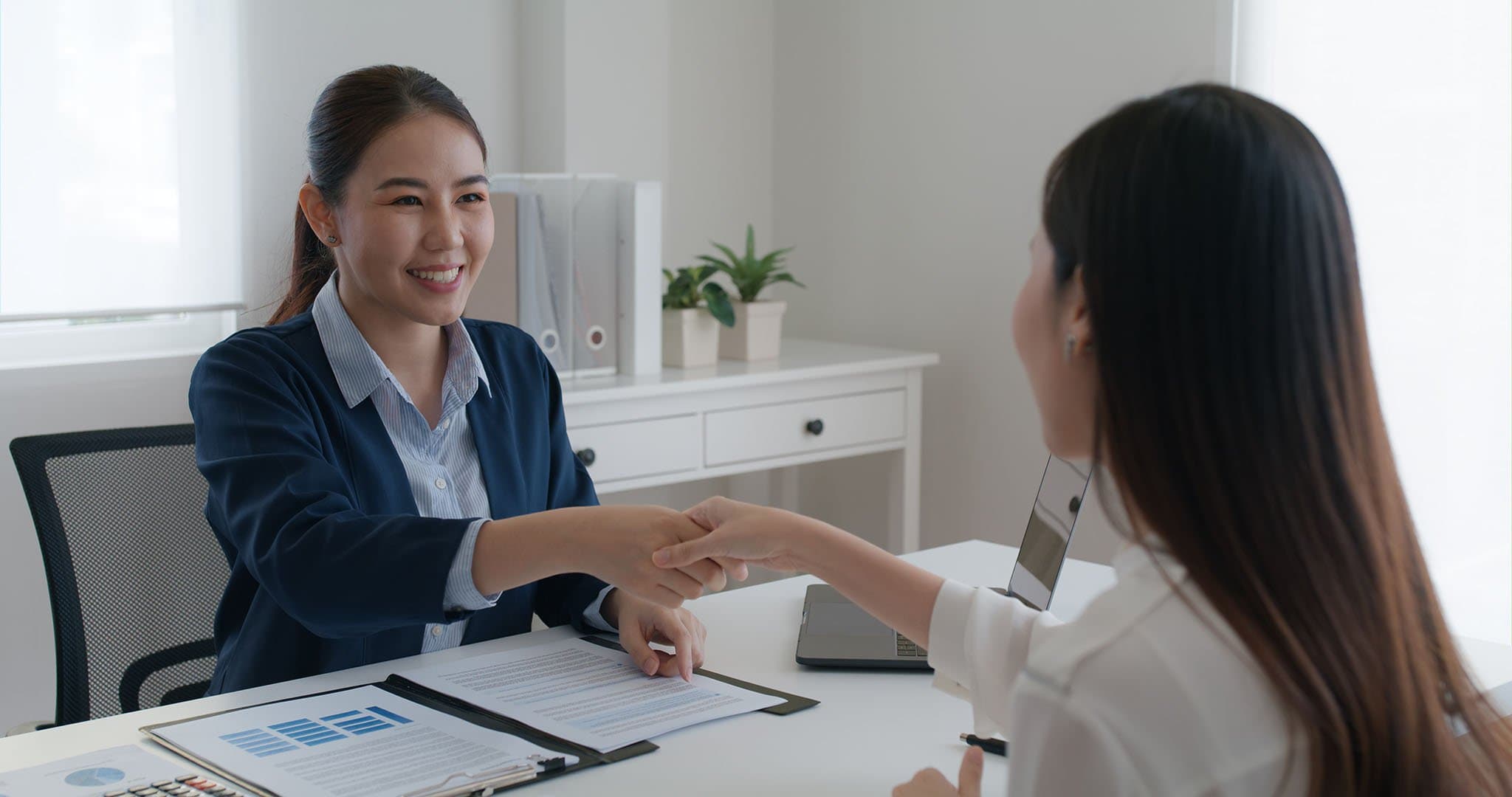 Keep your hair and makeup as natural as possible (Credit: Chaay_Tee / Shutterstock)
If you're doing a virtual interview, your hair and makeup are even more important. Your interviewer will be seeing you from the shoulder up, so you want to consider how your outfit looks on camera.
What Colors Are Appropriate to Wear for a Job Interview?
One of the most popular questions people have about interview outfits is the color to choose. When in doubt, stick to neutrals and subtle colors. Black and navy blue are classic choices, while beige and white can help to brighten your appearance.
Don't be afraid to add a pop of color to your outfit. Soft pastels and jewel tones can help your outfit stand out and add an elevated feel when styled the right way.
A solid color dress with neutral accents can make you look more polished than an all-gray outfit.
1. Veronica Beard Scuba Jacket, $645 at Nordstrom; 2. Eileen Fisher Classic Collar Long Boxy Shirt, $138 at Zappos; 3. St. John Collection Ponte Knit Ankle Pants, $295 at Nordstrom; 4. Lifestride Parigi Pumps, $69.99 at Zappos
Certain patterns and prints can also be appropriate for a job interview, depending on your outfit and the role you're applying for. You want to avoid prints that are too distracting or trendy.
Choose prints in a neutral color scheme, like a navy plaid, and tie the rest of your accessories into this color palette.
If you want to add a touch of your personality, stick to one signature accessory. It might be a colorful bag, a statement necklace, or a small pair of gold hoops.
1. Liverpool Los Angeles Plaid Boyfriend Blazer, $119 at Nordstrom; 2. Three Dots Lightweight S/S Scoop Neck, $44 at Zappos; 3. NYDJ Everyday Pleated Ankle Trousers, $129 at Zappos; 4. Baublebar Dalilah Medium Tube Hoop Earrings, $38 at Nordstrom; 5. Sam Edelman Lior Loafer, $149.95-$170 at Nordstrom
Consider the Position You're Applying For
You want the outfit you choose to reflect the position you've applied for. If you're applying for an internship, your interviewer won't expect you to arrive in a three-piece suit.
You'll want to choose a business-casual look in which you'll feel confident and comfortable.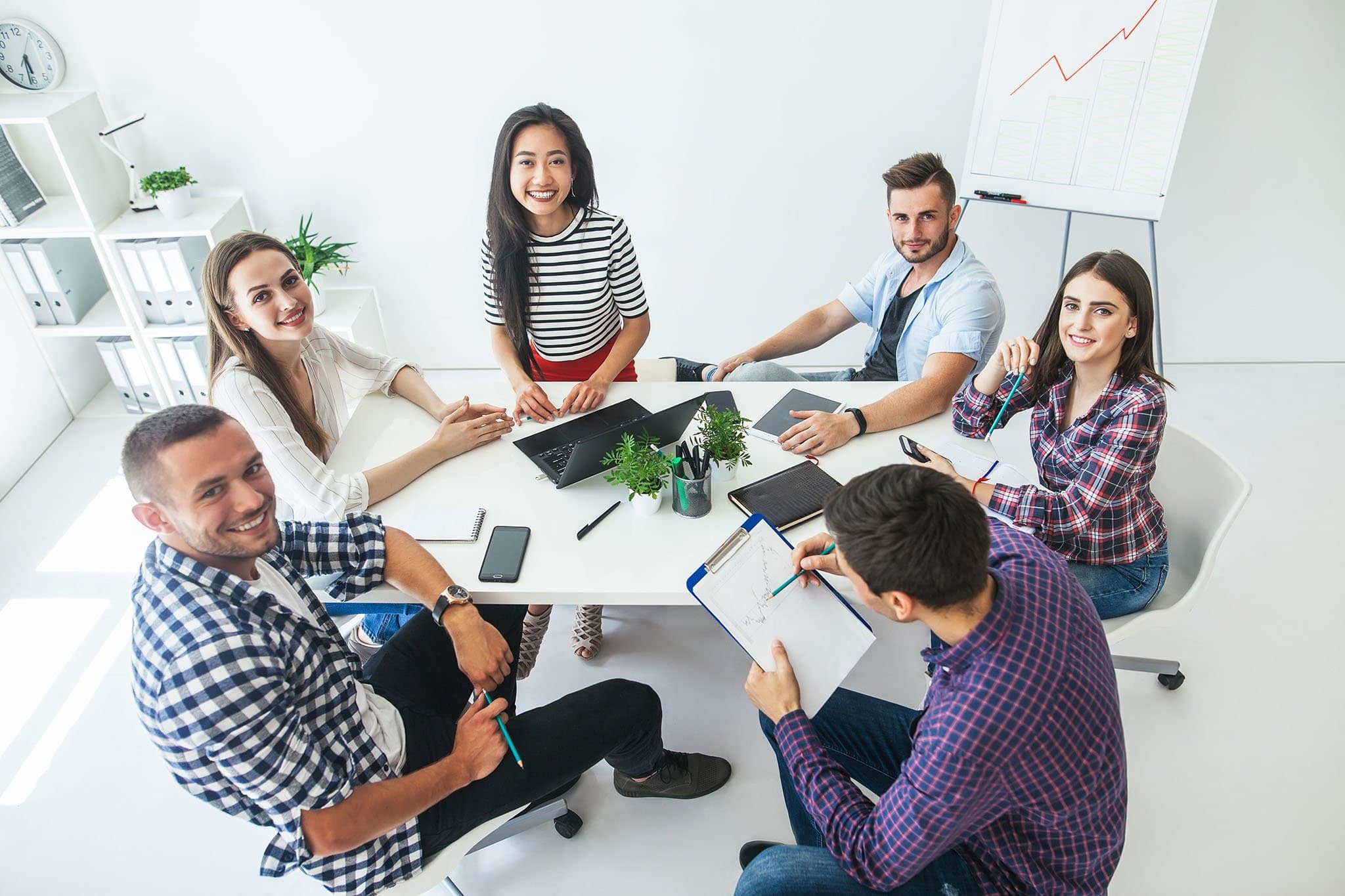 Depending on the position you're applying for, business-casual outfits are perfect for internship (Credit: Viktor Gladkov / Shutterstock)
Start-up companies have a similar interview style. While you need to make a good impression, you want to avoid being too overdressed.
Research the company culture to get a feel for what you can expect and ensure your outfit fits the position you're applying for.
Your interview outfits should become more formal when applying for more senior roles. Executive roles call for a traditional three-piece outfit.
While mid-level positions allow you to express your personality, you still want to create a professional impression.
For more senior or executive roles, you should opt for a classic three-piece look to create a professional impression (Credit: imtmphoto / Shutterstock)
Understanding What Business Attire Is
In the age of start-ups and working from home, the term 'business attire' can be confusing. It largely breaks down into two categories – business casual and business formal.
Business casual is slightly more laidback, making you look polished and put together. Classic business casual staples include a blouse, knee-length dress, or casual pantsuit.
While your outfit will be minimalistic in style, you can show more of your personality through your accessories.
1. M.M.LaFleur Emily Dress, $225 at Zappos; 2. Lagos Luna 8mm Pearl Stud Earrings, $175 at Nordstrom; 3. Tissot Classic Dream Bracelet Watch, $275 at Nordstrom; 4. Aera Gabriella Satin Slingback Pumps, $450 at Saks Fifth Avenue
By comparison, business formal has a stricter dress code. You'll choose this style when attending an interview for a more senior position.
Add a blazer to your skirt and blouse, or choose a tailored dress with a statement accessory. Formal outfits should also convey a sense of authority and professionalism.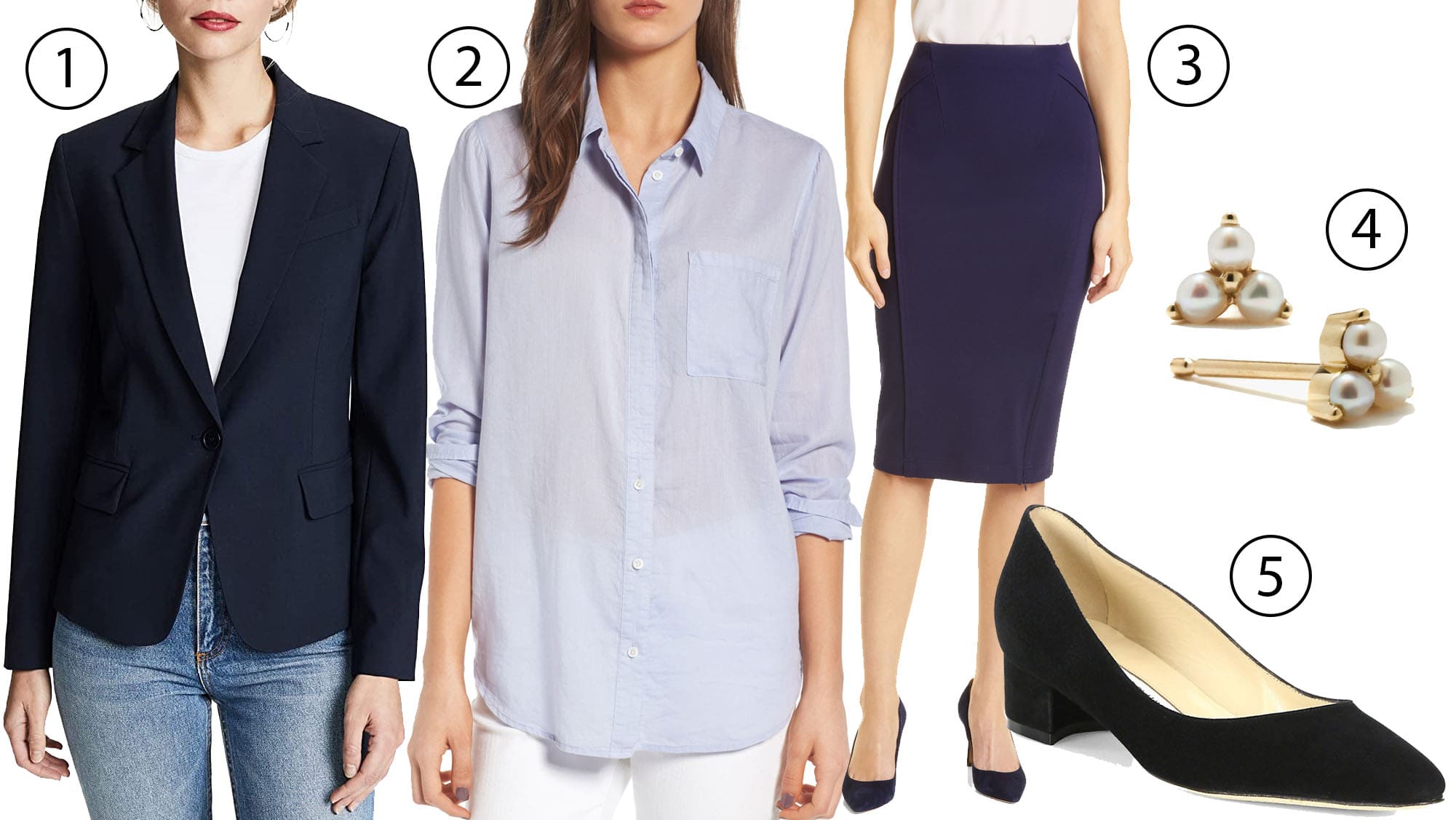 1. Theory Four Gabe N Blazer, $425 at Zappos; 2. Treasure & Bond Drapey Classic Shirt, $69 at Nordstrom; 3. Donna Karan New York Sculpted Pencil Skirt, $175 at Nordstrom; 4. Maria Tash Trinity Pearl & 14kt Gold Single Earring, $275 at Matches Fashion; 5. Manolo Blahnik Listony Block-Heel Suede Pumps, $665 at Saks Fifth Avenue
It's worth considering how these dress codes are viewed within your industry. If you're applying for a position within a creative industry, you can take more risks with your outfit.
If you're applying for a junior role at a tech start-up, you'll usually want to stay minimalistic with a semi-casual business look.
What Shoes to Wear for a Job Interview
One thing that's easy to decide when planning your interview outfit is your shoes. Leave your sneakers and casual shoes at home.
Your shoes are the finishing touch to your outfit and often one of the first things people look at when you walk into a room. Research shows that you always want to put your best foot forward.
1. Michael Michael Kors Kitten Heel Pump, $99 at Nordstrom; 2. Stuart Weitzman Stuart 75 Pump, $418 at Farfetch; 3. Rockport Total Motion Pointy Pumps, $119.85 at Zappos
Open-toe shoes of any style aren't appropriate for a job interview – whether you're applying for an internship or executive role. Choose closed-toe shoes in patent leather or suede.
Kitten heels and ballet flats are versatile choices that work for most job interviews. While high heels might boost your confidence, you want to choose an appropriate height and avoid platforms or mule shoes.
1. Journee Collection Goldie Kitten Heel, $64.99 at Zappos; 2. Geox Logo-Plaque 35mm Pump, $159 at Farfetch; 3. Vince Camuto Elanndo Square Toe Ballet Flat, $$88.95 at Nordstrom
First impressions matter when going for a job interview. You want to win your interviewer over from the moment you walk in.
Choosing the right outfit creates a great first impression and can make you feel more confident heading into your interview. Looking the part is the secret to acing your job interview.