You may not know who Jack Harlow is or even know his name, but if you own a radio (listening in the car counts!) or have watched a TikTok video in the last year, you have heard his music.
A Louisville, Kentucky native, 24-year-old Jack Harlow looks more like the new intern at your hip design firm than he does a rapper, but that didn't stop him from becoming one of the most successful breakout artists in recent years.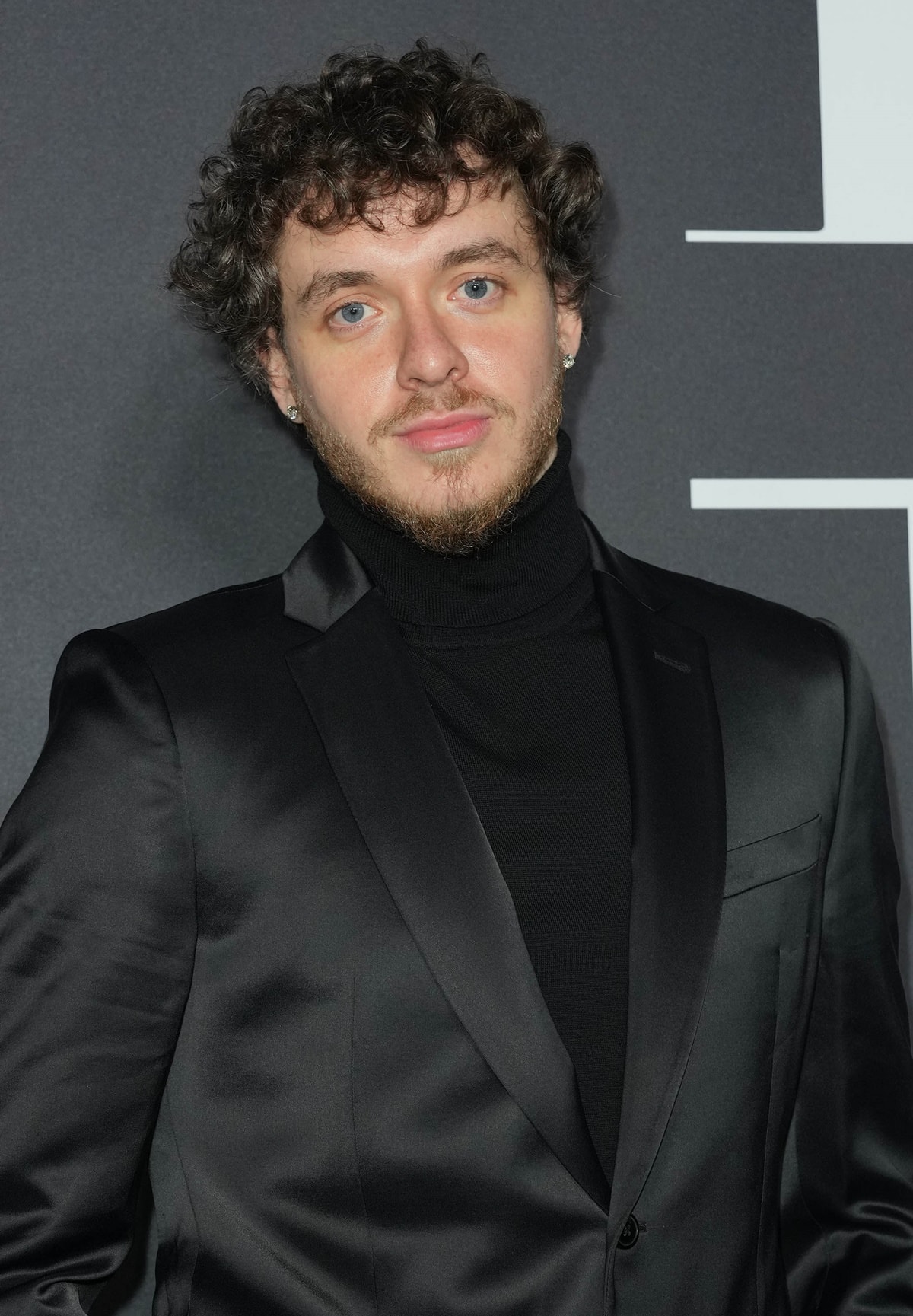 Jack Harlow in a black suit at Harper's BAZAAR Global ICONS Portfolio and Bloomingdale's 150th Anniversary at Bloomingdale's on September 9, 2022, in New York City (Credit: John Nacion / Startraksphoto / Cover Images)
In fact, in 2021, Harlow was nominated for Top New Artist at the Billboard Music Awards, named Variety magazine's Hitmaker of the Year, and even earned a spot on Forbes' coveted 30 Under 30 list.
So how did Jack Harlow go from a relative unknown to an international superstar in just a year or two?
Jack Harlow began rapping at the age of 12
Many performers find their love for music at a young age, plunking around on a piano or guitar before they hit double digits. However, these stories are changing along with technological advances, and Jack Harlow's story is proof of that.
While growing up in Louisville, Kentucky, Harlow became interested in rap music in middle school when the young performer was only 12 years old.
Rapper Jack Harlow attends the premiere of the second season of the American television series Atlanta, titled Robbin' Season, at Starlight Six Drive-In on February 26, 2018, in Atlanta, Georgia (Credit: The Photo Access / Cover Images)
He and another young friend, Kennie Copeland, had an idea to write and produce their own rap album, so they began gathering as many materials as they could.
However, being 12, Harlow and Copeland's musical resources were few, so they used a Guitar Hero video game microphone to record their lyrics and an old, hand-me-down laptop to produce their tracks.
What resulted was an album written and produced by 12-year-olds called Rippin' and Rappin', which the pair copied and sold CDs at their middle school.
Jack Harlow at Hyde Beach Presented by Rolling Loud in Miami on April 25, 2021 (Credit: Seth Browarnik / Startraksphoto / Cover Images)
The next year, the young rapper decided he needed to take things up a notch, and his first mixtape, Extra Credit, was recorded on a professional microphone (likely a birthday gift) under the name Mr. Harlow.
Alongside his friends, Harlow formed a small and very young rap collective called Moose Gang, which recorded two mixtapes, the self-titled Moose Gang and Music for the Deaf.
Despite the insistence of Harlow's future fans, these mixtapes have never been released.
It took a few years for Jack Harlow to hit the big time
Industry professionals soon realized that Jack Harlow had talent, resulting in a contract with sonaBLAST! Records while still in high school.
On weekends, Harlow frequently performed at sold-out local Louisville venues. Still, Harlow decided he wanted more control over his music and formed his own label, Private Garden, and released his mixtape, 18, under the label in 2018.
Jack Harlow found more success with his singles "Routine" and "Dark Knight," earning himself spots opening for the indie band "Portugal. The Man." Around the same time, Harlow was featured on Skeme's "Get Sumn."
Jack Harlow attends Variety's Hitmakers Brunch presented by Peacock | Girls5eva on December 04, 2021, in Downtown Los Angeles (Credit: Faye's Vision / Cover Images)
Despite Harlow's growing profile, a move from Louisville to Atlanta in 2018 proved difficult and the rapper got a job at a small Chick-fil-A franchise within Georgia State University's cafeteria.
Luckily, this boring job in a busy cafeteria helped Harlow network, as he eventually met DJ Drama of Means Street Studios and Atlantic Records.
From there, Harlow began rubbing elbows with notable names in rap, such as K Camp, 2forWoyne, and Taylor, all of whom were featured on Harlow's debut mixtape on DJ Drama's label, Loose.
Jack Harlow was nominated for Top New Artist at the 2021 Billboard Music Awards but lost to Pop Smoke (Credit: Abaca / INSTARimages / Cover Images)
Loose was a success, earning a nomination for Best Mixtape at the 2019 BET Hip Hop Awards.
However, it wasn't until 2020 that Jack Harlow earned worldwide recognition.
Jack Harlow's "Whats Poppin" shot the rapper into superstardom
Despite the fact that the 5' 9" rapper had not released a major album at the time—outside of extended plays (EPs) and mixtapes—Jack Harlow found his name in lights in 2020.
That year, Harlow's single "Whats Poppin," the leading song from his EP Sweet Action found its footing on the video-based social media platform TikTok. The song quickly went viral, surpassing more than 135 million plays on the app, a huge milestone for the then-21-year-old rapper.
Though the Atlanta hip hop scene had embraced Harlow, "Whats Poppin" put the rapper on the map all over the world.
Now, Harlow has collaborated with some of the biggest names in rap, like G-Eazy, DaBaby, Tory Lanez, Pooh Shiesty, Lil Wayne, Lil Nas X, and Kanye West.
Jack Harlow was 21 years old when he had his first major breakthrough Whats Poppin, which was released on January 21, 2020 (Credit: BauerGriffin / INSTARimages / Cover Images)
Even more, Jack Harlow has been honored by appearing on XXL magazine's Freshman class, was nominated for a Grammy Award, and his debut studio album, Thats What They All Say, is now certified platinum.
"There's no better indication that you've made it than going outside and people wanting something from you—wanting to talk to you or wanting a picture. Summer of 2020, when I started to walk around Piedmont Park in Atlanta a lot and people would stop and be blown away: that was the moment when I realized I was famous," he says in the September 2022 issue of Harper's BAZAAR.
Now, Jack Harlow is a bonafide superstar and will soon be gracing the silver screen.
Earlier this year, Harlow announced that he will be starring in the remake of the 1992 film White Men Can't Jump. It's no wonder that the rapper-turned-actor was interested in the role, as Harlow is a longtime baseball fan, even playing in the NBA's All-Star Weekend Celebrity Game.
What is the KFC Jack Harlow meal?
In 2022, he also partnered with KFC for an exclusive online menu. "Partnering up with KFC feels like poetic justice. I've begun traveling the world, and no matter how far I go, KFC is one of the first things people want to bring up when they find out where I'm from," Harlow said in a press release.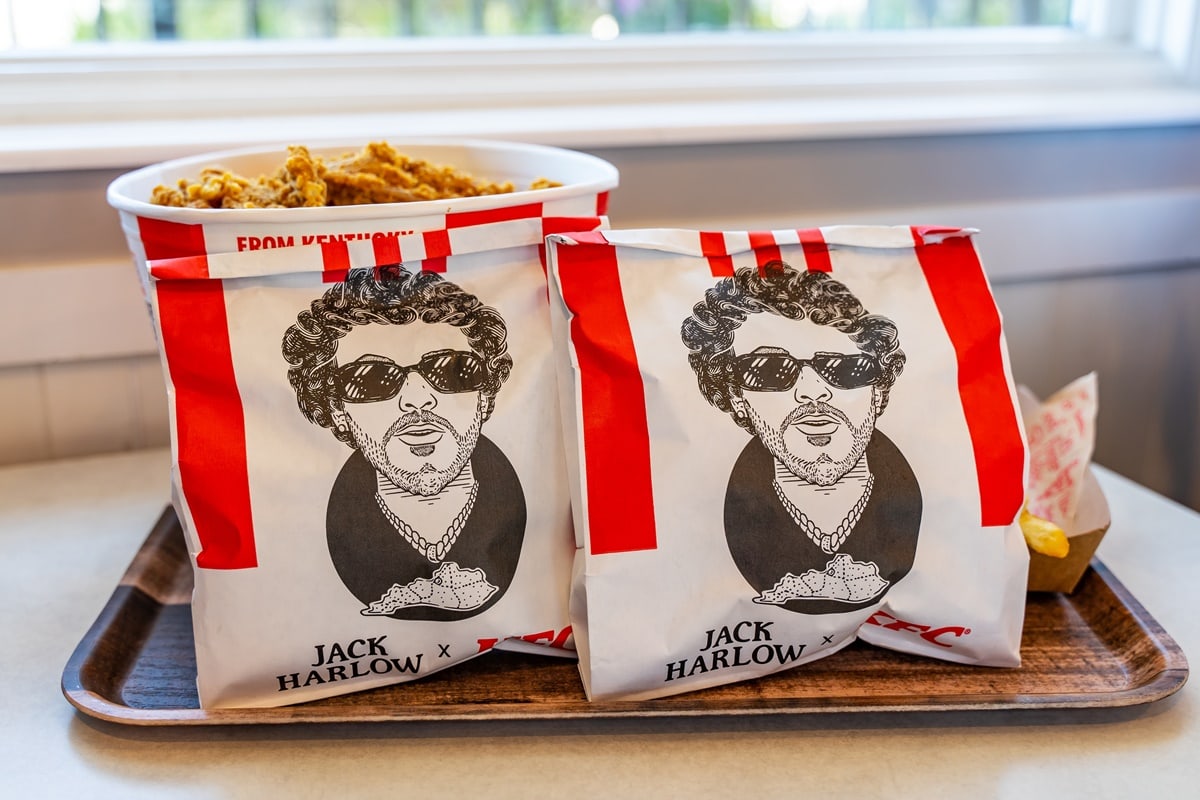 Jack Harlow has crafted a menu in collaboration with Kentucky Fried Chicken in custom Jack Harlow-KFC packaging (Credit: Iv-olga / Shutterstock)
"I'm excited to align myself with something that started in Kentucky, but resonates all over the globe. I grew up going to the restaurant with my family, here are a few of the menu items I've been enjoying since I was a child."
"When KFC asked me to create my own meal, I knew it couldn't be just any meal," he added.
"My meal brings together my childhood favorites from growing up in Louisville, the KFC Mac & Cheese, with my new go-to Spicy Chicken Sandwich (with plenty of ranch), Secret Recipe Fries, and lemonade—it doesn't get much better."
Not bad for a kid who recorded his first song using a Guitar Hero game controller as a microphone!