By now, we must've already gotten the message across how much we love woven handbags and purses!
But maybe it's time to explain why exactly we're so crazy about them. Why woven handbags? Why not knit, quilted, or even leather handbags?
Aside from being big fans of woven textures (or just about anything weaved, in fact), we specifically love woven handbags for the plain and simple reason that they will never go out of style. In fact, they will always be in fashion. And here are 5 great reasons why:
1. Weaving is classic
It is well known that the very first woven bag appeared sometime in the late 17th Century. But as you may know, weaving has been used in history even way before that (think as far as 2.6 million years ago).
Weaving has undergone the most rigorous, most thorough, and most reliable test of endurance there is, namely time. If the art of weaving isn't considered a classic, then we don't know what is.
Put the art of weaving on a handbag and you've got yourself one style, age, and time transcending accessory.
Vintage Native American Indian woven bag, $228.00; Vintage patterned woven shoulder bag, $128.00
2. Woven handbags are versatile
Because of the different types of weaves and different kinds of materials that can be used for a woven handbag, it is one of the most versatile accessories there is.
Use twill plaiting and raffia for a tote and you've got yourself a woven handbag ready for a day at the beach. Use the popular basket weave on commonplace leather material and you'll end up with a gorgeous for-everyday tote.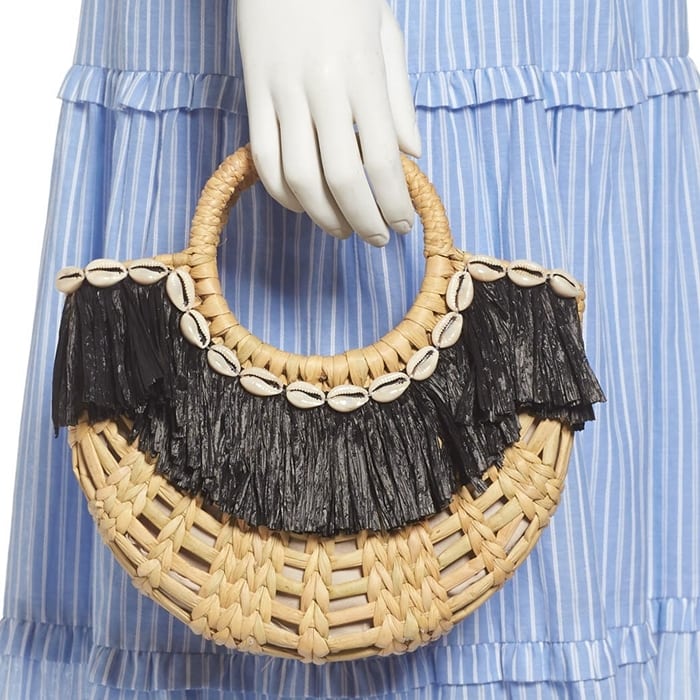 Cowrie shell and raffia trim add fun, festive touches to a woven straw handbag that channels carefree vacation vibes
Use an intricate weave pattern on shiny satin fabric and you'll have a lovely little clutch ready for a night on the town.
With so many combinations, so many techniques and so many ways, you can see why designers love to use weaving on handbags.
Even Bottega Veneta has decided to use a woven pattern as their signature instead of brandishing their logo on every single one of their products.
Clockwise from top left: Chloe Ethel woven sheepskin tote, $1,395.00; Nine West Isola straw tote, $79.00; Burberry Prorsum Christie woven raffia satchel, $1,195.00; Bottega Veneta mini knot clutch, $2,320.00
3. Woven handbags mix and match with almost anything
The fact that woven handbags are so versatile also makes them easy to mix and match with virtually almost anything in your closet. Heading to work?
Take a woven satchel like the Burberry Prorsum Christie satchel with you. Got a hot date? Tuck a tiny woven clutch like the Bottega Veneta mini knot clutch under your arm.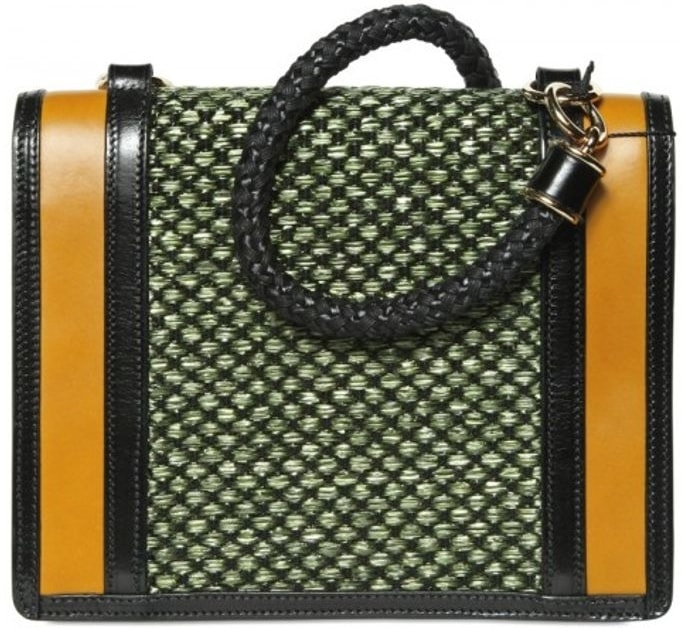 Burberry Prorsum raffia weaved Christie shoulder bag
You can create pretty much any type of look with a woven handbag. And because they are woven, they instantly add an interesting texture to any outfit. We also think that woven handbags can be worn year-round.
Depending on the style, of course, woven handbags can be used whether it be spring, summer, winter, or fall.
4. Woven handbags only get better with age
We love our woven handbags because the older they get, the better they look. The weaving settles in the more and more we use them. They fall into their shape, almost like they have a life of their own.
We're waxing poetic at this point so we should say that woven handbags get better with age if they're well taken care of. But then again, there are woven handbags that look better when they show signs of wear.
Named for its gracefully arched topline and rolled handles, this Bottega Veneta bag is woven by hand from papery Italian calfskin leather
Take raffia or straw totes for example. They become softer, get more character, and somehow even become roomier the more and more you use them.
5. Woven handbags are beautiful to look at
Lastly, designers will continue using weaving techniques for handbags simply because they're beautiful to look at. They're beautiful not in a trendy, of-the-moment, must-have-now way, but in a classic, last-forever kind of way.
There you have it, the 5 reasons why woven handbags will never go out of style. If you've got one or a whole collection of woven handbags, hold on to them, keep them and take care of them.
A woven design gives a distinctive look to a bucket Prada bag crafted in Italy of exceptionally soft and lustrous calfskin with a tethered zip pouch inside
Cherish them to the point of purchasing them an engagement ring because like a faithful partner, they will stay with you for years to come.