In case you have been living under a rock (or inside a cave), boyfriend-girlfriend singing duo Alex and Sierra won this season's X-Factor competition. Congrats to the lovebirds!
X-Factor held a "coronation" event yesterday at CBS Studios, and as expected, Alex Kinsey and Sierra Phuong-Thao Deaton were there. Isn't it sweet that they actually are a couple?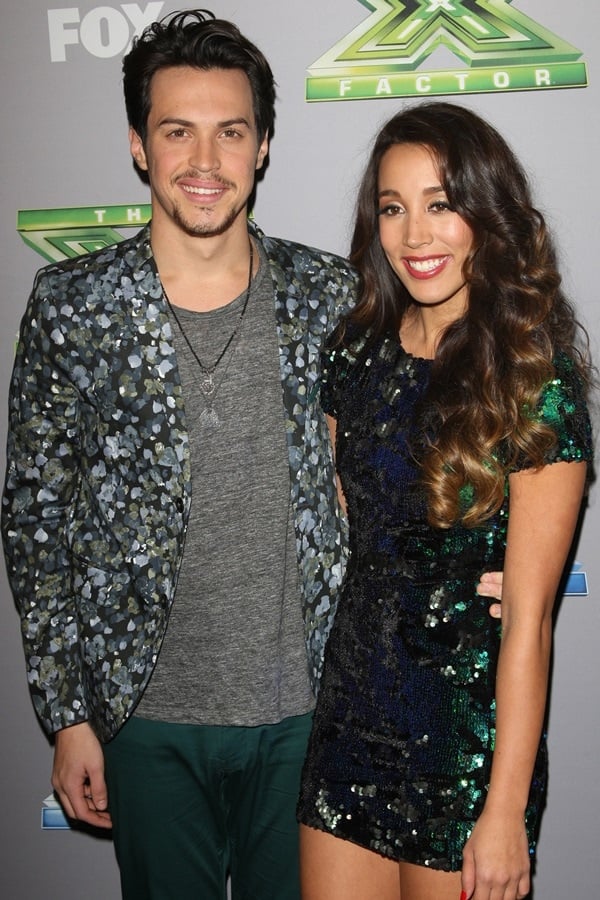 Alex Kinsey and Sierra Deaton at the X-Factor Season 3 coronation of the winner at CBS Studios in Los Angeles on December 20, 2013
Alex must be a really thoughtful and caring guy because at one point, while the two were posing for photographers at the arrival area, he dropped to his knees so he could fix and strap one of Sierra's sandals.
Awww … how super sweet, right?! You can tell if a guy would go over the moon for a girl if he does something like that.
Alex kneeling down to fix and strap one of Sierra's sandals
Alex and Sierra both went to the event in shades of green and blue. Alex wore a green printed jacket and green trousers, while Sierra slipped into a green-and-blue sequined frock that sparkled from a mile away.
Whereas Alex kept his kicks casual (he wore sneakers), Sierra paired her dress with satin-wrapped and bow-detailed black sandals.
Let's have a closer look at those sandals, shall we?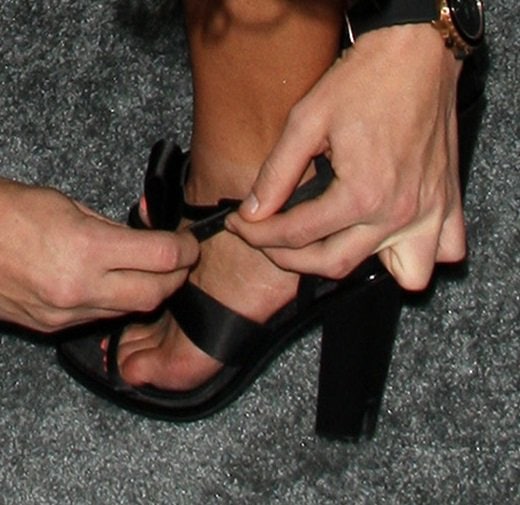 Sierra Deaton's sexy feet in bow-detailed satin sandals
Do you like Sierra's shoes? Did she pick the right pair to go with the dress? And most importantly, would you have any idea where she scored those heels? Can you take a wild guess?
We initially thought they were from Prada. But after further research, we found out that they're from Topshop and called the "Raspberry" satin bow sandals.
The block heels on these strappies are a good 4.5 inches tall. They are wrapped in satin from front to back, so they do need some extra care because they're harder to clean. Check them out below:
Topshop "Rasberry" Satin Bow-Embellished Sandals, $110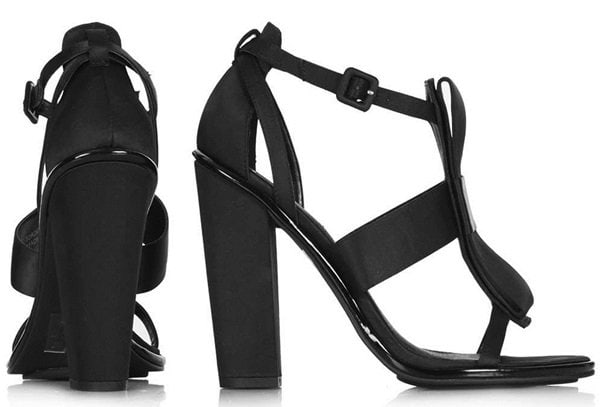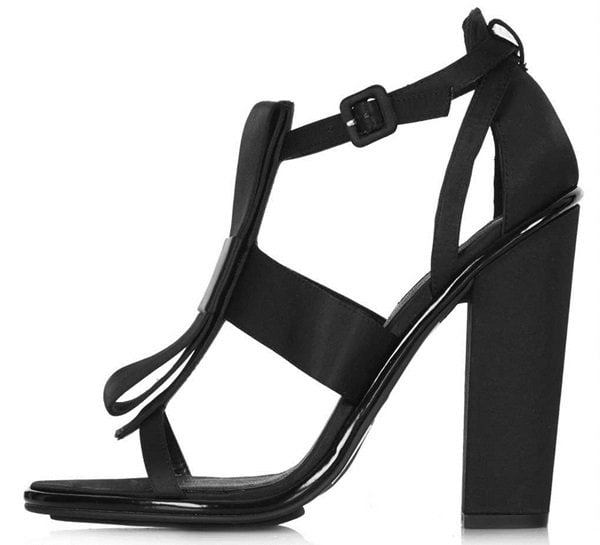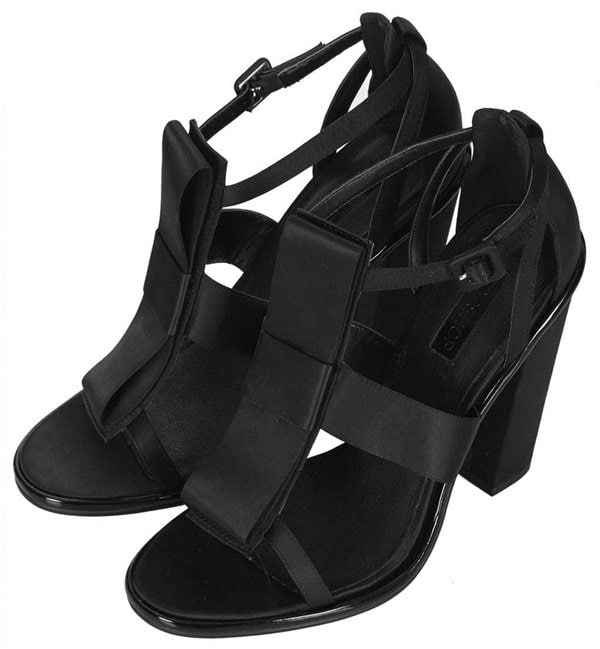 Would you like a pair? They'd be perfect with those holiday dresses of yours.
The Raspberry sandals also come in two-tone variants, namely, purple/blue and nude/black. You can shop for them online at Nordstrom. A pair will cost you an affordable $110.
Topshop "Raspberry" Bow-Embellished Sandals in Purple/Blue, $110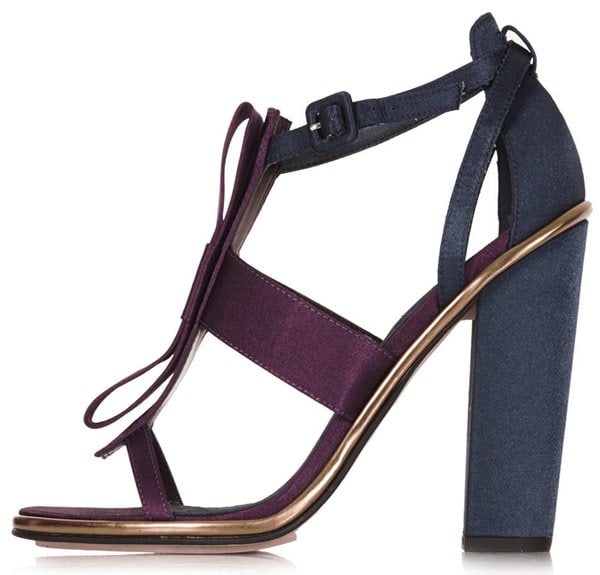 Topshop "Raspberry" Bow-Embellished Sandals in Nude/Black, $110
If you want to steal Sierra's X Factor finale style, then do know that her dress is also from Topshop. You can buy it at Nordstrom for an affordable $136.
Topshop Sequin Velvet Shift Dress, $136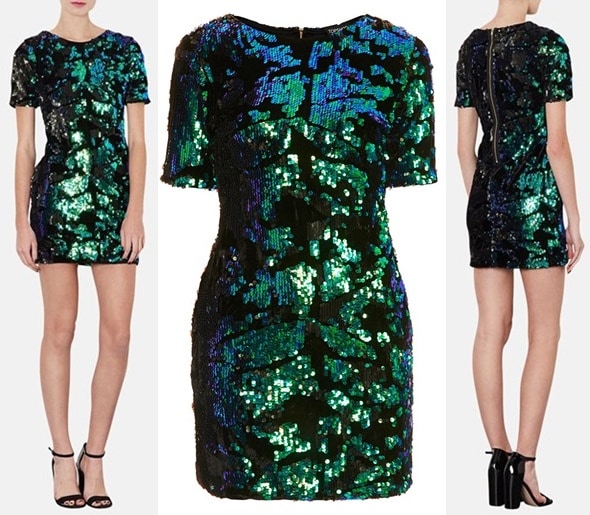 For women with finer tastes, the Prada sandals we were referring to earlier would be your best bet. In fact, we think this pair inspired Topshop to create the Raspberry (sandals). You can find these designer heels at Farfetch.
Prada Satin Bow-Embellished Sandals, $890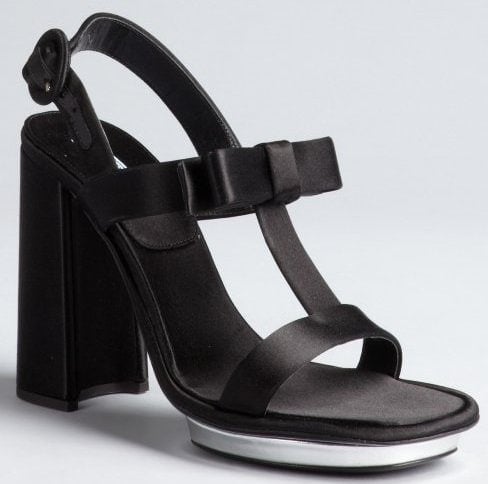 Credit: FayesVision / WENN