Renee Zellweger, who covers New York Magazine's September 2–15, 2019, Fall Preview issue, revealed the heartbreaking reason why she took a break from the spotlight and stopped acting from 2010 to her 2016 comeback in Bridget Jones's Baby.
"I wasn't healthy. I wasn't taking care of myself. I was the last thing on my list of priorities," Zellweger, 50, says in her cover story.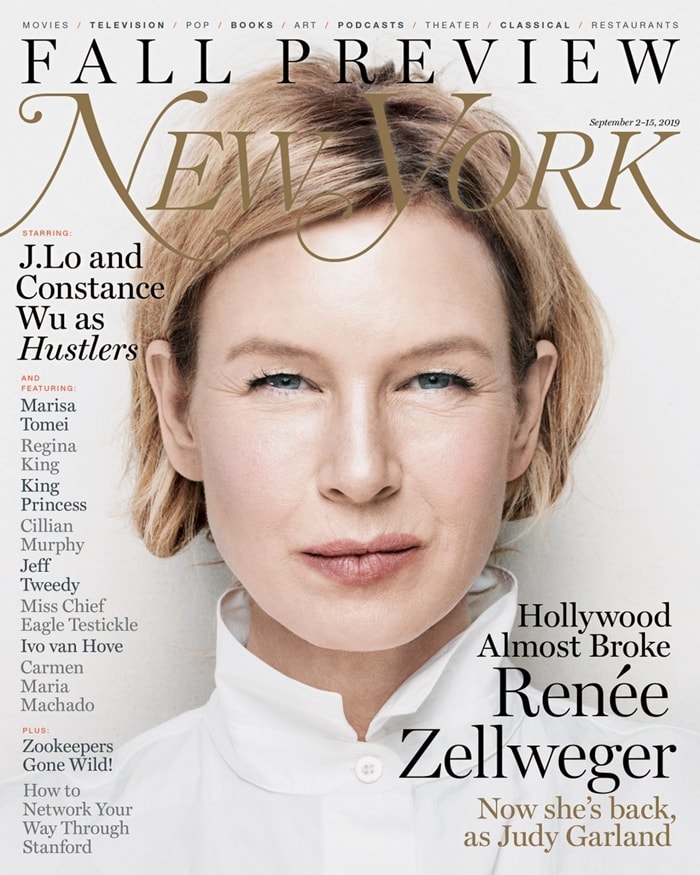 Renee Zellweger reveals why she stopped acting in the cover story for New York Magazine
"[My therapist] recognized that I spent 99 percent of my life as the public persona and just a microscopic crumb of a fraction in my real life. I needed to not have something to do all the time, to not know what I'm going to be doing for the next two years in advance. I wanted to allow for some accidents. There had to be some quiet for the ideas to slip in."
She also discussed the plastic surgery rumors that started swirling after a red carpet event in 2014.
Well, because there's a value judgment that's placed on us. As if it somehow is a reflection of your character — whether you're a good person or a weak person or an authentic person. And the implication that I somehow needed to change what was going on because it wasn't working…That makes me sad. I don't look at beauty in that way. And I don't think of myself in that way. I like my weird quirkiness, my off-kilter mix of things. It enables me to do what I do. I don't want to be something else. I got hired in my blue jeans and cowboy boots with my messy hair. I started working like that. I didn't have to change to work. So why was I suddenly trying to fit into some mold that didn't belong to me?
Renee Zellweger was among the A-list stars who attended the 23rd Annual Hollywood Film Awards at the Beverly Hilton Hotel last week. She joined the likes of Nicole Kidman, Sienna Miller and Olivia Wilde at the event that honors award-worthy films and actors.
It was a special evening for Renee as she took home the Hollywood Actress Award for her role as singer and actress Judy Garland in the biographical drama, Judy.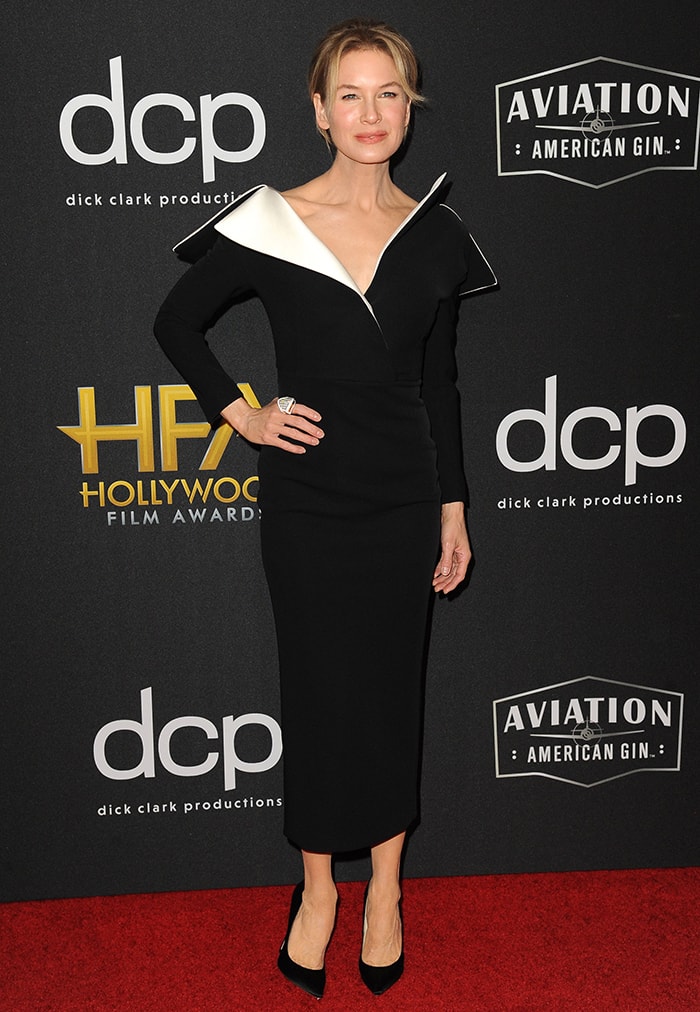 Renee Zellweger wins the Hollywood Actress Award at the 23rd Annual Hollywood Film Awards held at the Beverly Hilton Hotel on November 3, 2019
The award-winning actress opted for a monochrome black-and-white pencil dress, which is a bespoke design by London-based label AWAKE. It features a flattering bodycon fit with oversized collar and lapels that give a modern nod to the traditional tuxedo detail.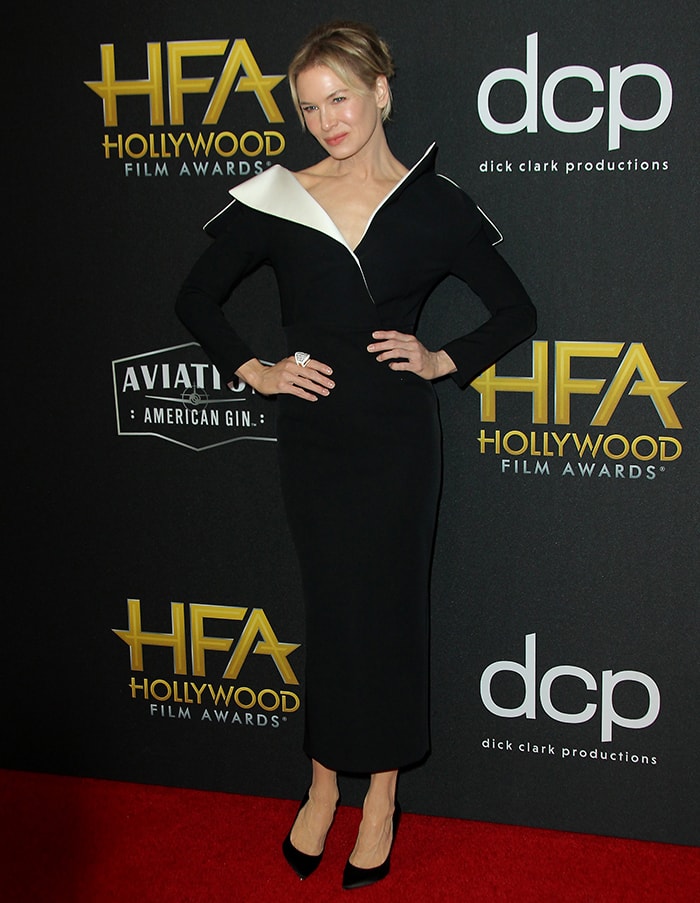 Renee Zellweger shows off her slim figure in AWAKE pencil dress
She wore her blonde hair in a chic updo with few loose strands framing her beautiful face and accentuated her features with rosy blush, lipstick, and black mascara.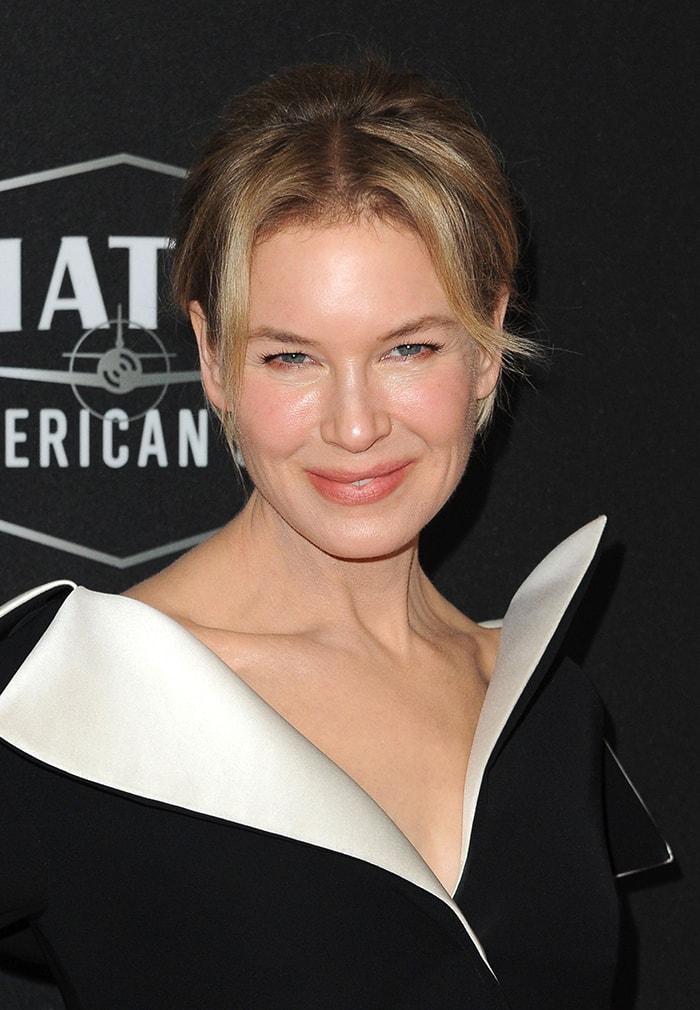 Renee Zellweger styles her blonde hair in a chic updo and wears soft pink makeup
The 50-year-old actress accessorized her sophisticated look with a David Webb ring and her favorite Jimmy Choo 'Anouk' pumps.
Renee Zellweger wears her favorite Jimmy Choo pumps
A week before the Hollywood Film Awards, Renee Zellweger attended the star-studded 11th Annual Governors Awards gala held at the Dolby Theater in Hollywood.
She looked stunning in a chic black dress from Erdem's fall/winter 2019 collection ($4,065 at Saks Fifth Avenue). It features crystal and pearl floral beading atop a luxurious Mikado silk black fabric with a Bardot-style off-the-shoulder neckline. Its body-hugging silhouette fell perfectly on the actress' slim figure.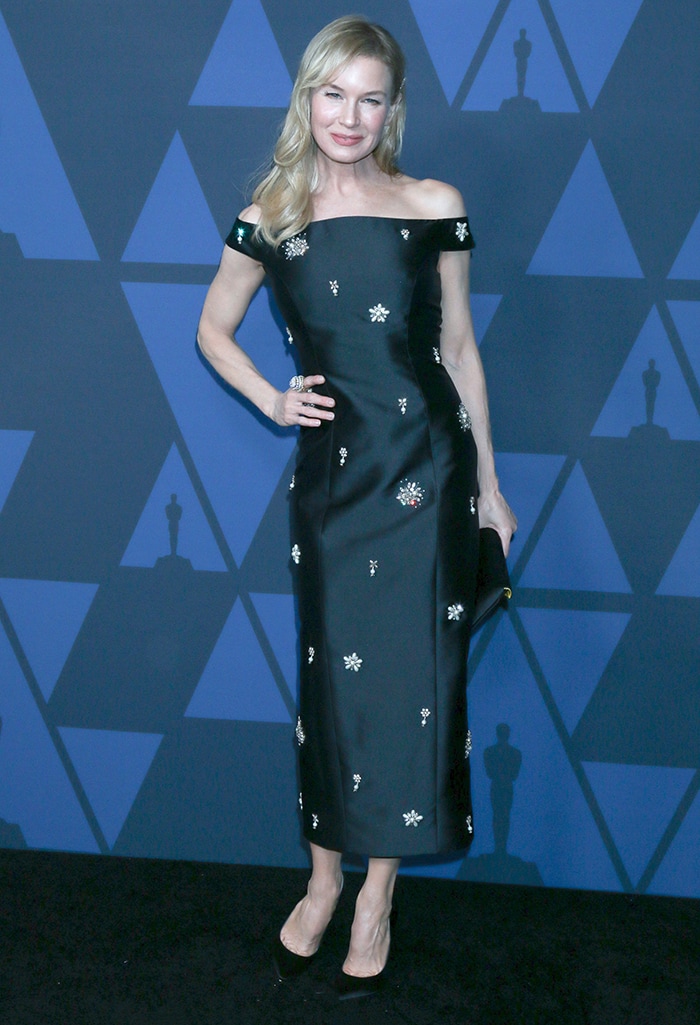 Renee Zellweger at the 11th Annual Governors Awards gala held at the Dolby Theater in Hollywood on October 27, 2019
She opted for a more sophisticated, old school look as she wore her blonde tresses in loose waves and pinned to one side. Her understated nude makeup rounded out her beauty look.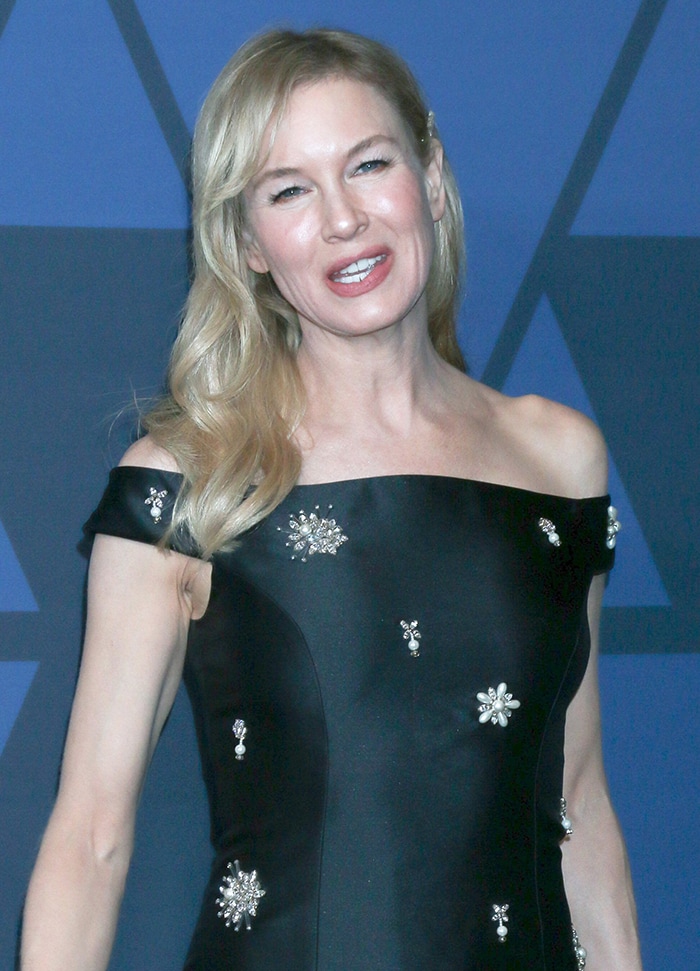 Renee Zellweger wears her hair in loose waves
For her accessories, the Bridget Jones star wore a massive diamond ring, carried a black clutch, and teetered on a pair of classic black pumps.
She selected the all-time red carpet-favorite Jimmy Choo 'Anouk' pumps, which feature pointed toes and about 4.7-inch stiletto heels.

Renée Kathleen Zellweger shows off her feet in Jimmy Choo shoes
Jimmy Choo 'Anouk' Pumps, $650 at Farfetch
Credit: Adriana M. Barraza / Nicky Nelson / Instar / WENN