Guardians of the Galaxy, a 2014 American superhero film based on the Marvel Comics superhero team of the same name, earned a worldwide total of $773.3 million at the box office.
However, Zoe Saldana was reportedly paid just $100,000 for her role as Gamora, an orphan from an alien world.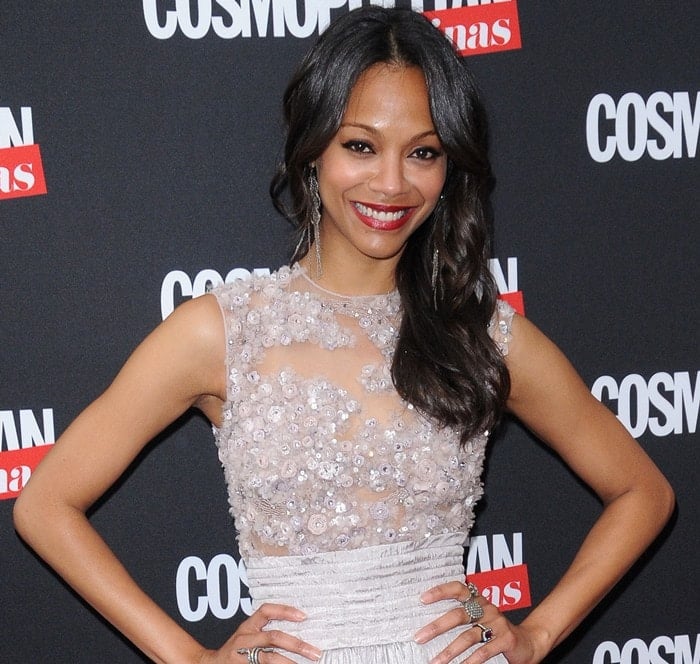 Zoe Saldana earned just $100,000 for her role in Guardians of the Galaxy
In a July 2016 interview with The Edit, she discussed the gender pay gay and Hollywood sexism.
"The high road is no longer silent," said Saldana. "The high road is speaking up and saying, 'You're a dick!' What you are doing is unfair.
"I'm not asking you to idolize me, I'm asking you to pay me equally because you always come to me whenever you need me for a press tour!"
The successful actress, who made her screen debut in a 1999 episode of Law & Order, added that female moviegoers also have a responsibility if they want things to change.
"The audience have the power. They are the ones buying tickets to all these man-made movies. There are films being made by female directors, by female writers, with lead female roles, but women are not going to those movies.
In May 2012, Zoe Saldana celebrated her cover of Cosmopolitan Latinas at the Press Lounge in NYC. She showed off her foot tattoo in Brian Atwood pumps paired with an Elie Saab Spring 2009 Couture dress. Her heels are called the 'Claudia Bis' and are from the Resort 2012 collection.
Actress Zoe Saldana and NFL player Victor Cruz attend the Cosmopolitan For Latina's Premiere Issue Party at Press Lounge at Ink48 on May 9, 2012, in New York City
I love Zoe's dress and shoe combination and I don't really think she could have found a better shoe to add a little extra bling and edge to this soft and flouncy dress.
As you can see, the dress is a soft ethereal pink shade and the heels are a goldish steel metallic shade. She accessorized with a stunning Bottega Veneta "Intrecciato" satin knot clutch.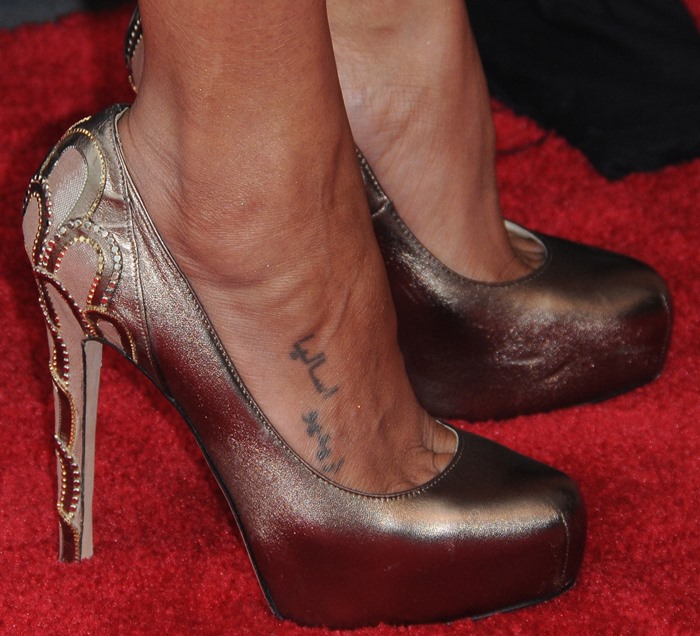 Zoe Saldana's sexy feet in Brian Atwood shoes

Do you agree that Zoe hit a home run with this look? I'm always so impressed with her fashion choices, and this one is no different. Her heels don't seem to be available online yet (believe me, I looked high and low)!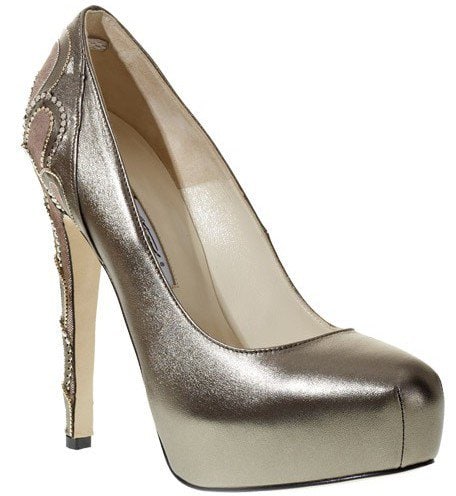 Brian Atwood Claudia Bis Pump
Leighton Meester wore the same style to the MTV Movie Awards paired with a Christian Cota Spring 2012 sleeveless jacket with matching-pleat front shorts and a silk top.
Leighton Meester's Christian Cota sleeveless jacket
The outfit was completed with Neil Lane gold jewels and a nude Jimmy Choo Cybelle clutch.
Leighton Meester flaunts her legs at the 2012 MTV Movie Awards at Universal Studios in Universal City on June 3, 2012
Credit: Ivan Nikolov / WENN / Ian Wilson