While Selena Gomez was nominated with Blackpink for "Ice Cream" in the Best K-Pop Song category, the "Who Says" singer decided not to attend the 2021 MTV Video Music Awards held on September 12, 2021, at the Barclays Center in Brooklyn, New York City.
BTS ended up winning the award for best K-pop with their son "Butter." The event was attended by Megan Fox and her boyfriend Machine Gun Kelly, Kourtney Kardashian and her boyfriend Travis Baker, Charli XCX, Dixie D'Amelio, and a number of other celebrities.
Selena Gomez has gradually pulled back from the spotlight and has skipped many red carpet events (Credit: MEGA / WENN)
Gomez hasn't attended the VMAs since 2015 and was also a no-show at the 2021 Met Gala held on September 13, 2021. She's also skipped a number of other red carpet events that she was expected to attend.
Earlier the same month, Ricardo Joel Gomez's daughter told ELLE in its September 2021 issue that she'd like to focus on her acting career. Only Murders in the Building has already been renewed for a second season on Hulu.
"I don't think I'll ever quit making music," Selena said, though she's more relaxed about her ambitions than in the past. "I'm not saying I want a Grammy. I just feel like I'm doing the best I can, and it's all about me. Sometimes, that can really get to me."
"After I'm gone, I want people to remember me for my heart," Selena Gomez told Elle (Credit: MEGA / WENN)
"I don't have it [Instagram] on my phone, so there's no temptation," she told Elle about staying away from social media.
"I suddenly had to learn how to be with myself. That was annoying because, in the past, I could spend hours looking at other people's lives. I would find myself down nearly two years in someone's feed, and then I'd realize, 'I don't even know this person!' Now I get information the proper way. When my friends have something to talk about, they call me and say, 'Oh, I did this.' They don't say, 'Wait, did you see my post?'"
"For a while, I felt like an object," the Wizards of Waverly Place star added about the media pressure and lack of privacy. "It felt gross for a long time."
'Honestly, I've just kind of stepped back a bit. I'm enjoying my life. I don't really think about anything that causes me stress anymore, which is really nice," she told Good Morning America in 2018 about stepping back from the spotlight.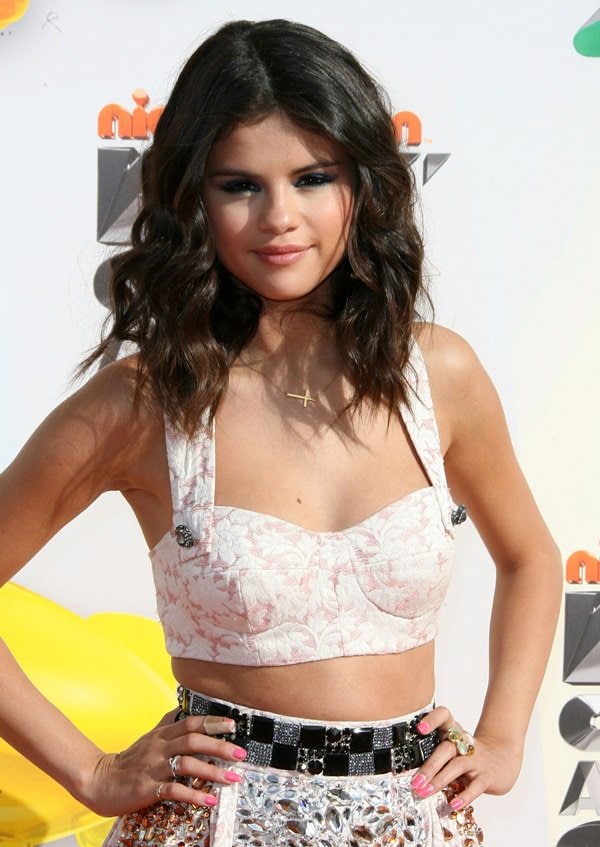 Selena Gomez wears her hair in curls at Nickelodeon's 25th Annual Kids' Choice Awards held on March 31, 2012, at Galen Center in Los Angeles (Credit: Adriana M. Barraza / WENN)
In March 2012, Selena Gomez officially sealed the belly-baring top's status as a hot spring/summer trend as she stayed cool and sizzled in the Dolce & Gabbana Spring 2012 ensemble at the 2012 Kids' Choice Awards.
Selena contrasted her pale pink jacquard set with bright pink fingernails and shoes.
Selena Gomez wears a pink jacquard Dolce & Gabbana set on the orange carpet (Credit: Adriana M. Barraza / WENN / Ian Wilson)
The thigh-length skirt of her set also featured a bejeweled belt and paneling along the front and sides.
Selena Gomez waves from the orange carpet of the Nickelodeon Kids' Choice Awards (Credit: Adriana M. Barraza / WENN)
Selena finished her ensemble with a pair of pink-and-orange Cesare Paciotti Spring/Summer 2012 studded pumps.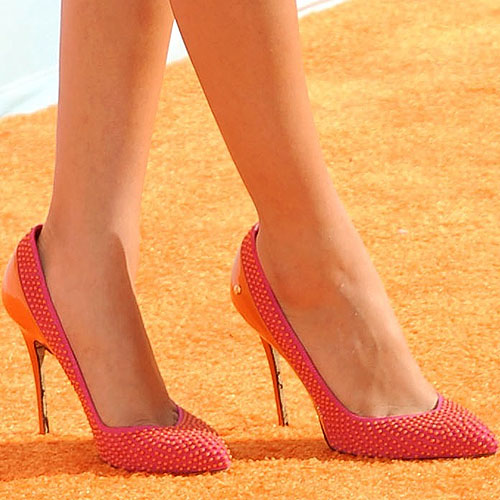 Selena Gomez's feet in pink-and-orange Cesare Paciotti pumps (Credit: Adriana M. Barraza / WENN / Ian Wilson)
We've got a feeling that Selena Gomez's shoes are custom-made for her. The two-tone color of her pumps can only be found in Cesare Paciotti 4US, the younger diffusion line of the Italian fashion house. Regardless, what do you think of her look?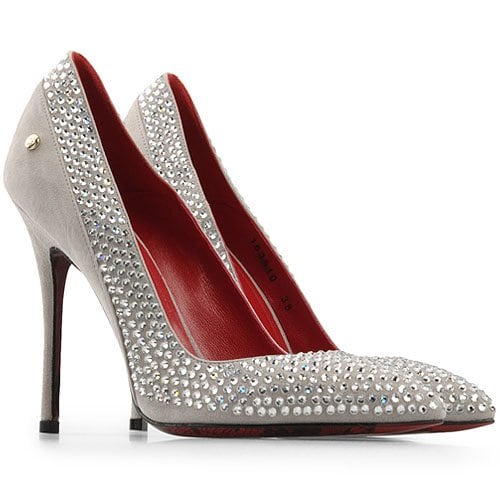 Cesare Paciotti Studded Pumps in Grey, $1,290.00