The shortest of the Kardashian sisters at just 5-foot-0, Kourtney Kardashian boosted her height with Manolo Blahnik's Leva sandals at the 2021 MTV Video Music Awards on Sunday night.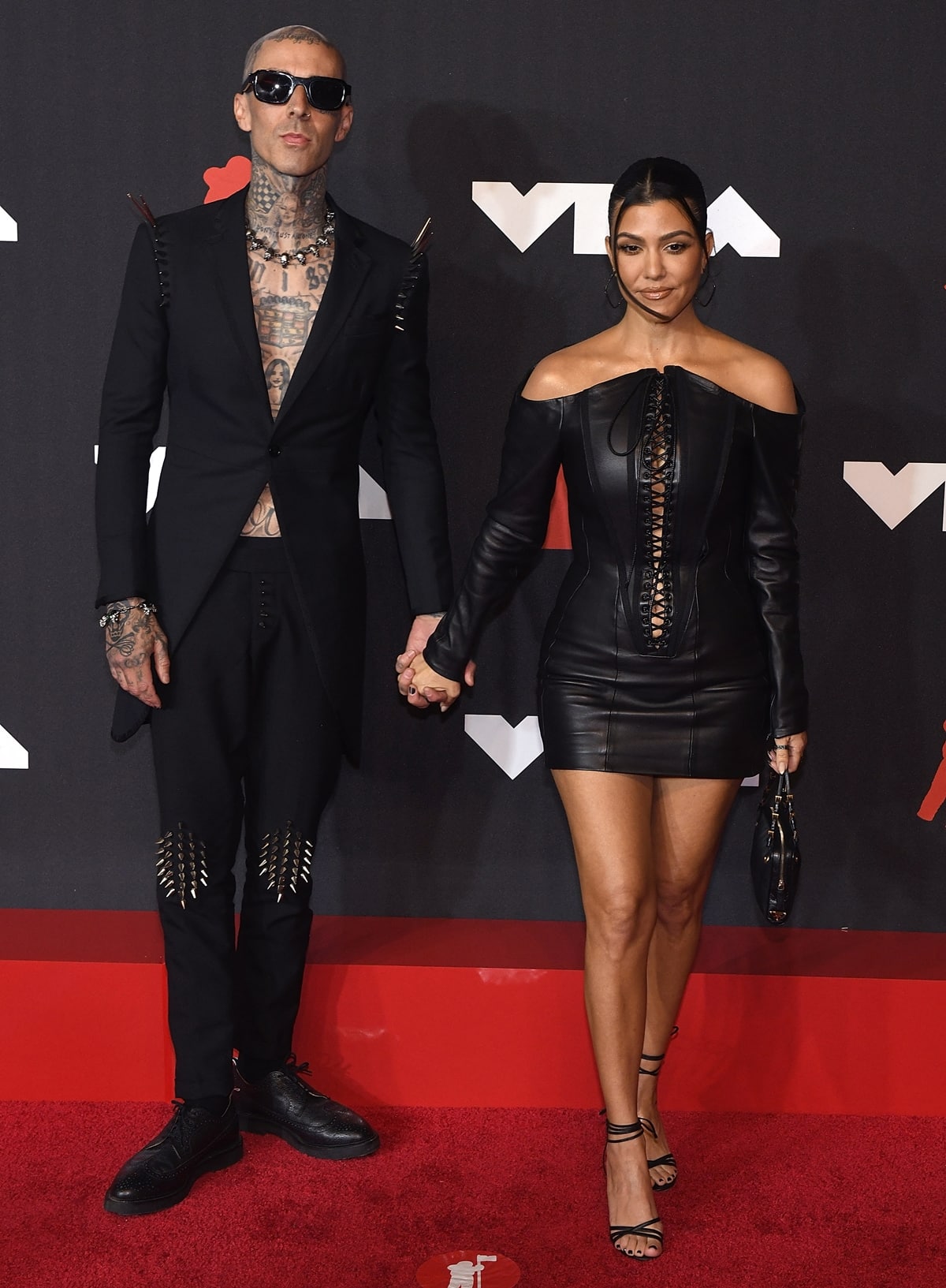 Kourtney Kardashian and Travis Barker walk the red carpet at the 2021 MTV Video Music Awards on September 12, 2021, at the Barclays Center in New York City (Credit: MEGA / WENN)
Joined by her boyfriend Travis Barker for the first time on the red carpet, the 42-year-old reality star wore a sexy corset dress from the Olivier Theyskens Fall 2021 collection styled with a vintage Prada bag, silver Ofira rings, and Lorraine Schwartz earrings.
Kissing his girlfriend, the Blink-192 drummer wore brogues with a Thom Browne Fall 2012 suit featuring daunting silver spikes.
Wearing a black leather dress with long sleeves, Kourtney Kardashian kisses her boyfriend Travis Barker (Credit: WENN / MEGA)
Joined by Megan Fox on stage, the University of Arizona alumni presented the final performance of the night.
The show was closed by Megan's boyfriend Machine Gun Kelly and Kourtney's boyfriend Travis Barker. They performed their song "Papercuts."
Kourtney Kardashian rocks black Dita Magnifique sunglasses (Credit: JP / JFXimages / WENN)
Kim is usually the Kardashian sister who steals the show with her fashion choices, but in February 2013 we were raving about Kourtney's shoes!
We spotted her shopping with her mom, Kris Jenner, and her sister Kim in a pair of amazing lace-up sandals from Tom Ford.
Kourtney wore her heels with a black-and-white striped shorts suit and a white blouse.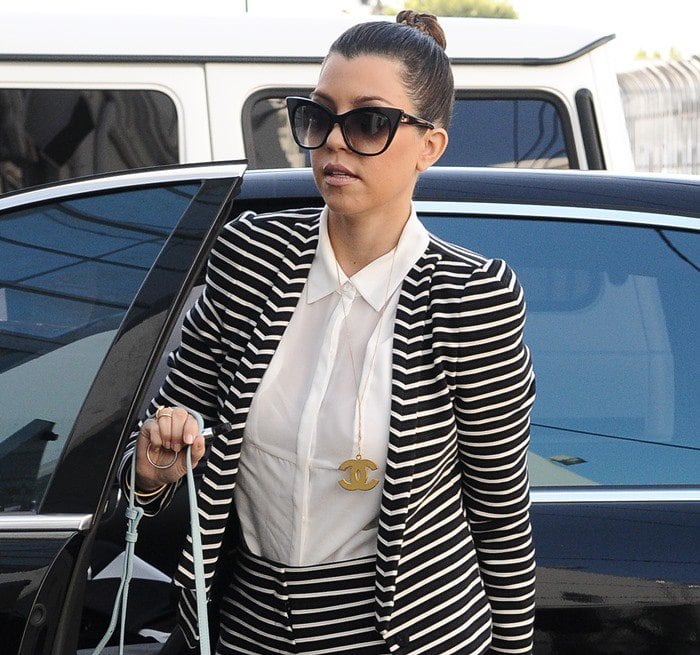 Kourtney Kardashian shows off her Chanel vintage jewelry golden 1980s Coco Chanel pendant necklace (Credit: JP / JFXimages / WENN)
She accessorized with oversized black sunnies and a soft mint blue-green Celine bag, the latter adding a little pop of color to an otherwise black-and-white ensemble. This was an impressive look on Kourtney!
Kourtney Kardashian totes a Celine Trio crossbody bag in glacier blue (Credit: JP / JFXimages / WENN)
Her outfit was ultra-chic and stylish, but not too confining or stuffy (like some of Kim's body-hugging ensembles).
Kim and Kourtney Kardashian were spotted shopping while filming their reality show 'Keeping Up With The Kardashians' in Los Angeles on February 27, 2013 (Credit: JP / JFXimages / WENN)
Her heels, moreover, are undoubtedly expensive, and they're oh so eye-catching and sexy!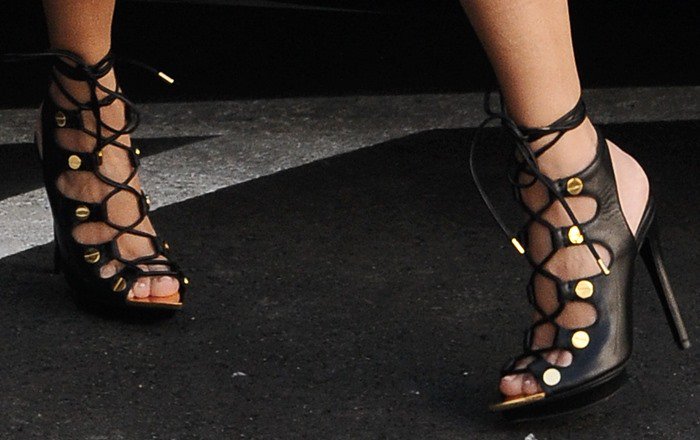 Kourtney Kardashian's Tom Ford lace-up platform sandals (Credit: JP / JFXimages / WENN)
The little gold details make them that much more glam.
Kourtney Kardashian shows off her feet in Tom Ford sandals (Credit: JP / JFXimages / WENN)
Kourtney Kardashian wears Tom Ford heels with golden hardware (Credit: JP / JFXimages / WENN)
We found Kourtney's smooth leather Tom Ford heels at Farfetch and Bergdorf Goodman:
Tom Ford Lace-Up Platform Sandals in Black, $1,250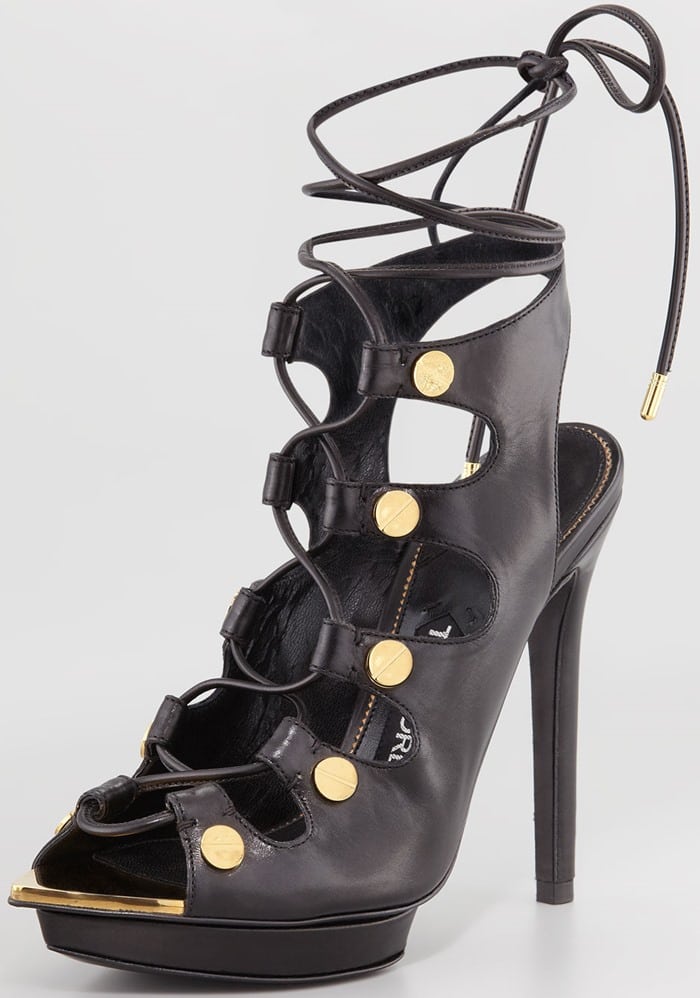 Do you agree that Kourtney's Tom Ford shoes are totally amazing? How do you feel about the rest of her ensemble?