Kim Kardashian is one of those celebrities people love to hate and hate to love. She belongs to a group of stars that command attention no matter where they go. Miley Cyrus is part of this group, and so is Rihanna. Admit it; whenever you see anything Kim-related, you just can't help but check it out right away. True, yes?
The founder of ShoeDazzle was spotted at Crustaceans restaurant in Beverly Hills on Wednesday evening. For the dinner occasion, Kim wore knitted separates from the Calvin Klein Collection. She sported a cropped top with a high-waist midiskirt and capped off the ensemble with a stunning pair of nude cutout sandals from Tom Ford. The whole getup complemented her freshly styled (layered and much darker) tresses, and she simply looked fabulous.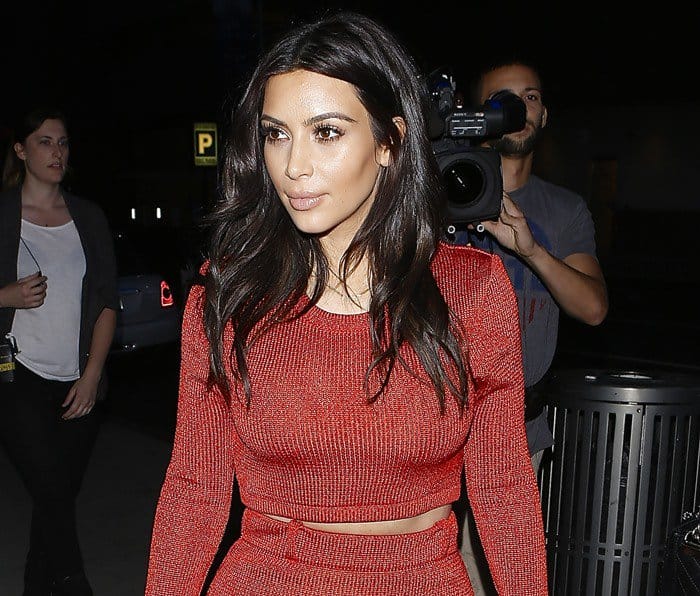 Kim Kardashian in knitted separates from Calvin Klein
Kim Kardashian sported a cropped top with a high-waist midiskirt
The reality star Kim Kardashian shows off her curves in red dress at Crustaceans restaurant in Beverly Hills on March 19, 2014
Kim Kardashian's feet in nude Tom Ford sandals
If you were to rate Kim's dinner outfit from 1 to 10, what score would you give?
It's a perfect 10 for us. Her hair looks gorgeous (we want it!), the deep red color of her outfit suits her skin tone, and matching her attire with nude statement sandals gave her look a more interesting and edgy vibe.
Kim's Tom Ford sandals are already sold out online, but here's a closer look at the same shoe style in metallic gold. These strappies feature 4.25-inch-tall heels and buckled ankle cuffs. The shoes retailed at a hefty $1,450 a pair when they came out.
Tom Ford Triple-Buckle Sandals in Metallic Gold, $1,450 at Neiman Marcus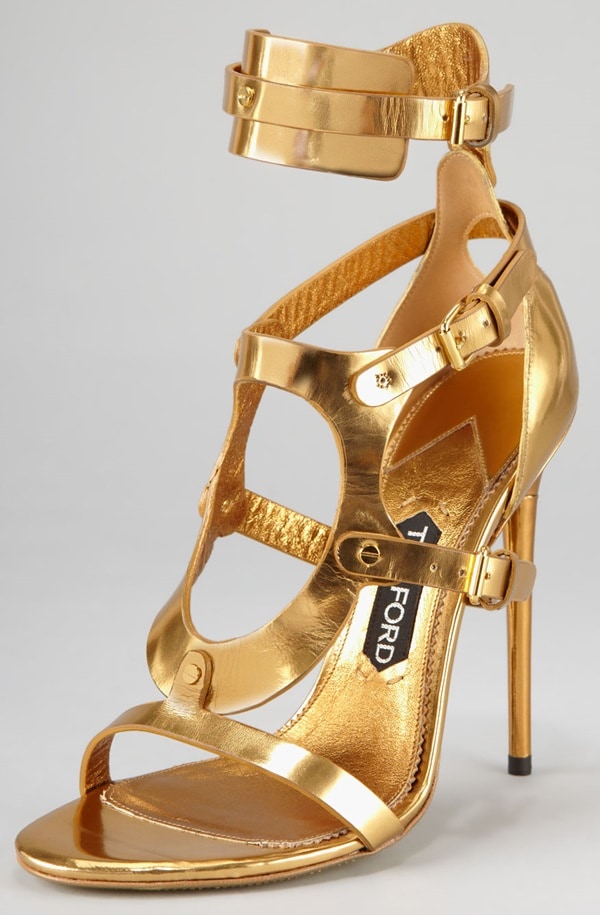 Much like nude pumps, a pair of nude sandals is a must-have. They're just as flattering to wear, and they are very versatile.
Notice how Kim was able to pull off wearing a midiskirt with shoes that were ankle-grazing? Under normal circumstances (read: if you're not as leggy as a supermodel), wearing ankle-strap sandals with a midiskirt can make a person look short — unless, of course, the shoes are in that nude color that makes legs look like they could go on forever, just like Kim's.
To steal Kim's style, grab a red cropped top and pair it with a high-waisted midi pencil skirt. Finish the combo with edgy nude sandals that fit your budget. Here's a mix we put together for you.
One Rad Girl Hailey Shark Bite Hem Crop Top, $38 / Topshop Textured Tube Skirt, $40 / MAXStudio Xpat Sandals, $238
MaxStudio XPat Sandals, $238
The "Xpat" sandals from MaxStudio follow a gladiator silhouette and feature edgy rounded buckles all over for that tough-chick feel. They are made of genuine leather uppers and are fashioned with 4.5 inch stacked cone-like heels. These shoes also have inch-thick platforms, so they're actually easy to walk in. Not bad for a pair of substitutes, right?
By the way, in case you haven't heard, Kim recently went through a "make-under" for 'Celebrities Undercover'. She channeled Ugly Betty for her incognito look and had experts transform her into someone completely unrecognizable. We hear that even her sister Kourtney got fooled.
Honestly, if you were Kourtney, would you recognize Kim if she looked like this?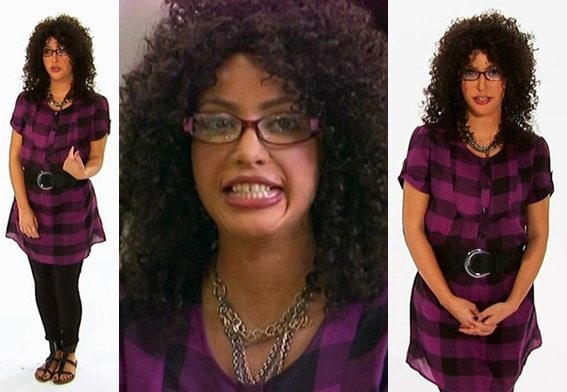 Credit: WENN