It seems there's nothing this entertainer can't do. Selena Gomez has been acting since 2002 and has crossed over into feature-length films, production roles, and has even released pop albums over the years.
We wouldn't initially imagine Selena Gomez coming from a broken home, although following her parents' divorce, she was raised by her young, single mother.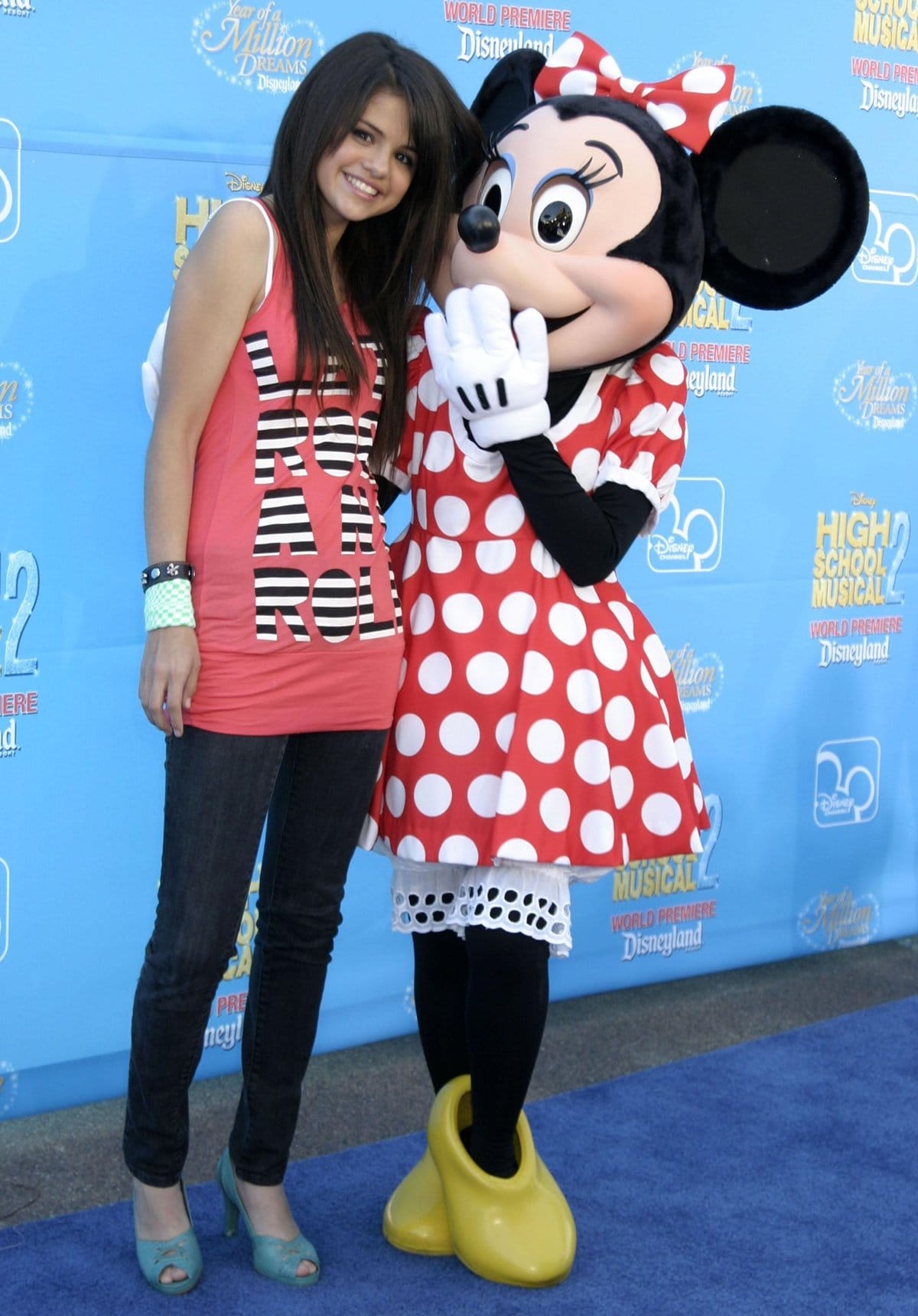 Actress Selena Gomez and character Minnie Mouse arrive at the world premiere of Disney Channel's "High School Musical 2" held at the Downtown Disney District at Disneyland Resort on August 14, 2007, in Anaheim, California (Credit: Nikki Nelson/ WENN)
Luckily, even though she spent most of her time with her mother, she grew quite close to her father, his second wife, and their children over the years.
Family History
Selena was born and raised in Grand Prairie, Texas, a suburb of the Dallas/Fort Worth metroplex. She got her start in television when she was cast in the PBS show, Barney & Friends, which was filmed at a nearby studio.
Selena Gomez appeared on "Barney and Friends" from 2002 to 2004 (Credit: Disney)
Ricardo "Rick" Gomez and Amanda "Mandy" Cornett were married when they found out Mandy was expecting.
The star was born in 1992 when her mother was only sixteen years old and her father was seventeen. Her mother was a stage actress, which led to Selena's interest in the entertainment industry.
Divorce Split the Gomez Household
The young couple strived for a successful marriage; however, the two divorced in 1997 when Selena was only 5 years old.
Selena's mother received full custody in the divorce. The two lived their life "paycheck to paycheck" at times.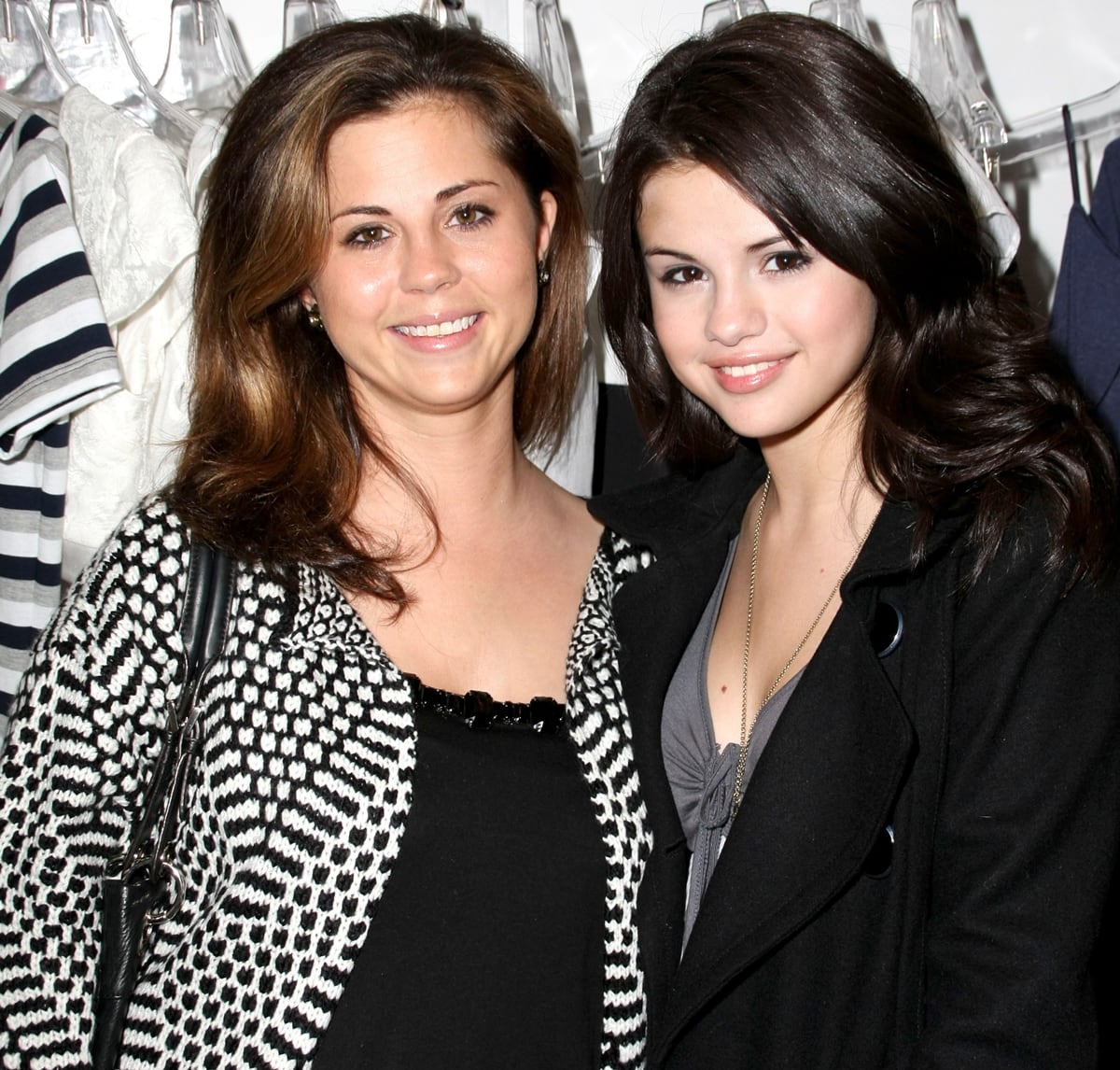 Selena Gomez and her mother Amanda Dawn "Mandy" Cornett at the grand opening of the Carlin Collection launch held at the Carlin Atelier boutique in Los Angeles on October 17, 2008 (Credit: WENN / FayesVision)
Mandy recalls walking with Selena to a nearby discount store some nights just to buy a handful of ingredients for dinner.
She worked three different jobs at one point, just to provide for Selena and herself while Selena's grandparents would take care of her during shifts.
How Did Selena Handle the Divorce?
"I blamed my mom a lot because I wanted a family so bad," Selena said in an E! Entertainment special about the divorce. "I wanted to have my mom and dad together. I remember just being angry with my mom. I still feel really bad about that."
In some ways, because her mother, Mandy, was so young, Selena says it was as if they grew up together.
Mandy Teefey (born Amanda Dawn Cornett) gave birth to her daughter Selena Gomez when she was just 16 years old (Credit: Will Alexander / WENN)
Her mother describes how sometimes Selena "would vent and yell at me and all I could do is just say, 'I'm sorry, but you'll understand someday.'"
Selena and Her Father Have a Special Relationship
Perhaps because of the resentment and blame Selena had originally placed on her mother for the divorce, Selena grew close with her father over the years.
Her father, Ricardo, was a strong supporter of the Texas-based San Antonio Spurs. In the years following the divorce, Ricardo and Selena would watch Spurs games at Hooters, the saucy wing joint that features attractive young ladies as servers.
"It was kind of our thing," Selena reminisced about the times she spent with her father.
"On your birthday my heart fills with memories of a sweet little girl, who touched my heart and changed my world forever. May God continue to bless you & watch over you. I love you," her father wrote on Instagram in 2016 to celebrate her 24th birthday.
Selena Gomez is close to her father Ricardo Joel Gomez (Credit: Ricardo Joel Gomez's Instagram)
When the waitstaff saw Selena, they would often stop by to fuss over her adorable pigtail hairstyle. In a way, Selena reveals, Ricardo was using her as bait to speak with the attractive young ladies.
Ricardo remarried Sara Gomez née Tovar in 2012. Sara has a son, Marcus, from a previous marriage. Rick was excited to gain a stepson who he treats as his own blood. The couple also had a daughter, Victoria, in 2014.
As an only child, Selena has been heavily involved with her expanded family. She and her half-sister, "Tori," have become good friends, and Selena serves as a great example and role model for her. She regularly spends holidays with her father's side of the family.
View this post on Instagram
These days, you'll see Gomez and his family on Instagram, documenting their travels and rich experiences. You can tell from the pictures that to this day, he's still very much a family man and a proud papa of all three of his children.
Selena Gomez Embraces Her Father's Mexican Heritage
Over the years, Selena has spoken about her family's Mexican heritage. She revealed that her grandparents, who are now U.S. citizens, emigrated to the United States from Monterey, Mexico as undocumented individuals.
The Horton Hears a Who! actress admires the risk and bravery her family had so that their children could have a better life.
To honor their history and culture, Selena has taken on more projects that celebrate her Mexican heritage, including the opportunity to recapture the Spanish language. Although she was fluent in Spanish at age seven, her ability to speak the language diminished over the years.
American actress and singer Selena Gomez makes an appearance on the Spanish TV show El Hormiguero in Madrid, Spain, on April 13, 2010 (Credit: Sean Thorton / WENN)
Selena released her first Spanish-language album Revelación in 2021, reaching the coveted number one spot on Billboard's U.S. Top Latin Albums chart.
The album is important to Selena, especially, as she's seen her Mexican heritage as both a blessing and a curse. She recalls being swept away by her father when a fan hurled an ethnic slur towards him while they were at a concert.
"My dad grabbed me and just walked away. …I hate that my dad feels so depleted by this," she said. Between her experience in an industry sometimes lacking in diversity and the glimmers of racism she's witnessed in her own life, Selena has turned the tables by churning out a powerful album.
In the same way that her namesake, Selena Quintanilla, celebrated both her American-ness and Mexican-ness, Gomez is also embracing her mixed heritage.
Selena Gomez's Mother Remarries
Amanda Cornett remarried in 2006. Her new husband, Brian Teefey, went on to manage Selena Gomez professionally. Although Selena and the Teefeys parted ways in 2014, both Mandy and Brian Teefy started LH7 Management and still represent other artists.
The Teefeys had a daughter, Gracie Elliot Teefey, on June 12, 2013. Mandy has appeared in several news and documentary pieces as Selena's mother but also has production credits on both movies and documentary-style pieces.
Selena has become close with her mother's side of the family as well, despite the drama surrounding her former relationship with Justin Bieber. They have since moved forward and are regularly seen spending time together.
Selena Gomez with her stepdad Brian James Teefey at LAX on July 10, 2013 (Credit: STS / WENN)
Over the years, Selena has experienced questionable press due to her romantic relationships, especially the highly-publicized breakup with pop star Justin Bieber. Despite her vilification by the media, she has rebounded as a stronger, and "sassier" version of herself.
In recent years, Selena has credited her early success to her mother's guidance. Selena has said that her mother "had the ability to make me feel like I was still capable of doing anything I wanted."
She often reflects on the hard work and sacrifices her mother made so many years ago to ensure she was successful and had the opportunities to pursue her dreams of show business so early in life.
What is Selena Gomez Doing Now?
Selena Gomez seems to be one of the busiest ladies in Hollywood, Selena still enjoys time with both sides of her family and new siblings.
She's recently been seen in Hulu's 'Only Murders In The Building,' starring alongside comedy legends Steve Martin and Martin Short. Last month, it was announced that Hulu has renewed the series for another season.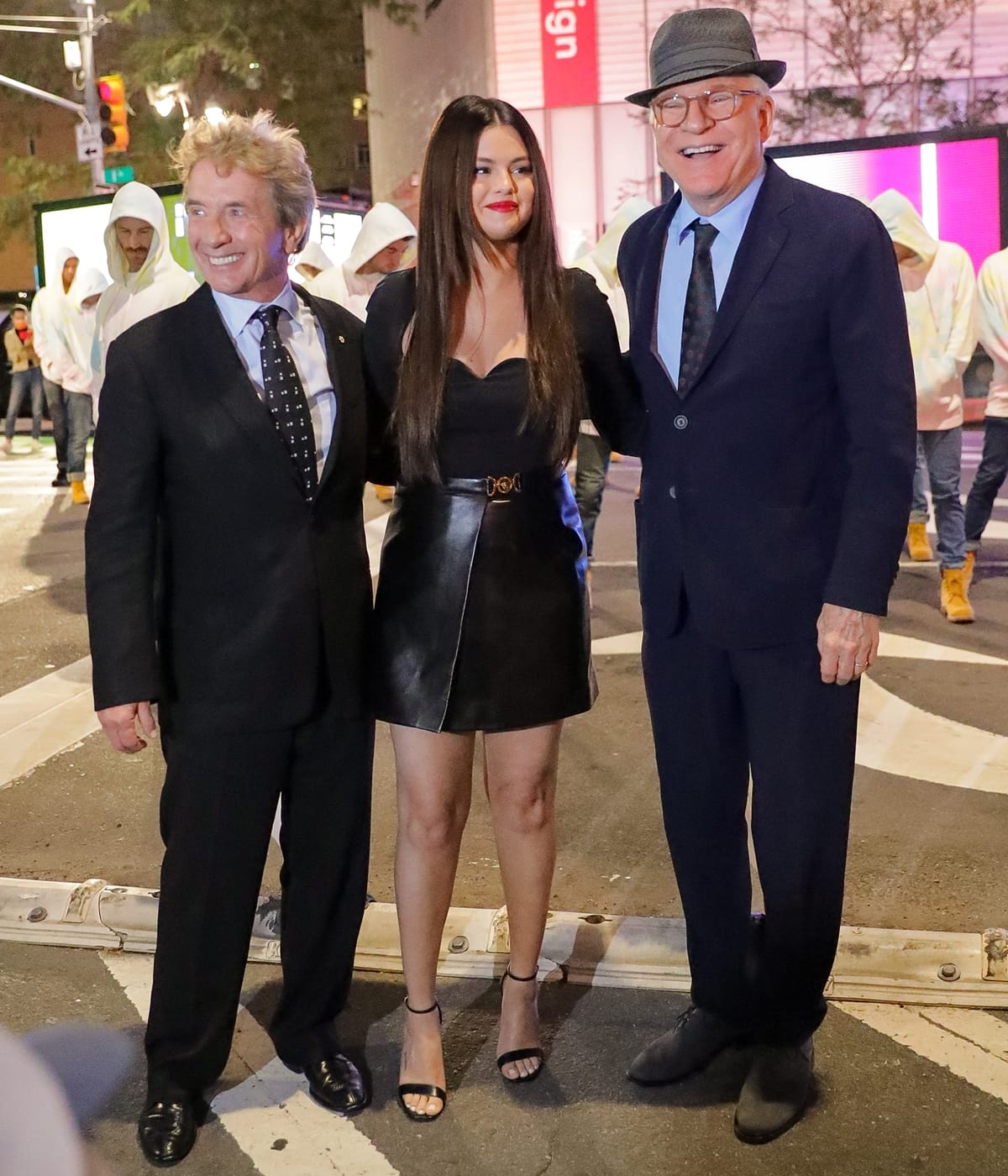 Selena Gomez, Steve Martin, and Martin Short promoting Only Murders in the Building in NYC on September 7, 2021 (Credit: MEGA / WENN)
We're also watching for more publicity surrounding her new album, Revelación. We can't get enough of Selena, and she keeps delivering!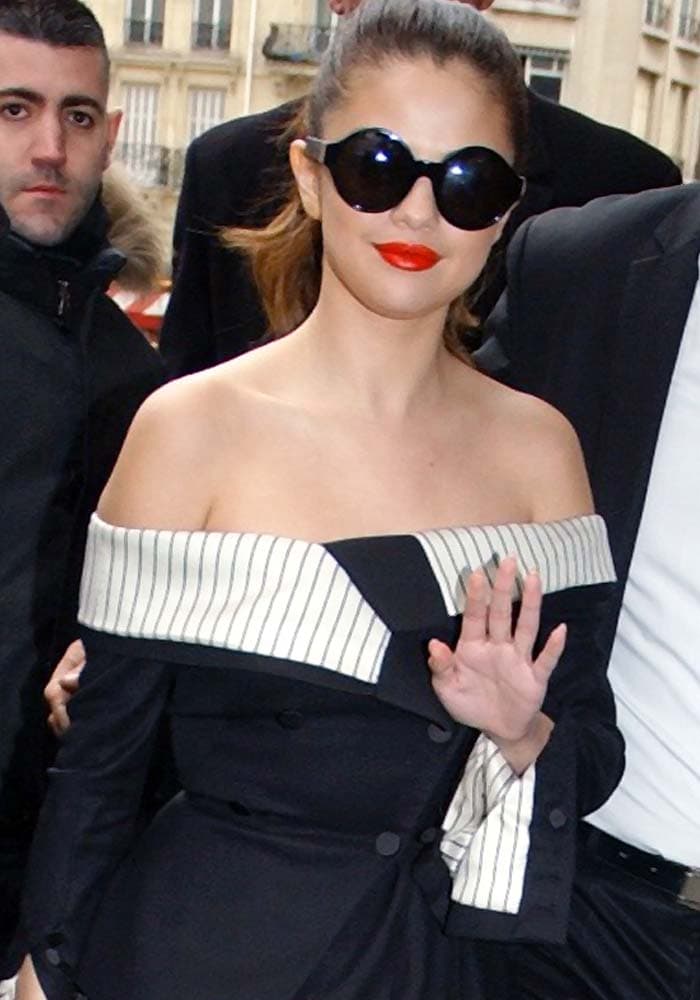 Selena Gomez wears her hair back as she arrives at NRJ Radio in Paris on March 10, 2016
In March 2016, Selena Gomez was keeping busy! After a whirlwind of fashion show appearances and radio guest appearances in Paris, you'd think the girl would already be winding down after landing back in Los Angeles. Apparently not.
The pop star shared what her plans are during her guest spot on NRJ Radio in Paris. Her second solo concert tour to support her second solo studio album Revival (2015) began in Las Vegas, Nevada at the Mandalay Bay Events Center on May 6, 2016
Selena Gomez wears a Monse ensemble and a pair of dark sunglasses while out in Paris
Selena wore a two-piece outfit, which included an off-the-shoulder button-down blazer with an exposed lining paired with culottes — both from Monse.
The then 23-year-old polished her look off with a high ponytail, red lipstick, sunglasses from The Row, and a pair of Francesco Russo sandals.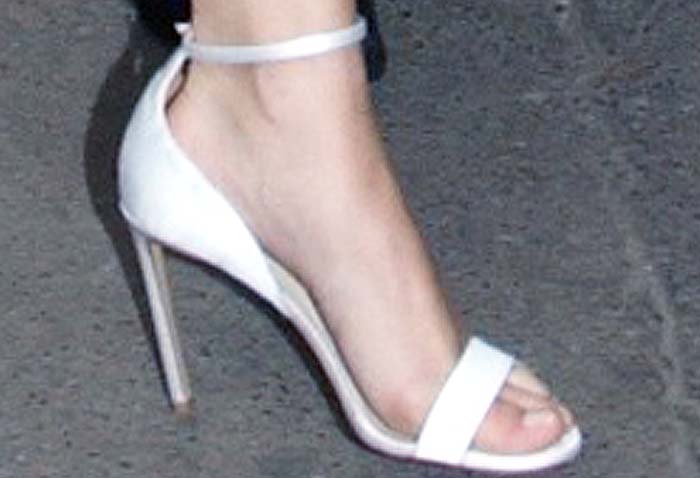 Selena Gomez's feet in white Francesco Russo sandals
You can order Selena's Francesco Russo sandals in watersnake and leopard varieties at Farfetch, Harvey Nichols, and Net-A-Porter.
Francesco Russo Tri-tone Watersnake and Leather Sandals, $769.36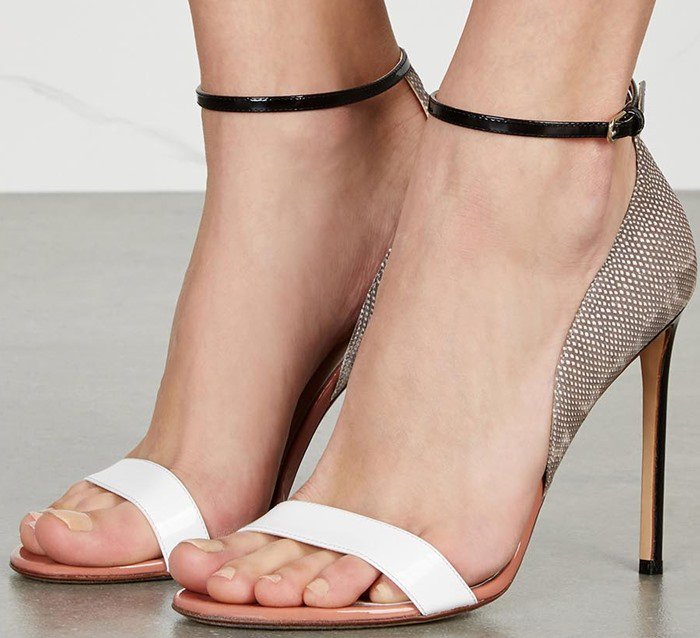 Francesco Russo Leopard-Print Calf Hair and Patent-Leather Sandals, $995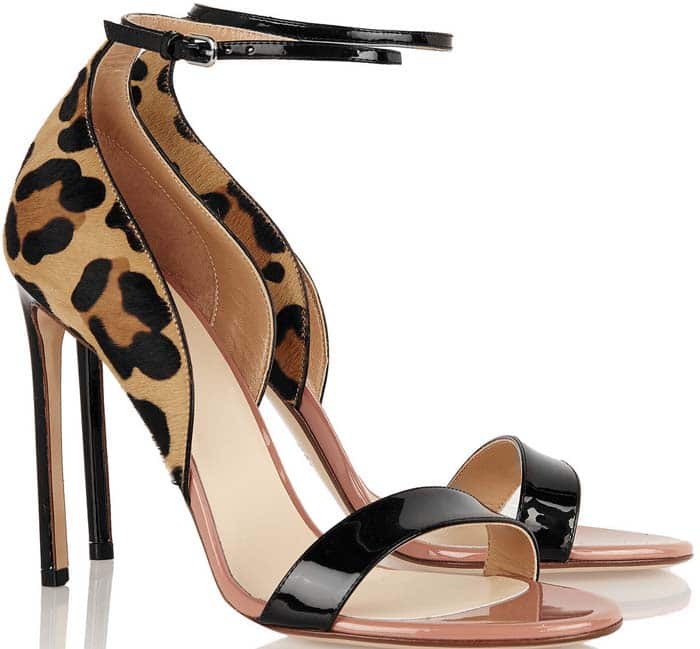 In April 2013, Selena Gomez dresses casually while arriving at a studio in Los Angeles. The actress and singer sported blue denim dungarees that left her lacy black bra exposed on the sides.
Selena Gomez wears blue denim dungarees with a lace bra and a scarf outside at a studio in Los Angeles on April 26, 2013 (Credit: Rayne-JP / JFXimages / WENN)
She completed her look with Dolce & Gabbana sunglasses, a knitted scarf from Urban Outfitters, a huge studded Kelsi Dagger 'Alexandra' bag, and flat sandals by ZiGi Girl.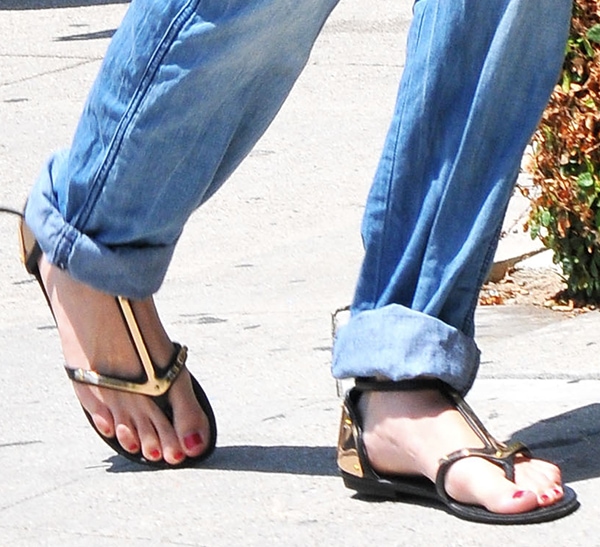 Selena Gomez shows off her feet in flat sandals by ZiGi Girl (Credit: Rayne-JP / JFXimages / WENN)
Well, what do you think of her look, hot or hot mess? Should she have at least worn a tank top with her overalls? Or was the scarf enough? Would you dare go out in a denim jumper and wear it with just a bra?
Honestly, we don't find it that vulgar. In fact, the scarf did a pretty decent job of adding not just texture, but a little bit of drama as well. Thanks to the accessory, she managed to pull off the outfit without looking like a tramp or a total disaster. Do you agree?