We find out a lot from the social networks of the rich and famous. Kim Kardashian gave us a story when she posted photos of her outfits from the past two days. The new mom obviously couldn't wait to show critics her post-baby body while out in New York.
Kim first walked out in a white mesh top with a figure-hugging nude skirt to a private screening of Mario Testino's "Alta Moda" exhibit.
People will undoubtedly be putting the ShoeDazzle founder down for showing a whole lot of cleavage, but we think that she pulled it off with style. A tip for you: if you're going to attempt the look, cover up the rest of your top half with long sleeves and a high neckline a la Kim.
Kim Kardashian at the "Alta Moda" exhibit by Mario Testino in New York on November 18, 2013
She added a pair of her favorite Tom Ford heels from the label's Spring 2012 collection along with a Bottega Veneta box clutch.
Kim is evidently a fan of recycling her shoes because we have seen these gold chain sandals at her recent birthday celebration and the launch of the "Kardashian Collection" for Dorothy Perkins way back in 2012.
Unfortunately, they're not for sale anymore, but you can find other Tom Ford styles at Bergdorf Goodman.
Kim also attended fiancé Kanye West's concert the following day in another see-through outfit. This time, she went for a black look in a sheer top, a PVC skirt, and a long coat.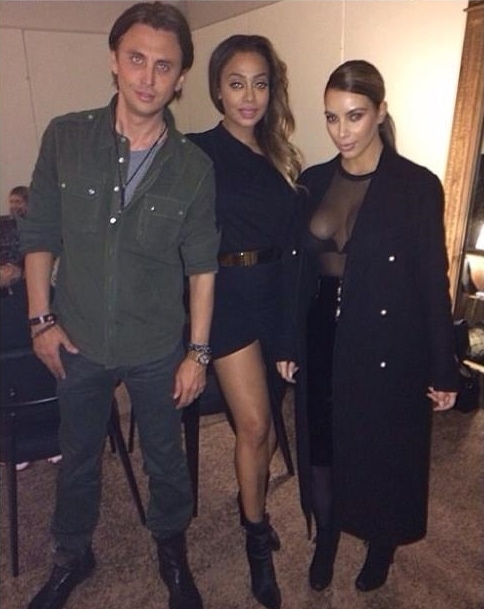 Matching black peep-toe booties completed her dark ensemble. Kim hasn't revealed the designer of her ankle boots just yet, but we're hoping she'll do so soon.
Kim Kardashian with friends at Kanye West's "Yeezus" concert in New York on November 19, 2013
Kanye and Kim made a new friend that night in the form of model Cara Delevingne. They must have got on well as Kim posted a photo of the three of them together.
Cara Delevingne, Kanye West, and Kim Kardashian after Kanye's New York concert
It's not just Kim who has been in the headlines. Someone else in the Kardashian-Jenner family has been following in Kim's sheer footsteps. Little sister Kendall, who just turned 18, bared all in a revealing photo shoot by photographer Russell James.
Kendall was not afraid to publish her body by posting the picture in black and white, while Russell James put it out in color for all the world to see.
A shot from Kendall Jenner's revealing shoot with Russell James
Kim herself took her new trend one step further by posing topless in Kanye West's latest music video.
Credit: Kim Kardashian's Instagram / Kendall Jenner's Instagram