Have all of you seen 'Red Riding Hood'? Is it any good? I actually wasn't able to catch it. Now speaking of the movie, its lead star Amanda Seyfried, the IT girl, was spotted constantly fashioning a very strappy purse last month. Check out these pictures: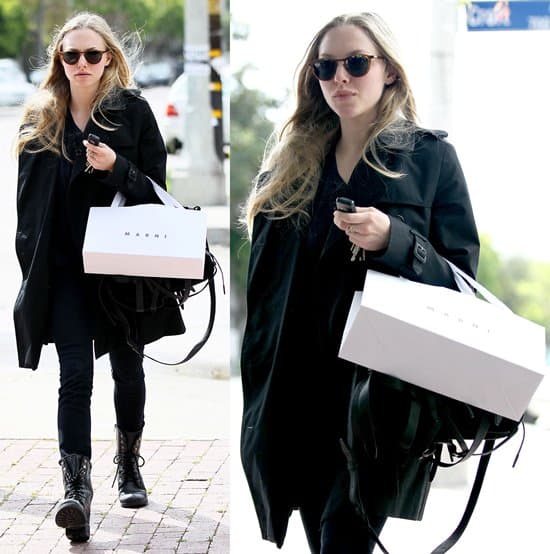 Amanda Seyfried wearing no makeup as she leaves a Marni boutique after shopping, Los Angeles, on March 24, 2011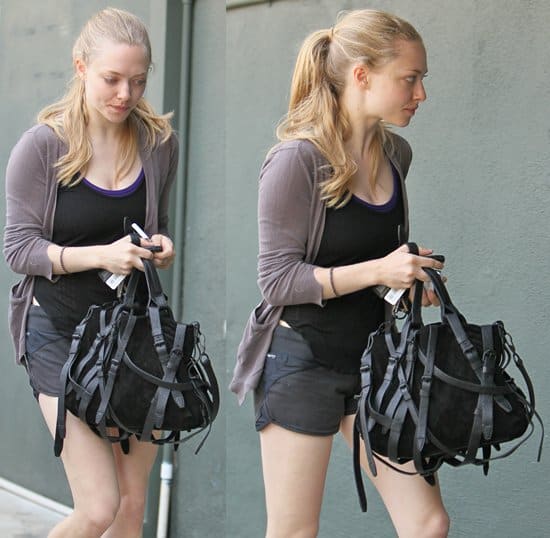 Amanda Seyfried arriving at an office building, dressed in her workout gear, having come straight from her personal trainer's in Los Angeles on March 18, 2011
What do you think of the bag? Kinda grunge-looking, right? And very strappy indeed. That's actually Alexander Wang's 'Kirsten' suede tote:
Alexander Wang 'Kirsten' Suede Tote, $945 at Shopbop
This suede tote features buckles at the crisscross pebbled leather straps. Matte black hardware and pebbled leather handles.
I did attempt to find a knockoff, in case you find this piece too expensive. Unfortunately, my effort was futile. There is a less expensive option, but not a knockoff and definitely not cheap:
ROMYGOLd Weave Hobo, $560 at Shopbop
This pebbled leather handbag features fringe, looped fringe, and buckle details at the front. Oversized pintuck at woven top panel and pleating at the bottom.
Credit: Michael Wright / WENN