Comedian Amy Schumer has long been known for her jokes about her love life, seen in her many stand-up specials throughout the years and films such as Trainwreck and I Feel Pretty.
While Schumer's characters are not always so lucky when it comes to love, the comedian herself has had a fairytale romance with her husband, Chris Fischer.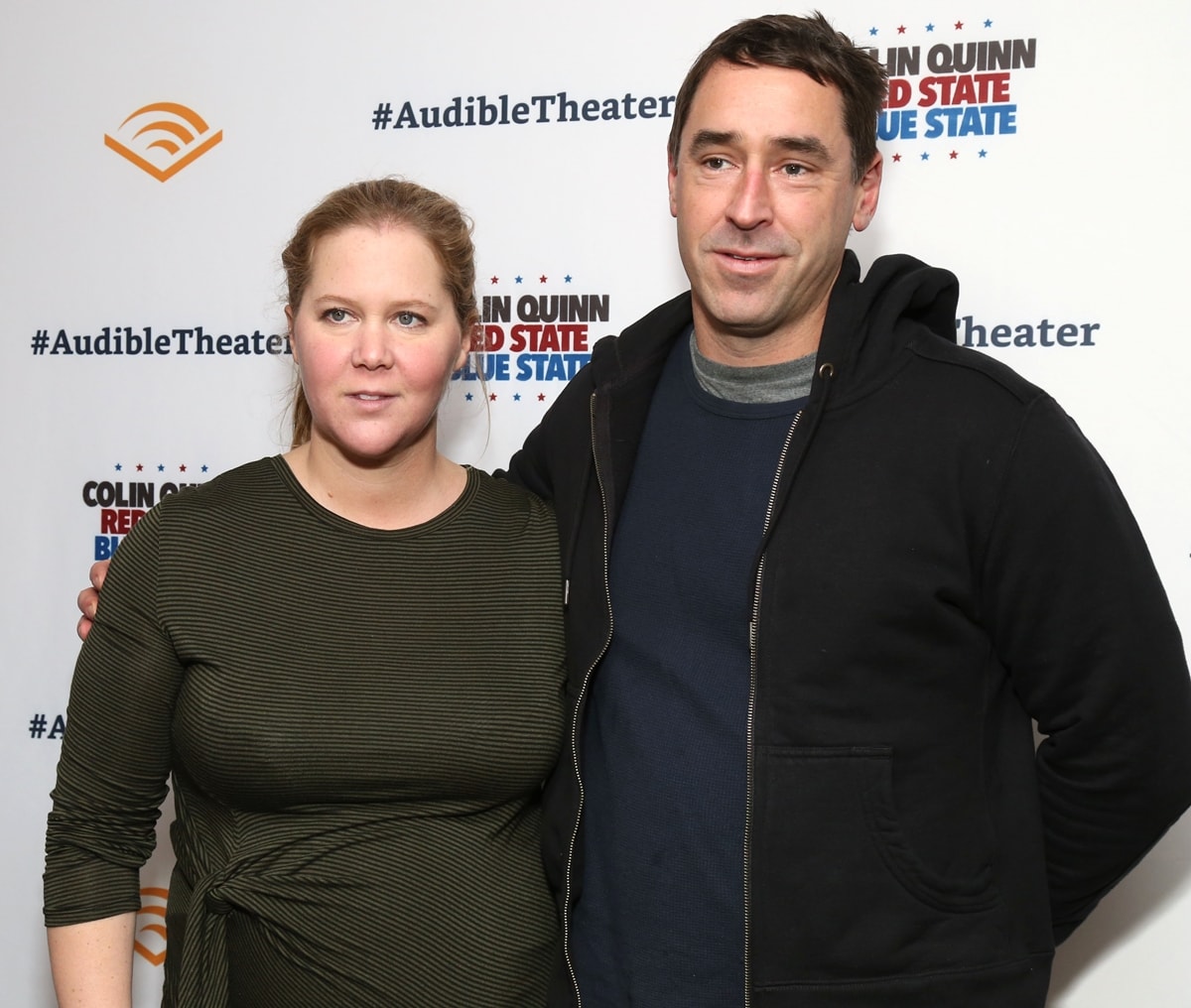 Amy Schumer met Chris Fischer during a weekend in Martha's Vineyard (Credit: Joseph Marzullo / WENN)
Amy Schumer and Chris Fischer's Relationship Timeline
Amy Schumer first met now-husband Chris Fischer, a chef from Martha's Vineyard, through her personal assistant, Molly.
Coincidentally enough, Molly happens to be Chris Fischer's sister. Schumer told the Howard Stern Show that the pair first met while the comedian was visiting Fischer's hometown. Molly Fischer had the brilliant idea to send her brother to Schumer's vacation home to cook dinner for the comedian.
In an episode of the Armchair Expert podcast, Schumer told her Trainwreck co-star, Dax Shepard, that she initially tried to "play it cool" with her future husband, saying, "I really went out of my way to make sure he knew I wasn't flirting with him. You know, I'd be like, 'oh, I haven't sh*t in three days. Just really hitting him with the hotness."
Luckily, her grotesque admissions did not scare the chef away. However, it was not until later, when the future couple planned a birthday party for comedian Rachel Feinstein, that Schumer and Fischer began to see sparks.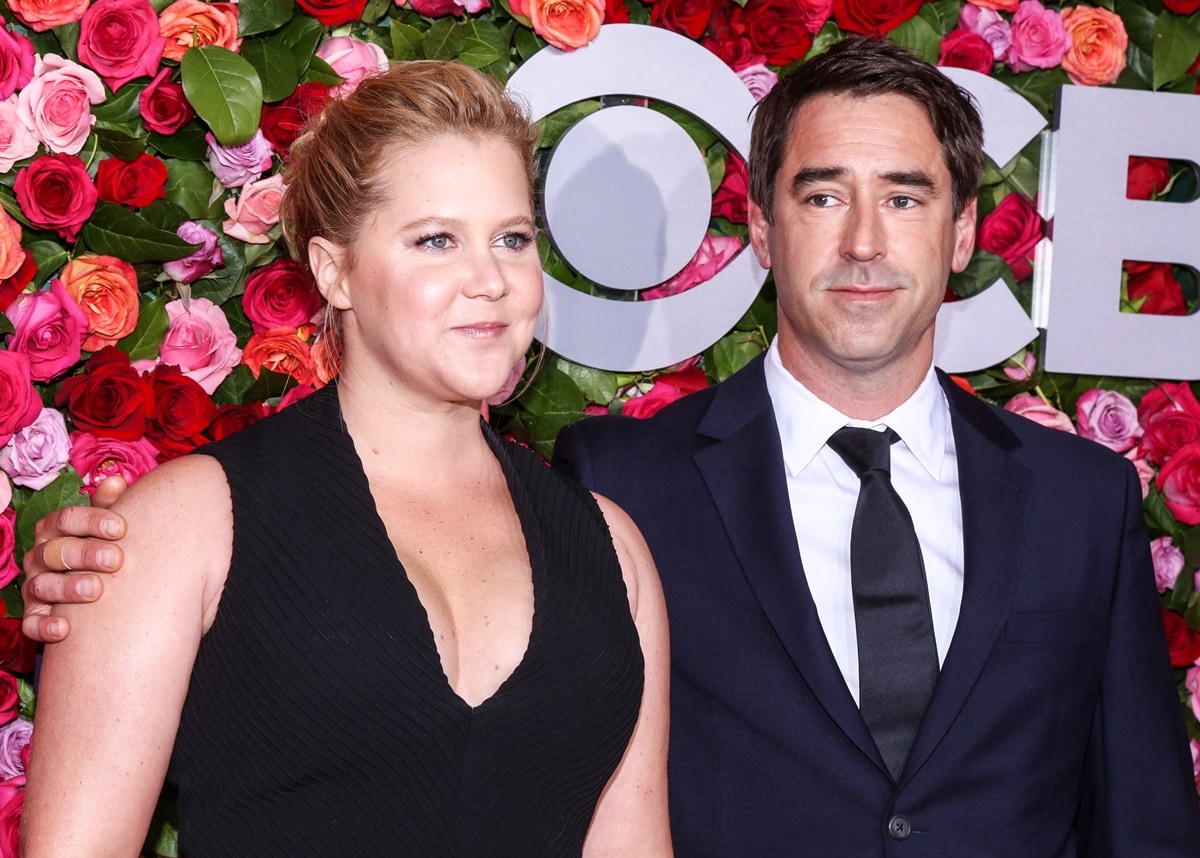 Amy Schumer met Chris Fischer through his sister Molly Fischer (Credit: Joseph Marzullo / WENN)
"It just felt like we were hosting this party together," Schumer told the Howard Stern Show. "He was cooking and I was getting things ready and we wanted everyone to have a really good time. And I was like, 'uh oh', you know? I got that feeling where all the blood goes to the places. And we were looking at each other a little bit longer. And it just changed."
In November of 2017, Amy Schumer and Chris Fischer were spotted in public together for the first time, having dinner in New York City.
The couple was mum about their relationship status until February of the next year when Schumer posted a now-deleted photo on Instagram of her and Fischer locking lips at Ellen DeGeneres' birthday party.
Fans and tabloids alike quickly scrambled to learn every detail they could about Schumer's new flame, and couldn't help but note how perfectly matched the couple is. Chris is only a year older than Amy, so they were in similar stages of their lives. Additionally, they look great together, as Schumer stands at 5'7" and Fischer is a complementary 5'9".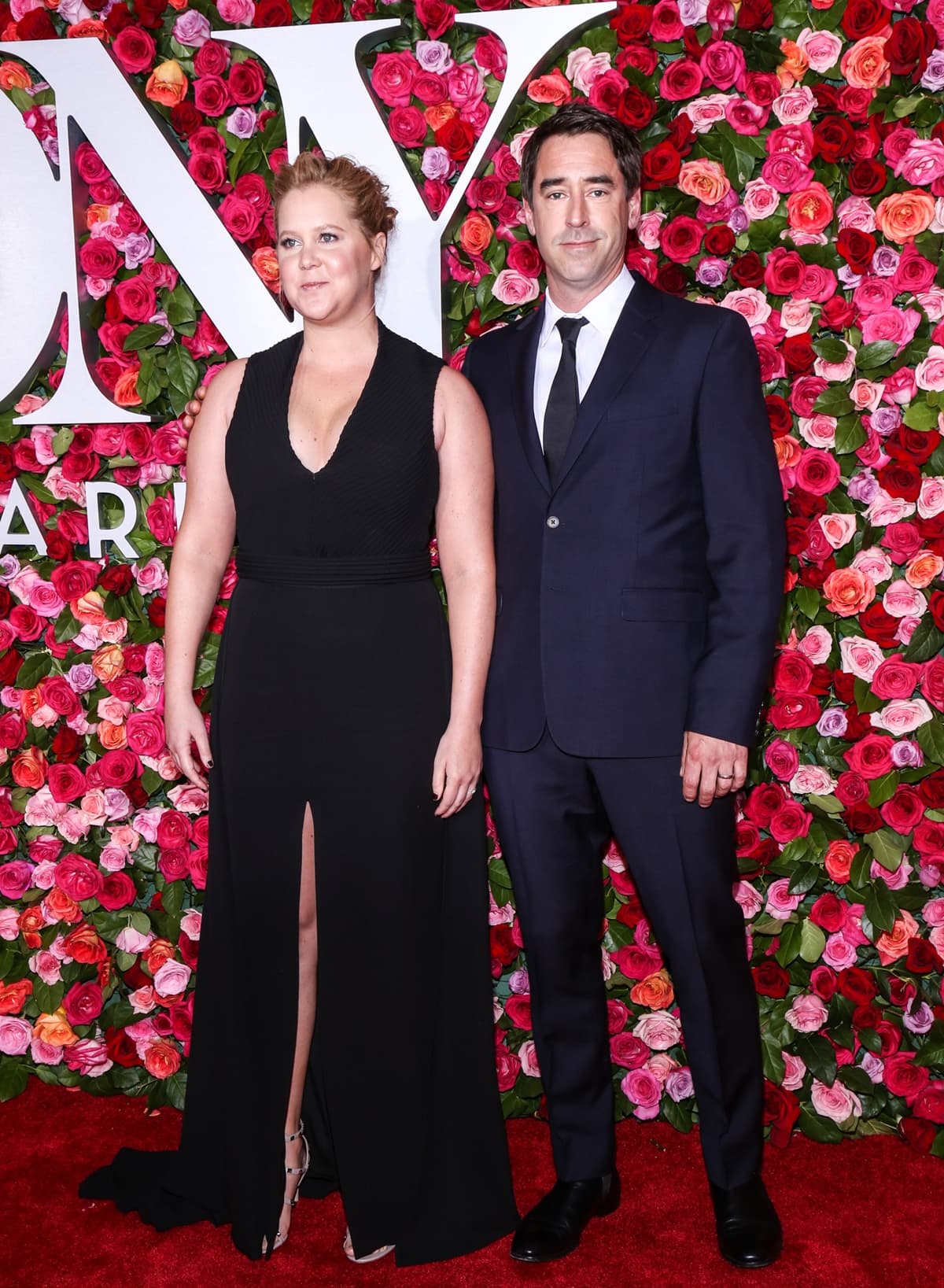 Amy Schumer joined her taller husband Chris Fischer on the red carpet at the 2018 Tony Awards held at Radio City Music Hall on June 10, 2018, in New York City (Credit: Joseph Marzullo / WENN)
Just four days after Schumer's now-deleted photo of the couple smooching was posted, they were married! According to Schumer, the event was a very lowkey secret ceremony in Malibu, California.
Amy told the Howard Stern Show that it was a whirlwind affair that she planned in less than a week, telling the couple's friends and family, "I'm getting married on Tuesday. I hope you can come."
Because Schumer and Fischer were so private about the details of their relationship — getting married only four days after confirming their coupledom — fans were shocked, thinking that their wedding was a spur-of-the-moment decision. However, in an interview with The View in April of 2018, Amy Schumer revealed that there was a lot more going on behind the scenes.
"We have known each other for about a year now and we've been living together already for six months," the comedian explained. "So you know it's not a long courtship but it's not like we had a great weekend in Vegas and threw in the towel."
View this post on Instagram
In October of 2018, the couple revealed that Schumer was pregnant with their first child. The comedian announced this information in a now-deleted Instagram photo that featured her and Fischer's heads superimposed onto the bodies of Prince Harry and Meghan Markle, who had also recently announced that they were expecting.
It was certainly a strange way to announce a pregnancy, but we've learned to expect the unexpected from funnywoman Amy Schumer.
Finally, on May 6, 2018, Amy Schumer and Chris Fischer welcomed a bouncing baby boy into the world — Gene Attell Fischer — whose name was later changed for… reasons. (We will touch back on this later.)
In a now-deleted Instagram post (seeing a trend here?) Schumer captioned a photo of her son "10:55 pm last night. Our royal baby was born," referencing their initial pregnancy announcement and that Prince Harry and Meghan Markle had announced the birth of their son the same day.
Navigating the World Together
Though Amy Schumer and Chris Fischer's early relationship is beautiful, it is their constant dedication to one another and their son that truly makes them #couplegoals.
The newly married couple has gone through many trials and tribulations — some more lighthearted than others.
View this post on Instagram
Struggles with IVF
In 2020, the comedian revealed in a (once again) now-deleted Instagram post that she was going through the very taxing process of IVF. The photo was raw and candid, displaying Schumer's torso which was very bruised from multiple rounds of IVF treatments.
The comedian wrote, "I'm a week into IVF and feeling really run down and emotional. If anyone went through it and if you have any advice or wouldn't mind sharing your experience with me please do."
Unfortunately, it appeared that the couple's IVF efforts were not working, as Schumer revealed that she would be freezing her eggs as the couple was "figuring out what to do to give Gene a sibling."
Many women struggle with fertility and IVF, so we commend Schumer for being so vulnerable and honest with her experiences.
View this post on Instagram
Too Close for Comfort – Changing their son's name
In April 2020, before their son Gene was even a year old, Schumer and Fischer made the decision to change their son's name for a rather hilarious reason.
In an interview with Howard Stern, Schumer revealed that she and Fischer came to the unfortunate realization that their son's full name, Gene Attell Fischer, sounded like "genital fissure".
While the couple initially had no idea what they had done, they were now determined to avoid any future schoolyard bullying and had their son's middle name changed to David, in honor of Schumer's father.
Chris Fischer's Autism Diagnosis and Raising Awareness
In Schumer's 2019 comedy special, Growing, the comedian revealed that her husband, Chris Fischer, had been diagnosed with autism.
"I knew from the beginning that my husband's brain was a little different than mine," Schumer said. "And once he was diagnosed, it dawned on me how funny it was, because all of the characteristics that make it clear that he's on the spectrum are all of the reasons that I fell madly in love with him."
View this post on Instagram
She says that Fischer's diagnosis has helped them understand and communicate better with one another and that they want to raise awareness and encourage other people and parents to get themselves and their children tested for autism.
"Being tested and diagnosed has helped us communicate and support each other better," Schumer said in a post. "People have reached out to us saying that seeing our doc #expectingamy motivated them to get tested and that it has changed their lives. We want to encourage parents and people to give themselves the gift of information so people can function to the best of their abilities and remove any stigma that comes with autism."
"Statistically our son most likely will be diagnosed as well," the comedian went on. "And if he's anything like his father, that is wonderful news. So on our babies birthday where he held my hand tight and held me with his eyes, I want to say 'I love you thank you, and happy birthday little geenie panini we love you as much as you love school busses.'"
Amy Schumer at the premiere of "Snatched" held at the Regency Village Theatre in Los Angeles, California, on May 10, 2017 (Credit: WENN / Apega)
In May 2017, Amy Schumer stepped out in a pair of blue-and-black Giuseppe Zanotti heels at the "Snatched" premiere.
Amy Schumer wearing a custom Antonio Berardi dress and Giuseppe Zanotti "Sophie" sandals (Credit: Adriana M. Barraza / WENN)
She wore the "Sophie" sandals, which are available in black for $650 at Farfetch. Amy joined co-star Goldie Hawn, who looked beautiful in a custom Michael Kors Collection look.
"My right tit … full nip," Amy told Howard Stern about exposing her boob in a scene in the film. It occurs after her character, Emily Louise Middleton, gets driven home on a motorcycle while intoxicated.
"The right one is the star and then my left one's, like, the runner-up," she responded when asked about which breast she exposed. "It was planned. Oh yeah, I wrote it in. It's so unnecessary," Amy added. "I just thought it was funny."
"It felt good to shoot it. Like, it was kind of empowering," the comedian continued. "Let's have them looked at before they're on the floor."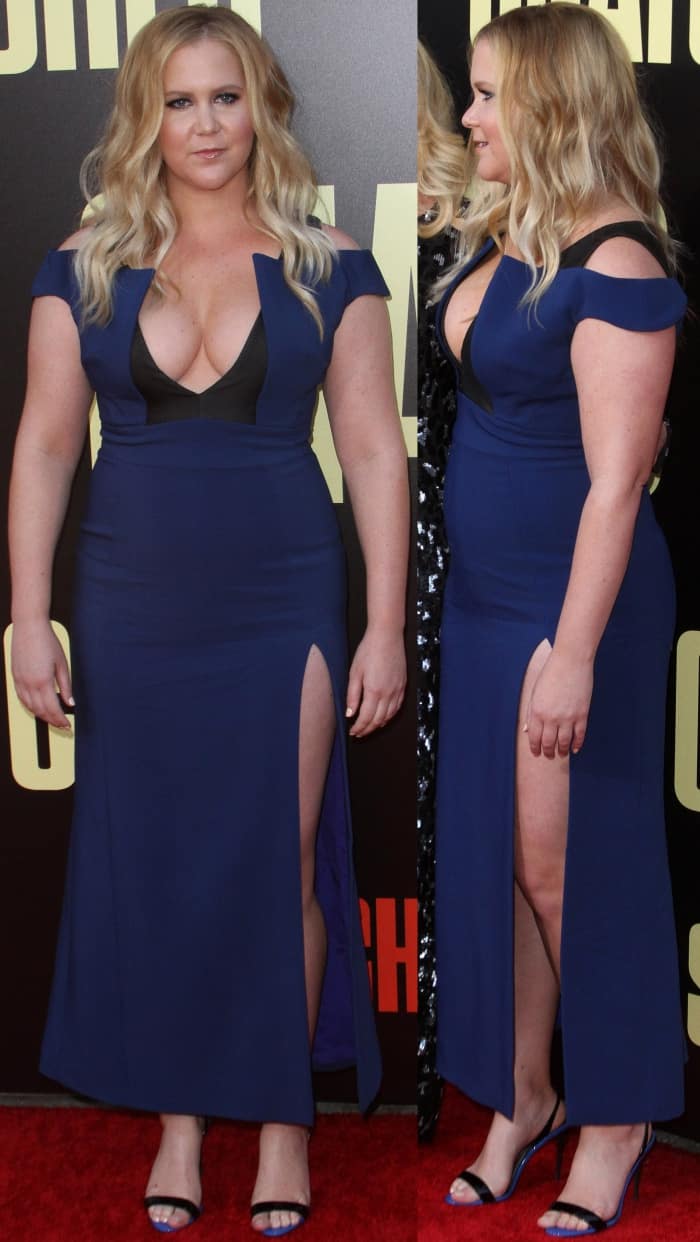 Amy Schumer felt like doing a topless scene in her comedy Snatched (Credit: WENN / Adriana M. Barraza)
"I'm an artist, and I was crafting that moment, and I just thought, I feel like my breast would be out, you know?" Amy revealed on an episode of The Ellen DeGeneres Show in May 2017 alongside her onscreen mom, Goldie Hawn.
"They were so considerate," she said about filming the scene. "They get very gentle with you and as few people on set as possible. And then I was like, 'Oh, thank you.' And then they were like, 'Cut,' and I went to the bathroom and I just kept my breast out, just walked past all the crew who was being respectful. I was just like, 'Hey guys, how's crew meal?' They were just like, 'Ugh, Schumer.'"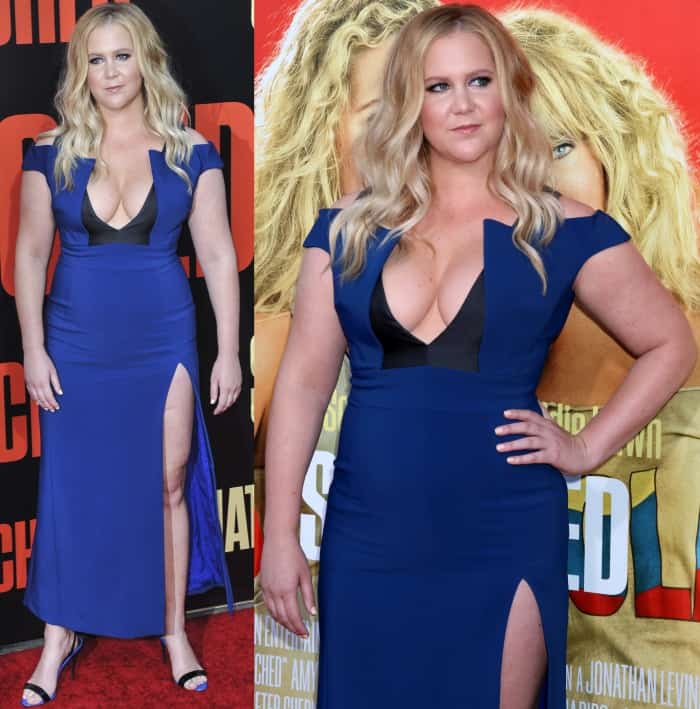 Amy Schumer decided to expose one of her breasts when filming the 2017 American comedy film Snatched (Credit: Nicky Nelson / WENN)
"I was scared to meet her because meeting your heroes can be such a bummer, you know?" Amy said about meeting Goldie Hawn for the first time.
"She just surpassed any hopes I could ever want. My whole family has loved her forever, and she was so sweet right away. It really made me feel bad about how I am with strangers," Schumer joked.
"He opens the door and it's the most beautiful place I've ever seen. He just says like, 'Amy, it is so meaningful to meet you. I love Goldie so much and you're so important to her.' And I'm looking at him just thinking, we sat next to each other through the whole Golden Globes," she jokingly said about meeting Hawn's longtime partner Kurt Russell.
"He lives in the moment, you know, that's what I love about Kurt. And then he forgets about it a moment later," Hawn joked.
Accused of stealing jokes, the stand-up comedian and actress showed plenty of cleavage in a custom gown from Antonio Berardi.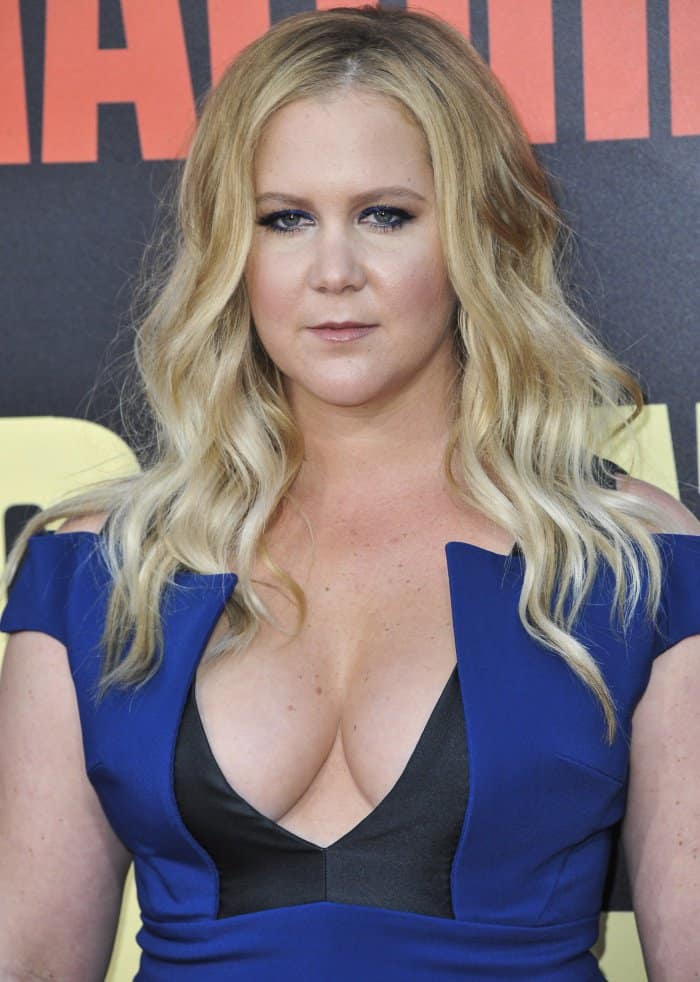 Amy Schumer's comedy Snatched was inspired by screenwriter Katie Dippold's own relationship with her mother (Credit: Apega / WENN)
It featured a wide V-shaped neckline, a cut-out shoulder detail, and a thigh-high slit.
Her blue gown also had a contrasting black panel, which matched the color combination of her shoes.
Amy Schumer shows off her feet on the red carpet (Credit: WENN)
She kept her styling simple with tousled waves and glossy lips.
Amy Schumer displays her feet in Giuseppe Zanotti sandals (Credit: WENN)
Snatched was Goldie Hawn's first film since the 2002 American comedy film The Banger Sisters. For her performance as Amy's mother in the film, Goldie Hawn was nominated for Worst Supporting Actress at the 38th Golden Raspberry Awards.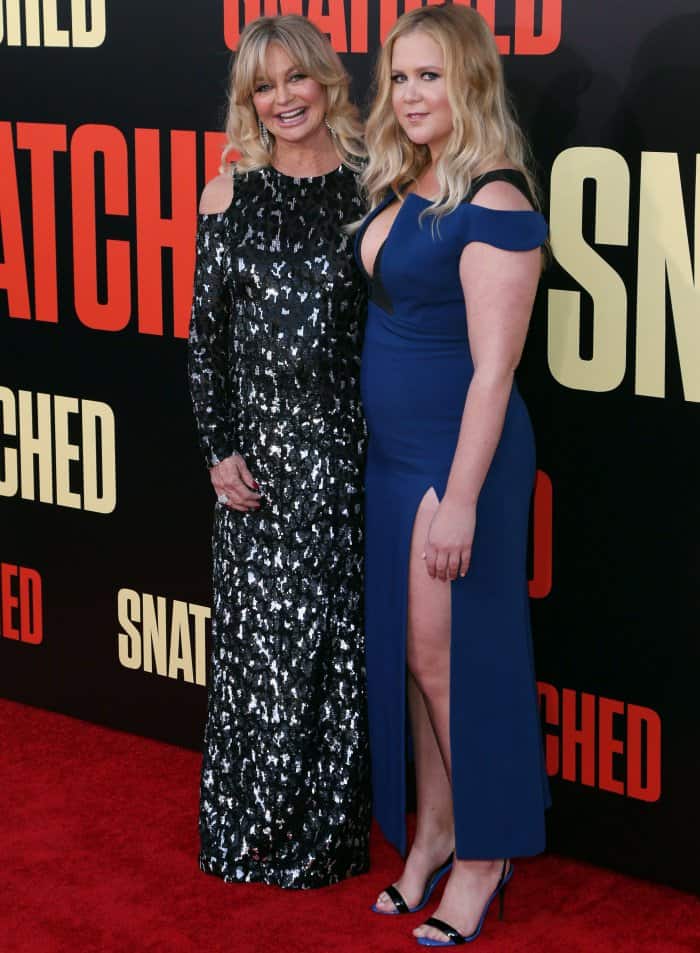 Amy Schumer couldn't hide her excitement about Goldie Hawn playing her mother in Snatched (Credit: FayesVision / WENN)
The "Sophie" sandals from Giuseppe Zanotti feature slender toe bands, buckled slingback straps, leather soles, and covered stiletto heels.
This particular style is currently unavailable, but you can purchase them in black patent leather at Amazon. Other styles include mirrored gold leather and nude leather.
Giuseppe Zanotti Sophie Sandals in Black Patent Leather, $650