We've seen the Saint Laurent "Janis" pumps on Angelina Jolie and numerous other celebrities before, but something about the way Angie wore them at the 'Maleficent' Japan premiere made their heels look much, much higher.
Maybe it was due to her new heavy-up-top padded proportions? Maybe it was because of her figure-hugging Atelier Versace dress? Maybe it was just the way she was standing, but whatever it was, if someone told us that the pumps were 7+ inches high, we'd totally believe it.
Check out how they look on the actress, and tell us if you don't get vertigo just by looking at the following pictures: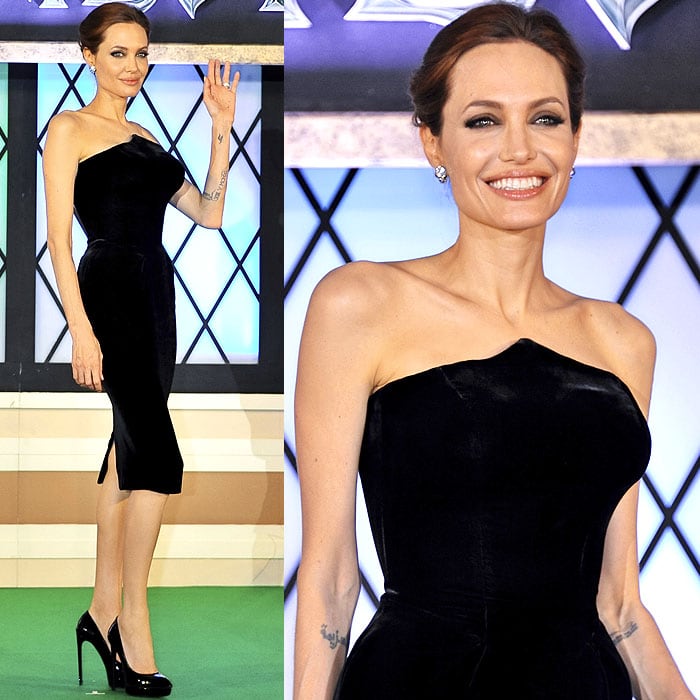 Angelina Jolie in an Atelier Versace velvet strapless dress and Saint Laurent "Janis" patent platform pumps
Saint Laurent "Janis" patent platform pumps on Angelina Jolie

Angelina Jolie at the 'Maleficent' premiere at Ebisu Garden Place in Tokyo, Japan, on June 23, 2014
Those stilettos look really high, don't you think? In actuality, the Janis pumps are "only" 5 inches tall — manageable at 4 inches if you take into account the 1 inch platform.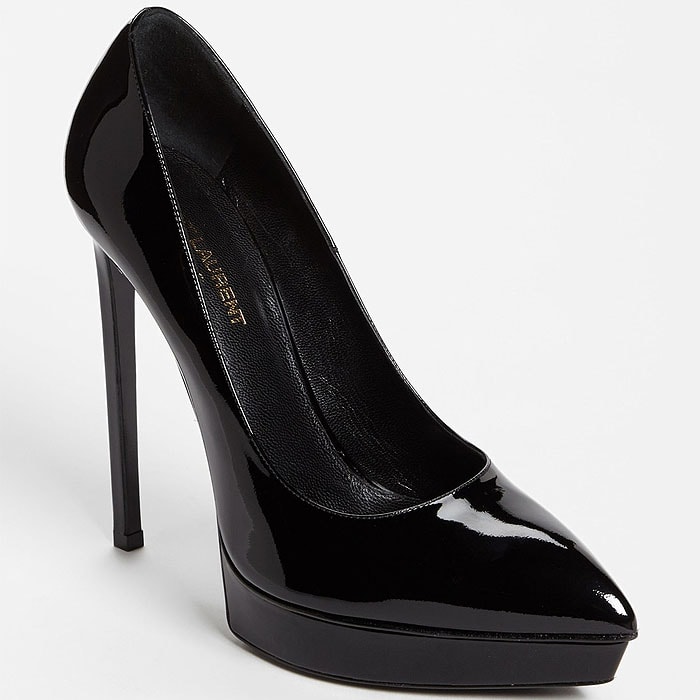 Saint Laurent "Janis" Patent Pumps, $795
Perhaps the impression that the shoes' heels are higher could've been due to the dark, gothic styling Angie has adapted for the 'Maleficent' promotions. Standing next to Elle Fanning in her usual princessy getup, Angie's witchy look was sharpened even more.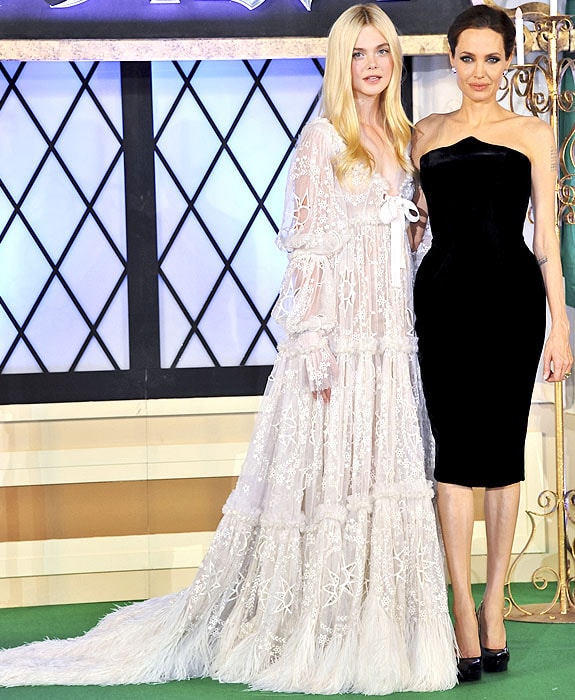 Elle Fanning and Angelina Jolie at the 'Maleficent' Japan premiere
Angelina wore the pumps again at a photo call the next day. She opted for a draped LBD this time, which made her Maleficent-inspired style and the Janis pumps look a lot softer.
Are you a fan of Angelina Jolie's 'Maleficent' style, or do you think she needs to take a break from wearing black?
Elle Fanning and Angelina Jolie at the 'Maleficent' photo call at the Grand Hyatt Tokyo in Japan on June 24, 2014
Angelina Jolie at the 'Maleficent' Japan photo call
Credit: Kento Nara/Future Image/WENN