Katy Perry and Orlando Bloom walked the red carpet as boyfriend and girlfriend for the first time ever at the 2nd Monte-Carlo Gala for the Global Ocean 2018 in Monaco on Wednesday.
If they were publicly announcing their relationship, they sure were awkward. The two, who have been dating on-and-off since 2016, barely looked at each other, had stiff body language and kept their hands to themselves the whole time.
Katy Perry and Orlando Bloom hit the red carpet for the first time together as a couple at the Gala for the Global Ocean held on the Terraces of Opéra de Monte-Carlo in Monaco on September 26, 2018
Katy was far more relaxed when she had the pale lavender carpet all to herself. She laughed and struck silly poses in a Tom Ford Spring 2018 nude-tone ruched gown with sparkly silver paillettes covering the long sleeves.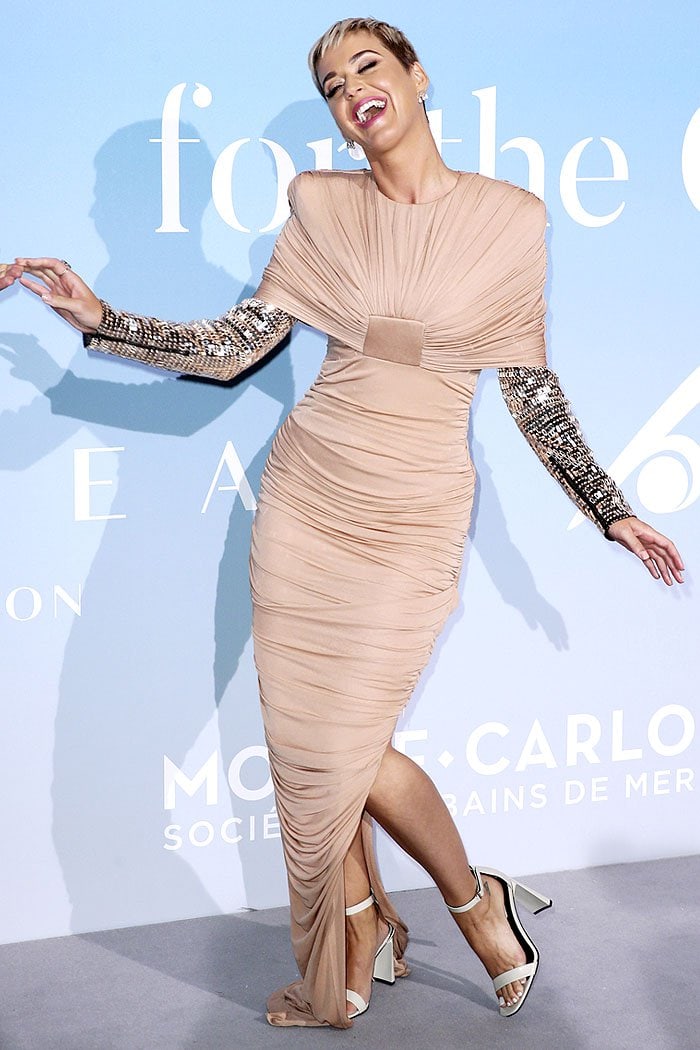 Katy Perry having a laugh on the pale lavender carpet at the 2nd Monte-Carlo Gala for the Global Ocean 2018
While the dress is too matronly — and even more so with that black-and-blonde short hair — the 33-year-old pop star did allow her fun and quirky personality shine through.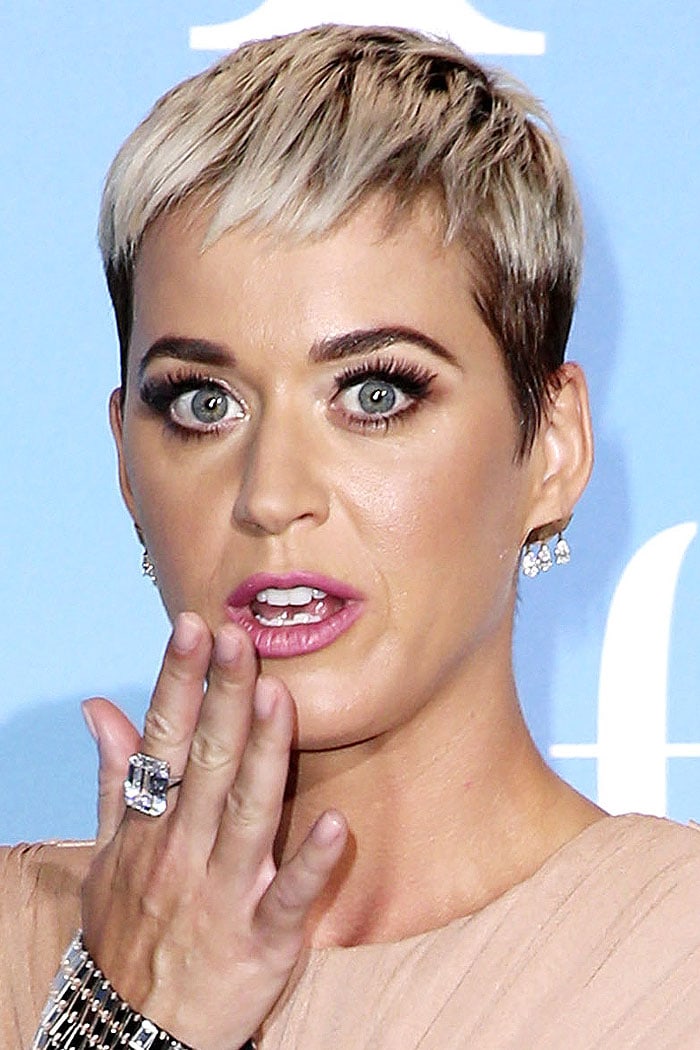 Katy Perry wearing a giant square-cut diamond ring while mid-way to blowing a kiss to the cameras
The "Chained to the Rhythm" singer completed her gala look with an enormous square-cut diamond ring, triple-diamond dangling earrings, and Via Spiga 'Faxon' angular-heel sandals that you can buy at Amazon.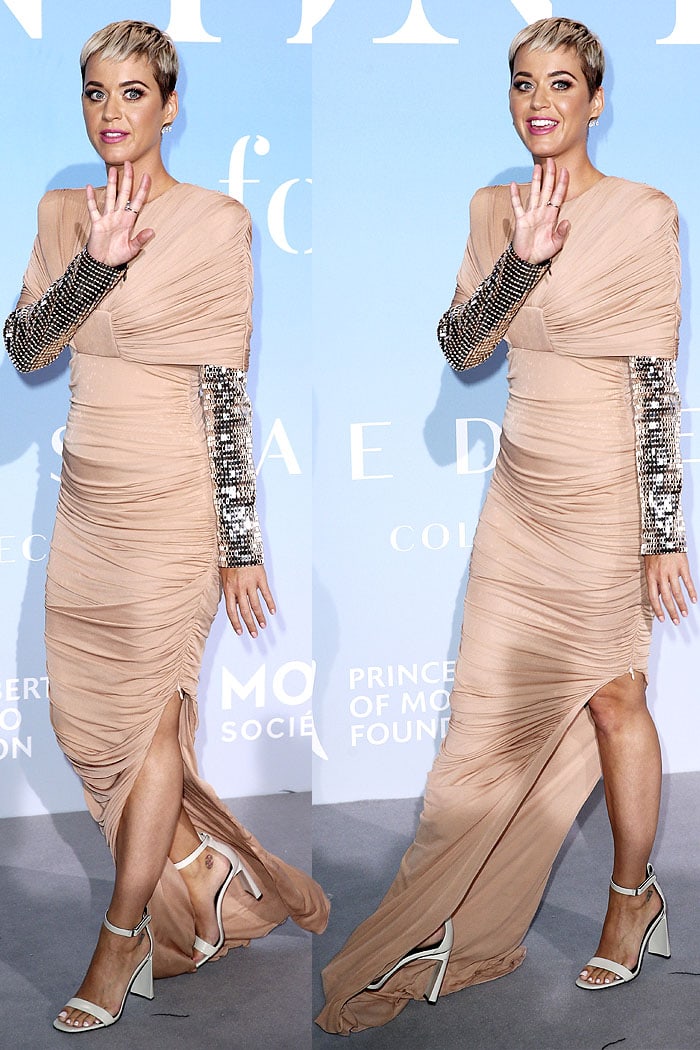 Katy Perry in a nude-tone Tom Ford Spring 2018 ruched gown with long sleeves covered in silver paillettes and Via Spiga 'Faxon' sandals
Check out the interesting heels on these sandals. They're flat, wide, and flare out even more towards the bottom. Those details must make for some really stable heels.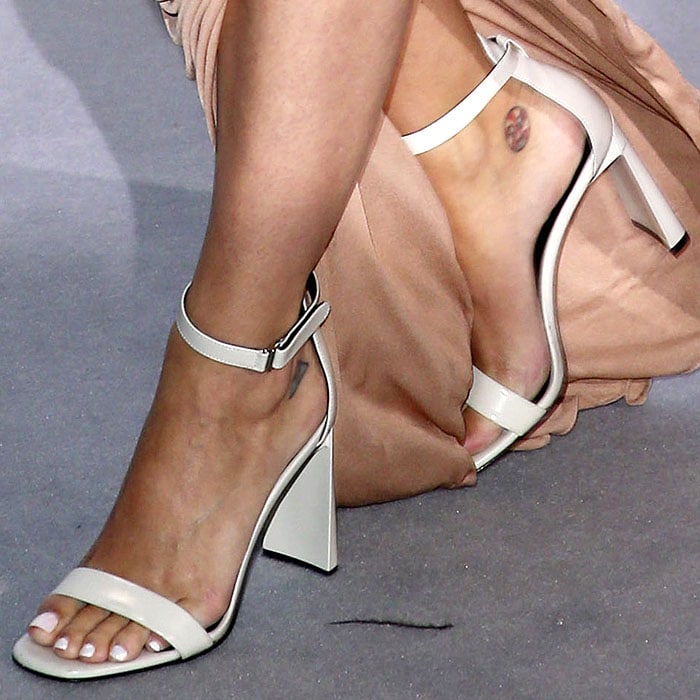 Katy Perry's tattooed feet in Via Spiga 'Faxon' sandals that feature flat, wide heels.
Via Spiga 'Faxon' Angular-Heel Ankle-Strap Sandals,  $114.40 to $295 at Amazon
Credit: Gerald Matzka / Future Image / WENN