With a commanding height of 5 ft 9 in (175 cm), Camila Alves not only stands out in a crowd but also rises above many of her counterparts in the fashion world.
This lofty stature gives her a distinct presence and elegance on both the runway and the red carpet.
Camila Alves, at 5 ft 9 in (175 cm), is between 4.8 to 6.8 inches (12.5 to 17.5 cm) taller than the average Brazilian woman, whose height ranges from approximately 5 ft 2.2 in (157.5 cm) to 5 ft 4 in (162.5 cm).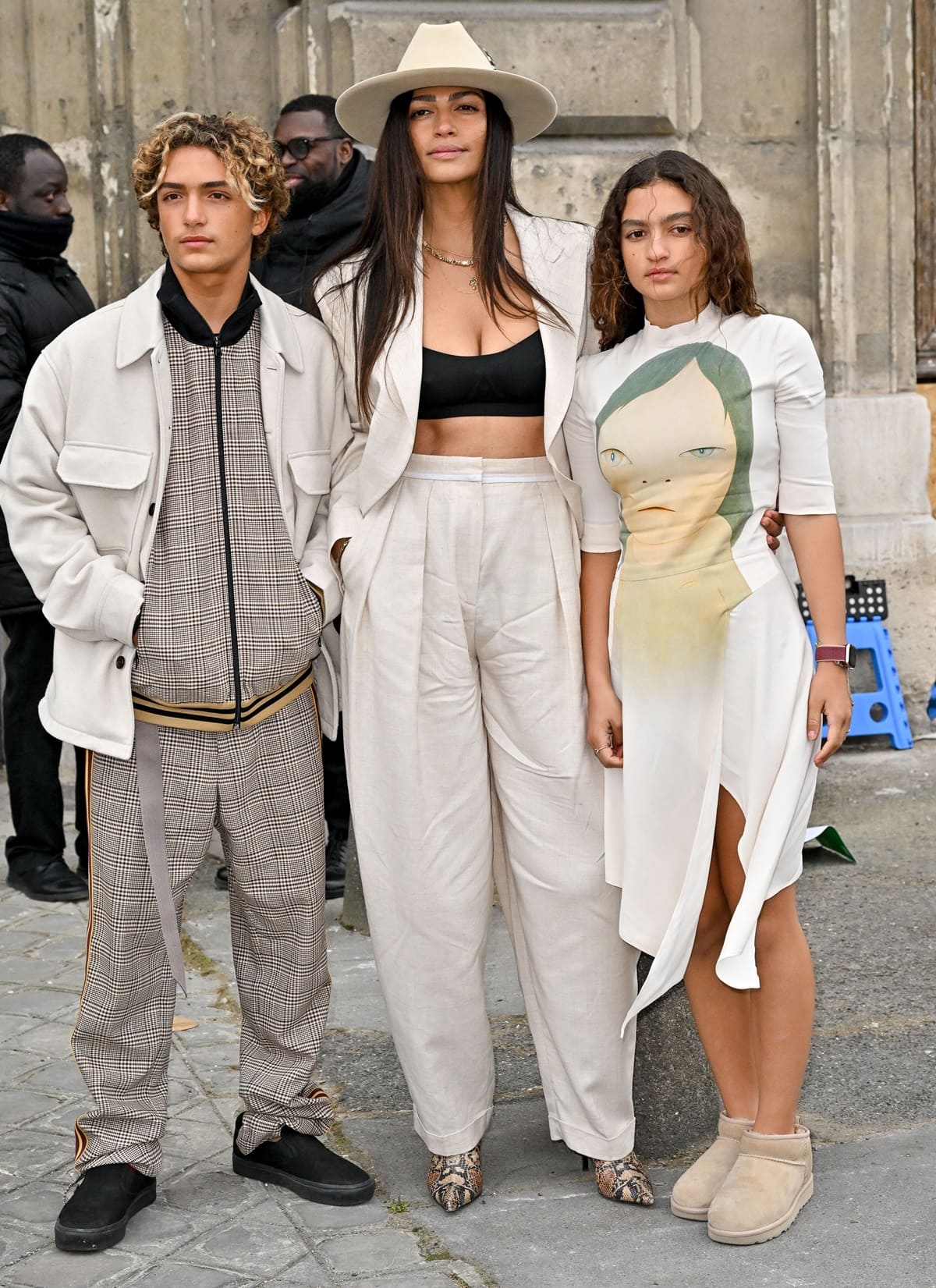 Camila Alves McConaughey with her son Levi Alves McConaughey and her daughter Vida Alves McConaughey at the Stella McCartney Womenswear Fall Winter 2023-2024 show as part of Paris Fashion Week on March 6, 2023, in Paris, France (Credit: Abaca Press / INSTARimages)
Camila Alves wears a shoe size 8.5 in US measurements. It is equivalent to a UK size of 6.5, a European (EU) size of 39, an Australian size of 6.5, and a Japanese size of 24.5.
Her shoe size of 8.5 (US) is within the average range for women in the US. It's not considered particularly large or small.
Hailing from Brazil, Camila Alves is a recognized model and accomplished designer, also known as the spouse of renowned American actor Matthew McConaughey.
Actor Matthew McConaughey and wife/model Camila Alves with children Livingston, Levi, and Vida at Matthew McConaughey's Star Ceremony On The Hollywood Walk Of Fame on November 17, 2014, in Hollywood, California (Credit: Jaguar PS / Shutterstock)
Born and raised in Brazil until age 15, Alves comes from a creative and grounded background, with a mother who is an artist and designer and a father who dedicated his life to farming.
Embodying these diverse influences, she is a staunch advocate for individuality, championing the belief in embracing oneself and prioritizing personal well-being over conforming to fleeting fashion trends.
A Story of Success: Camila Alves' Rise to a $20 Million Net Worth
Fast-forward to today, Alves' varied pursuits and successful career have amassed her a respectable net worth, estimated to be approximately $20 million as of 2023.
At the 2023 Baby2Baby Gala presented by Paul Mitchell at the Pacific Design Center on November 11, 2023, in West Hollywood, California, the 5 ft 9 in (175 cm) tall Camila Alves dazzled in a Harbison Studio Resort 2024 bustier gown (Credit: Abaca Press / INSTARimages)
Combining their net worth, Camila Alves and her husband, Matthew McConaughey, jointly have an estimated net worth of around $180 million. This figure includes Matthew's significantly larger net worth, estimated at $160 million.
It is an inspiring journey of a woman who combined her talent, authenticity, and self belief to craft a successful path in fashion and beyond.
Celebrity and Charity: Camila Alves at High-Profile Fashion Events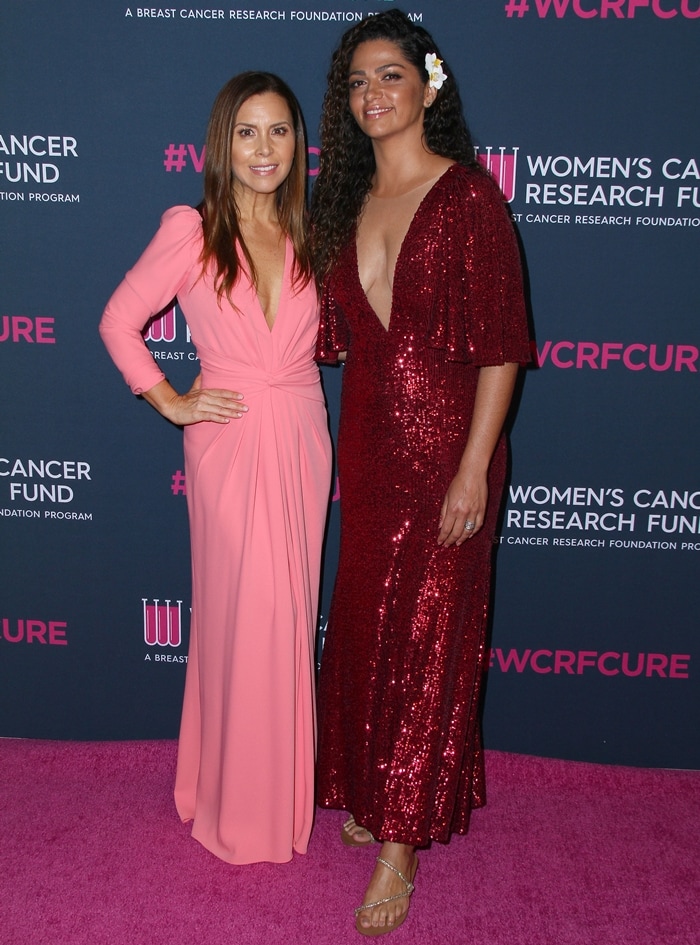 Monique Lhuillier and Camila Alves McConaughey attend WCRF's "An Unforgettable Evening" at Beverly Wilshire, A Four Seasons Hotel on February 27, 2020, in Beverly Hills, California (Credit: Avalon / WENN)
In February 2020, the Brazilian-American model joined Filipino fashion designer Monique Lhuillier at Women's Cancer Research Fund's An Unforgettable Evening Benefit held at the Beverly Wilshire at the Four Seasons Hotel in Beverly Hills, California.
Best known as a host of a popular reality series called "Shear Genius" on the Bravo network, she is married to American actor/director Matthew David McConaughey.
She and her mother, Fátima Saraiva, designed the Muxo line of handbags.
Camila Alves' sexy feet are shoe size 8.5 (US) (Credit: Adriana M. Barraza / WENN)
Camila Alves: Facts, Rumors, and Everything in Between
What is Camila Alves' net worth?
Camila Alves, now also recognized as Camila Alves McConaughey, is a multi-talented Brazilian personality. As a model, designer, TV host, and author, she has carved out a successful career that has amassed a net worth of $20 million.
Full Name:
Camila Alves McConaughey
Born:
January 28, 1982, in Itambacuri, State of Minas Gerais, Brazil
How old was Camila Alves when she met Matthew?
In 2006, at a lively nightclub in Los Angeles, fate brought the couple together. Accompanied by his friend Lance Armstrong, McConaughey ventured to Hyde, a popular spot on Sunset Boulevard. Amongst the crowd, the actor's eyes locked onto Alves, a captivating model and actress who had migrated from Brazil at the age of 15. In that very moment, love struck McConaughey, and he knew it was an irrevocable connection.

When they met in 2006, Camila Alves was 24 years old and he was 36. Despite the 13-year age difference between them, Matthew McConaughey believes that their age gap has played a significant role in the success of their relationship. According to the Oscar-winning actor, finding the right person is essential, but timing is equally important. Reflecting on their journey, he acknowledges that if they had met 15 years earlier, things might not have worked out as well. Their current bond is a testament to the fact that their relationship is thriving in the present moment.

Camila Alves celebrated her 24th birthday on January 28, 2006, and Matthew McConaughey turned 37 on November 4, 2006.

How many biological children does Matthew McConaughey have?
They have three children: a son named Levi Alves McConaughey born in July 2008, a daughter named Vida Alves McConaughey born in January 2010, and a second son named Livingston Alves McConaughey born in December 2012.
Weight:
Camila Alves is rumored to weigh around 130 pounds (59 kg). However, this is just a rumor, and her actual weight is not publicly known.
Feet/Shoe Size:
Camila Alves wears a shoe size 8.5 in US measurements, which is equivalent to a UK size 6.5, a European (EU) size 39, an Australian size 6.5, and a Japanese size 24.5.

This is within the average range for women in the US, which is between 8.5 and 9.
How tall is Camila Alves?
Camila Alves is 5 feet 9 inches tall, which is equivalent to 175 centimeters.
Nationality:
Camila Alves McConaughey holds citizenship in both Brazil and the United States.
Source of Wealth:
Camila Alves has earned her wealth through a variety of sources, including modeling, design, television, and writing.
Ethnicity/Race:
Camila Alves is of Brazilian ethnicity. Her father is of Portuguese and Indigenous descent, and her mother is of Italian and African descent. She was born in Itambacuri, Minas Gerais, Brazil, and raised in Belo Horizonte. She moved to Los Angeles at the age of 15 to pursue a modeling career.
Is Matthew McConaughey still married to Camilla Alves?
Yes, they are still married. She married Matthew David McConaughey in a private Catholic ceremony on June 9, 2012, in Austin, Texas.

Matthew McConaughey and Camila Alves have now been happily married for over ten years. Their enduring relationship is noteworthy, considering the actor's initial uncertainty about marriage. Prior to taking the next step, they had already established a life together and welcomed two children. It was only after some time that McConaughey felt ready to commit to marriage, solidifying their bond even further.
Discover Camila Alves: Cooking, Family, and the Joys of Life
"We're like a travelling circus… We're always on the go." – Camila Alves
"Easter is one of my favorite holidays with the kids. They get to run loose, and we always have our family and loved ones all around us!" – Camila Alves
"Embrace yourself and do what you can to look and feel your best. Don't put on so many fashion trends that create a ridiculous style statement. Pick and choose what feels good, and flatters your own body." – Camila Alves
"I love Austin for vintage shopping, and there are some really good places in L.A., too." – Camila Alves
"I was never the girl that grew up saying I want to get married. I actually told my parents to not expect me to get married." – Camila Alves
"Women inspire me. Women in the airports, around the country in different cities, destinations around the world, inspire me with the way they express their individuality. I love watching women and discovering all the ways each person uses a color, pattern, a style, even a lipstick color. I'm a people watcher." – Camila Alves
"A lot of people, sometimes they're so stuck on, 'I gotta get married, I gotta get married.' They forget that the really important thing is to have a healthy home, a healthy family, a healthy environment for your kids and to have everything going in a good, peaceful way." – Camila Alves
"We tried every single way of giving birth. It didn't work. I wasn't too crazy about having to do a C-section and take all the drugs. Finally, I just had to be like, 'Let it go.'" – Camila Alves
"I'm like half Brazilian and half American now." – Camila Alves
"I love dancing." – Camila Alves
"My father always told me, 'Before you become a queen, you have to learn how to take care of your own things.' So I knew how to do all of it, but I had never really done it on a daily basis. So I was cleaning houses, and I started working restaurants." – Camila Alves
"I'm curvy." – Camila Alves
"I don't like exercising; I'll be honest with you." – Camila Alves
"Education is a way of empowering people; it opens up so many doors and is fundamental to everybody. And teachers are not often appreciated in the way that they should be." – Camila Alves
"Growing up eating fruits and vegetables fresh from our farm added a lot to the way I taste and look at food today, and I wanted the same for my kids and other kids." – Camila Alves
"You need to let your hair produce its own oils and be healthy." – Camila Alves
"I think the only time that I worry about looking good is on the red carpet." – Camila Alves
"It was a really big deal to become an American citizen the right way. You have to work really hard, and it is such an honor to be able to say that." – Camila Alves
"I have a hard time finding high boots that go up to your knee, because of the shape of my calves." – Camila Alves
"It wasn't such a pleasant experience. We went through 14 hours with contractions every two minutes, no epidural, no nothing. Every two minutes, I would pass out. I went to the hospital on Saturday, and Levi was born on Monday." – Camila Alves
"I'm definitely a vintage collector. I have a wardrobe of core basics that I like to spice up with different colors, new accessories, and I love to try on new things to invite something different. I find, with every new stage of my life, my self-image shifts with new duties and responsibilities, and so does my fashion style." – Camila Alves
"Somebody showed me a picture of some event I went to back in the day, and I was really going heavy on the turquoise jewelry, and it was not good. I was like, 'OK, I guess that was a phase that needed to happen.'" – Camila Alves
"In my 20s, I wanted to be hot; now I want to be healthy." – Camila Alves
"Most of my family doesn't speak English. It's so important for the baby. He's going to know all his American roots, but he also needs to know about his Brazilian side." – Camila Alves
"I wash my hair once or twice a week to keep the natural oils." – Camila Alves
"My most joy that I have is dancing." – Camila Alves
"I've never been a size 0." – Camila Alves
"I have a really hard time finding good denim." – Camila Alves
"If you think about it, all of us have one or more teachers who were instrumental." – Camila Alves
"My kids love going to school. When my son started going to kindergarten, we asked him, 'How was it?' and his only complaint was that he didn't get to stay in there longer." – Camila Alves
"Because my hair is curly, I used to do all the straighteners, the Japanese this and the Brazilian that. And at the end of the day, your hair ends up not having a texture, not having the body – no shine. You're pretty much frying your hair. So understand the type of hair you have and do the best with what you have." – Camila Alves
"I'm a mother of three. I don't really have the time to put very elaborate outfits together, so I keep it casual but dress it up with shoes, a bag, and jewelry." – Camila Alves
"Vida's definitely a beautiful and peaceful girl." – Camila Alves
"English is not my first language." – Camila Alves
"I'm still learning how to do things – like lining my eyes? Forget it." – Camila Alves
"I got my green card and everything through my work, even before marriage or anything like that, so you really have to follow the rules and do everything the right way to be able to accomplish that, so it was big… I had my green card for so long." – Camila Alves
"My waist used to be tiny. I just saw a picture of Miley Cyrus with a little crop top and low pants, and I'm like, 'That was me growing up in Brazil!' I had the typical model body, but after babies, it changed. I look more like a woman." – Camila Alves
"I love wearing my hair curly, but turning the curling iron all the way up creates curls that look really made up and artificial." – Camila Alves
"I love wearing dresses that hug the body, but then, at the Oscars, I had a big dress, and I really loved that. It's a style I never thought I would wear, but I saw the dress, and I was like, 'Oh my God, that's it!'" – Camila Alves
"Before a shoot, I'll watch what I eat. During the shoot, I watch what I eat. Afterwards, the first thing I do is go have a steak and French fries." – Camila Alves
"I respect marriage, and I think it's beautiful that people do it. But for me, more important than anything is having a peaceful life and a peaceful home." – Camila Alves
"When I was a kid, I wanted a Chanel bob and bangs. My mom said no. I went to the salon anyway, and they said, 'No way – we are not going to do that to your hair.' So I did it myself. Big mistake. Instead of my bangs going down straight, they were sticking up like a cat. It was horrible." – Camila Alves
"The way we do music in Brazil is very different because we are so moved by music; we grow up with that." – Camila Alves
"I come from a simple background, so I couldn't call my father and say, 'Come pay my bills,' so I had to get out there and work." – Camila Alves
"A lot of the time, you see something really beautiful, but if you don't have the perfect figure and are a really small size, it won't work well for you." – Camila Alves
"Education is so important." – Camila Alves
"When I had my first child, I started to try and make fresh food for him daily, and I became frustrated with the amount of work – and time – involved in making baby food at home." – Camila Alves
"It's a myth that you have to wash your hair all the time." – Camila Alves
"I have vintage things that I got nine, 10 years ago, and every time I clean my closet, I can't get rid of them. I think, 'I will never find this again!'" – Camila Alves
"One thing that we decided very early in the relationship is that when he goes, we all go – the whole family." – Camila Alves
"I like a little bit of a rough look because it's sexy. But when a man has a rough look, and he goes and gets a cleanup, then it's very sexy as well." – Camila Alves
"We're just like a regular family." – Camila Alves
"The main thing for me is to make sure our home is peaceful, that it's healthy, that the kids are good." – Camila Alves
"Being engaged is absolutely a time to cherish!" – Camila Alves
"I enjoy celebrating Valentine's Day. It's a nice way to say you're thinking about your family, someone special, or dear friends." – Camila Alves
"I was never the girl who tore pictures out of wedding magazines." – Camila Alves
"When I lived in Greece and off the coast of Italy, I enjoyed a branzino dish so much that I created my own version." – Camila Alves
"I love ice cream, and I love chocolate." – Camila Alves
"I loved seeing my mom put her own twist on years-old family recipes and also create new dishes. This made me develop a passion for cooking at a young age and would eventually inspire me to prepare meals and host wonderful family dinners." – Camila Alves
"This shared love of cooking and celebration has allowed me to create a strong bond with my family." – Camila Alves
"I never understood when people go, 'Oh my gosh, it's so easy being pregnant.' No, it's hard. It's the most beautiful thing, yes, but it's hard." – Camila Alves
"I like to keep Valentine's dinner light so you don't crash after and can keep the fun going through the night!" – Camila Alves
"I am very proud to say that America is my home! I have so much respect for this country and the people in it. I'm so grateful that you guys have taken me in with care and respect." – Camila Alves
"It's a balance. But you have to have your cheat day; you have to take your time to have the pleasure. Otherwise, what's the point?" – Camila Alves
"As a mom of three young kids, it's difficult to reserve a big chunk of time for shopping, so I try to get my gifts little by little throughout the year. I think this is especially helpful for those of us who are budget conscious." – Camila Alves
"We are all so busy and constantly trying to save time and balance everything." – Camila Alves
"The Fourth of July should be celebrated with big hearts." – Camila Alves
"One of my favorite memories from growing up in Brazil is being in the kitchen with my family and watching everyone bake and cook." – Camila Alves
"I love having my daughter in the kitchen with me as I prepare meals. We talk about anything and everything!" – Camila Alves
"If there's one thing any mom should have for fall, it's a peplum top." – Camila Alves
"I'm very excited to have a girl." – Camila Alves
"I just throw on foundation and under-eye concealer, then dust bronzer on my cheeks so they look defined." – Camila Alves
"A lot of times, you think you want something, and then you find something completely different." – Camila Alves
Camila Alves Shines at Macy's Event: Beyond Matthew McConaughey's Shadow
If you think Matthew McConaughey is hot, you should see his wife! In March 2013, Camila Alves (McConaughey), wife of actor Matthew McConaughey, made an appearance at Macy's in Aventura, Florida.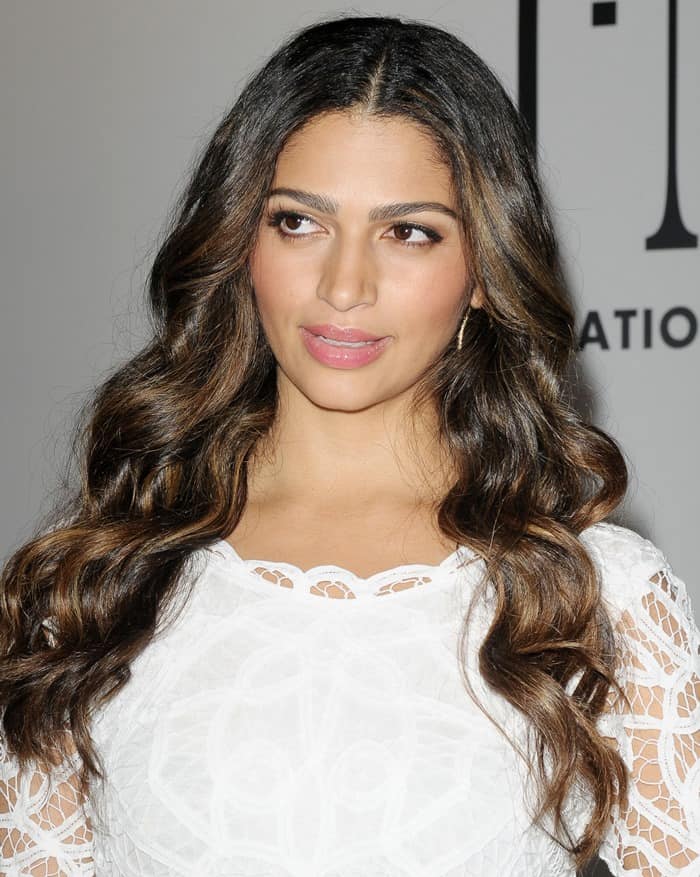 Macy's fashion brand I.N.C. International Concepts named Camila Alves their new spokesmodel in 2012, drawn to her diverse style and approachable personality (Credit: Johnny Louis / WENN)
The drop-dead-gorgeous model and mother of three wore a pretty white lace dress and chic nude peep-toe pumps to the event.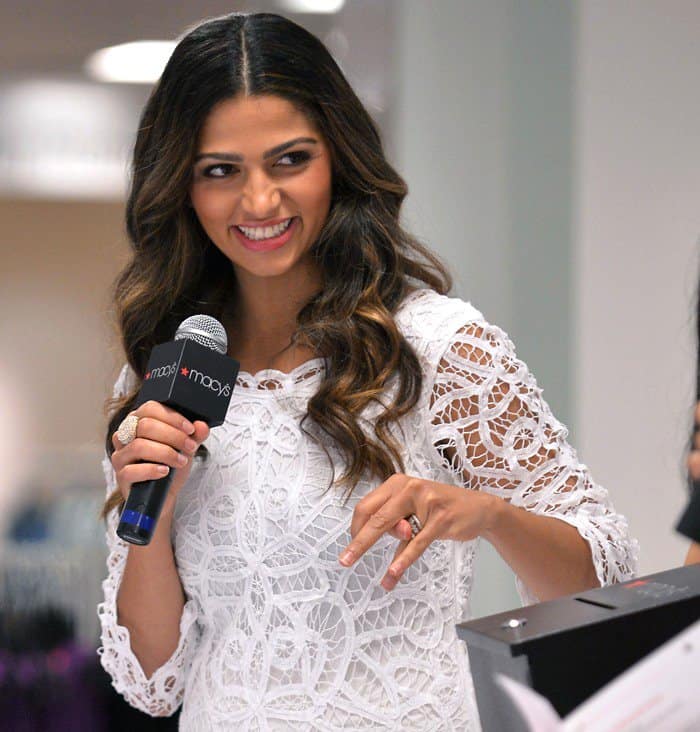 Camila Alves McConaughey showcased her impeccable style at Macy's in Aventura, Florida (Credit: Johnny Louis / WENN)
Her soft, curly locks and pouty pink lips completed the look with the same polished yet soft feel as her dress and heels.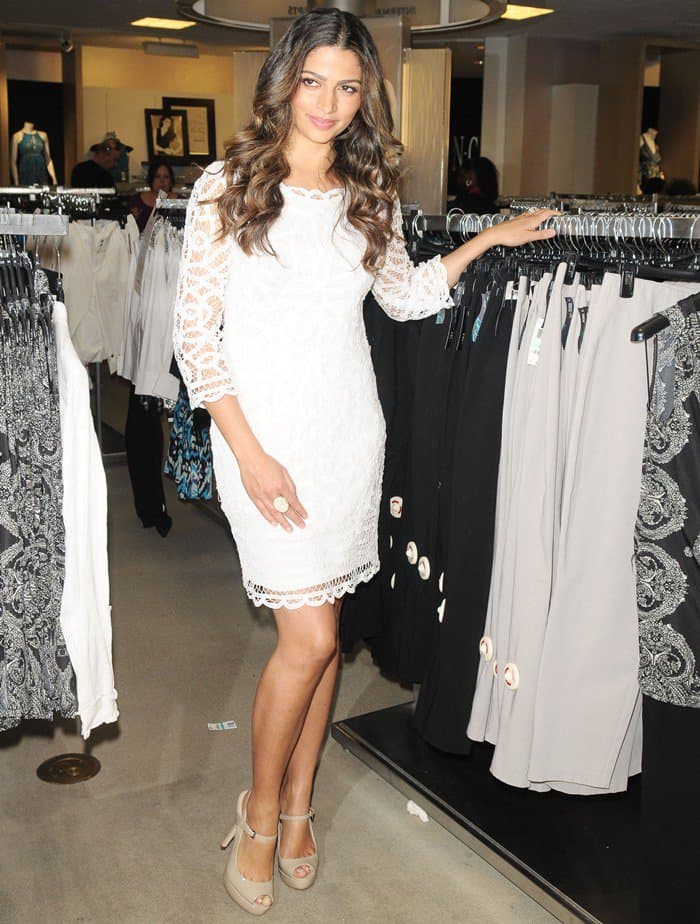 Camila Alves chose a delicate white lace dress paired with sophisticated nude peep-toe pumps at Macy's Aventura Mall in Aventura, Florida, on March 16, 2013 (Credit: Johnny Louis / WENN)
It's easy to see why I.N.C. International Concepts made Camila their new spokesmodel. The private brand is exclusive to Macy's department stores.
Accompanied by a guest, Camila Alves and Milly Almodovar, the Beauty Editor for Cosmo Latina, graced Macy's Aventura with their presence on March 16, 2013, in Miami, Florida (Credit: Johnny Louis / WENN)
My original guess was that Camila's slingbacks are from Jimmy Choo or Michael Kors because they have a similar aesthetic to many Choo and Kors heels I've seen before.
Camila Alves showing off her legs and feet in a pair of INC heels (Credit: Johnny Louis / WENN)
However, they're not! They're actually from INC International Concepts, which Camila is representing.
These INC shoes are available at Macy's, but we also found a similar style from Michael Kors. Look at both, and tell us if you'd make them your next shoes!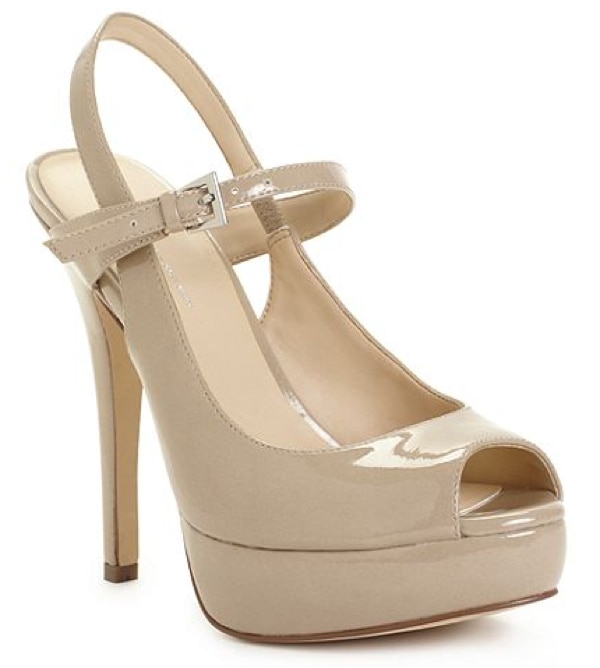 INC International Concepts 'Mariela' Pumps, $89.50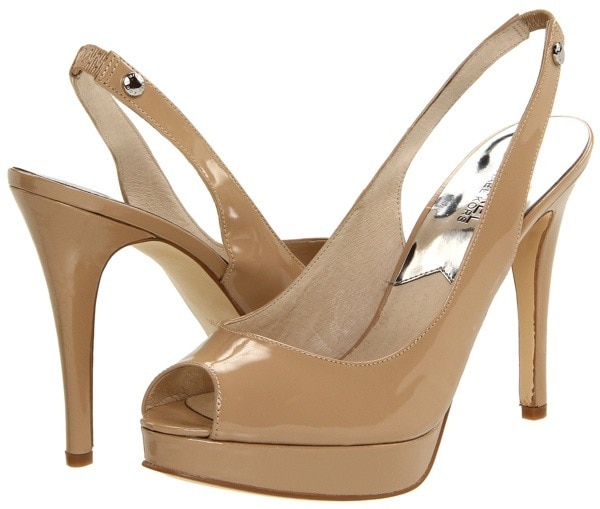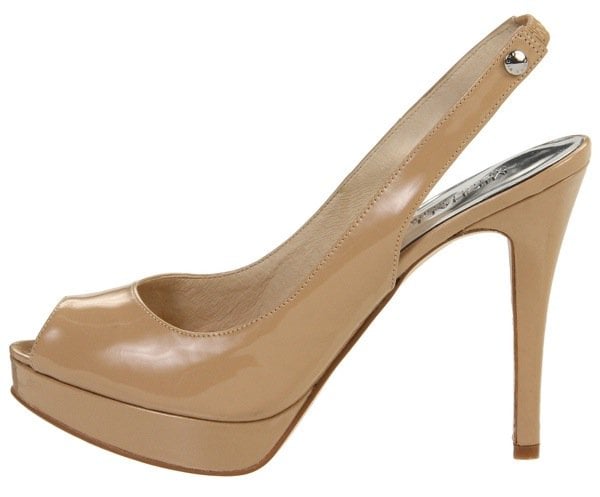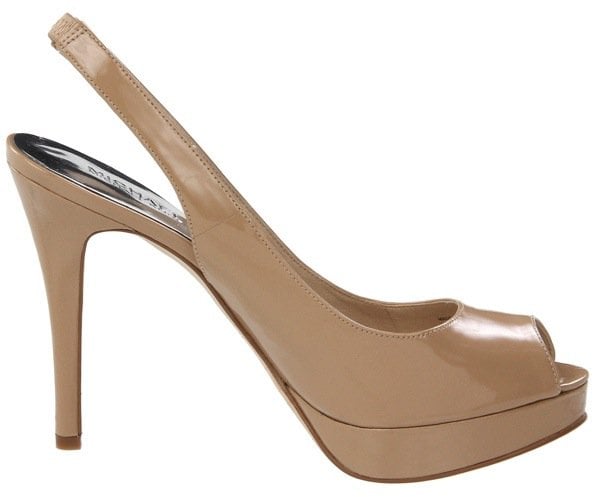 MICHAEL Michael Kors 'York' Slingback Pumps, $125