Actress Kirsten Bell has been open about wanting to be in a video game in past interviews as well as being a video game lover.
In her exclusive 2006 interview with IGN, Bell stated that "I have not graduated from my N64 yet. I know. And I'm just gonna say it and you know what, I'm not ashamed of it! But I love me some Mario Kart."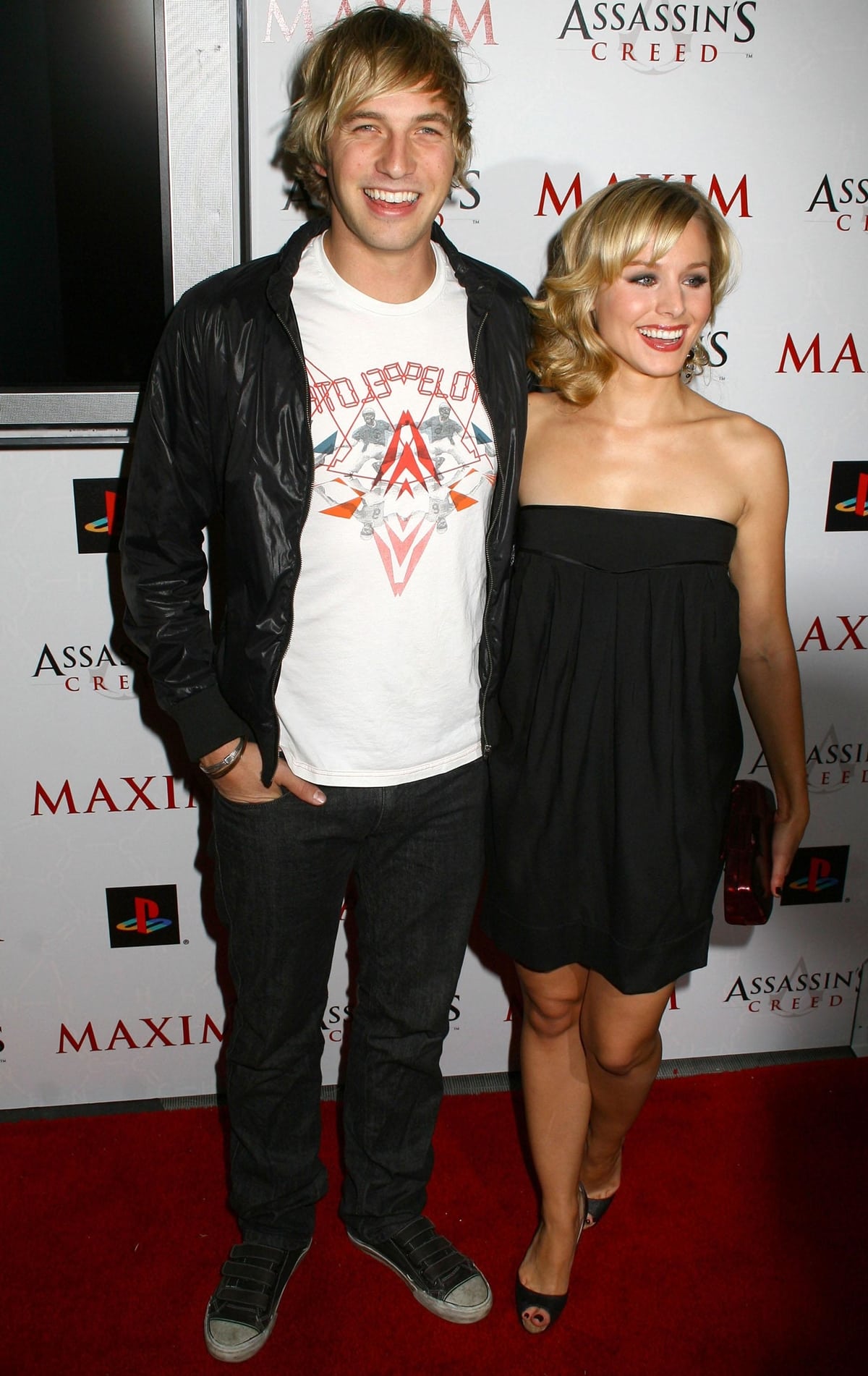 Ryan Hansen and Kristen Bell at the Maxim party for the videogame Assassin's Creed hosted by Kristen Bell at Club Opera on November 6, 2007, in Los Angeles, California (Credit: Adriana M. Barraza / WENN)
But not having graduated past N64 didn't stop her from landing a supporting character role in the popular video game Assassin's Creed, developed by the Canadian video game developer Ubisoft Montreal and published by its parent company Ubisoft.
Assassin's Creed was originally released for the popular game consoles Xbox 360 and PlayStation 3 in 2007 before releasing its PC version for computer game players the following year.
The action-adventure video game follows the journey of the main character Desmond Miles who lives in a fictional world where a machine called the "Animus" is created to let those who use the machine access memories of their ancestors.
Kristen Bell portrayed the character Lucy Stillman in Assassin's Creed (Credit: Ubisoft)
Bell played the character Lucy Stillman, who was a member of the Assassin Order and a researcher for the Animus Project that created the Animus machine.
The actress was 26 years old at the time of preparation for the first game of the series while still working on her other projects like the third season of the mystery TV drama Veronica Mars and the comedy film Fanboys.
Bell not only did all of the audio recordings for her character Lucy Stillman but also provided face and body scans so that the character matched her both vocally and physically. So for those who were wondering why Stillman looked so familiar, now you know why!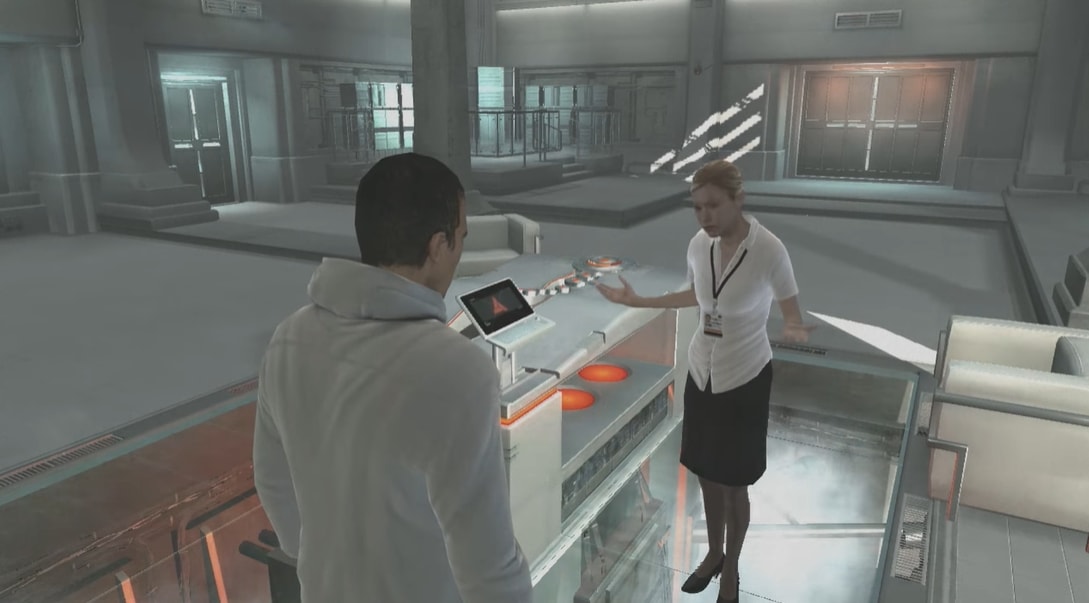 Kristen Bell's character Lucy Stillman in Assassin's Creed was made using her face and body scans (Credit: Ubisoft)
The actress was very enthusiastic and supportive of the game in her IGN interview in 2006 stating, "it's actually really interesting to me. It's sort of based on the research that's sort of happening now, about the fact that your genes might be able to hold memory. And you could argue semantics and say it's instinct, but how does a baby bird know to eat a worm, as opposed to a cockroach, if its parents don't show it? And it's about this science company trying to, Matrix-style, go into people's brains and find out an ancestor who used to be an assassin, and sort of locate who that person is. It's very, very cool, and I've seen all the graphics for it."
The game has 12 main games but Bell only appears for the first three games (Assassin's Creed, Assassin's Creed II, and Assassin's Creed: Brotherhood) that were released from 2007 to 2010.
Actress Kristen Bell attends the Maxim and Ubisoft launch celebration of Assassin's Creed II at Voyeur on November 11, 2009, in West Hollywood, California (Credit: FayesVision / WENN)
(Spoiler alert) Bell's character Lucy Stillman was eventually killed off in Assassin's Creed: Brotherhood by main character Desmond Miles, which infuriated fans who insisted that Stillman deserved a better ending. Fans speculated the poorly thought-out ending was due to Bell wanting to quit the game, however, these rumors have not been confirmed.
In a 2017 Jeux Vidéo interview with Canadian game designer Patrice Désilets, who created the Assassin's Creed series, he alleged that Bell was fired and her character killed off after she started demanding royalties for her game appearances.
Kristen Bell styled her dreamy black Monique Lhuillier dress with matching Jimmy Choo pumps (Credit: WENN)
Before she was Sarah Marshall in Forgetting Sarah Marshall and Anna in Frozen, Kristen Bell was known as Veronica Mars, a high school student by day and a private investigator by night.
Veronica Mars was canceled in 2007, much to the disdain of the show's loyal following. Seven years later, a film version of the cult show hit the big screen thanks to a successful Kickstarter project, in which fans raised over $5.7 million.
Kristen Bell at a screening of her latest film 'Veronica Mars' at AMC Loews Lincoln Square in New York City on March 10, 2014 (Credit: WENN)
So, as you can imagine, Kristen was in good spirits during a screening of the film in New York City. The then 33-year-old actress glided down the red carpet in a dreamy black Monique Lhuillier dress and matching Jimmy Choo pumps.
To round out the gothic edge of her ensemble, she sported dramatic smokey eye makeup, razor-straight hair, and a black Christian Louboutin clutch.
For such a highly anticipated event for Veronica Mars fans, Kristen's style did not disappoint!
Kristen Bell shows off her feet in black Jimmy Choo high heels (Credit: WENN)
What do you think of Kristen's red carpet outfit? You can get a similar look with Jimmy Choo's "Luna" peep-toe pumps from Farfetch.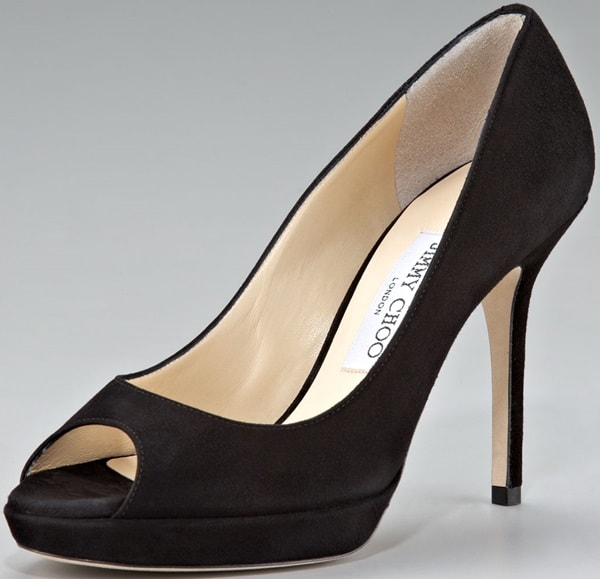 Black Suede Jimmy Choo "Luna" Peep-Toe Pumps, $675