Ana de Armas took a big leap and moved to the US in 2014 to pursue a career in Hollywood.
With Spanish as her native language, the Cuban actress had to learn English in a classroom setting seven hours a day for four months as she didn't want to be typecast in a character role written specifically for Latinas.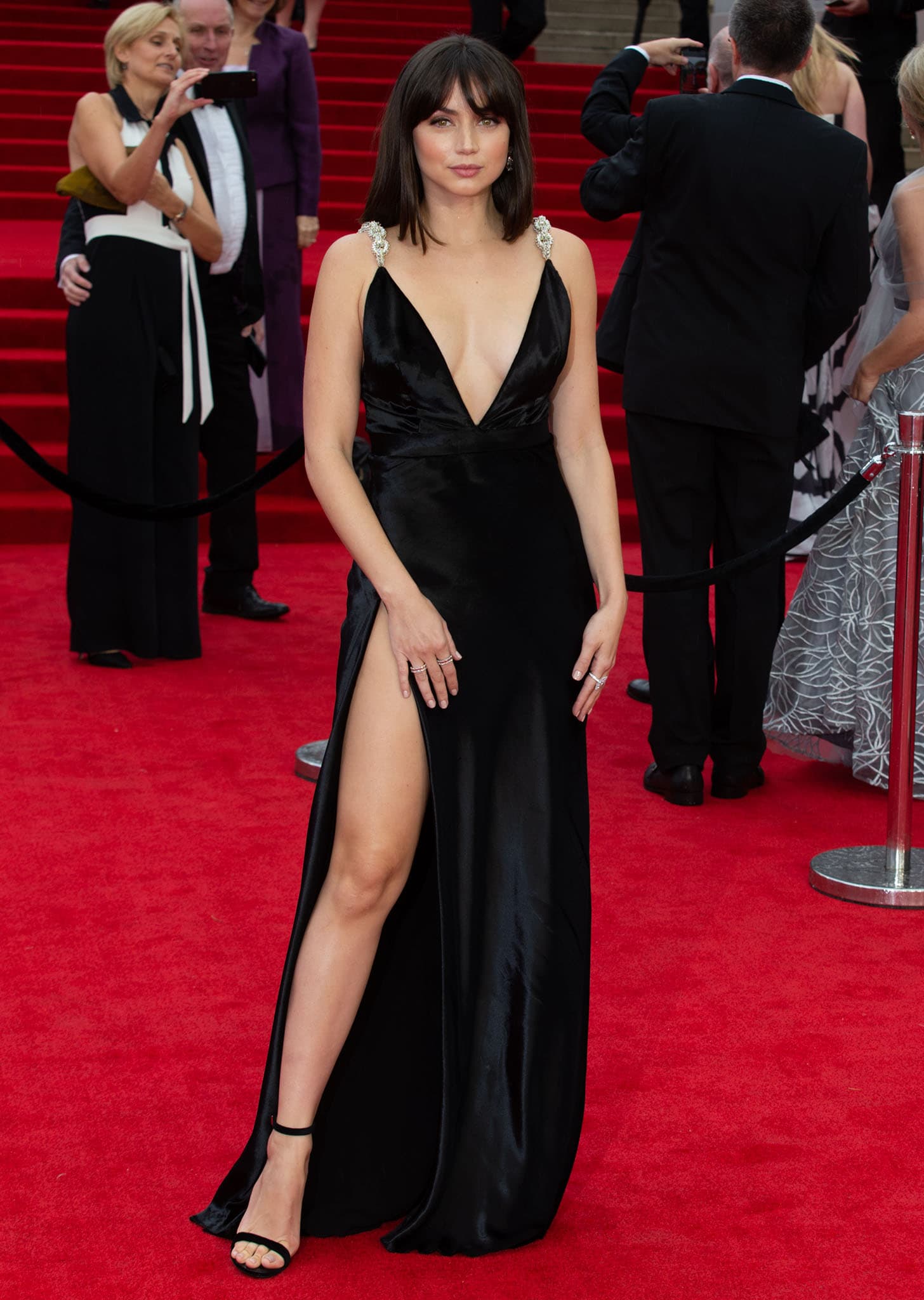 Ana de Armas at the world premiere of No Time to Die held at the Royal Albert Hall in London on September 28, 2021 (Credit: Mario Mitsis / WENN)
She later landed her first English-language role in the 2015 erotic horror thriller Knock Knock opposite Keanu Reeves.
It was followed by supporting roles in War Dogs, Hands of Stone, Overdrive, Blade Runner 2049, and Knives Out, for which she received a Golden Globe nomination for Best Comedy Actress.
With her Bond girl role in the latest 007 installment and Marilyn Monroe portrayal in the upcoming biopic Blonde, Ana de Armas is on her way to becoming a household name in America.
On Tuesday, Ben Affleck's ex-girlfriend looked every inch the Hollywood movie star when she arrived on the red carpet at the highly-anticipated premiere of No Time To Die held at the Royal Albert Hall in London.
Ana de Armas looks every inch the movie star in her custom Louis Vuitton velvet gown (Credit: Mario Mitsis / WENN)
Explaining her character as Paloma in the movie, Ana told The Sun: "Paloma is a really complete character. She's definitely something else that I don't think we've seen in other Bond girls in previous movies. She's a lot of fun—very active, very badass."
She also spoke about her friendship with Daniel Craig, who was also her co-star in Knives Out. "It was so easy working with him because we had become friends, so I didn't feel out of place being part of a huge production that you have with a Bond film."
Praising Craig, Ana added: "I love Daniel. He's relentless. It doesn't matter how exhausted he is, or how many broken bones he has, he still shows up and goes to work every day. It's so inspiring."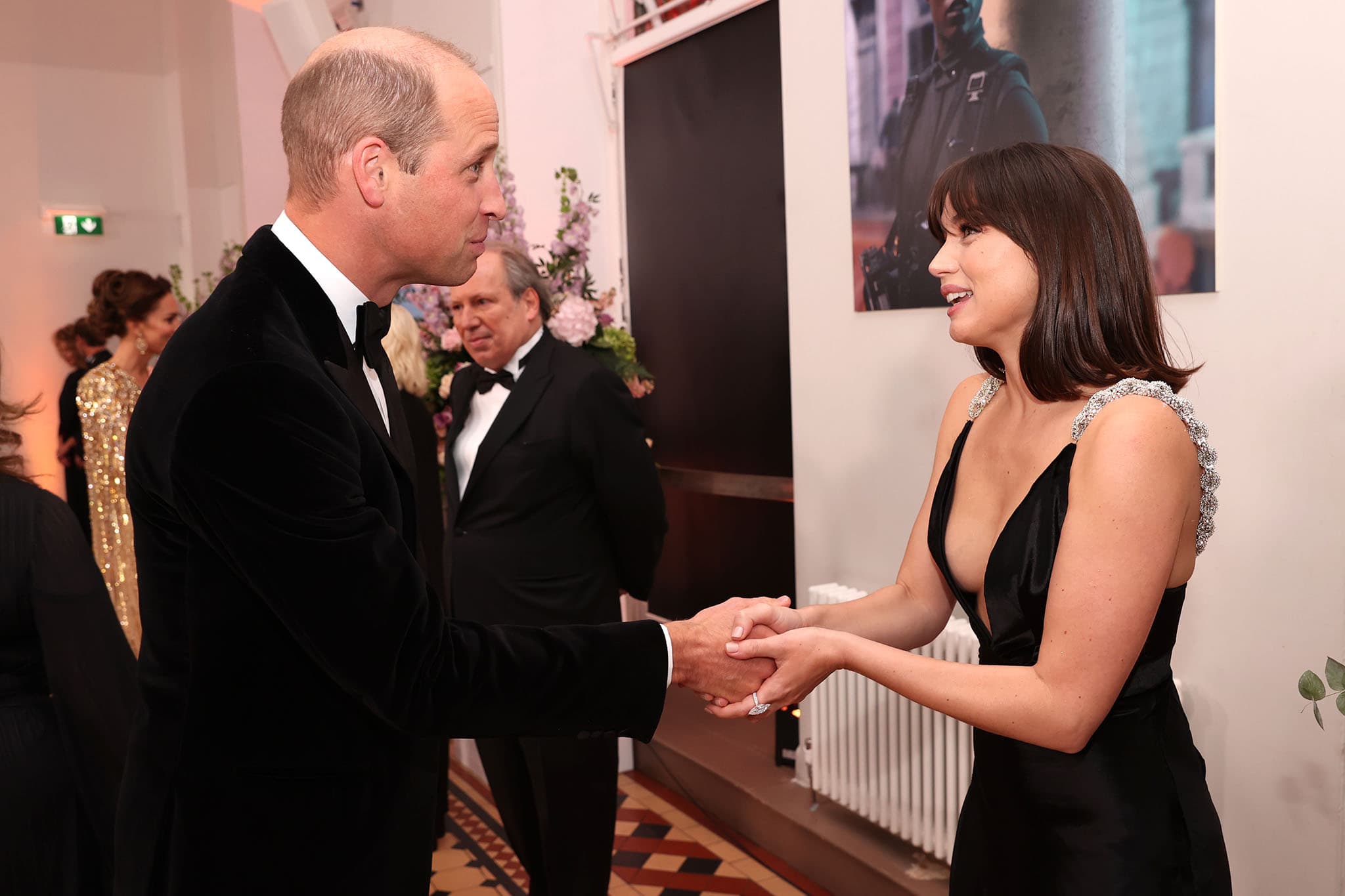 Prince William, Duke of Cambridge, and Ana de Armas shake hands at the premiere of No Time to Die (Credit: Avalon / WENN)
Many royals, including the Duchess of Cambridge and her tennis partner Emma Raducanu, graced the red carpet premiere, and Ana de Armas looked equally stunning in a slinky black velvet gown from Louis Vuitton.
The custom number showcased her cleavage and legs with its plunging V-neckline and risqué hip-high slit. It also has glitzy jewel-embellished chain shoulder straps that gave the sophisticated ensemble a touch of edge.
"I feel so lucky to be wearing this beautiful velvet gown they made for me—the detailing on the straps is truly incredible," the actress told Vogue UK.
Ana de Armas puts on a leggy display in her Louis Vuitton dress featuring risqué hip-high slit and plunging neckline (Credit: Mario Mitsis / WENN)
Continuing with the flirty yet refined theme of her look, Ana styled her dark tresses in a sleek shoulder-length bob with a blunt fringe to frame her small face.
She then wore minimal makeup that included a swipe of nude lipstick and soft smokey eye-makeup that highlighted her green eyes.
Ana de Armas styles her shoulder-length hair in a sleek bob with a blunt fringe and wears minimal '80s makeup (Credit: Avalon / WENN)
Speaking about her beauty look, makeup artist Melanie Inglessis revealed that it was inspired by Michelle Pfeiffer in Scarface.
"For Ana's make-up, we referenced Michelle Pfeiffer in Scarface. It was a nod to early '80s effortless, chic beauty—and it was important to Ana to feel comfortable. We didn't draw attention to any particular features but rather to Ana's overall timeless beauty."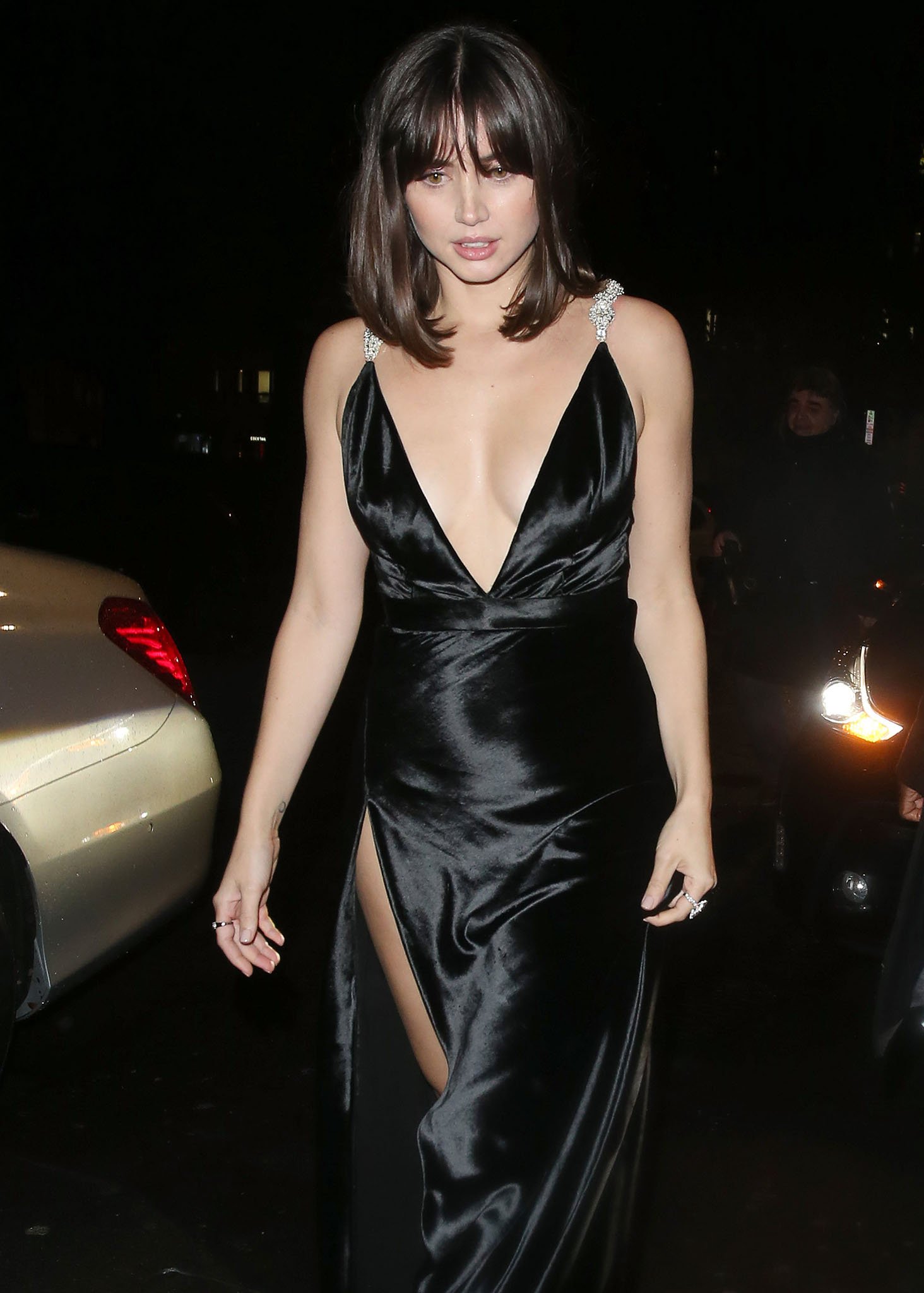 Inspired by Michelle Pfeiffer's Scarface look, Ana de Armas' makeup features soft smokey eyes and nude lips (Credit: Mega / WENN)
Her stylist Karla Welch then kept everything else simple with Chopard diamond jewelry and a minimalist pair of black velvet heels, custom-made by Louis Vuitton.
Ana de Armas shows off her feet in Louis Vuitton black velvet heels (Credit: Mario Mitsis / WENN)