Sad news for fans of the adorable Bella Thorne and her "bub" Gregg Sulkin — the two are no more. The pair was arguably one of Hollywood's hottest young couples but has decided to part ways. However, it's been said they still have the utmost love and respect for one another.
The 18-year-old American actress and singer was photographed arriving in something a little less than her usual airport outfit at the Los Angeles Airport from Canada.
The photos were taken days before her breakup with Gregg.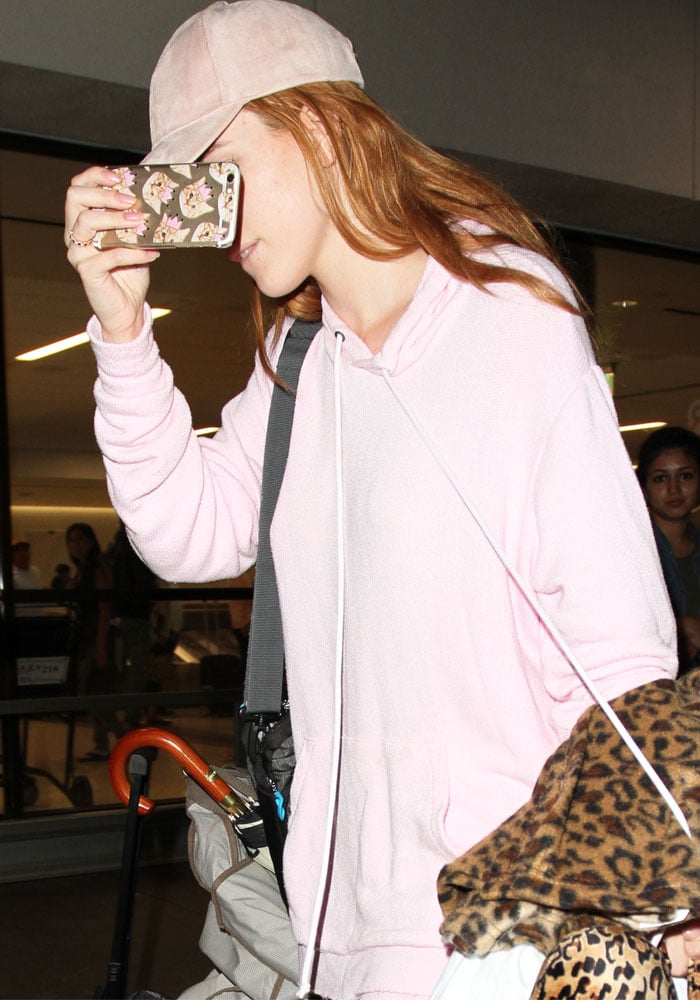 Bella Thorne covers her face and wears her hair down as she arrives at Los Angeles International Airport on August 11, 2016 (Credit: WENN)
In a joint statement, Bella Thorne and Gregg Sulkin said they had "made the difficult decision to end our relationship."
They said they would "always love each other and have a deep respect for one another." The couple also said that their schedules had made it difficult to see each other and that they had decided that it was "best for now" to go their separate ways.
Bella was not her usual flouncy self who always gave the cameras a smile and a little chat.
Bella Thorne wears a matching two-piece pink tracksuit as she arrives at LAX (Credit: WENN)
The "Shake It Up" star went barefaced and kept her unruly hair underneath a suede cap.
"We met through Facebook. Well, technically we met through the Disney circle. He was on Wizards of Waverly Place and I was just starting my first show Shake It Up," Bella told Us Weekly in 2015 about meeting Gregg Sulkin.
Gregg Sulkin's height of 5 feet 9 inches (175.3 cm) surpasses Bella Thorne's height of 5 feet 6 inches (167.6 cm), making him 3 inches (7.7 cm) taller than her (Credit: Press Line Photos / Shutterstock)
"We're gonna see how it goes over the next few months. We've always been pretty close."
"He's one of the most amazing people I've ever met. He's so kind, so sweet," Thorne added. "He's very caring even when he doesn't need to be," she said. "And I think maybe it's because he's raised in such a great way with his British manners."
How old was Bella Thorne when she dated Greg?
Gregg Sulkin was born on May 29, 1992, while Bella Thorne was born on October 8, 1997. There is a 6-year age gap between Gregg and Bella.
When they started dating, Bella was 17 years old, and he was 23.
To finish the look, Bella also wore a matching two-piece pink tracksuit with an unusual studded boot choice by Suecomma Bonnie.
Bella Thorne wears studded Suecomma Bonnie boots through the airport (Credit: WENN)
How long did Gregg Sulkin and Bella Thorne date?
During their time together, Bella Thorne and Gregg Sulkin were among the most popular couples in Hollywood. They started dating in May 2015, and their relationship was often the subject of media attention.
Bella Thorne and Gregg Sulkin were together for over a year, from May 2015 to August 2016 (Credit: Joe Seer / Shutterstock)
They were both successful actors, and they seemed to be very happy together. However, in August 2016, they announced they had decided to break up.
Bella's Suecomma Bonnie boots are unavailable online, but you can check out one of the brand's similarly designed slip-ons on Amazon.
Suecomma Bonnie Boots
Suecomma Bonnie Sandals, $318