Benjamin Mascolo, an Italian pop star and one half of the duo Benji & Fede, has been dating Bella Thorne since April 2019 following her split from Mod Sun. Born on June 20, 1993, he is just a few years older than his girlfriend.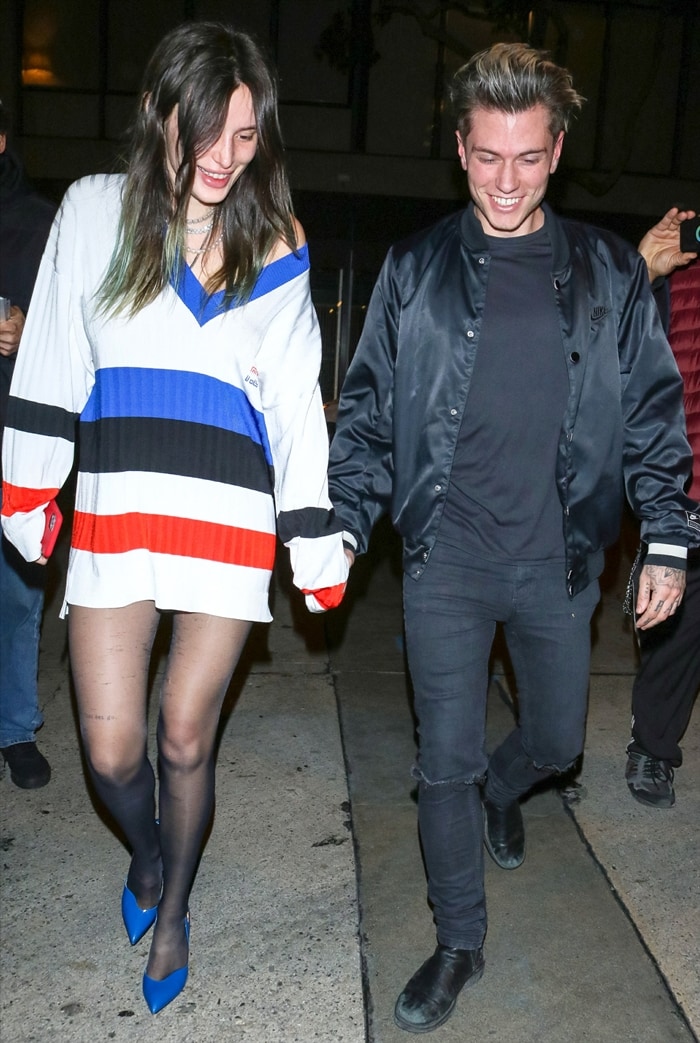 Bella Thorne and her Italian boyfriend Benjamin Mascolo are seen on January 11, 2020, in Los Angeles, California
"Things are great," Thorne told Entertainment Tonight in October 2019 about her relationship with Mascolo. "Me and Ben are really happy," she added.
"He comes to LA the first week in November, which will be fun," the actress said about her long-distance boyfriend, who lives 6,000 miles away from Bella. "He's on tour doing his album release right now, so it's just a lot of work for him and a lot of work for me in separate places."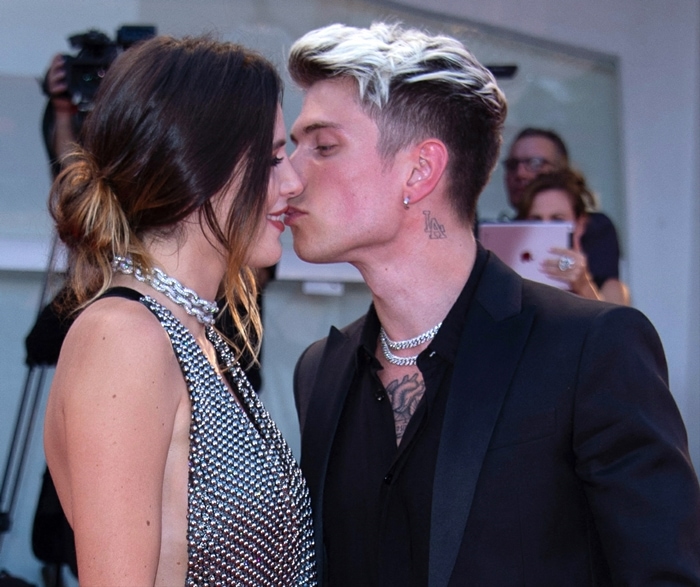 Bella Thorne gets a kiss from her boyfriend Benjamin Mascolo ahead of the Joker screening during the 76th Venice Film Festival at Sala Grande on August 31, 2019, in Venice, Italy
"A list of things I missed the most: – You – You – You – You – Food with you – Tv Shows with you – You," Mascolo captioned an Instagram photo of him and Thorne in November 2019. They are pictured together in a hot tub.
"This girl (young woman, that I will always call Baby), is my sunshine on the darkest of days, the one and only person that has complete access to my heart and soul," he captioned the post. "Your smile lights up everything around you Bella, I'm so proud of you as an artist, an actress, mogul, singer-songwriter, director, writer, entrepreneur, but especially as a human being. I love you and I Miss you," he captioned another photo of his girlfriend one month earlier.
Bella Thorne wears a light pink Antonio Grimaldi Fall 2019 Couture feather dress with Neil Lane jewelry for the 2020 Elton John AIDS Foundation Oscars Viewing Party in Los Angeles on February 9, 2020
Supportive of the LBGTQ+ community, Benjamin Mascolo doesn't seem to mind that Bella is also dating Alex Martini. "You girls are cute," he commented under bedroom photos Bella shared with her girlfriend Alex.
Dani Thorne and her sister Bella Thorne attend the Warner Brothers and InStyle 21st Annual Post Golden Globes After Party Sponsored By L'Oreal Paris & Secret at Beverly Hills Hotel on January 5, 2020, in Beverly Hills, California
In September 2015, after attending several fashion shows in New York, Bella Thorne took her A+ style across the pond for London Fashion Week.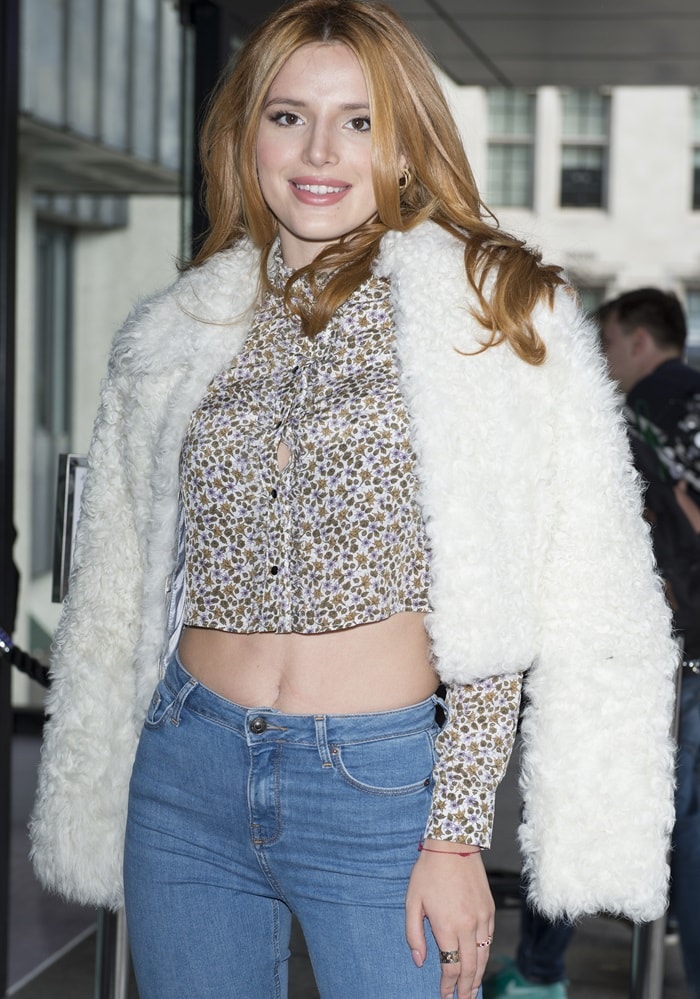 Bella Thorne shows off her belly button at the Topshop Unique show during London Fashion Week in London on September 20, 2015
The then 17-year-old starlet arrived at the Topshop Unique show with her boyfriend, Gregg Sulkin, an English/American actor who has a net worth of $3 million.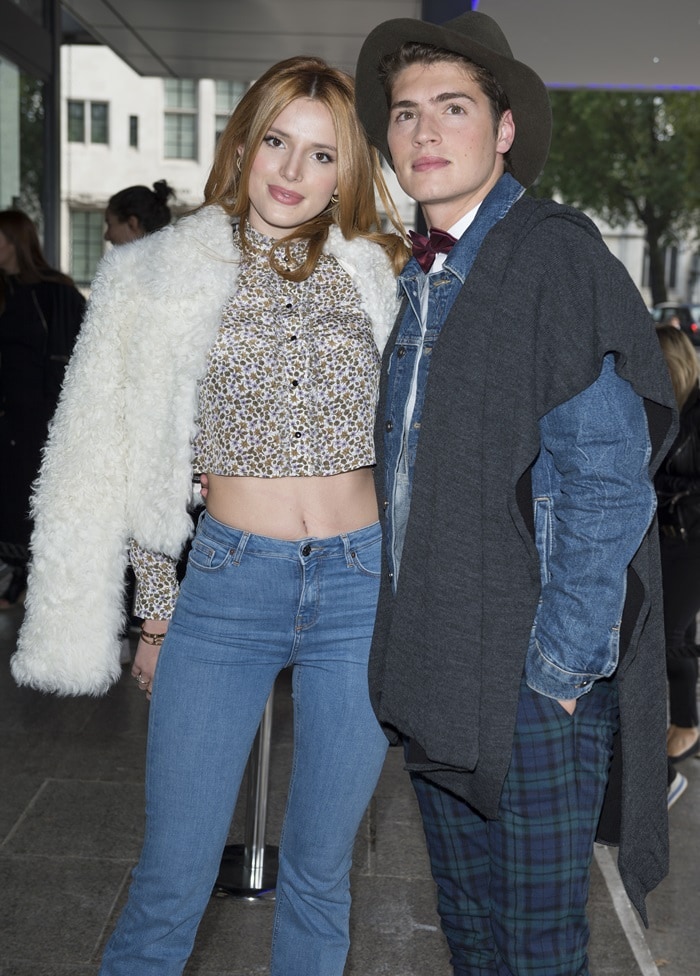 Bella Thorne and her boyfriend Gregg Sulkin pose at the TopShop Unique show
Bella supported the brand in a 60's-inspired ensemble comprised of a floral crop top blouse, a fuzzy white jacket, and bell-bottom jeans. She completed her retro look with a pair of tan Topshop "Hinkley" loafer boots.
Bella Thorne shows off her red hair in a TopShop ensemble, including a fuzzy white jacket and retro jeans
What do you think of Bella's take on the retro trend?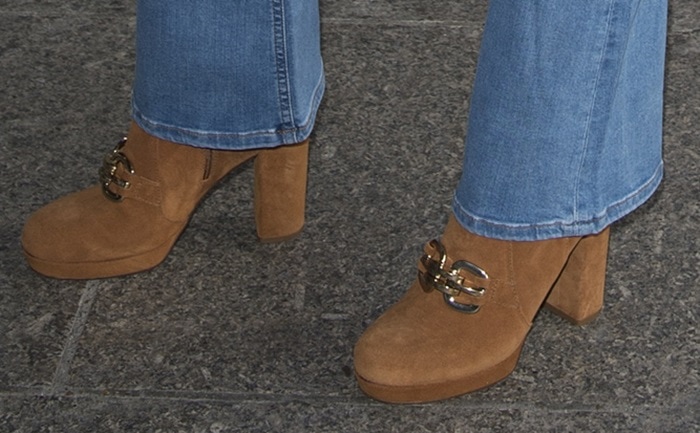 Bella Thorne completes her outfit with a pair of TopShop loafer boots on her feet
If you'd like to hop on the trend yourself this fall, her chunky suede boots are a good place to start if you know how to clean them. Plus, these Topshop boots are not only fashionable — they're also budget-friendly and on sale on Nordstrom!
Topshop Hinkley Loafer Boots, $170
Credit: WENN / Instar