In a February 2020 interview with Dazed, Selena Gomez revealed what she wants to be doing in 10 years at age 37.
The 27-year-old "Lose You To Love Me" singer was asked to imagine her life at an entirely different age and specifically what she hopes to be doing in ten years' time. Her answer was that her focus will be on helping others.
Selena Gomez was asked what she wants to be doing in 10 years
"Hopefully I'll be doing more of my philanthropy while maintaining a healthy balance of the stuff I enjoy now. I think it's also gonna be a surprise. But I hope that I'm super-happy and creating good things for the world," she confessed.
Appointed a UNICEF Ambassador in September 2009, her support for charities also include St. Jude Children's Research Hospital and Make-A-Wish Foundation. She has also spoken openly about mental health and highlighted the treatment of immigrants by serving as the executive producer for the Netflix documentary series Living Undocumented.
Selena Gomez hopes she is healthy and focusing on philanthropy in 10 years at age 37
"When I took pictures on my phone with these young kids (in Chile) and showed them and they were so excited. They'd just never seen a photograph of themselves. Even the water was such poor quality that they'd never even seen their reflection. I remember it was such a sweet moment because, of course, we are doing all that we can to help them – providing clean water, education, building schools, hospitals – but when you're one-on-one with these kids, you know, playing soccer with plastic bottles wrapped in rubber bands, to see them that happy is truly special. I am not a good soccer player… but I can pretend," Gomez recalled about a trip to Chile with UNICEF.
In October 2015, Selena Gomez took London by storm in a series of stylish ensembles while on a promo trail for her upcoming album "Revival," which was released on October 9, 2015, by Interscope and Polydor Records.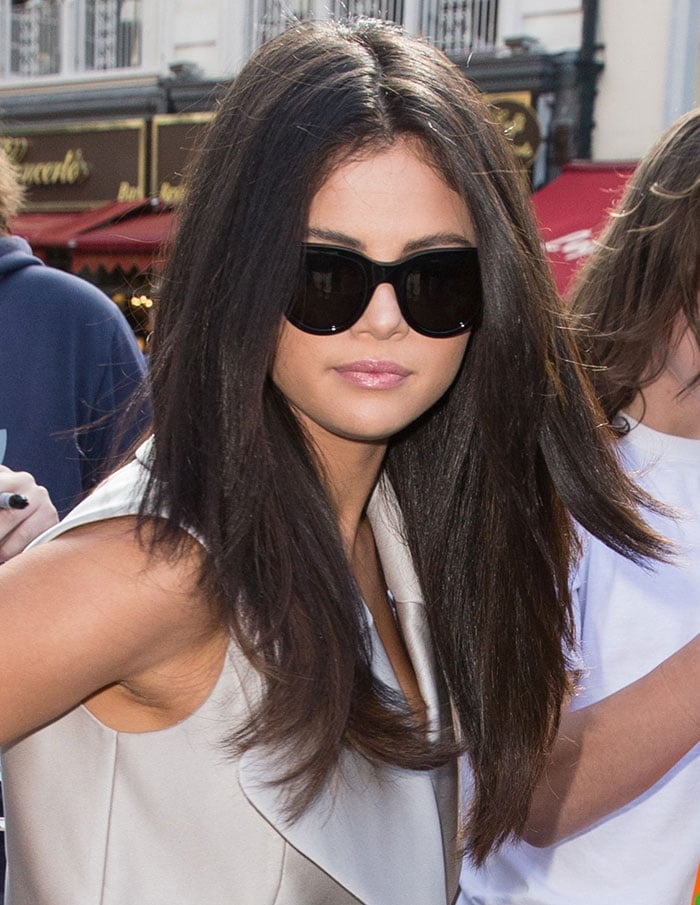 Selena Gomez leaves the Capital Radio studios at Global House in London, England, on September 23, 2015
The then 23-year-old singer and actress made another impressive sartorial display while outside the Capital Radio studios at Global House.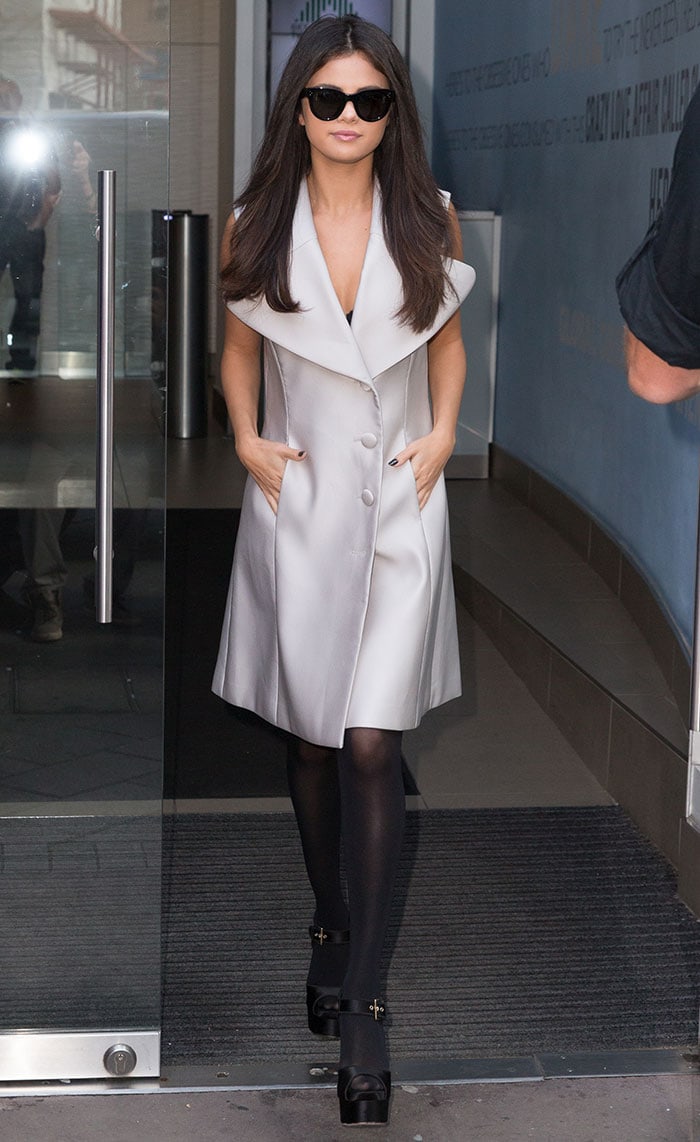 Selena Gomez wears her long hair down and tucks her hands in her pockets as she strolls through a set of sliding glass doors
Selena flashed a hint of cleavage and a peek at her lacy bra in an ivory coatdress from Co Resort's 2016 collection. The sleeveless piece featured an oversized collar, a buttoned front, and a flared hem that fell a little above her knees.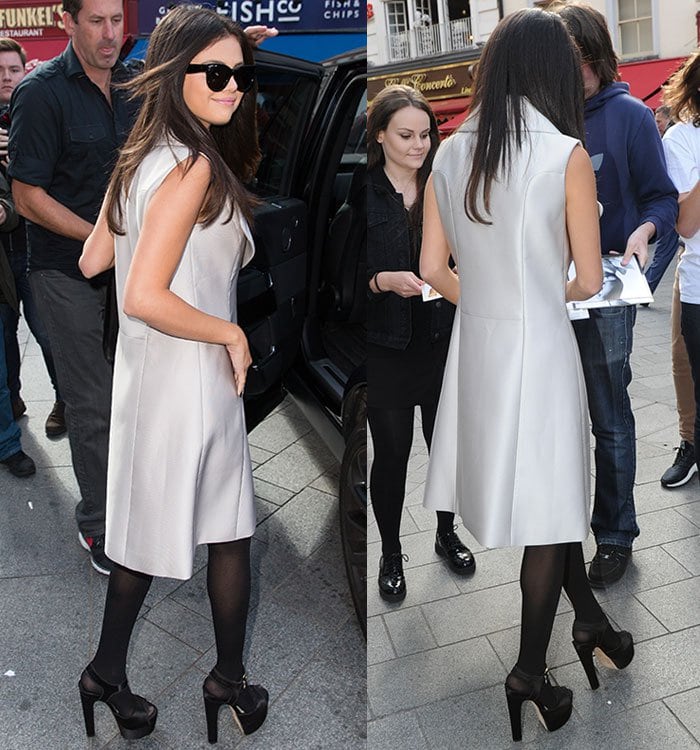 Selena Gomez smiles for the cameras in an ivory coatdress from Co Resort
She coupled the space-age frock with opaque tights and platform sandals and finished off the look with a pair of sunnies and lip gloss.
Selena Gomez keeps things neutral in a black-and-cream look
Selena added a few inches to her 5′5″ height with a towering pair of Brian Atwood "Karin" sandals.
Selena Gomez wears a pair of platform Brian Atwood shoes on her stocking-covered feet
These black satin shoes have 4.5-inch block heels, 2-inch platforms, buckled ankle straps, and open toes.
Selena Gomez finishes off her ensemble with a pair of Brian Atwood heels on her feet
We can't find Selena's exact Brian Atwood heels, but we found them in a printed version, which was done in collaboration with artist Donald Robertson, at Net-A-Porter.
Brian Atwood x Donald Robertson Karin Lips-Printed Canvas Platform Sandals, $1,095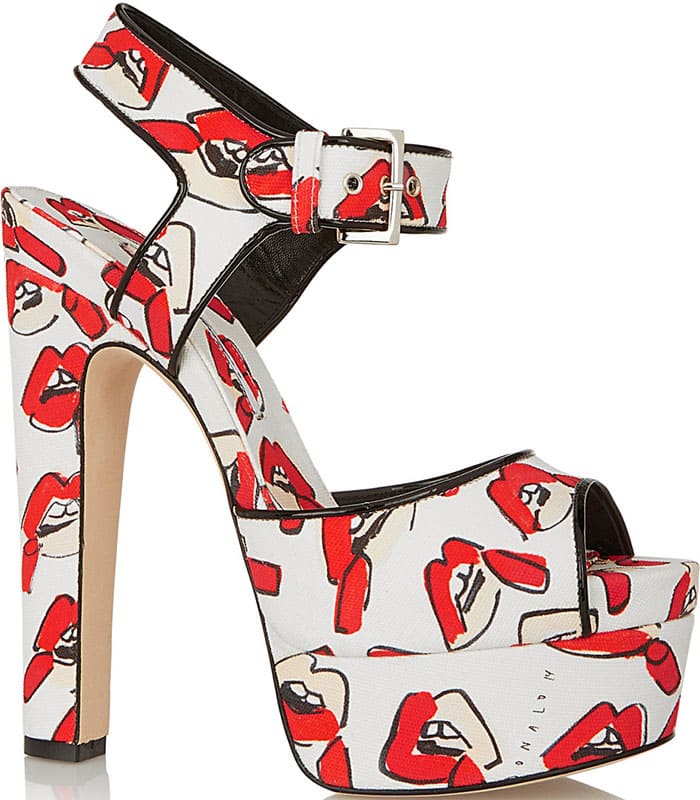 Credit: Mario Mitsis / WENN / Instar