Lady Gaga, who's known for her bold and iconic sartorial statements, has been serving up looks in the Big Apple over the past days, ahead of her MTV Unplugged special concert with Tony Bennett.
In February, Tony's family revealed that the 94-year-old singer was diagnosed with Alzheimer's disease in 2016. He still continued with his music career following the diagnosis as his neurologist Gayatri Devi believes that singing and performing helps "stimulate his brain in a significant way."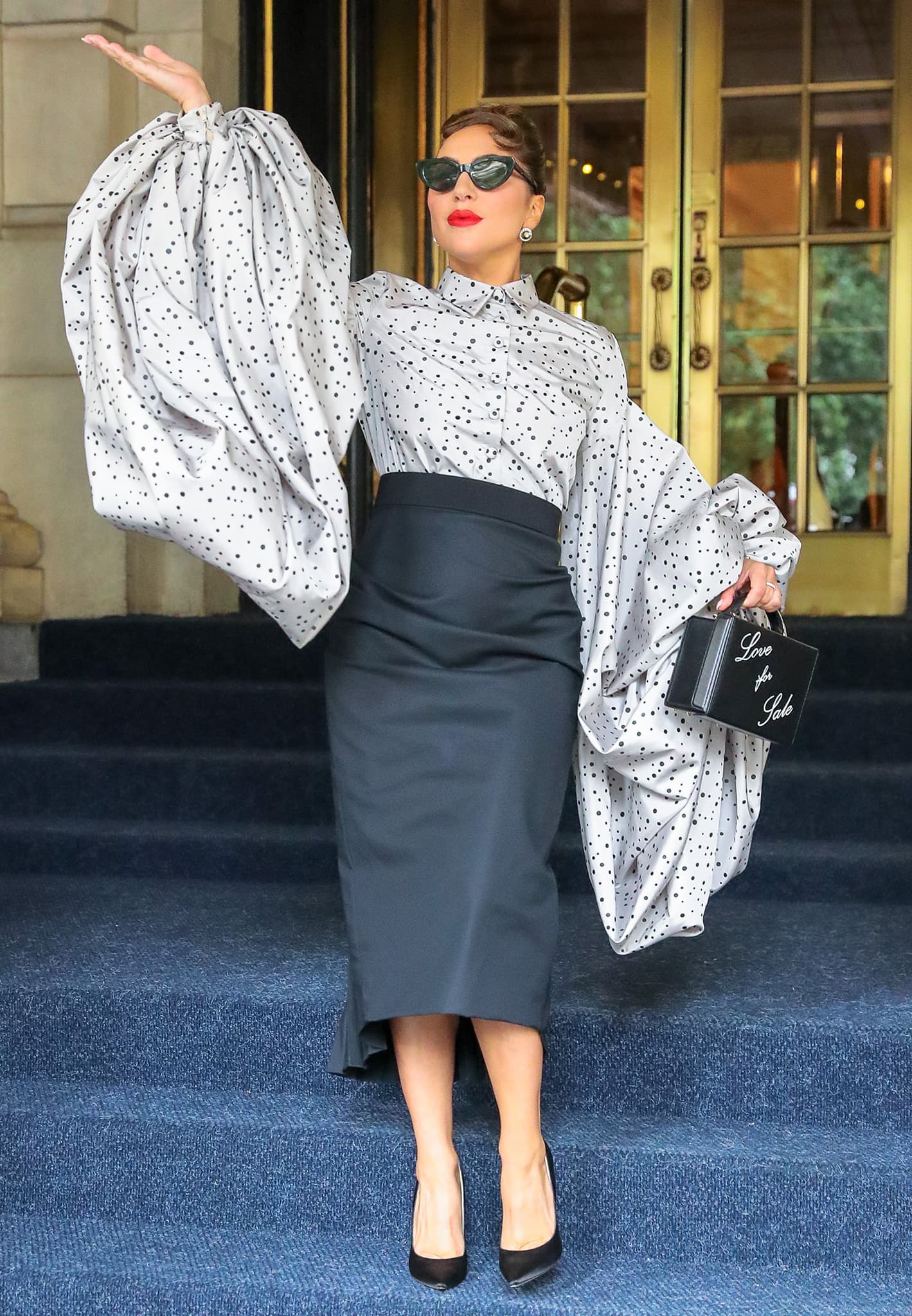 Lady Gaga makes a dramatic exit from Plaza Hotel in New York City on July 2, 2021 (Credit: Mega / WENN)
"His memory, prior to the pandemic, was so much better," neurologist Gayatri Devi said in an interview published in AARP the Magazine.
"And he's not alone. So many of my patients are negatively affected by the isolation, the inability to do the things that matter to them. For someone like Tony Bennett, the big high he gets from performing was very important."
Tony Bennett and his wife Susan Crow heading to performance with Lady Gaga in New York City on July 2, 2021 (Credit: Mega / WENN)
According to Mayo Clinic, "Research suggests that listening to or singing songs can provide emotional and behavioral benefits for people with Alzheimer's disease and other types of dementia."
Tony Bennett, who turned 94 on August 4, 2020, was diagnosed with Alzheimer's Disease when he was 90 years old. To battle the disease, his family have encouraged the legendary artist to keep singing.
"Life is a gift – even with Alzheimer's. Thank you to [his wife] Susan and my family for their support, and @AARP The Magazine for telling my story," Tony wrote on Twitter.
Lady Gaga makes a statement in a polka-dot blouse with oversized puff sleeves and a classic pencil skirt (Credit: Mega / WENN)
His third wife, Susan Crow, said he does "not always sure where he is or what is happening around him."
40 years younger than her husband, the couple met in the singer's backstage dressing room at one of Bennett's concerts when she was in her 20s and he was in his early 60s.
They dated for two decades before marrying in a private civil ceremony in New York on June 21, 2007.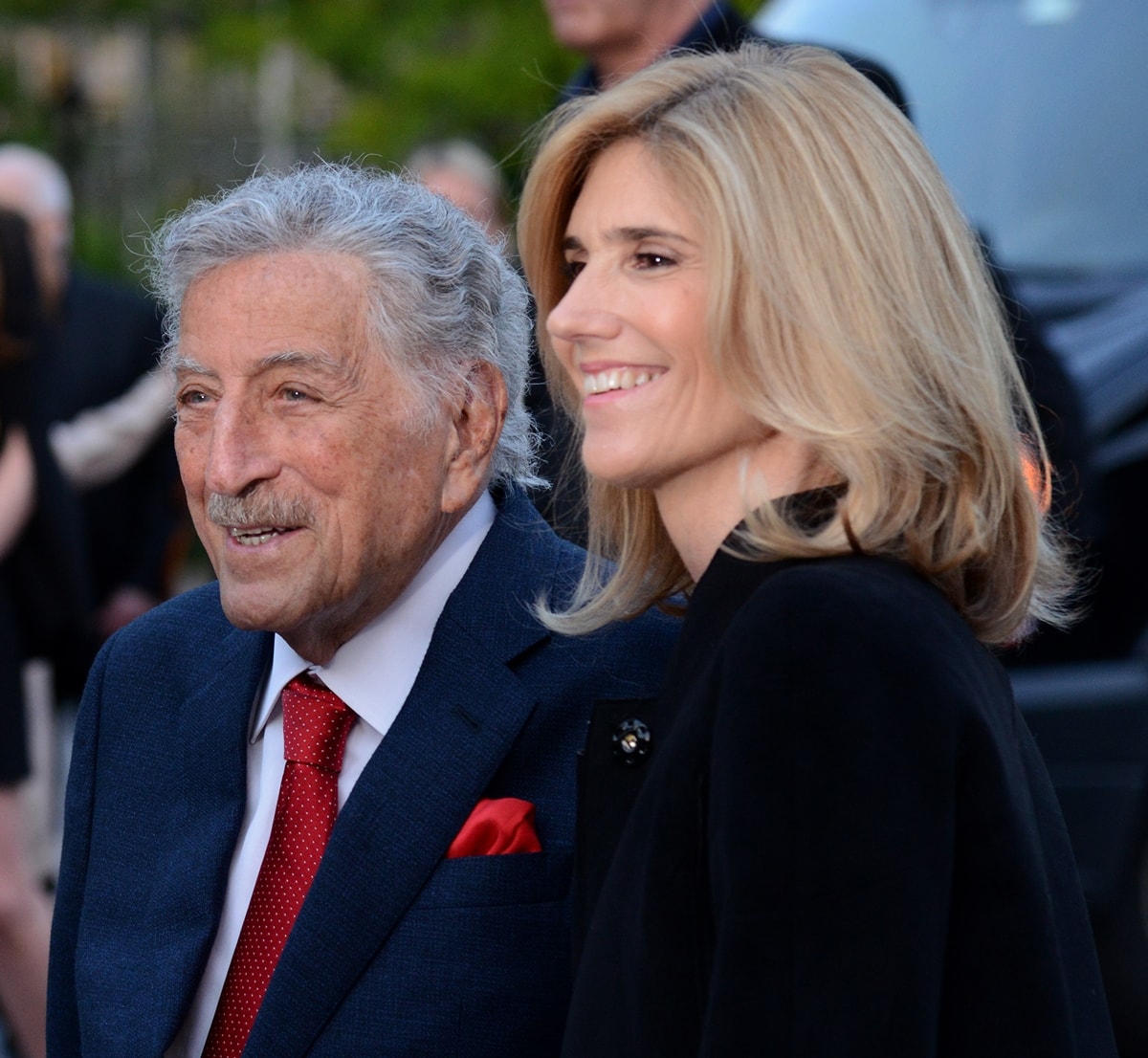 Tony Bennett is 40 years older than his wife Susan Benedetto (née Crow) (Credit: Ivan Nikolov / WENN)
For her latest sighting, the Born This Way hitmaker drew attention in a light gray and black polka dot blouse with exaggerated billowy sleeves that fall past her arms.
Allowing the statement-making puff sleeve top to take center stage, Lady Gaga simply tucked it into a classic black high-waisted pencil skirt.
The Grammy winner accessorized her dramatic outfit with Lulu Frost Pearl Ocean stud earrings and an Edward Avedis Clara ring.
Adding a touch of old Hollywood glamour to the look, the Mother Monster styled her hair into a sleek updo and wore a swipe of bright red lipstick with a pair of Illesteva Pamela cat-eye sunnies.
Lady Gaga opts for old Hollywood glamour with a French twist hairstyle and a swipe of red lipstick (Credit: Mega / WENN)
Lady Gaga, who has a tattoo in honor of jazz musician Tony Bennett, carried her stuff in a black Mark Cross bag that features a "Love for Sale" text print on the front.
She then traded her signature platform heels for the classic Jimmy Choo "Abel" pumps in black satin to complete her eccentric yet elegant ensemble.
Lady Gaga trades her signature platform shoes for a classic pair of pointy black pumps (Credit: Mega / WENN)
On Thursday, Lady Gaga made another style statement as she headed out from the Plaza Hotel in a bridal-inspired white gown from Giambattista Valli.
The white tulle dress, which retails for $5,560, has subtle polka dot prints, a bustier top, and ruffle details.
Lady Gaga exits Plaza Hotel in a bridal white gown on July 1, 2021 (Credit: Mega / WENN)
The Star Is Born actress paired her attire with a cream wool blend Fendi coat, which you can buy for $4,700 at Saks Fifth Avenue.
The elegant-looking tailored outerwear features dramatic bell sleeves with notched lapels, double-breasted mother-of-pearl button closures, and waist pockets.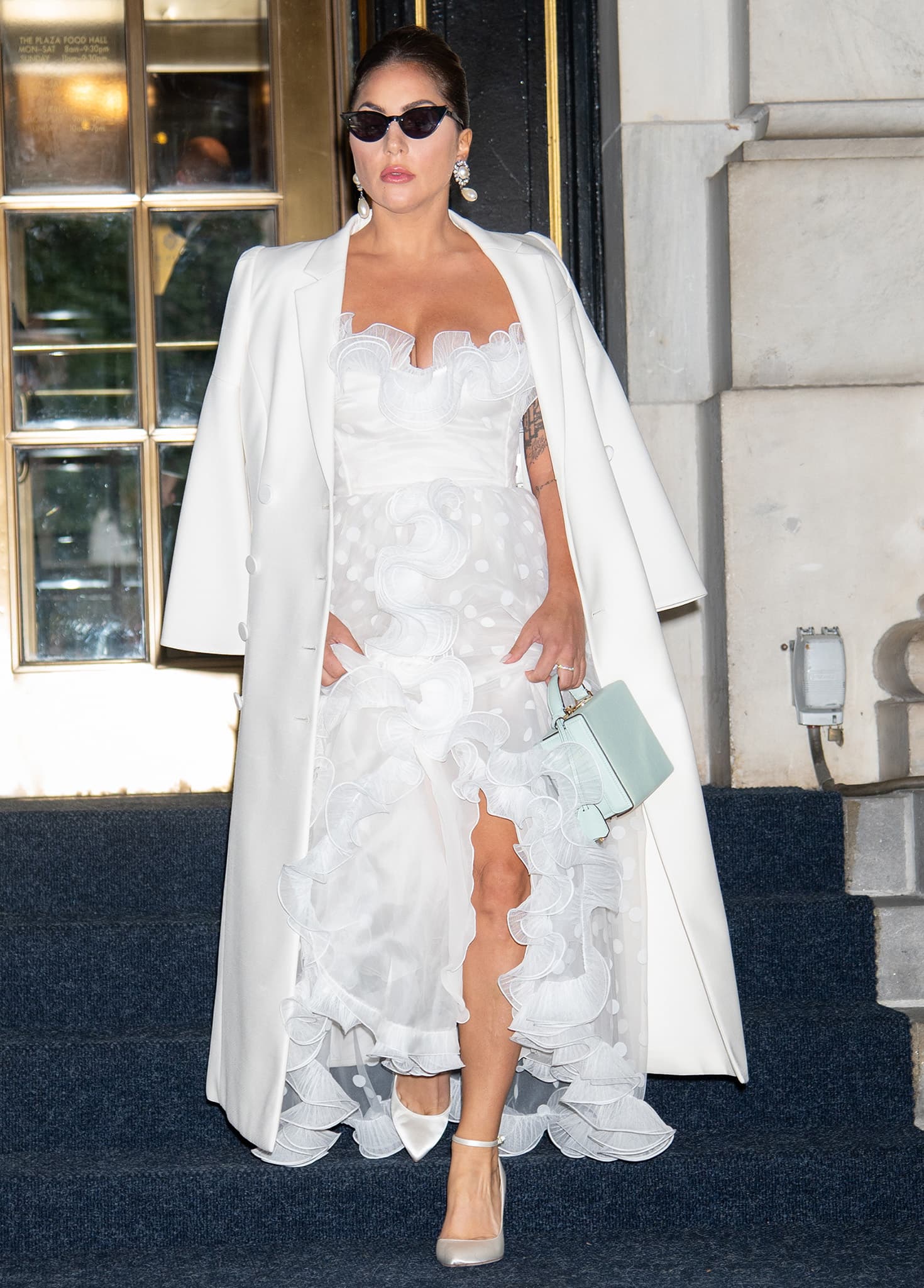 Lady Gaga pairs her Giambattista Valli white tulle ruffled dress with a Fendi wool-blend coat (Credit: Mega / WENN)
Glamming up further, Lady Gaga accessorized with Alessandra Rich Pearl Clip-On drop earrings. She then added a hint of green color to her look with a $2,290 Mark Cross Grace bag.
Beauty-wise, she wore her tresses up into a center-parted French twist bun and wore perfectly contoured makeup with pink lipstick.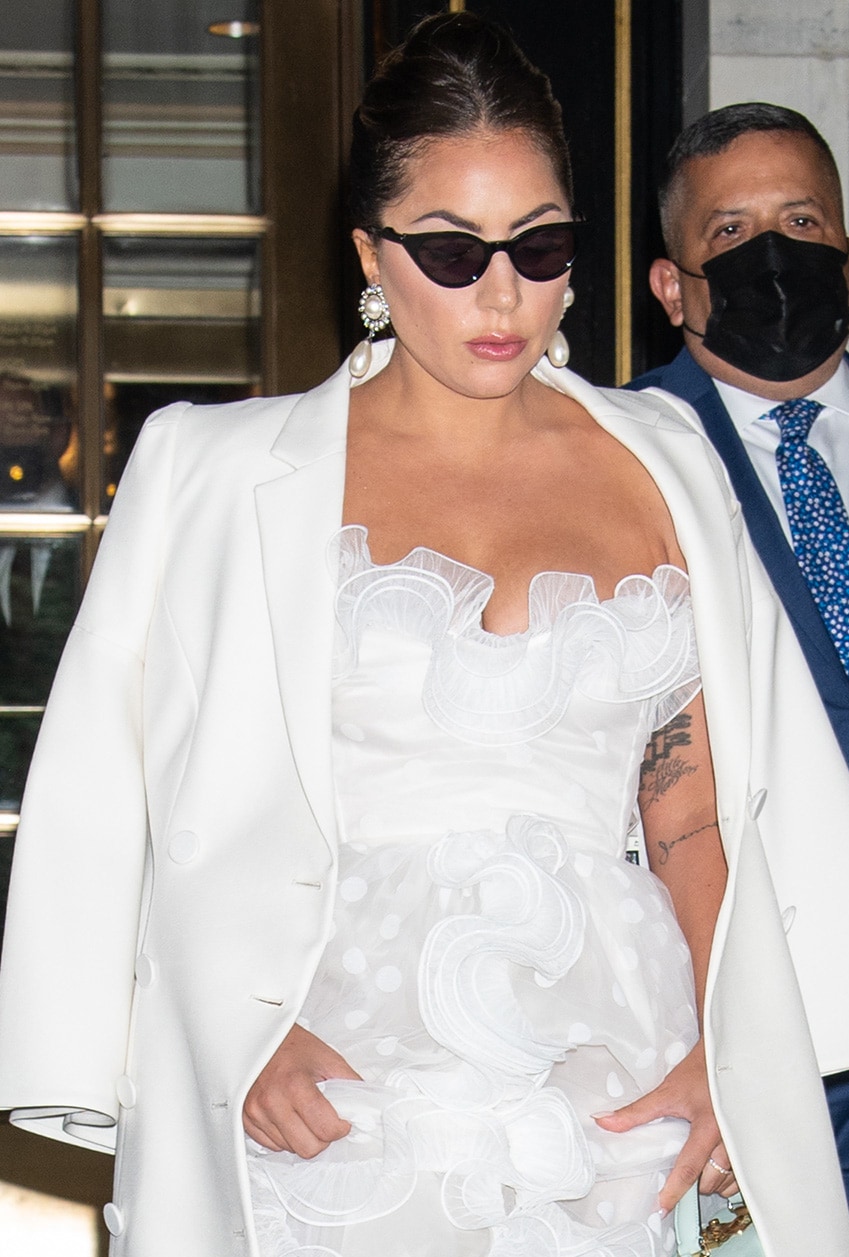 Lady Gaga accessorizes with Alessandra Rich earrings and wears a center-parted French twist and pink lip gloss (Credit: Mega / WENN)
Hiding her eyes behind her Illesteva Isabella cat-eye sunglasses, Lady Gaga rounded out her bridal look with Jimmy Choo "Lucy" d'Orsay white satin pumps.
Lady Gaga completes her bridal look by showing off her feet in Jimmy Choo Lucy off-white satin d'Orsay pumps (Credit: Mega / WENN)
On Wednesday, Lady Gaga continued to embrace the puff-sleeve trend in another head-turning dress on her way out of the Plaza Hotel.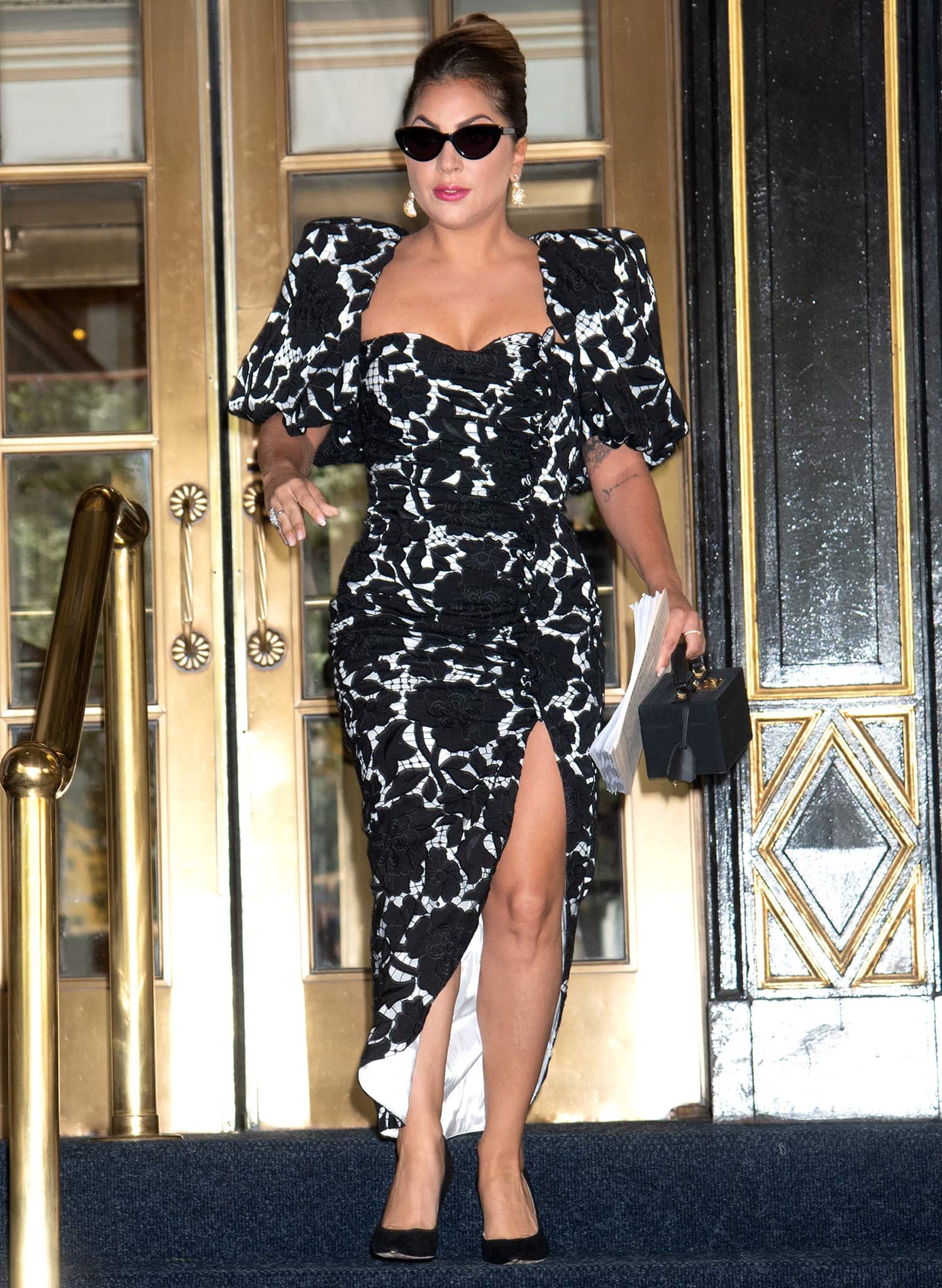 Lady Gaga steps out of her NYC hotel in an '80s-style gown on June 30, 2021 (Credit: Mega / WENN)
Showcasing her figure, the 35-year-old singer slipped her curves into a black-and-white gown from Giuseppe Di Morabito.
The '80s-style dress has large padded puff sleeves, a ruched corset-style bodice with a sweetheart neckline, a cinched waist, and a thigh-high slit.
Lady Gaga shows a glimpse of her legs and cleavage in Giuseppe Di Morabito puff-sleeve printed gown (Credit: Mega / WENN)
Lady Gaga upped the ante with Oscar de la Renta Swarovski crystal and pearl drop earrings and a diamond ring.
She carried her essentials in a $2,490 1845 Woven Mini Trunk box bag from Mark Cross, which is a replica of the original 1904 Mark Cross design.
Shielding her eyes behind a pair of black retro cat-eye sunglasses, Lady Gaga wore a French twist hairstyle with a swipe of pink lipstick.
Lady Gaga wears a French twist bun and covers her eyes with retro cat-eye sunglasses (Credit: Mega / WENN)
A pair of Giuseppe Zanotti "Carolyne" black suede pumps finished off her 1980s feminine ensemble.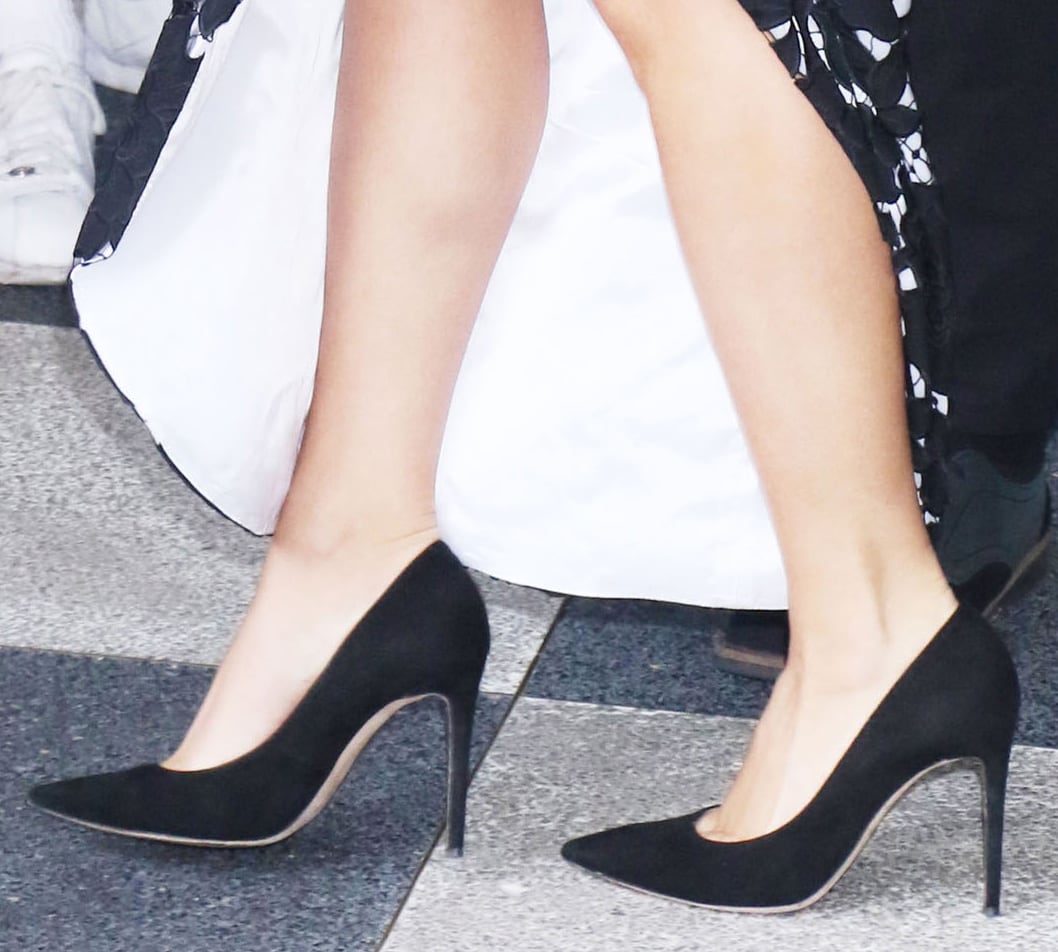 Lady Gaga completes her elegant black-and-white look with Giuseppe Zanotti Carolyne pumps (Credit: Mega / WENN)