In an interview with Health published this month, Khloe Kardashian calls out people who call her daughter True "big."
The 37-year-old Keeping Up With the Kardashians reality TV star was asked about her tall three-year-old daughter, whom she shares with professional basketball player Tristan Trevor James Thompson.
Khloe Kardashian takes her tall daughter True to dance class in Los Angeles on October 18, 2021 (Credit: MEGA / WENN)
"When it comes to food — I had so many issues. It wasn't from one person, I guess just from society or how people critiqued my body," Khloe told the magazine.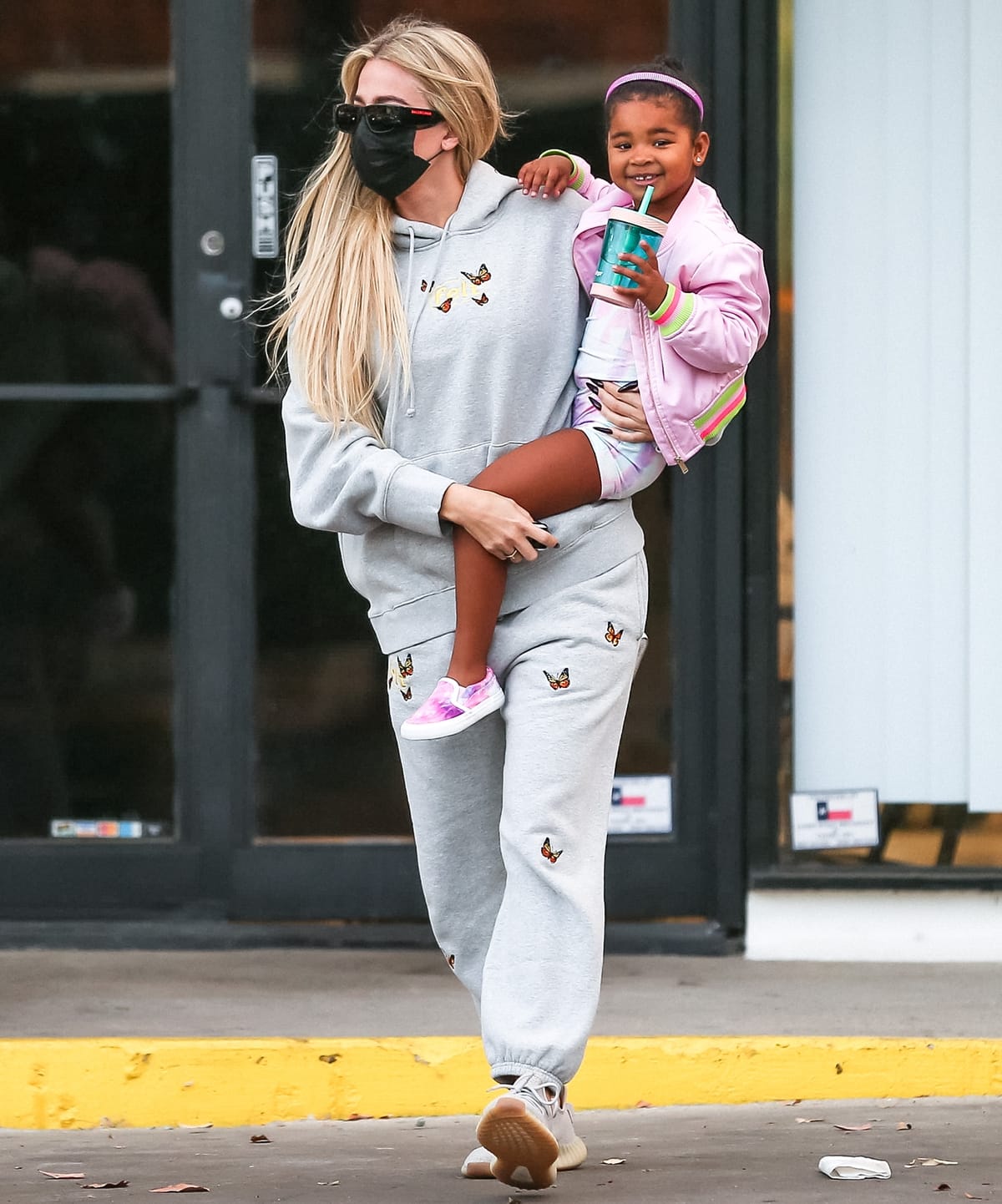 Wearing butterfly-embroidered sweatpants and a matching pullover hoodie by U.S streetwear company FELT, Khloe Kardashian carries her tall daughter True Thompson (Credit: MEGA / WENN)
"So, I don't play when it comes to True. She's very tall. People will always say, 'She's so big.' And I'll say, 'Oh, she's so tall.' I try to make them be more descriptive. I know what an adult means when they say that, but I don't want her to misinterpret that."
Considering that the height of True's father is 6 ft 9 in (2.06 m), it's should not come as a surprise that she is tall.
Tall parents Khloé Kardashian (5'8″) and Tristan Thompson (6'9″) with their daughter True (Credit: MEGA / WENN)
"If that's who she is, I'm not trying to make her not be that way. But sometimes, I'll notice she may bump into something. I'll say, 'Are you OK, Tu-Tu?' And she'll say yes and kind of brush it off. I do try to always tell her that it's OK if she cries or if something is wrong," she added about her daughter being really tough.
"My plan was to have kids closer in age," Kardashian said on The Ellen's Show segment "Lady Parts" in March 2021 about wanting to have more children.
"I have so many brothers and sisters. I think it's such a blessing—especially during these times—to have a family member or people that you can play with and rely on and just have a buddy through life."
Kris Jenner with her daughters Khloe Kardashian and Kylie Jenner attend the 2015 NBCUniversal Cable Entertainment Upfront at the Javits Center in New York City (Credit: Ivan Nikolov / WENN)
In early 2015, Khloe Kardashian had been frequenting the gym on a regular basis to shape up her famous figure.
She showed off the fruits of her hard work as she arrived in a breathtaking satin gown by American fashion designer Michael Costello at the NBCUniversal Cable Entertainment Upfront in New York City.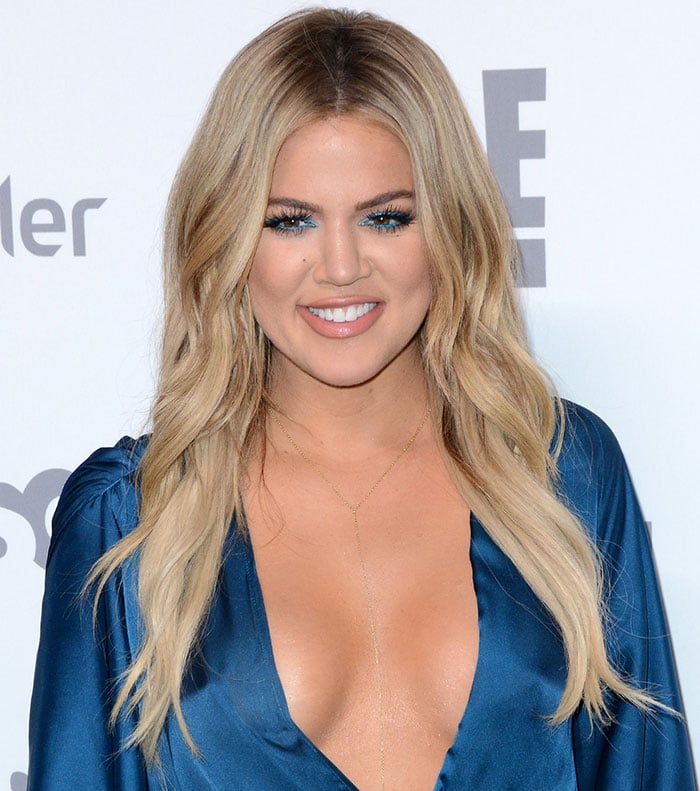 Khloe Kardashian barely avoided a wardrobe malfunction in a cut-down-to-there silky blue dress (Credit: Ivan Nikolov / WENN)
Robert Kardashian's presumed daughter stole the spotlight as she was flanked by mom Kris Jenner and half-sister Kylie Jenner, who both opted to wear white outfits.
Khloe Kardashian wore a sexy blue Michael Costello 'Kim' plunging neckline gown (Credit: Ivan Nikolov / WENN)
Much taller than her sisters Kim and Kourtney, Khloe Kardashian wore a loose-fitting gaping gown featuring a deep V neckline that showed off a generous amount of cleavage.
It also has a matching silky tie belt that flaunted her slimmer waist, billowing down into a floor-sweeping skirt with a thigh-high slit that displayed her flawless legs.
She wore her blonde locks in center parting with flirty soft curls around her shoulders and kept a sultry look with blue eyeliner, dark mascara, and nude lipstick.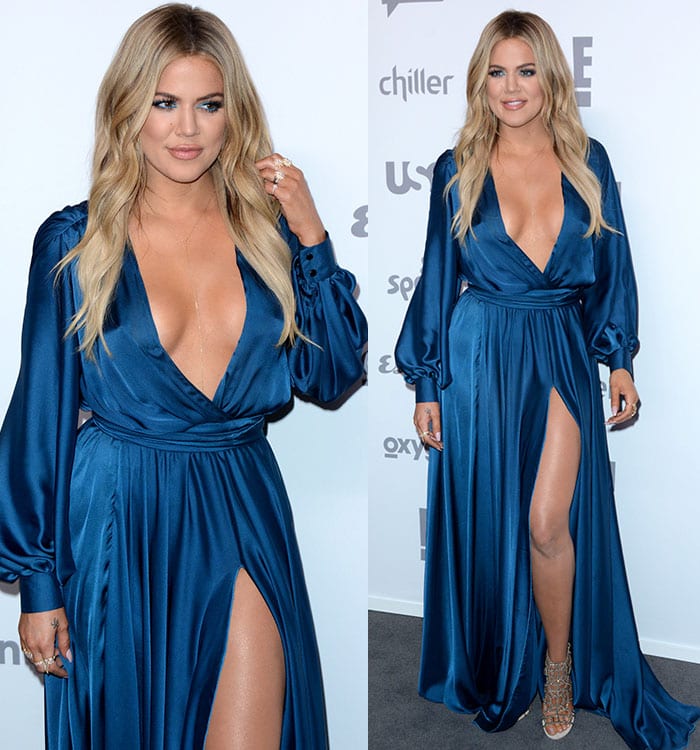 Khloe Kardashian in a blue satin gaping gown at the 2015 NBCUniversal Upfront in Manhattan, New York City, on May 14, 2015 (Credit: Ivan Nikolov / WENN)
The then 30-year-old reality TV star completed her flashy gown with a pair of shimmering caged sandals by the popular women's shoe designer Sergio Rossi.
They feature geometric cutouts with strass crystal embellishments throughout the thin straps, double buckled ankle straps, open toes, and about 4.25-inch stiletto heels.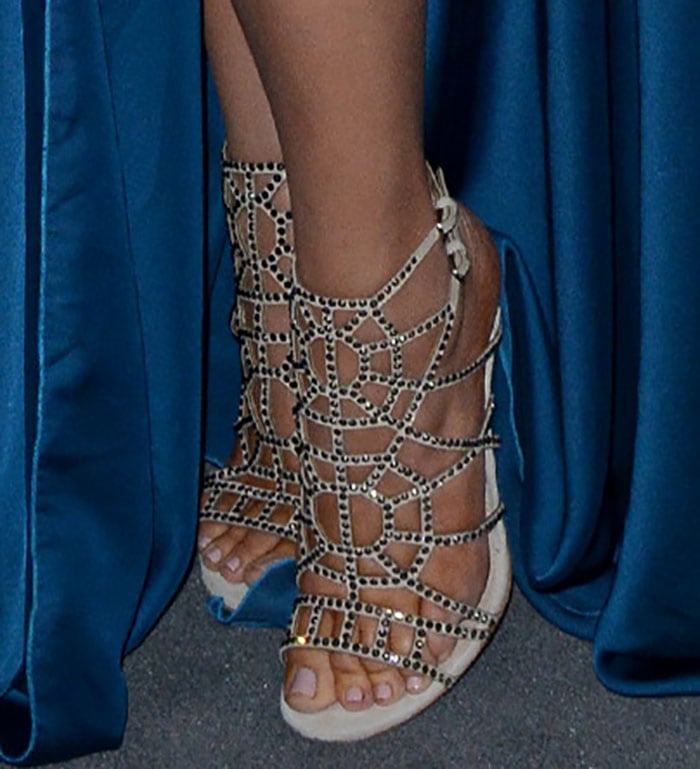 Khloe Kardashian displays her feet in Sergio Rossi sandals (Credit: Ivan Nikolov / WENN)
What are your thoughts on Khloe Kardashian's risqué look? Her Sergio Rossi "Puzzle" sandals are available at Farfetch.
Sergio Rossi Embellished "Puzzle" Caged Sandals in Nude, $1,660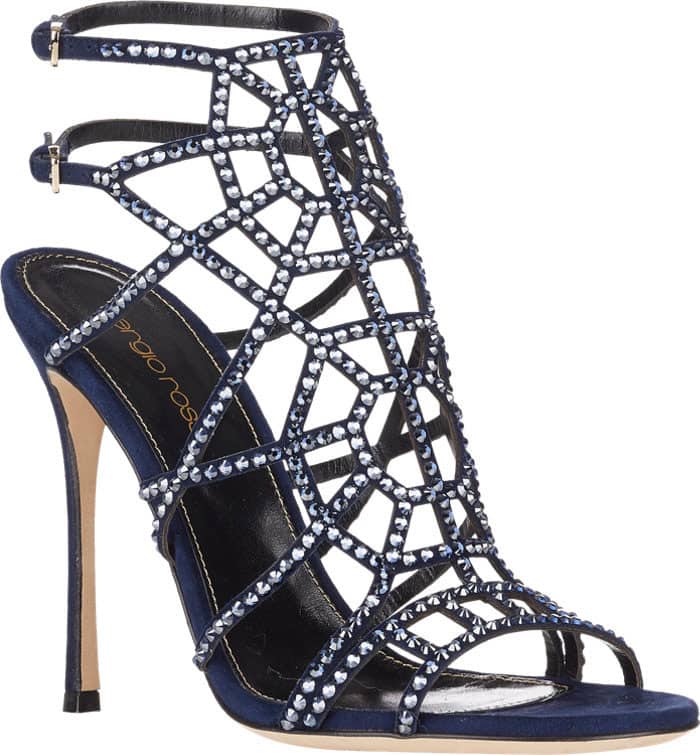 Sergio Rossi Embellished "Puzzle" Caged Sandals in Blue, $1,660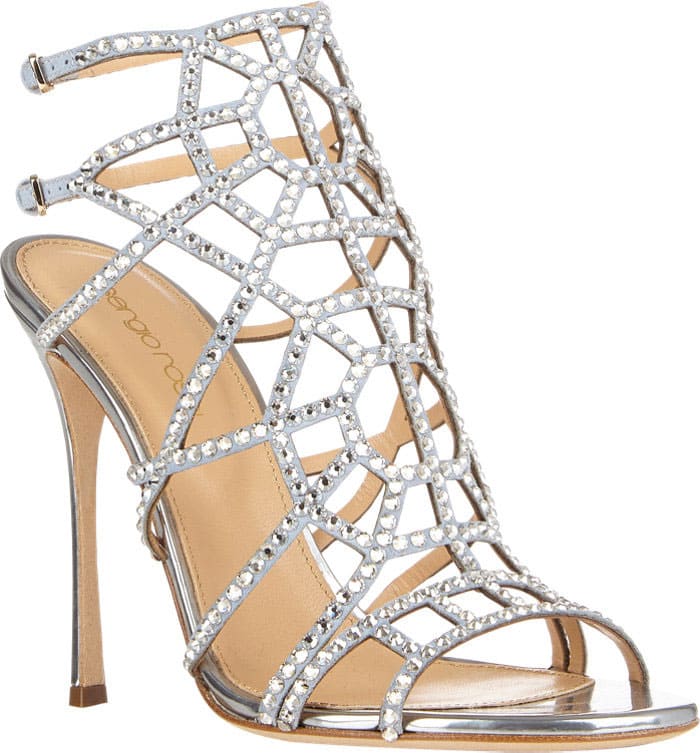 Sergio Rossi Satin "Puzzle" Sandals in Light Blue, $1,660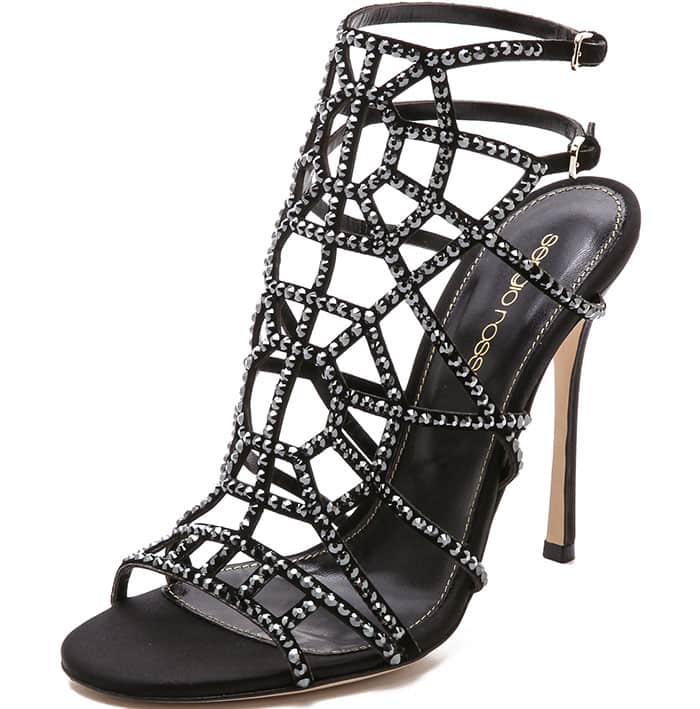 Sergio Rossi Satin "Puzzle" Sandals in Black, $1,660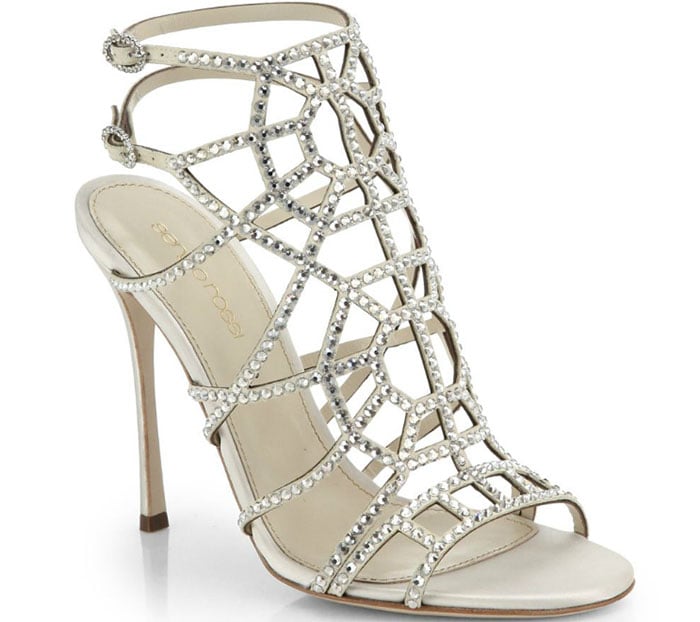 Sergio Rossi "Puzzle" Swarovski Crystal Sandals, $1,710