Billie Eilish eschewed Barbieland's feminine glitz and instead brought her usual baggy style to the Barbie world premiere on Sunday, days before releasing her soundtrack ballad single What Was I Made For?
The 21-year-old singer, known for her loose-fitting outfits, sneakers, and oversized jackets, arrived at the Shrine Auditorium in an ensemble that she described to Variety as "more of a Ken thing."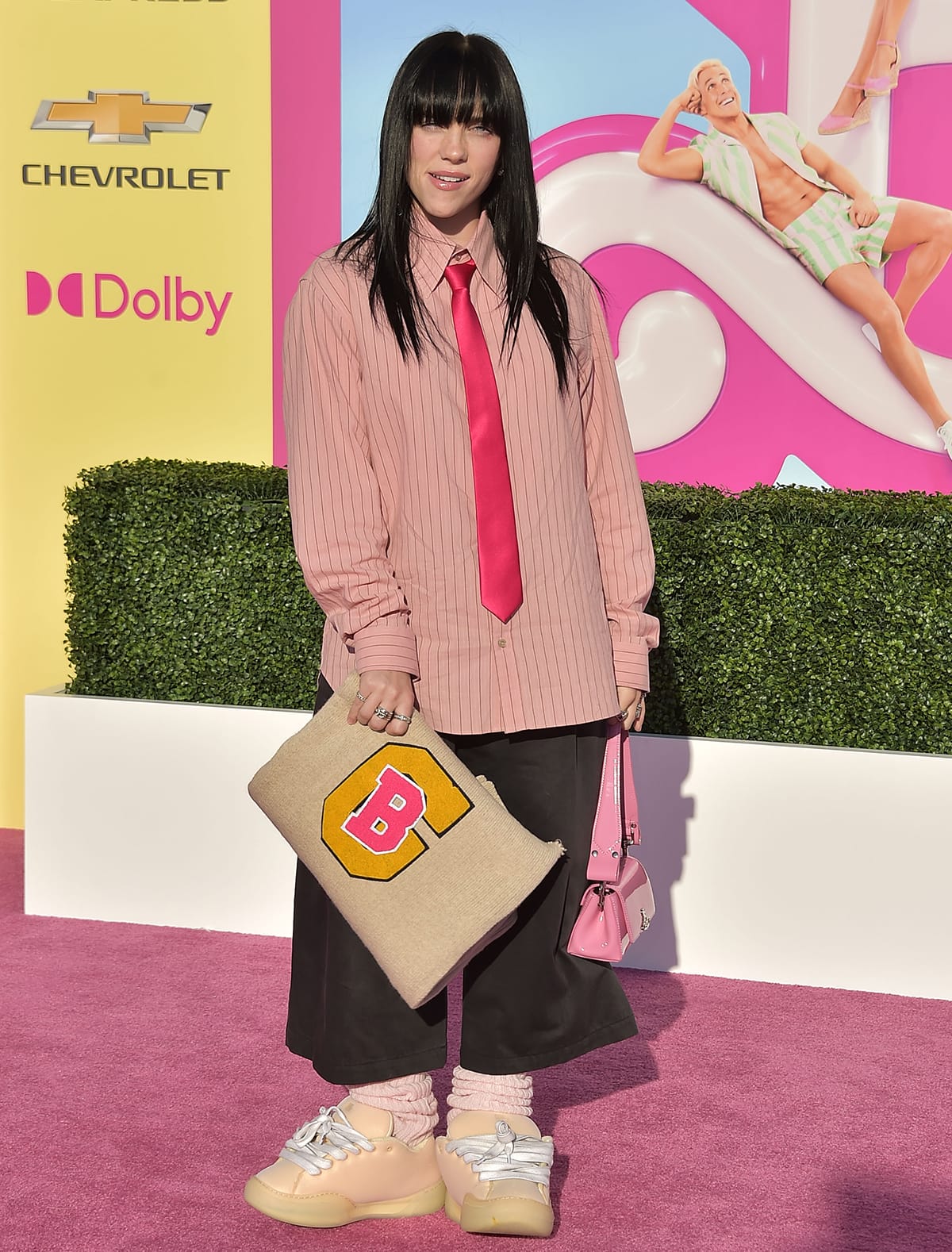 Billie Eilish channels Ken as she brings her usual baggy style to the Barbie world premiere held at the Shrine Auditorium in Los Angeles on July 8, 2023 (Credit: DDP / INSTARimages)
Mixing menswear with Barbiecore fashion, Billie wore an oversized pink pinstripe shirt by Gucci with a silky dark pink tie and wide-leg black long shorts by Raf Simons.
She embraced the playful side of Y2K style by pairing the quirky pink ensemble with chunky pale pink Erl sneakers accompanied by a pair of thick, slouchy light pink socks.
Billie Eilish brings edge to the glitzy Barbie premiere in a pink pinstripe Gucci shirt with loose-fitting black pants by Raf Simons and chunky Erl sneakers (Credit: DDP / INSTARimages)
Accessories are necessary for a Barbieland look, and Eilish came prepared. She carried a bubblegum pink Vivienne Westwood bag in one hand and a folded beige sweater vest with an overlapping yellow and pink letter embroidery by Raf Simons in the other.
A plethora of silver rings on her fingers added edge to her Ken-inspired red-carpet style.
For her beauty look, Billie wore complementary pink makeup and sleek straight raven tresses with her blunt bangs framing her face.
Billie Eilish wears her raven tresses sleek straight with blunt bangs framing her gorgeously made-up face (Credit: DDP / INSTARimages)
Billie Eilish Turns Into Vintage Barbie in What Was I Made For? Music Video
After showing up in her signature baggy style for the Barbie world premiere, Billie Eilish channeled her inner Barbie in her self-directed music video for What Was I Made For? which only required one take to film.
The seven-time Grammy winner looked unrecognizable in the music video, where she was seen sporting Barbie's signature high blonde ponytail and bangs.

Dressed as vintage Barbie, Eilish wore a 1960s yellow mini dress while seated at a desk sorting through a collection of doll versions of her previous red carpet outfits. Her look was finished with matching pale yellow Mary Jane shoes and yellow drop earrings.
Billie Eilish on What Was I Made For?
Before it was officially released, Billie hinted that her upcoming single, What Was I Made For?, the seventh single from the Barbie: The Album soundtrack, would make listeners cry.
"AHHHHHHHHHHHHHHHH!!! "What Was I Made For?" COMING OUT JULY 13TH AT 7AM PT. !!!!!!!! WE MADE THIS SONG FOR BARBIE AND IT MEANS THE ABSOLUTE WORRRRLLLD TO ME. THIS MOVIE IS GONNA CHANGE UR LIVES AND HOPEFULLY THE SONG WILL TOO. GET READY TO SOB," she captioned her post.
The soft piano ballad, co-written and produced by her brother Finneas, starkly contrasts the more upbeat dance songs in the soundtrack.
FINNEAS brings his melancholic production once again with the track "What Was I Made For?", creating a beautiful contrast to the upbeat soundtrack of the Barbie movie.

This release marks the seventh single from the movie's soundtrack, with Billie Eilish herself announcing the… https://t.co/6xvO1b9yNx

— Your Next Shoes (@yournextshoes) July 17, 2023

In an interview with Apple Music 1 with Zane Lowe, Eilish admitted that the project helped her and her brother Finneas through a time of self-doubt and writing frustration.
"Honestly, we were in a period of time where we were both… like through this last winter, we've both been incredibly uninspired. And we've still been working and trying to make stuff. And honestly, that song was the first thing we'd written in a minute. Even though we were coming up with ideas and coming up with this and that, I remember after we wrote the first half, I go, 'I think we still got it.'"
"We were really in a zone of feeling like we lost it and feeling like, 'man, I don't know if we can do this anymore.' Barbie and Greta just pulled it out of me, I don't know. Those first couple lyrics, 'I used to float, now I just fall down,' just came right out."
Following the video's premiere, Eilish said in a statement: "In january greta showed me and finneas a handful of some unfinished scenes from the film; we had nooooo idea what to expect at ALLL… we were so deeeeeply moved.. that the next day we were writing and COULDNT shut up about it lolll andddddddddd ended up writing almost the entire song that night. to be real with you this all seemed to happen in a time when i really needed it. i'm so so thankful for that."
She added, "this video makes me cryyyyy.. it means so much to me and i hope it will mean just as much to you. don't have much to say other than that, i think it will speak for itself."
Just a few days prior to its launch, the single "What Was I Made For?" was unveiled by Billie Eilish on July 13, 2023. This track, featured in the movie Barbie's soundtrack, which is scheduled for release in the same month, delves deep into Barbie's psyche while also… https://t.co/Pfj1WxOe9e

— Your Next Shoes (@yournextshoes) July 17, 2023

The Bad Guy hitmaker, who's a huge Katharine McPhee fan, joins Lizzo, Dua Lipa, Nicki Minaj, Ice Spice, Charli XCX, Karol G, Sam Smith, Tame Impala, Haim, The Kid Laroi, Khalid, Gayle, Ava Max, and more on the star-studded soundtrack produced by Mark Ronson.