Billie Lourd dedicated some time on Sunday to ponder over Mother's Day, embracing her roles as both a mother and a daughter.
Sharing a heartfelt message on Instagram, the 30-year-old actress posted a photo alongside her beloved late mother, the legendary Carrie Fisher. She also shared a thoughtful caption as she contemplated the day's significance.
Billie Lourd, Carrie Fisher's daughter and Debbie Reynolds's granddaughter, shared a special connection with both women and followed in their footsteps by pursuing an acting career and has since appeared in notable film and television projects (Credit: DFree / Shutterstock)
"Ⓜ️🅾️Ⓜ️ Even though I've been a mom for almost 3 years and now have 2 kids of my own the first thing I think of when I hear happy Mother's Day is her," Lourd expressed about the iconic Star Wars figure.
"Even though it's been over 6 years since she died, when I first wake up, this still feels like her day – not mine. But as the day goes on I remember it is my day too now."
She went on, "I am a mother to two magical little creatures that I adore to my core and there is nothing that brings me more joy than being their mother. And even though she's not here, it's still her day. It's our day now. And that is both sad and weirdly beautiful at the same time. With the magic of life comes the reality of grief. It is all intertwined. Mother's Day can be many things."
Billie Lourd, known for her role in Scream Queens, and her husband, Austen Rydell, joyfully welcomed their second child into the world on December 12, 2022. Their growing family also includes their 2-year-old son, Kingston Fisher Lourd Rydell.
In her concluding remarks, Lourd added, "So like I say every year. Happy Mother's Day but also griefy / sad / lonely / estranged / frustrated / etc Mother's Day! Mixed Emotions Mother's Day!!! (Hallmark or whoever else makes cards out there – y'all should make that a card!!!) sending my love to anyone and everyone out there who needs it. You are not alone. ❤️"
View this post on Instagram
Earlier this month, Lourd participated in the long-awaited event of her mother receiving a star on the Hollywood Walk of Fame.
Fisher, who tragically passed away just one day before her mother, Debbie Reynolds, in December 2016, was honored alongside her Star Wars co-stars Harrison Ford and Mark Hamill on the famous Hollywood Boulevard. It was only fitting that her ceremony took place on May the 4th, also known as Star Wars Day.
During the star dedication ceremony, Lourd graciously accepted the honor on behalf of Fisher and addressed the gathered crowd, sharing heartfelt anecdotes about her mother.
Reflecting on Fisher's unique sense of humor, Lourd recalled an amusing memory where her mother often said that one wasn't truly famous until they became a Pez dispenser. However, Lourd expressed her belief that having one's own star on the Walk of Fame was the true marker of fame.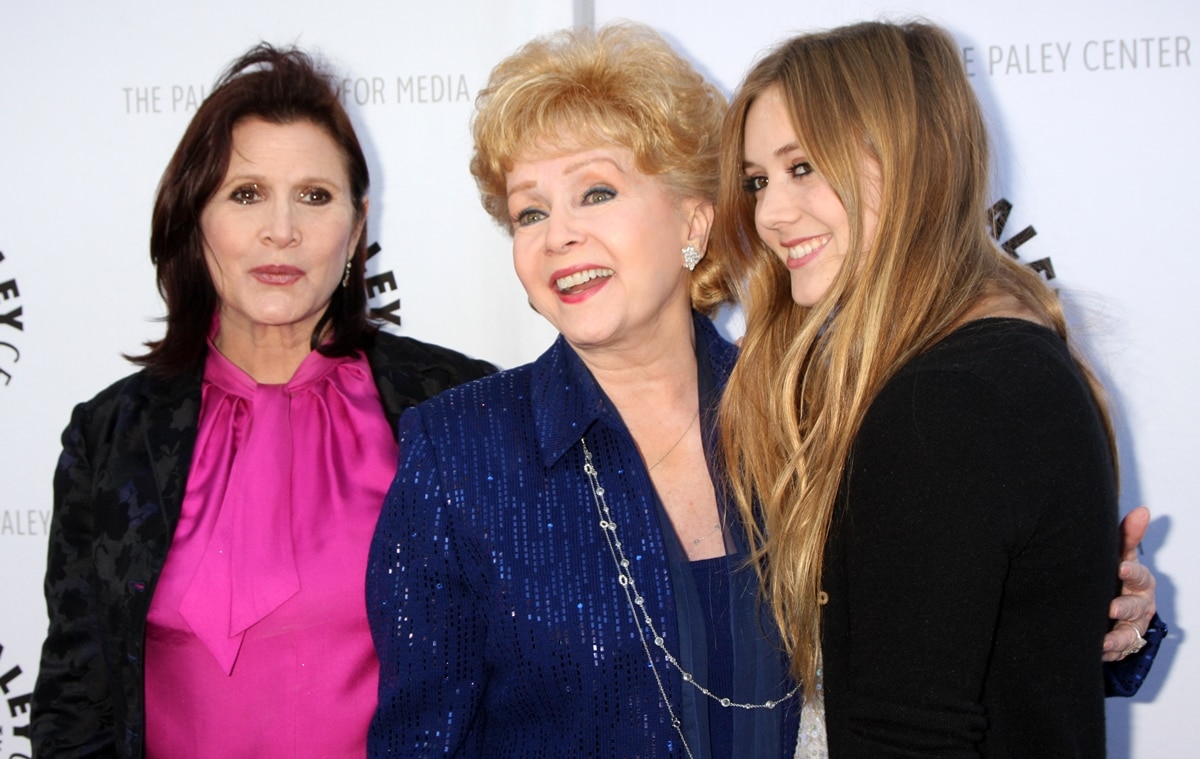 Carrie Fisher, known for her role as Princess Leia, and her mother, Debbie Reynolds, both passed away in 2016, leaving a deep impact on their family and fans, while their close relationship with Billie Lourd, Fisher's daughter, continues to inspire and resonate within the entertainment industry (Credit: Joe Seer / Shutterstock)
"Like most kids, I grew up thinking my mom was a little bit — OK, a lot — embarrassing," Lourd began. "She tried to alter my opinion by showing me this 'cool movie' she was in, 'Star Wars.' I don't know if any of you have ever heard of it, I haven't."
Lourd added: "She used to love to tell the story of how every time she would try to put it on, I would roll my eyes and yell, 'It's too loud, Mommy!' Or fearfully question, 'Is that lady in the TV you?'"
Lourd admitted that she refused to watch the "Star Wars" movies until middle school, when "boys started coming up to me and telling me they 'fantasized' about my mom."
So Lourd finally decided to press play.
"I went home to investigate who this person was they were talking about. I finally watched the movie I had forever considered too loud and finally figured out what all the fuss was about with the lady in the TV," Lourd recalled.
"I wanted to hate it so I could tell her how lame she was. Like any kid, I didn't want my mom to be hot or cool. She was my mom. But that day, staring at the screen, I realized no one is or will ever be as hot or as cool as Princess Leia."
The humorous anecdote highlighted their relationship's playful and down-to-earth nature while paying tribute to Fisher's iconic role in the Star Wars franchise.
Billie Lourd stuns in a Stella McCartney dress and accessorizes with Jennifer Meyer jewelry at the star-studded 2023 Vanity Fair Oscars party held in Beverly Hills on March 12, 2023 (Credit: Featureflash Photo Agency / Shutterstock)
Lourd said that later that same year, she accompanied her mother to Comic-Con — and her mom's hot and cool factors finally sunk in.
"People of all ages from all over the world were dressed up like my mom, the lady who sang me to sleep at night and held me when I was scared. Watching the amount of joy it brought to people when she hugged them or threw glitter at them — sorry about that — was incredible to witness. People waited in line for hours just to meet her. People had tattoos of her, people named their children after her, people had stories of how she saved their lives. It was a side of my mom I had never seen before, and it was magical," recalled Lourd.
"I realized then that Leia is more than just a character. She is a feeling. She is strength. She is grace. She is wit. She is femininity at its finest. She knows what she wants and she gets it. She doesn't need anyone to rescue her because she rescues herself and even rescues the rescuers. And no one could have played her like my mother."
On May 4th, 2023, the late actress Carrie Fisher was posthumously honored by the Hollywood Chamber of Commerce as she received her 2,754th star on the Hollywood Walk of Fame in the Motion Pictures category. The unveiling of Fisher's star took place near the iconic El Capitan… https://t.co/DEZ7FCfDY3

— Your Next Shoes (@yournextshoes) May 15, 2023