Ryan Reynolds, most notable known for his role as the superhero Deadpool, answered questions from young fans at a recent Netflix Q&A interview.
As everyone knows, kids ask the most interesting questions. One such young fan asked Reynolds whether the scene in which he kisses his co-star, Zoe Saldana, who plays his wife Laura in the new movie, The Adam Project, was real.
Ryan Reynolds as time pilot Adam Reed and Zoe Saldaña as his wife Laura Shane in the 2022 American science fiction adventure film The Adam Project (Credit: Netflix)
Flustered, but not one to shy away from the truth, Reynolds responded to the young fan. "It was kinda, kinda real but… how do I answer this? This is being broadcast everywhere, too. I didn't mean it?"
Reynolds, a father himself, clearly understood the confusion and misunderstanding of his young fan. He went on to explain that he has had to answer this question similarly for his own children.
Ryan Reynolds and his wife Blake Lively have three daughters: James (7), Inez (5), and Betty (2).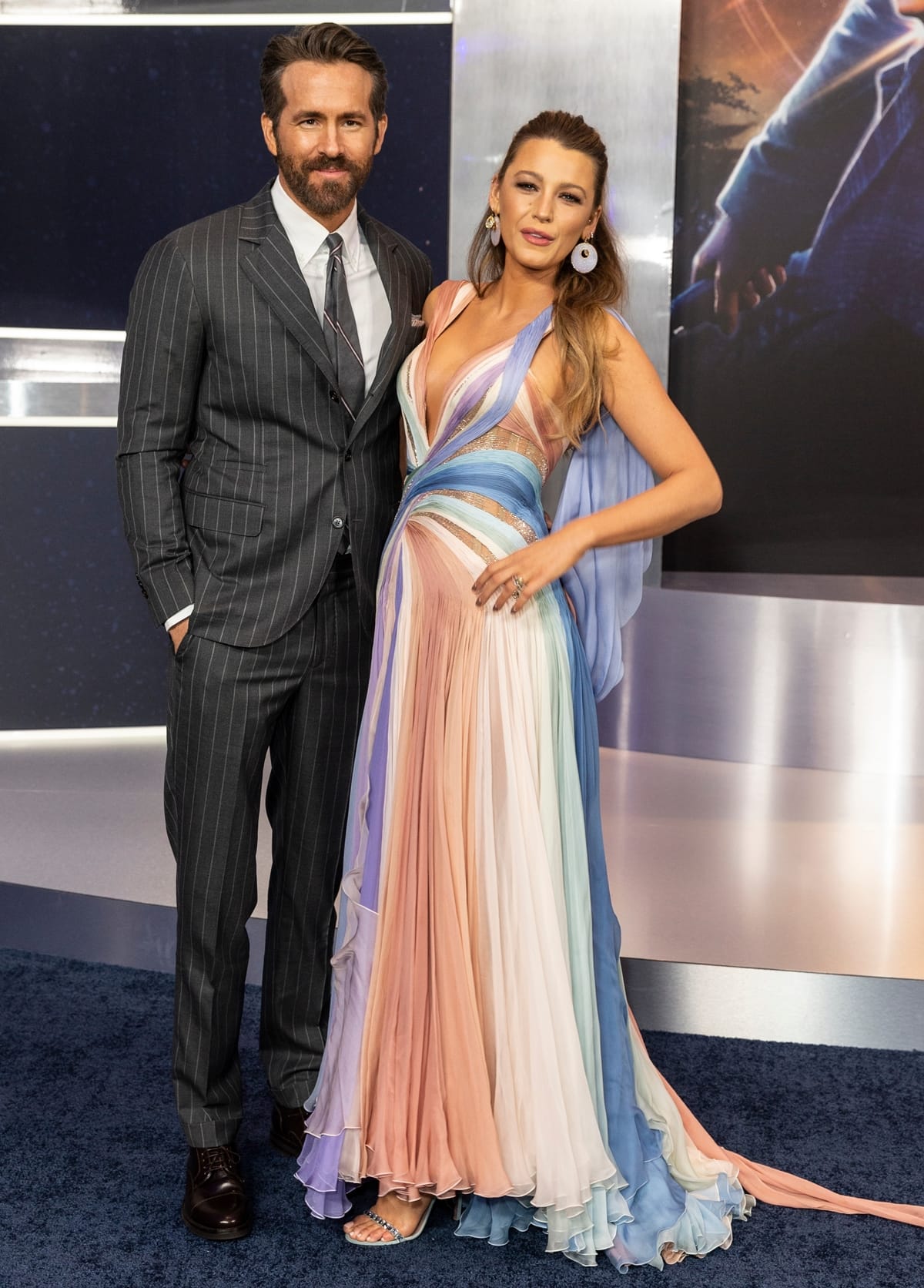 Blake Lively in a pastel Atelier Versace Spring 2019 dress and Ryan Reynolds attend The Adam Project World Premiere at Alice Tully Hall on February 28, 2022, in New York City (Credit: Lev Radin / Shutterstock)
According to Reynolds, he was unsure of exactly how to explain it to young minds. "The thing is, I don't know how to explain this to my own kids. They're like, 'Daddy, what are you doing?' Like, it's exactly the tactic I would use on them. Not anger, but just disappointment."

Ryan Reynolds and his wife, Blake Lively, met in early 2010 when they were both starring in the 2011 American superhero film Green Lantern. They started dating in October 2011 and got married almost a year later in September 2012.
As one of Hollywood's favorite couples, Reynolds and Lively have managed to balance their work and family life well over the years.
Blake Lively and Ryan Reynolds first met on the set of Green Lantern in 2010
Blake Lively found her fame through "The Sisterhood of the Traveling Pants" movie in 2005, along with its sequel in 2008. She then when on to star in the CW teen television drama Gossip Girl from 2007 to 2012.
So, how do these two successful actors find the balance between their work and their family? According to Reynolds, the couple takes alternating breaks from filming to ensure that at least one of them is home with the kids while the other is filming abroad.
When the couple was asked how they handle and explain complicated issues that come up in the world to their children, Reynolds explained, "We don't shy away from anything if they have questions. Anytime there's anything out there that's, like, a big story, something that is epic and historic – and God knows we've had a lot of those over the last four or five years."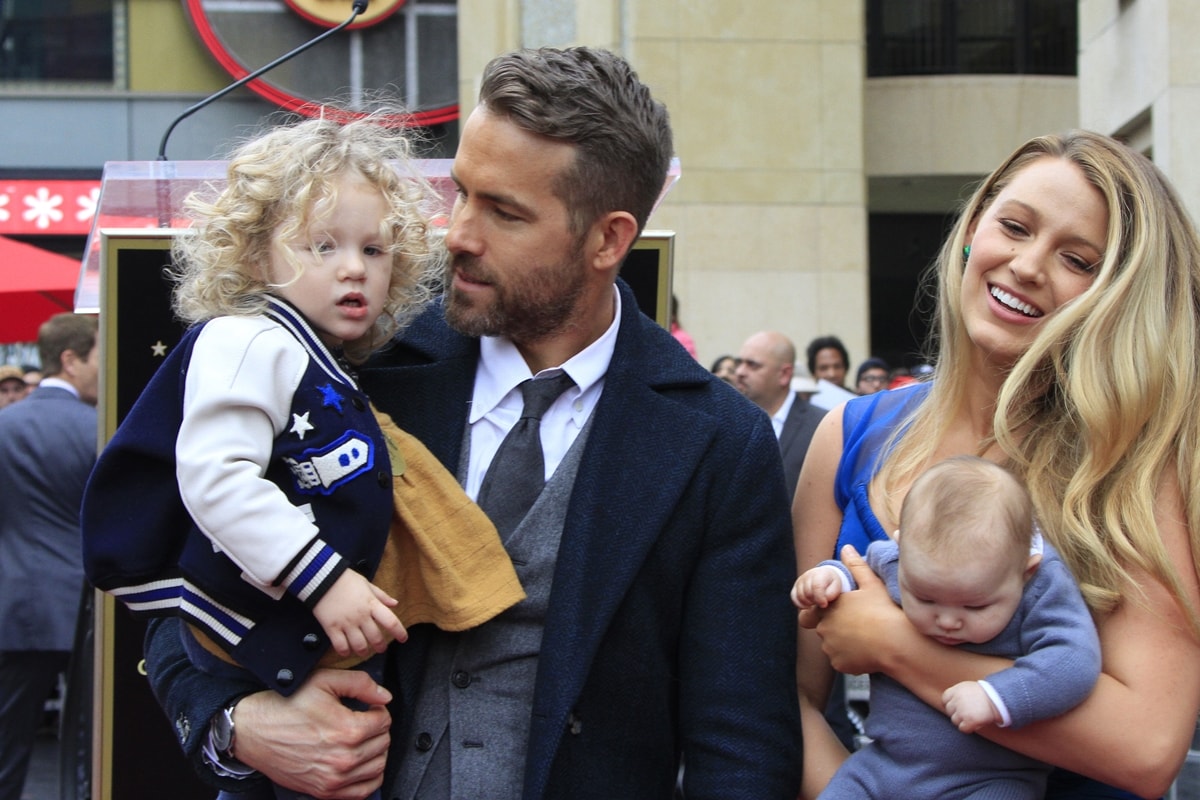 Actors Ryan Reynolds and Blake Lively with daughters James Reynolds and Ines Reynolds attend the ceremony honoring Ryan Reynolds with a Star on the Hollywood Walk of Fame on December 15, 2016, in Hollywood, California (Credit: Kathy Hutchins / Shutterstock)
He also asks his children if they have any questions before going too deep into any of the sensitive topics. "I don't feel at that age it's a good idea to just inject my own sort of perspective or narrative on that. I just want to know that they're feeling and thinking, and that tends to work out all right."
Recently, Reynolds and Lively have used their fame and social media platforms to raise awareness of the invasion by Russia into Ukraine.
They specifically focused on helping the citizens of Ukraine that were displaced during the attacks. In February, the couple pledged to match up to $1 million in donations to UNHCR – The UN Refugee Agency.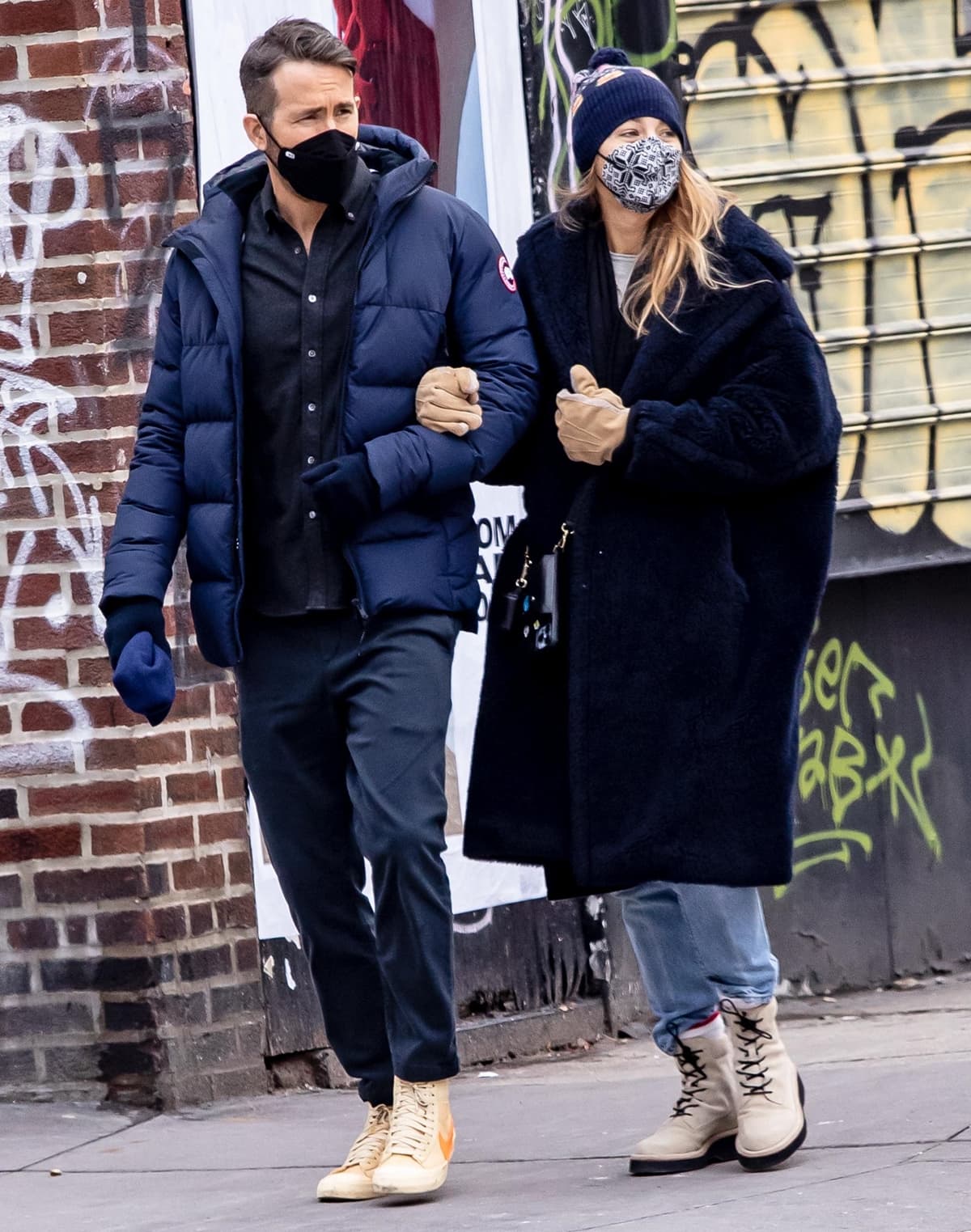 Blake Lively in a Max Mara double-breasted teddy coat, Rag & Bone Sloane boots, and DL1961 Emilie jeans on a date with her husband Ryan Reynolds on January 24, 2022, in New York City (Credit: Startraksphoto)
Earlier this month, the couple also made a $500,000 donation to Water First, an organization that provides indigenous people in Canada with clean water and educational opportunities.
Reynolds and Lively are both well-known for their philanthropic endeavors. We look forward to watching this power couple as they continue to change the world, one interview and one donation at a time.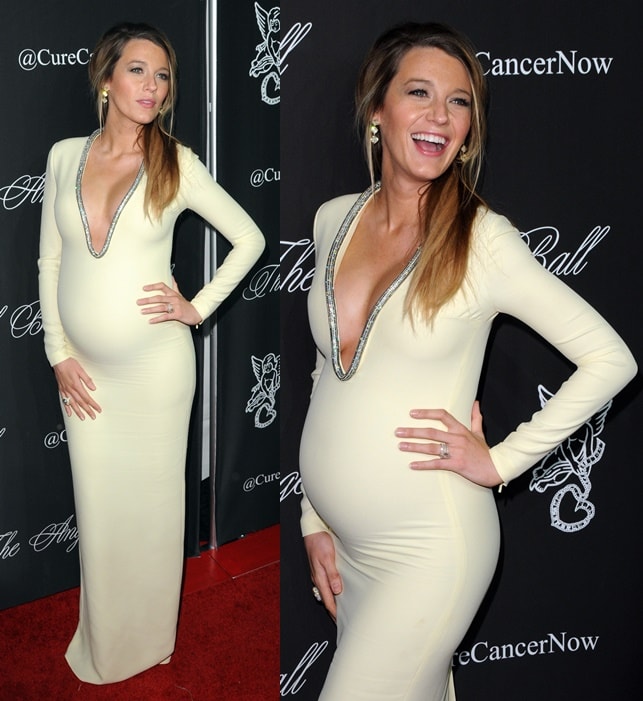 Blake Lively flaunts her baby bump in a low-cut Gucci gown as she attends the 2014 Angel Ball held in New York City on October 20, 2014 (Credit: Ivan Nikolov / Rob Rich / WENN)
In October 2014, Blake Lively was parading her baby bump in New York. The former 'Gossip Girl' star even attended the Angel Ball with her hunk of a husband, Ryan Reynolds.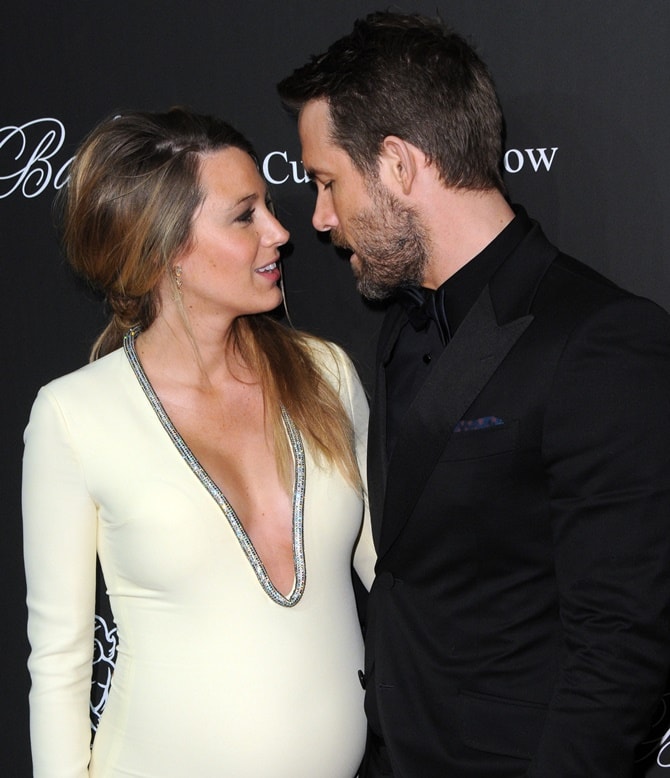 Blake catches her hubby, Ryan Reynolds, checking out her exposed cleavage (Credit: WENN)
For the occasion, Blake slipped into a form-fitting floor-length gown from Gucci's Cruise 2015 Collection and fine jewelry.
The blonde beauty also gave Paris Hilton some competition with the sinfully low-cut neckline of her dress, which exposed ample cleavage — something that Ryan couldn't keep his eyes off of.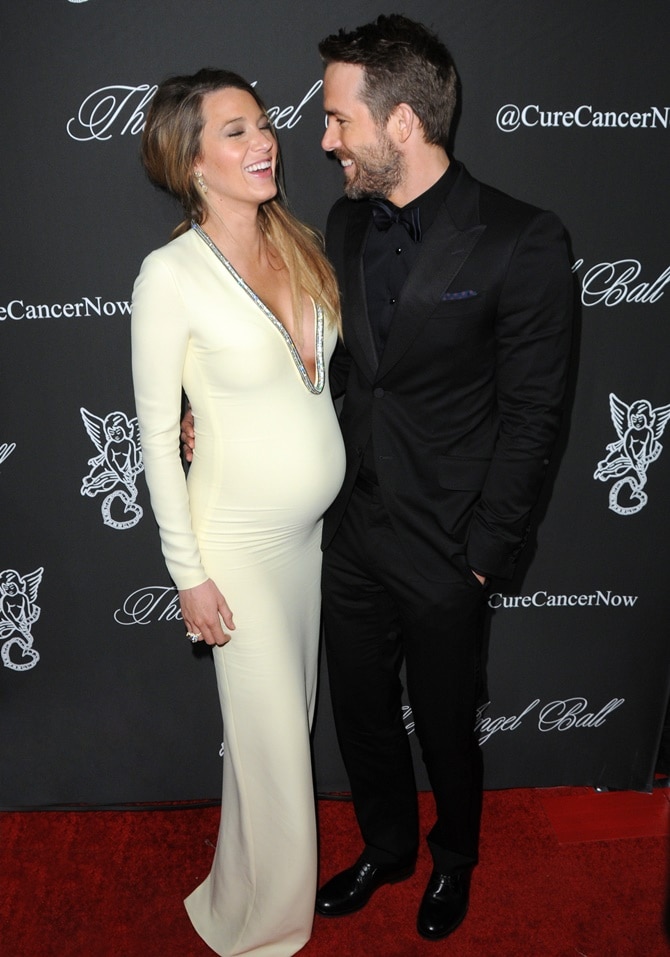 Blake and Ryan look cute together as they share a laugh on the 2014 Angel Ball red carpet (Credit: WENN)
It was a little difficult to figure out what shoes Blake wore with her frock, but after a bit of research, we found out that the actress chose a pair of embellished t-strap sandals for the occasion.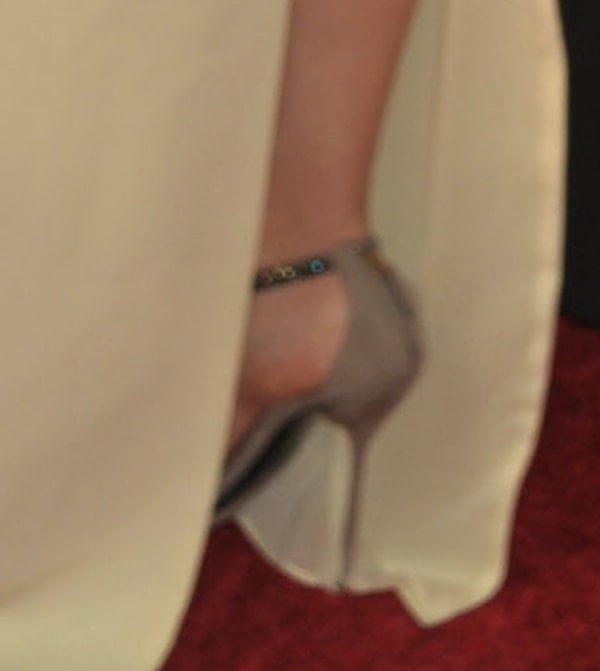 Blake Lively's embellished Gucci Naomi sandals (Credit: WENN)
Blake sandals are the Gucci Naomi, an off-season style from the label's Fall 2012 Collection. Available at Nordstrom, the shoes feature suede leather uppers fashioned in a T-strap silhouette and decorated with crystals at the t-bar.
Minimalist Gucci 'Naomi' Sandals, $1,995
Diminutive baubles stream down the split strap of a minimalist sandal perched atop a strikingly slim heel
Please allow us to leave you with several exquisite designer sandals we would personally wear with that light yellow Gucci dress had we been a pregnant Blake Lively attending the Angel Ball.
Giuseppe Zanotti Embellished Chain T-Strap Sandals, $2350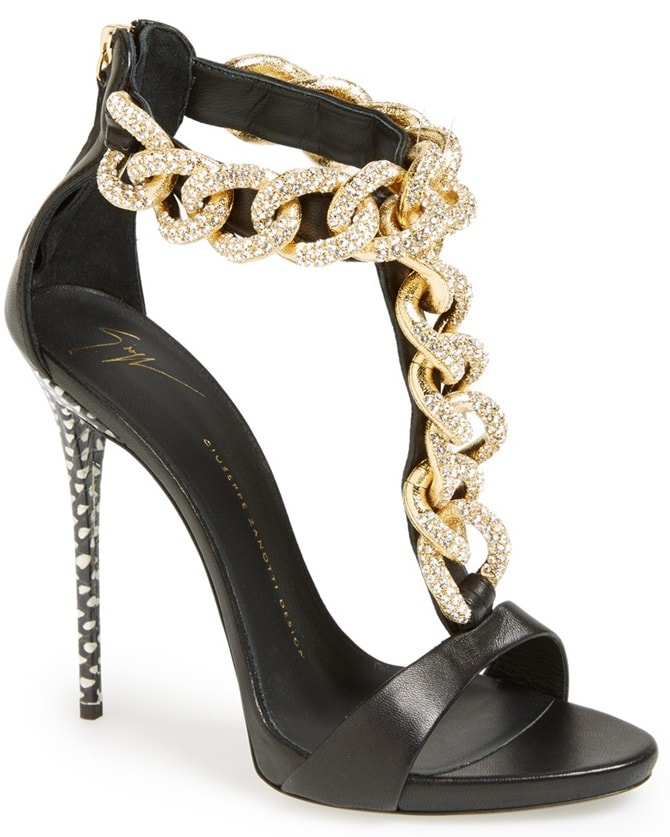 Jimmy Choo Faiza Embellished T-Strap Sandals, $1,595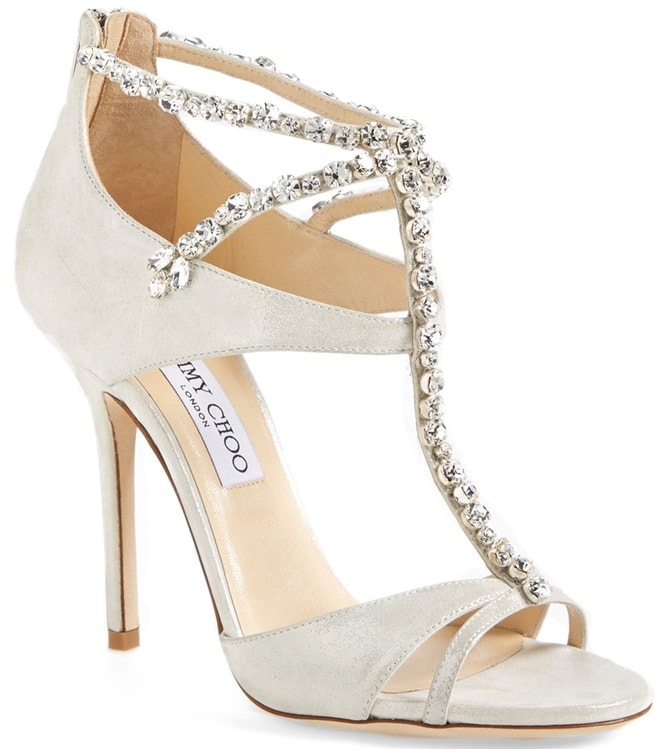 Prada Studded T-Strap Sandals, $1,100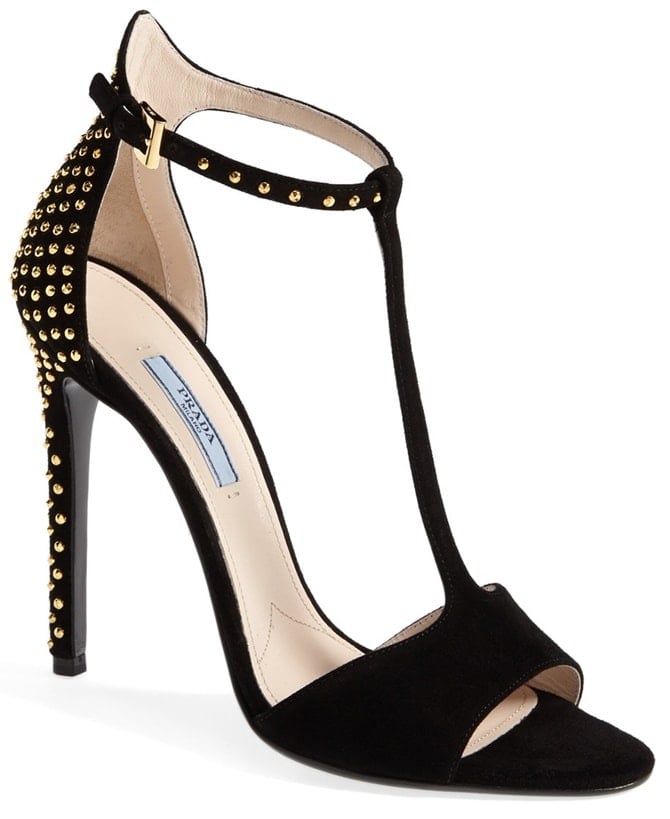 Blake's red carpet style is proof that you can look glamorous even when you're expecting.
If you're looking to steal her look for much less, try this classic LBD from Enza Costa and team it with the "Rain Chain" sandals from Topshop. This is a fool-proof and fail-safe combination that won't cost you too much.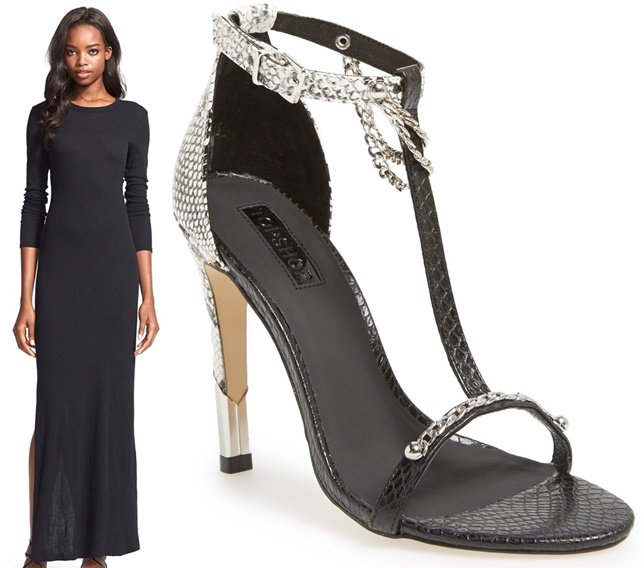 Enza Costa Cotton and Cashmere Sweater Maxi Dress, $295 / Topshop Rain Chain T-Strap Sandals, $80