They say two is better than one, and that's certainly true when it comes to hot celebrities. We love eye candy as much as anybody else, but what we love even more is when eye candy falls in love!
Here are the hottest celebrity couples — both new and those that are still going strong — and how they met their beautiful partners.
1. Sofia Vergara and Joe Manganiello
Kicking off our list is one of the hottest couples in the world — 51-year-old Sofia Vergara and her husband, 46-year-old Joe Manganiello are both lauded as some of the sexiest people in the world, both frequently featured on "hot" lists from a number of publications.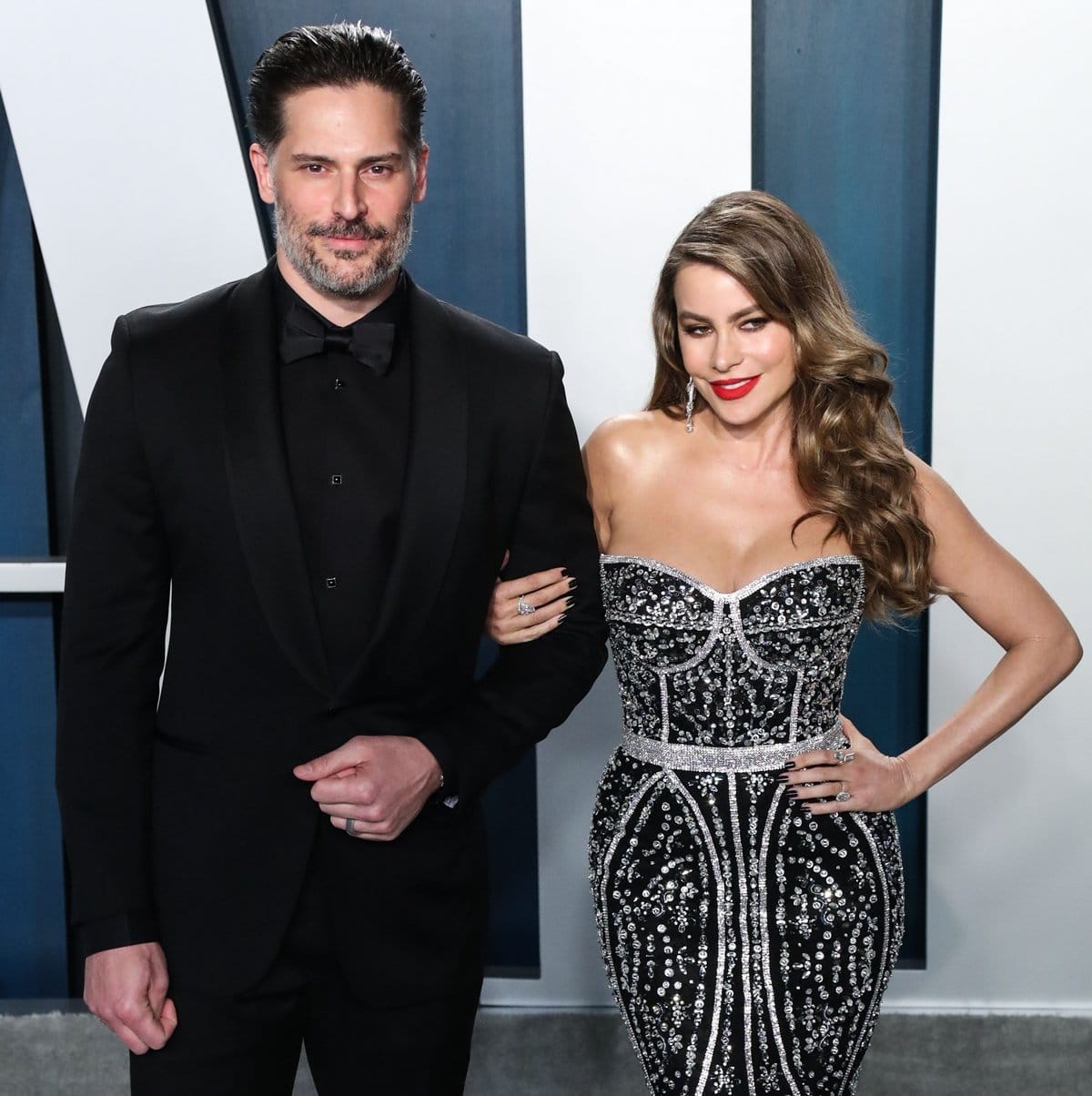 Joe Manganiello and Sofia Vergara met in 2014 at the White House Correspondents' Dinner while she was still with her ex-fiancé Nick Loeb (Credit: Avalon / WENN)
Not to mention, both actors are able to capitalize on being extremely good looking; Vergara is best known for her role as hot housewife, Gloria Delgado-Pritchett, on ABC's Modern Family, and Manganiello first starred in True Blood as an oft-shirtless werewolf before becoming a regular in the Magic Mike franchise.
Surprisingly, Sofia Vergara and Joe Manganiello first met in 2014 at the White House Correspondents' Dinner. At the time, Vergara was still with her now-ex Nick Loeb, but Manganiello couldn't help but notice how gorgeous she was.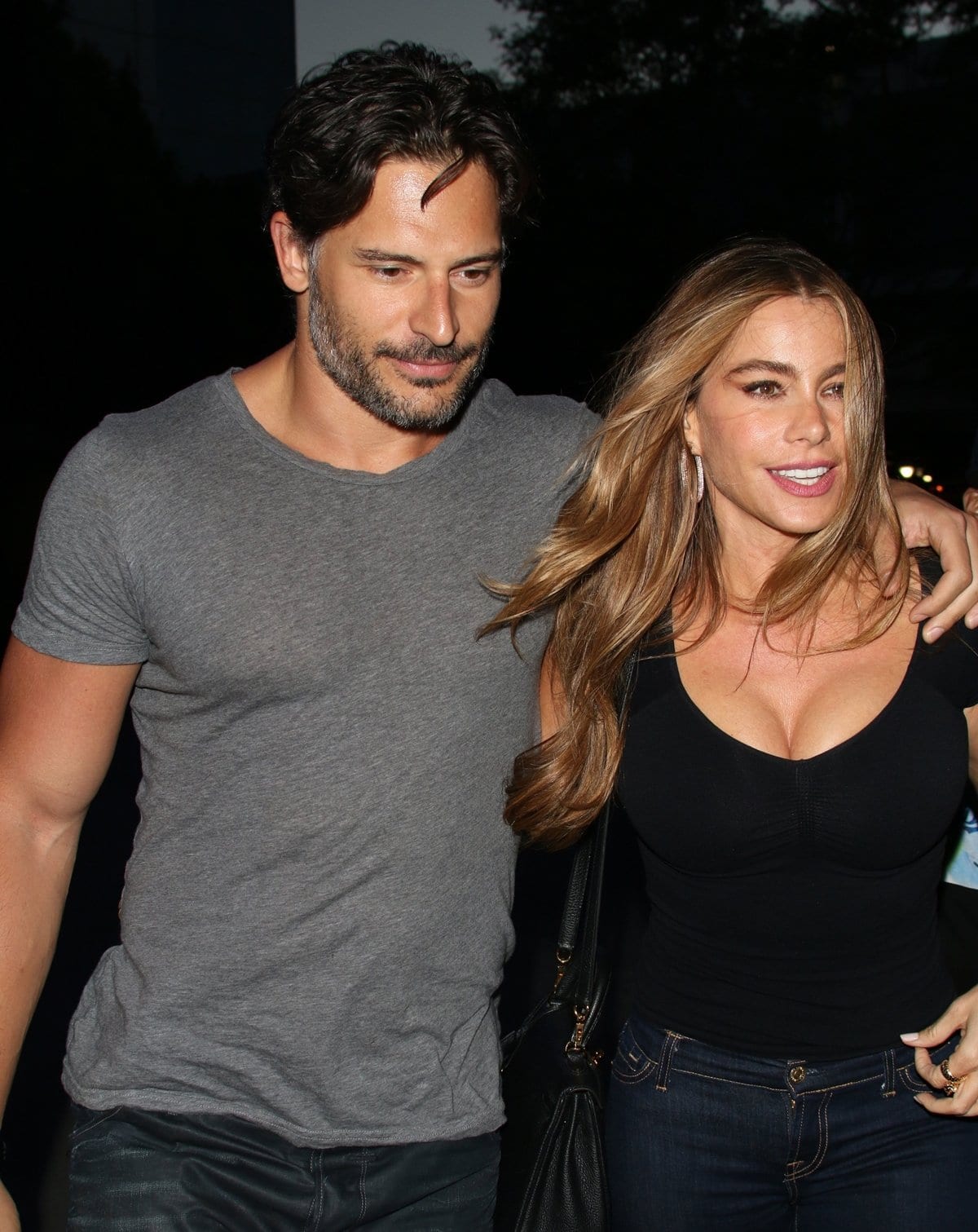 Joe Manganiello and Sofia Vergara started dating in the summer of 2014 and married in November 2015 in Palm Beach, Florida (Credit: Winston Burris / WENN)
Evidently, he wasn't too slick about checking his future wife out, telling E! News later that year, "Yeah, I totally got busted. That was actually funny when we first started dating, months after that. We had talked I guess, or kind of bumped into each other, but we didn't start dating until she was single. I mean, she had a boyfriend at that time, so I probably could have got in a fight for doing that. I'm not trying to start a fight at the White House."
The two got married in 2015 after six months of dating, but they didn't withstand the test of time as the former couple recently announced their divorce.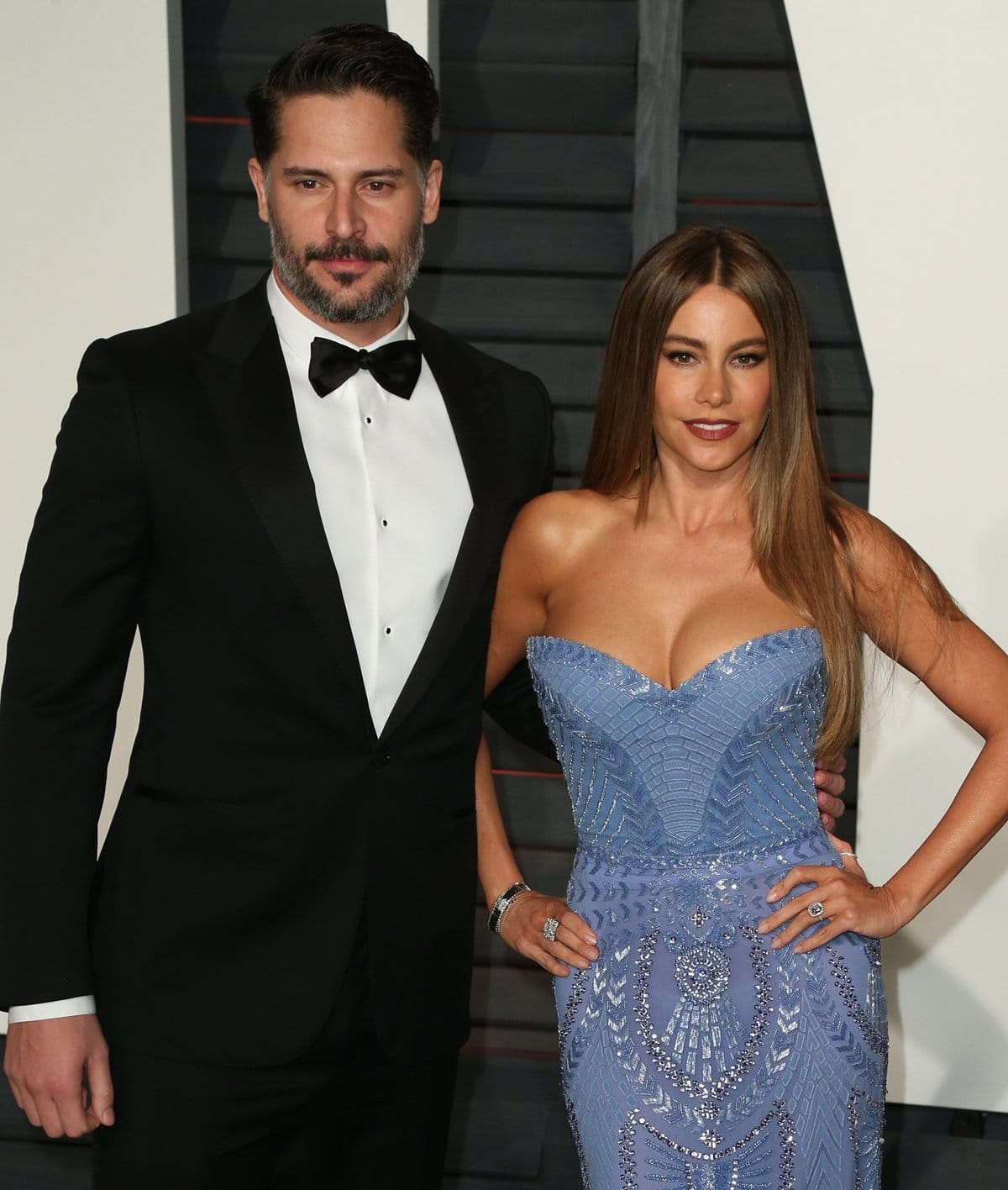 Joe Manganiello is four years younger and much taller than his wife Sofia Vergara (Credit: FayesVision / WENN)
Joe and Sofia were born in 1976 and 1972 respectively, meaning she is around 4 years older than him. Measuring 6′ 5″ (196 cm), Joe Manganiello is much taller than his 5′ 7″ (170 cm) tall wife.
2. Adam Levine and Behati Prinsloo
44-year-old Adam Levine may be best known for being the frontman of Maroon 5 or as a judge on the star-studded singing competition, The Voice.
Whether or not you're a fan of his music, there is no denying that the crooner's multiple-time title of "Sexiest Man Alive" has been rightfully earned.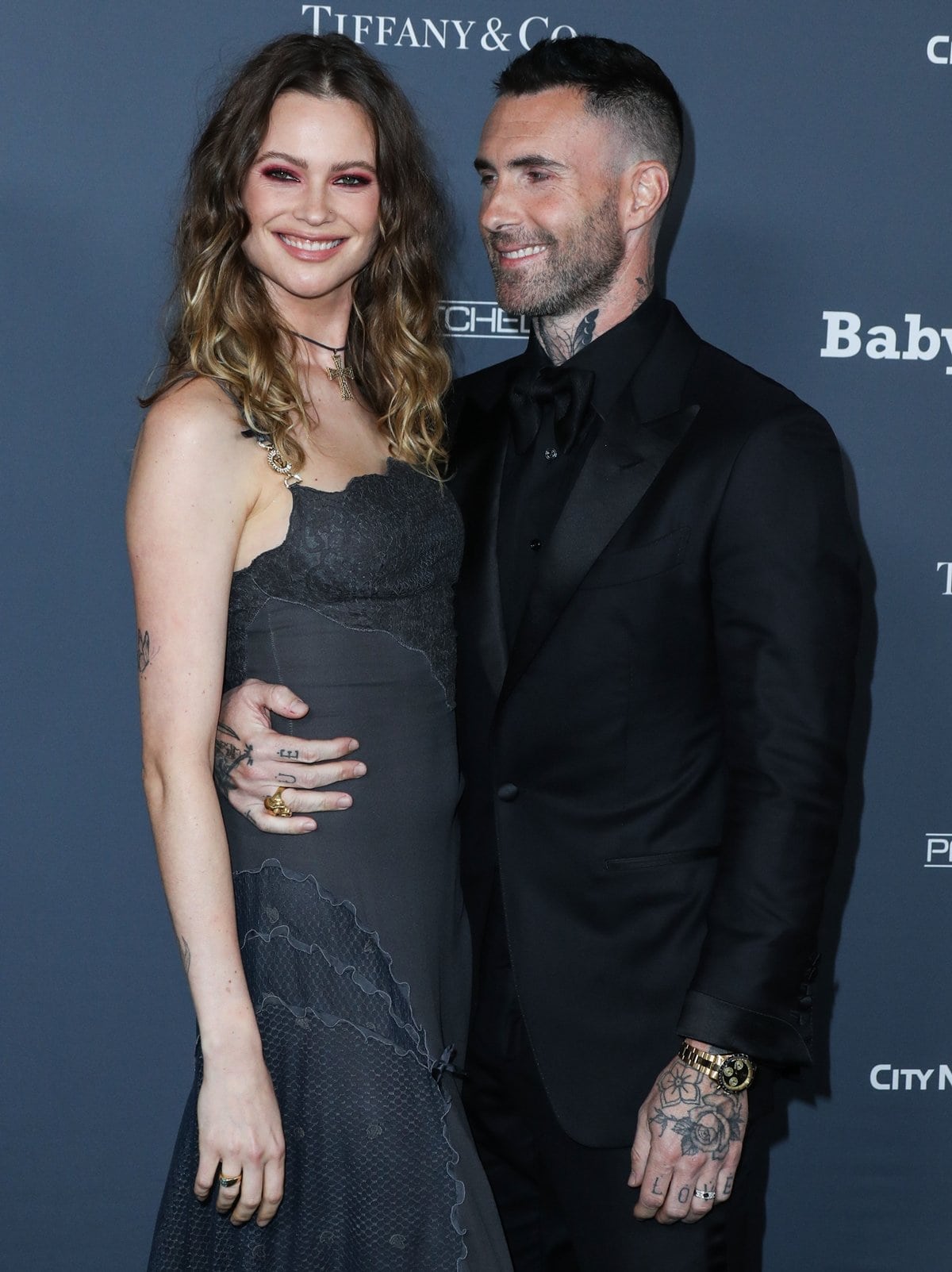 Behati Prinsloo met Adam Levine when he wanted her to star in one of his music videos (Credit: Avalon / WENN)
Even better, the tattooed songwriter is married to none other than Behati Prinsloo, a 35-year-old Namibian model who is best known for her work in the Victoria's Secret Fashion Shows. He's almost 10 years older than her and approximately the same height.
The pair first met in 2012, when Levine was searching for a model to appear in a Maroon 5 music video. He was given Prinsloo's contact information, and the two began emailing back and forth.
Behati Prinsloo started dating Adam Levine in May 2012 and married in Mexico on July 19, 2014 (Credit: Michael Wright / WENN)
Though the model didn't end up appearing in the music video, the pair still corresponded, catching feelings online before finally meeting up in person.
Though not all relationships that start online end in happiness, we're so glad that neither Levine nor Prinsloo were "catfished". The couple married in 2014 (actor Jonah Hill officiated their wedding) and have two daughters together, Dusty Rose and Gio Grace.
The duo has been together for over a decade and is still going strong, even in the face of cheating scandal allegations against Adam Levine in 2022.
3. John Stamos and Caitlin McHugh
59-year-old John Stamos has been the object of affection of people across the globe for years, first capturing hearts with his role as Uncle Jesse Katsopolis on the classic sitcom, Full House.
Though he has aged like wine, Stamos didn't always have the most luck with love — that is, until he met his now-wife, 37-year-old actress, writer, and model Caitlin McHugh.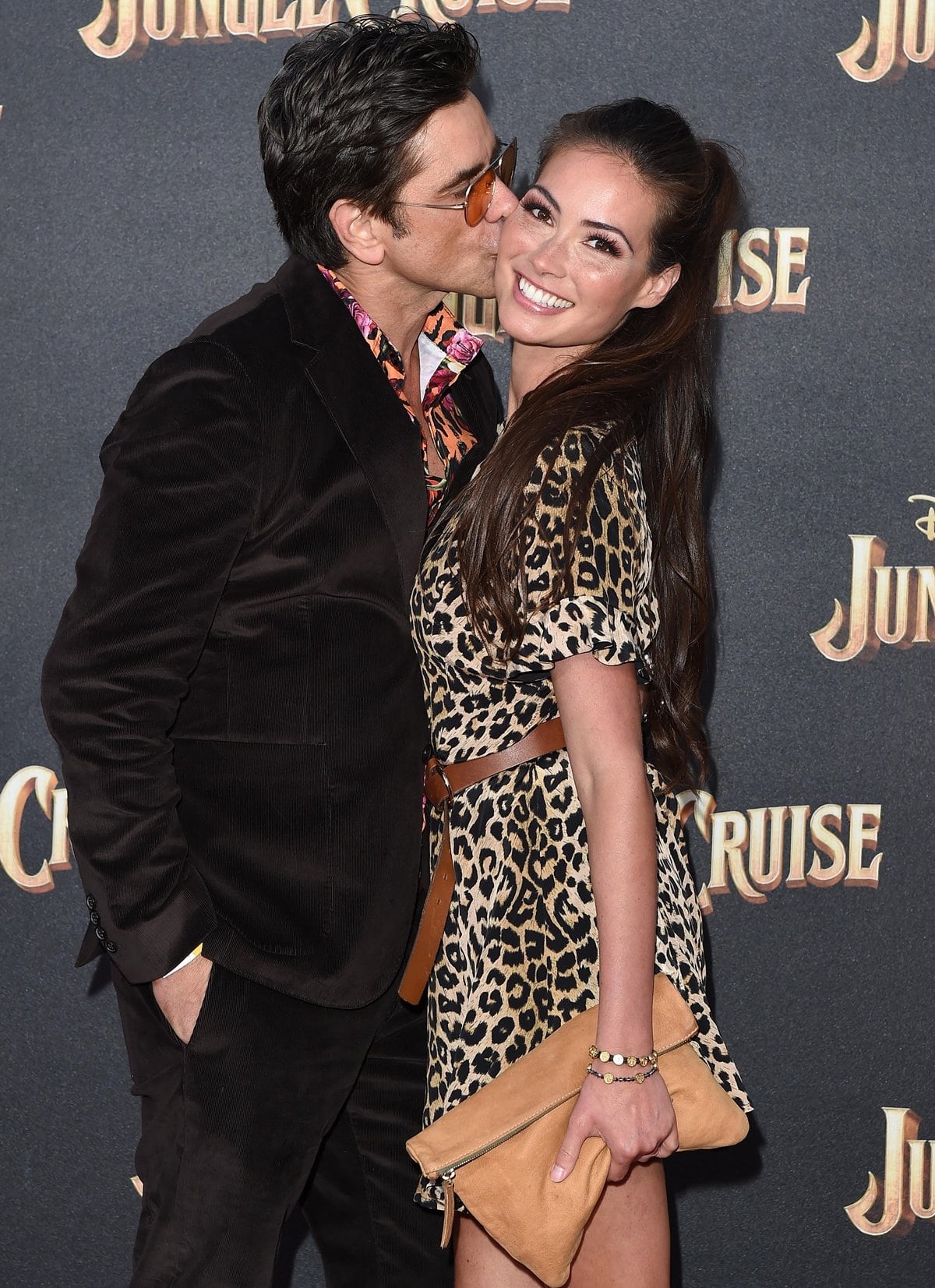 John Stamos kisses his much younger wife Caitlin McHugh at Disney's "Jungle Cruise" Premiere at Disneyland on July 24, 2021, in Anaheim, California (Credit: MEGA / WENN)
The couple met for the first time on the set of Law & Order: SVU — the show's tagline of "sexually-based offenses are considered especially heinous" doesn't make the show seem like the most romantic place for a meet-cute — in 2015.
Even better, Stamos and McHugh's on-screen characters had a weird relationship, which he described to People: "I played a guy who was so egotistical that he thought he should spread his progeny, so he had, like, 60 kids or something. He was poking holes in condoms and stuff. And Caitlin, ironically, was one of the girls that I was trying to fool and have a baby with."
John Stamos and Caitlin McHugh have a 23 year age difference between them (Credit: WENN / Avalon)
Thankfully, Stamos is nothing like his creepy Law & Order: SVU character. He and McHugh began dating and married in 2018, welcoming their first child together later that same year.
4. Justin Timberlake and Jessica Biel
You would be a fool to think that Mr. "SexyBack" himself isn't sexy — but luckily, equally sexy Jessica Biel is no fool.
42-year-old Justin Timberlake has been beloved since his days in the hit boy band, NSYNC, and his chart-topping tracks have been circulating for almost thirty years.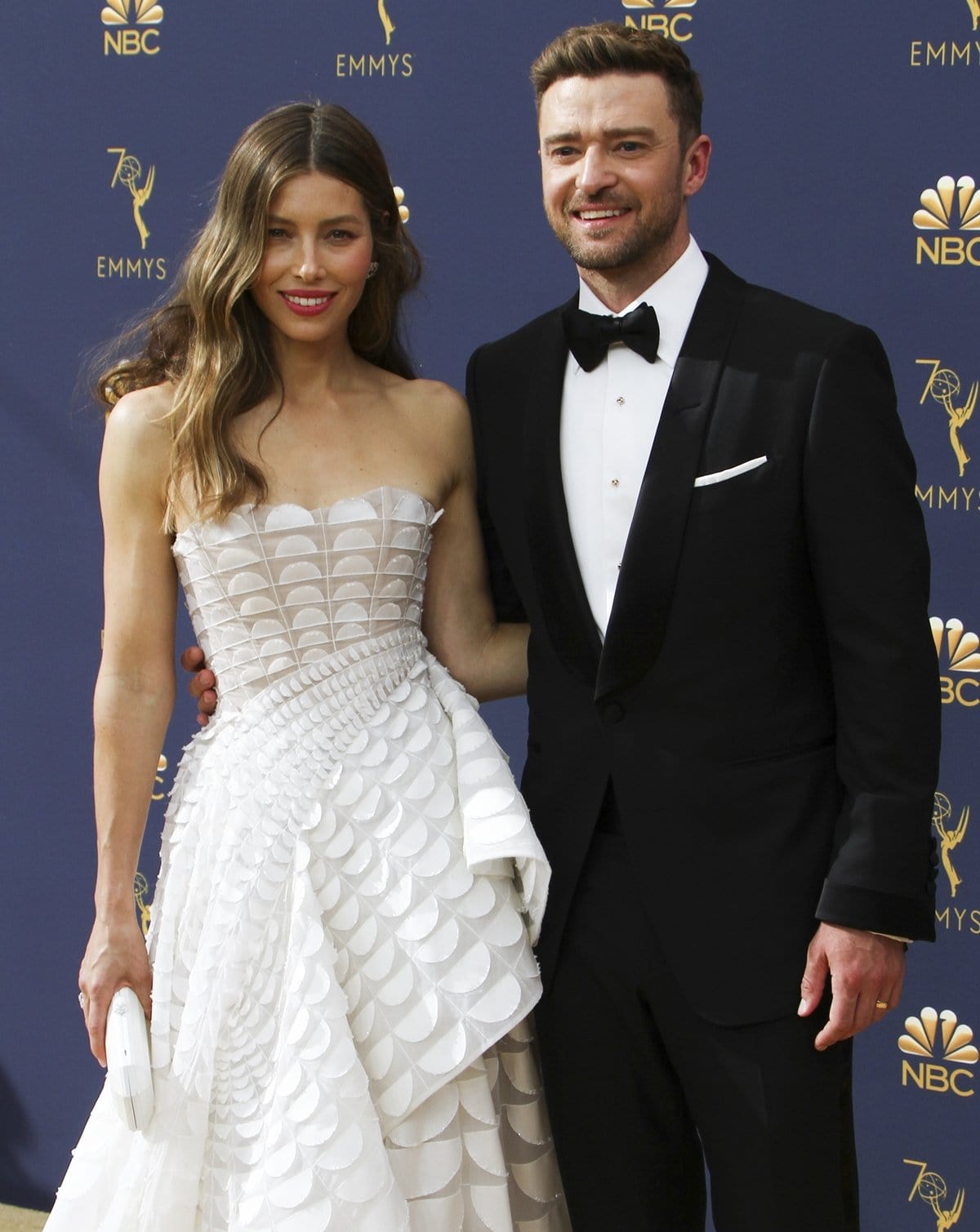 Jessica Biel and Justin Timberlake first met at a birthday party in 2007 (Credit: Apega / WENN)
His wife, 41-year-old actress Jessica Biel, is well known for her many roles, including those in titles such as The Texas Chainsaw Massacre, The Rules of Attraction, The Illusionist, and The A-Team.
Timberlake and Biel first met in early 2007, when the actress attended a birthday party that the musician threw for one of his friends. Timberlake asked a friend to play wingman, who cinched the actress' phone number for his pal.
The pair chatted on the phone, but apparently, Biel wasn't too keen at first, as Timberlake said, "I had to be pretty persistent in order to get her to say yes, but I have a fair amount of tenacity and if I want something I stick to it. And, in the end, she agreed."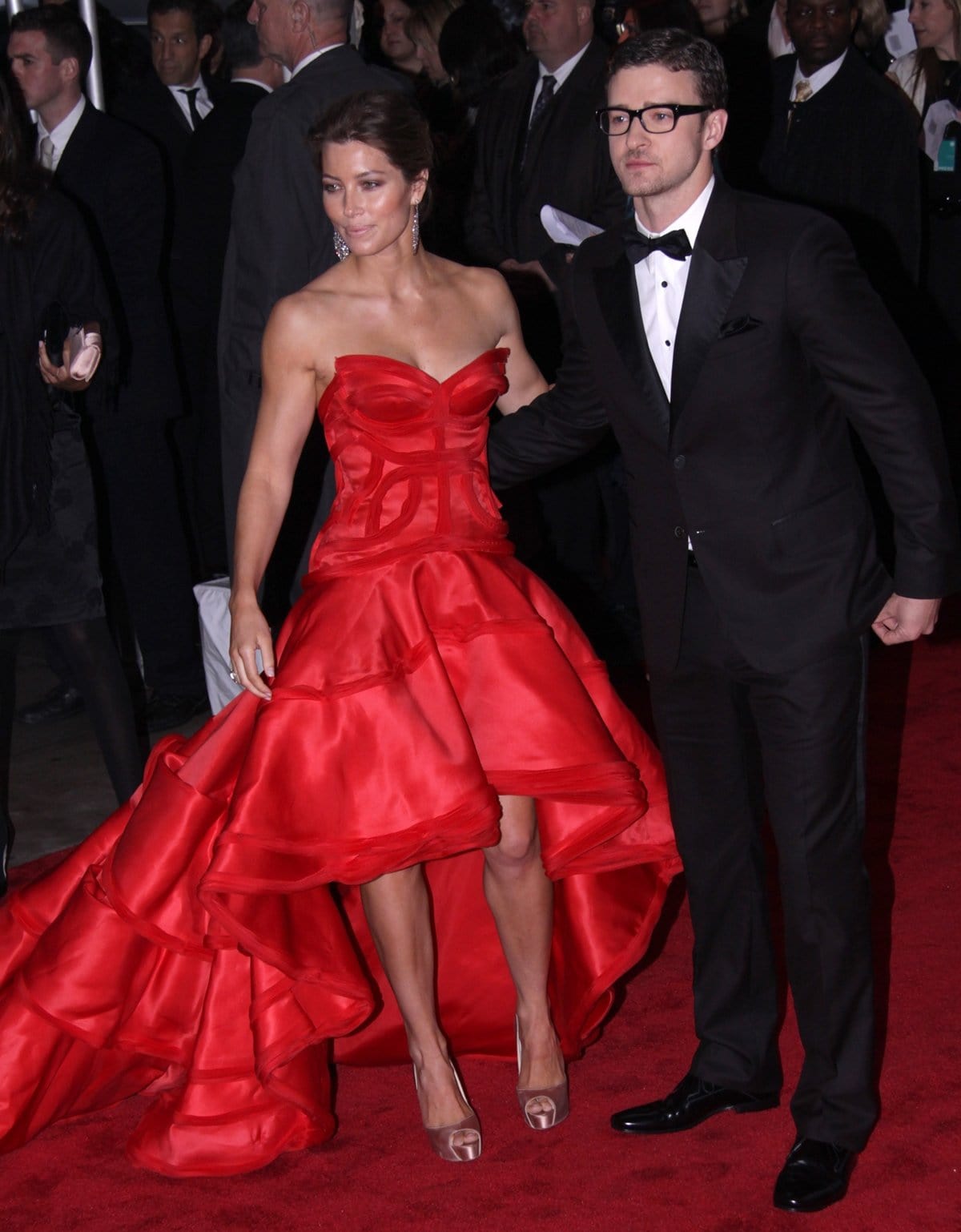 Justin Timberlake and Jessica Biel got engaged in 2011 and married in October 2012 at the Borgo Egnazia luxury resort and spa in Fasano, Italy (Credit: Flashpoint / WENN)
Luckily, Jessica Biel warmed up to him, and she eventually married Justin Timberlake in Italy on October 19, 2012. Now, the pair have two sons together — Silas and Phineas — and are still going strong as a family.
5. Ryan Gosling and Eva Mendes
Ryan Gosling stole hearts across the world after his role as Noah in The Notebook, cinching spots on numerous "hot" and "sexy" lists for years.
Funnily enough, the story behind Gosling's iconic role in the film was a shock to many fans — not many other actors wanted the role because the character was what Vanity Fair describes as "essentially a piece of driftwood that existed solely for Rachel McAdams' Allie Hamilton to climb upon whenever she felt like it."
Ryan Gosling and Eva Mendes met on the set of their movie The Place Beyond the Pines in 2011 (Credit: Dominic Chan / WENN)
Additionally, Gosling was specifically cast in the role because the director, Nick Cassavetes, thought that Gosling looked "vaguely insane" instead of a cut-and-dry heartthrob.
And yet, Ryan Gosling is still good-looking. Now, the 42-year-old actor has no need for a new romance, as he is married to the gorgeous Eva Mendes, who acted alongside her husband in The Place Beyond the Pines.
The 49-year-old actress, who is almost seven years older than him, has appeared in numerous other titles, such as We Own the Night, The Other Guys, and Girl in Progress.
Eva Mendes is much shorter and almost 7 years older than her husband Ryan Gosling (Credit: Ian Wilson / WENN)
The pair first met while filming The Place Beyond the Pines, as their characters manage to find love with one another despite all of their misfortunes.
They have been together since then, going strong since 2011, and have two children together. Both Gosling and Mendes are notoriously private about their personal life, as Mendes told Us Weekly that you won't see her beaux or kids on her Instagram, saying, "As far as Ryan, I'll only post flashbacks of things that are already out there, like pictures from movies we did or stuff like that. My man and kids are private."
6. Megan Fox and Machine Gun Kelly
We know, we know. The inclusion of this couple on this list may be a bit controversial, given their weird and unsettling public appearances, like that GQ article where they tattooed one another, but there is no doubt that the pair is easy on the eyes.
37-year-old Megan Fox is a bonafide sex symbol, famous for her iconic roles in titles such as Jennifer's Body and the Transformers franchise.
Megan Fox and Machine Gun Kelly met on the set of the indie thriller Midnight In The Switchgrass (Credit: MEGA / WENN)
On the other hand, Machine Gun Kelly (the 33-year-old's real name is Colson Baker) is a successful musician in his own right, but he isn't attractive in a conventional way.
Rather, it is more of a tattooed, disheveled, looks-like-he-hasn't-slept-in-weeks kind of way. It may not rock everybody's boat, but social media posts show that people still love him.
The odd couple first met in 2020, while filming the indie movie Midnight in the Sweetgrass in Puerto Rico. The attraction was immediately evident between the two, and when they returned to Los Angeles after filming was postponed, Megan Fox and MGK were inseparable.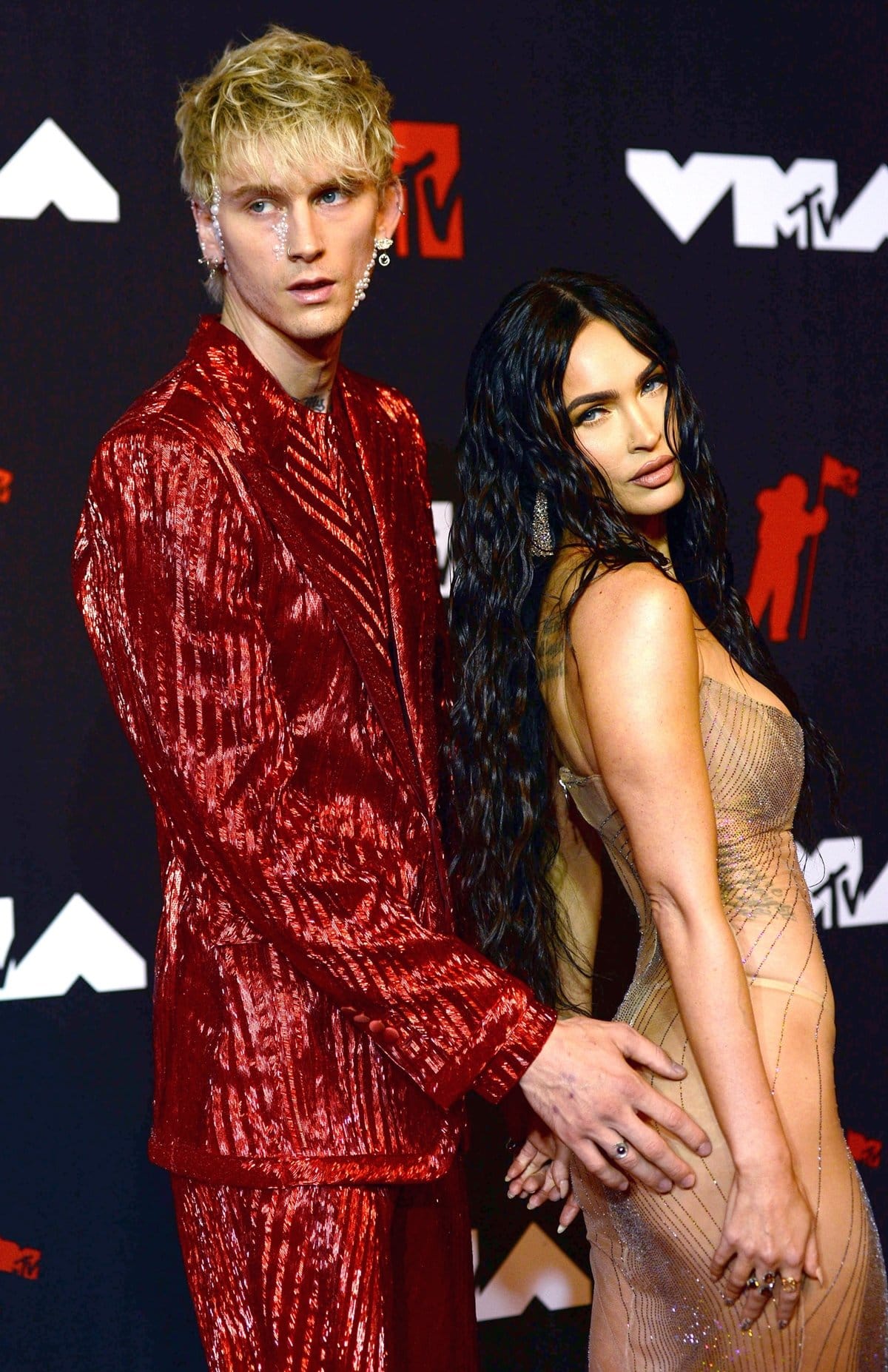 Megan Fox and Machine Gun Kelly began dating in May 2020 and announced their engagement in January 2022 (Credit: Avalon / WENN)
Now, the couple can be seen gracing the cover of nearly every tabloid, and have recently gotten engaged. Fox wears a ring that features strange, thorn mechanisms that are designed to be painful if she attempts to take it off. Weird, sure — good for them.
The sizzling duo went through a rough patch in their relationship, with breakup rumors swirling, but they have since reconciled and are now stronger than ever.
7. Blake Lively and Ryan Reynolds
One of the best things about Blake Lively and Ryan Reynolds' relationship is that they're not only gorgeous together, but they're also funny!
The pair can constantly be seen quipping back and forth on social media, sharing their joy with the world.
You may know 35-year-old actress Blake Lively best from her iconic role as Serena van der Woodsen in Gossip Girl, but nowadays the actress has been performing in more mature titles, such as The Age of Adaline, A Simple Favor, and the upcoming film adaptation It Ends With Us.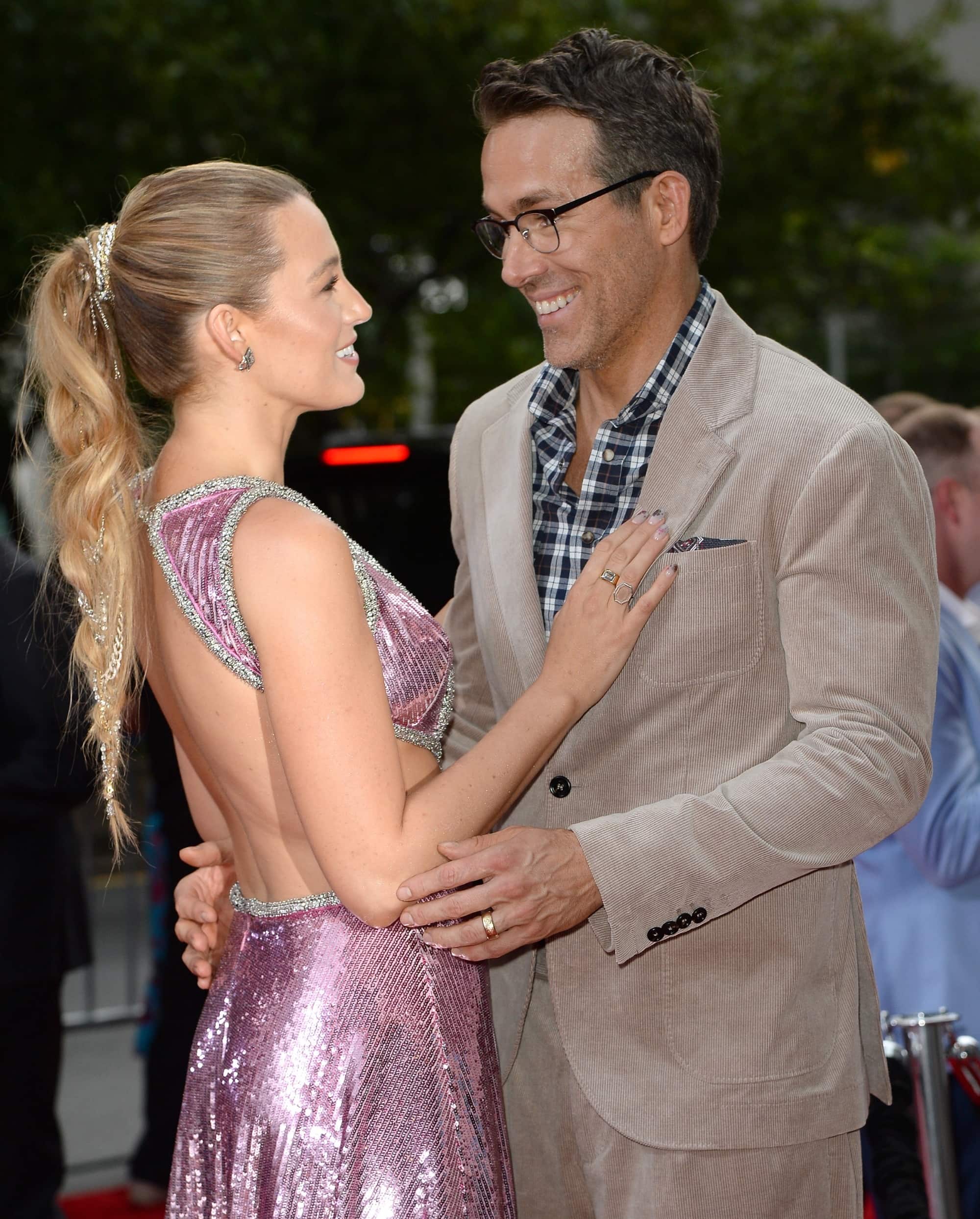 Blake Lively met her 11 years older husband Ryan Reynolds in 2010 on the set of their film Green Lantern (Credit: Avalon / WENN)
On the other hand, her 46-year-old husband found his niche in action-packed comedies, such as Green Lantern, Deadpool, and even serving as the voice of the adorable Pikachu in Pokémon: Detective Pikachu.
Blake Lively and Ryan Reynolds first met on the set of the box office failure, Green Lantern, which Reynolds describes to Harper's Bazaar, saying, "I met Blake on the darkest crease in the anus of the universe called Green Lantern. We were friends and buddies, and then about a year and a half later, we actually went on a double date but we were dating separate people."
Blake Lively and Ryan Reynolds began dating in 2011 and married in 2012 (Credit: WENN)
Luckily, the couple realized they were meant for one another and were married in 2012. Now, Lively and Reynolds have been together for over 10 years and have four children, keeping the name and gender of their latest addition a secret from the public.
8. Zoë Kravitz and Channing Tatum
Though low-profile, Zoë Kravitz and Channing Tatum are the hottest new(ish) couple to come out of the last few years.
34-year-old Kravitz is Hollywood royalty, the daughter of Lenny Kravitz and Lisa Bonet, and her relatively short-acting career (so far) includes notable titles such as Fantastic Beasts and Where to Find Them, Big Little Lies, and High Fidelity — not to mention the fact that she is drop-dead gorgeous.
View this post on Instagram
On the other hand, 43-year-old beefster Channing Tatum has been in titles such as 21 Jump Street, Hail, Caesar!, and The Hateful Eight.
View this post on Instagram
Allegedly, the couple first met in 2017 when they both had voiceover roles in The Lego Batman Movie.
It wasn't until years later, in 2021, when Kravitz and Tatum were confirmed to be dating. Since then, they have worked together on a number of projects and can be seen chatting via social media with Kravitz's dad, Lenny.
9. Katy Perry and Orlando Bloom
If there are two things we love, it's earworm pop songs and Lord of the Rings. Luckily, we have a couple that represents those two interests perfectly: Katy Perry and Orlando Bloom!
The 38-year-old pop star gained worldwide acclaim in 2008 after her first Billboard Hot 100 song, "I Kissed a Girl" and since then has been churning out hit after hit.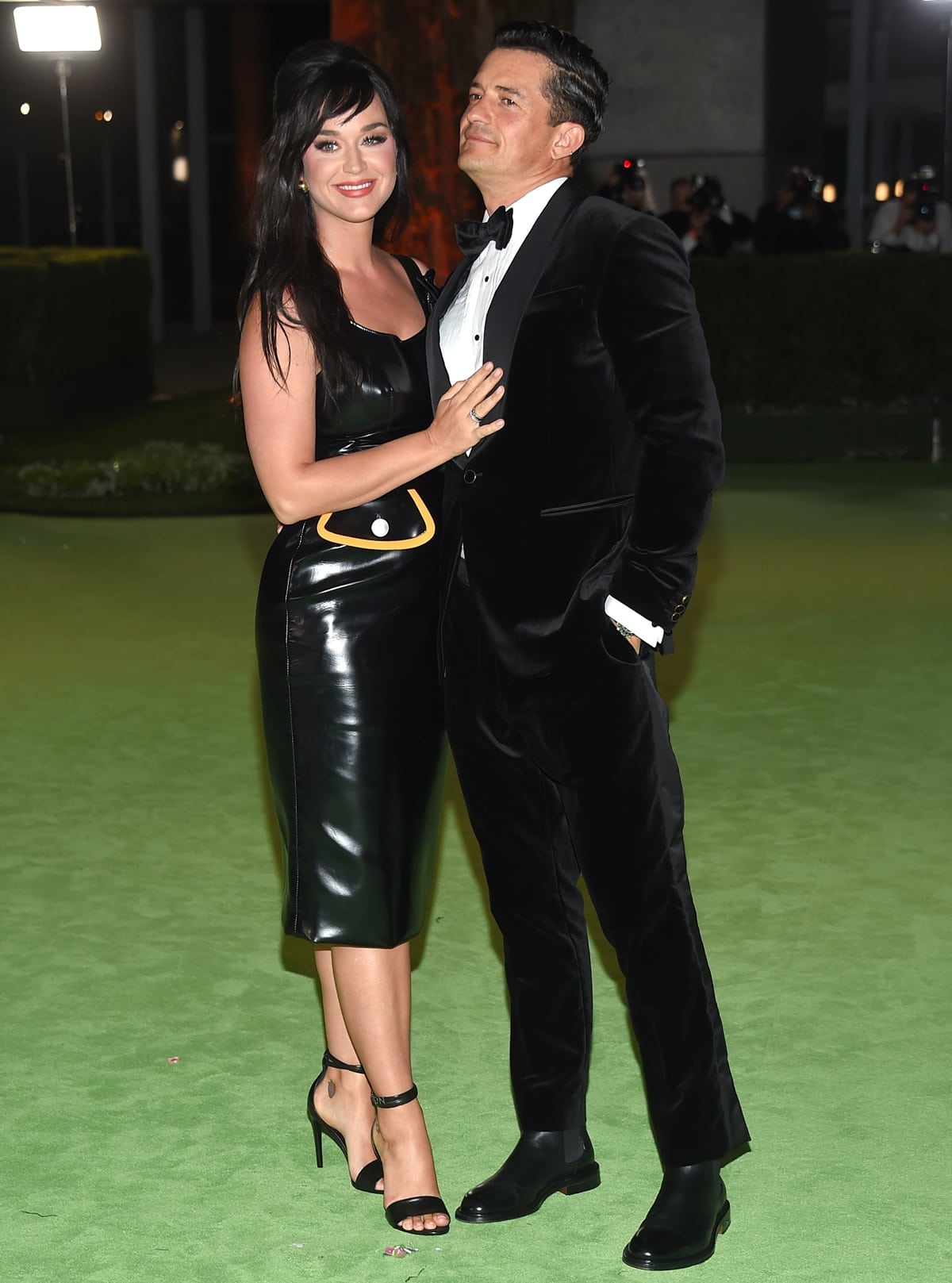 Katy Perry and Orlando Bloom started dating after meeting at a Golden Globes after-party in 2016 (Credit: MEGA / WENN)
On the other hand, Orlando Bloom found fame early, after being cast as the elvish heartthrob Legolas in The Lord of The Rings, a role which he reprised for the remainder of the franchise.
Nowadays, you can see Bloom in Amazon's Carnival Row, which the actor has received rave critical reviews for.
Katy Perry have Orlando Bloom have both been married once before (Credit: WENN / Avalon)
The pair first met at a Golden Globes afterparty in 2016, where sparks flew. They have been together ever since (despite a short break in 2017) and got engaged in 2019. They welcomed their daughter, Daisy Dove, in August 2020.