Her red carpet style is anything but boring. And on Thursday, Florence Pugh brought her signature daring sense of style to the London premiere of her latest movie, Oppenheimer.
Arriving at the Odeon Luxe in Leicester Square, the 27-year-old actress stole the spotlight from her co-stars Cillian Murphy, Emily Blunt, and Matt Damon by donning a striking burnt orange gown amid a sea of black outfits.
Florence, who's known for taking fashion risks, commissioned stylist Rebecca Corbin-Murray to create her breathtaking red-carpet look.
Florence Pugh stands out in a burnt orange Valentino gown at the Oppenheimer London premiere on July 13, 2023 (Credit: Abaca Press / INSTARimages)
Zach Braff's ex made a sartorial statement in a Valentino Spring 2023 Couture gown that took plunging necklines to the extreme. Her decolletage and side boobs were front and center in the bold ensemble that had a halter-style ruched bodice, an open back, and cutouts around the waist.
The bottom part of the gown was a puffy floor-sweeping skirt with a long, dramatic train that hid her footwear. She most likely wore heels to boost her 5'3" height.
Pugh left her neck bare to draw attention to her dress while adding a splash of sparkle with multiple earrings by Maria Tash, including a $295 Pearl Drape Threaded Stud Earring, a $430 4.5mm Diamond Star Threaded Stud Earring, and a $695 5.5mm Diamond Star Threaded Stud Earring.
She also wore a septum ring and a $19,500 Tiffany & Co. Schlumberger Twenty Stone Hoop Earrings for extra glitz.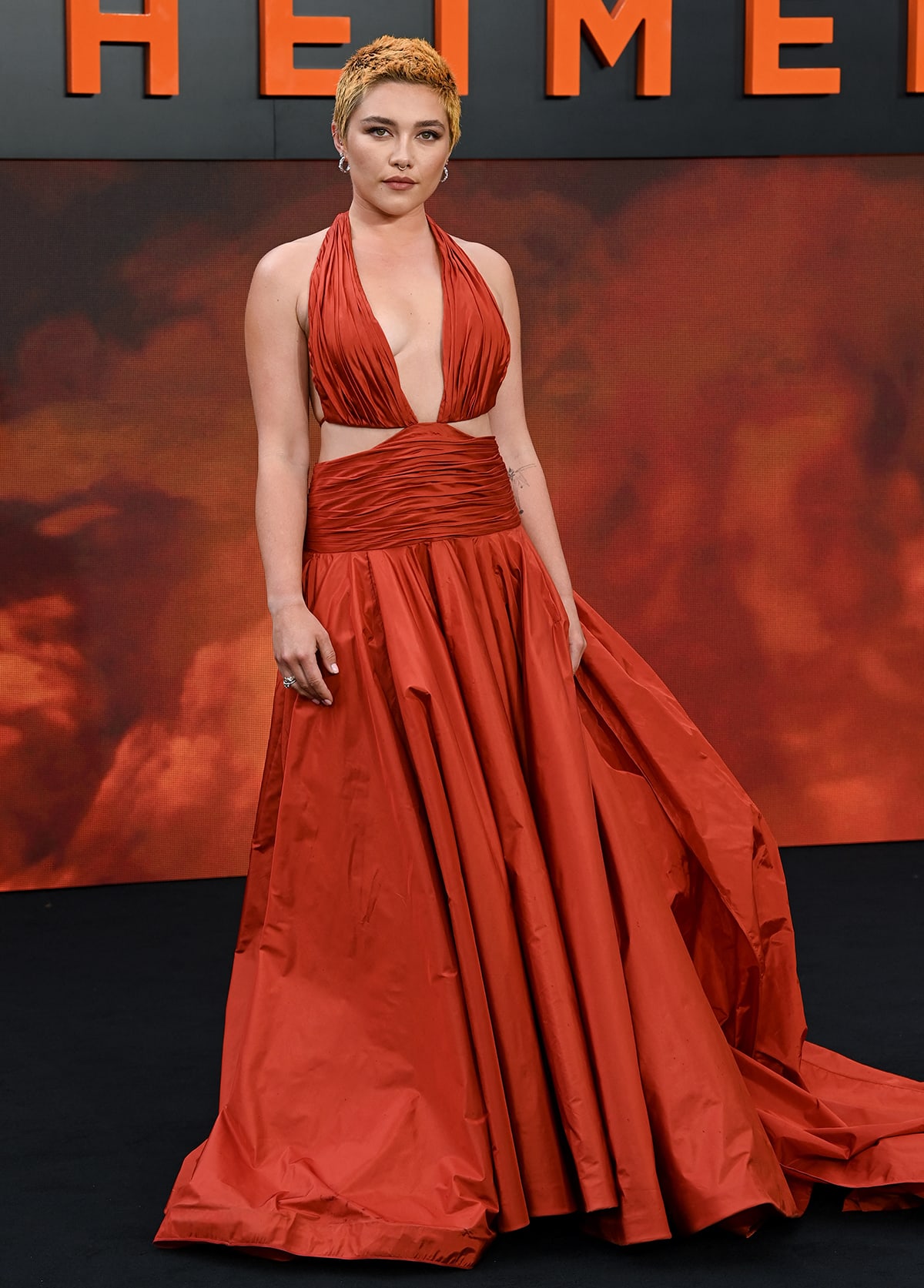 Florence Pugh's gown features an extremely deep plunging neckline, waist cutouts, and a voluminous skirt with a long, floor-sweeping train (Credit: Abaca Press / INSTARimages)
Fans were surprised when Pugh showed up with a freshly-dyed two-toned orange buzz cut, created by Peter Lux to match her dress. Alex Babsky, on the other hand, countered the fiery appearance with "more dull colours" and "deadened shades" for her makeup.
"My FAVOURITE aspect of working in a team for a red carpet appearance is trying to find a makeup solution that harmoniously resolves the other elements of the look – the outfit, the hair, the accessories etc. – into a worthy red carpet "moment" for the client," Babsky said in an Instagram post.
"In yesterday's instance, I knew Florence's @maisonvalentino gown would be a deep, rich burnt orange & that @peterluxhair would be turning her hair a spectacular vibrant gold, so rather than compete with these sumptuous colours, I was keen to ground Florence's look with a makeup using much more "dull" colours than we usually use. As off as it sounds, I LOVED finding more "deadened" shades – a cool, ash, mushroom on the eyes & even a slightly grey-toned flesh lip – that would temper the rest of her look & allow the colours of her outfit & hair to really sing."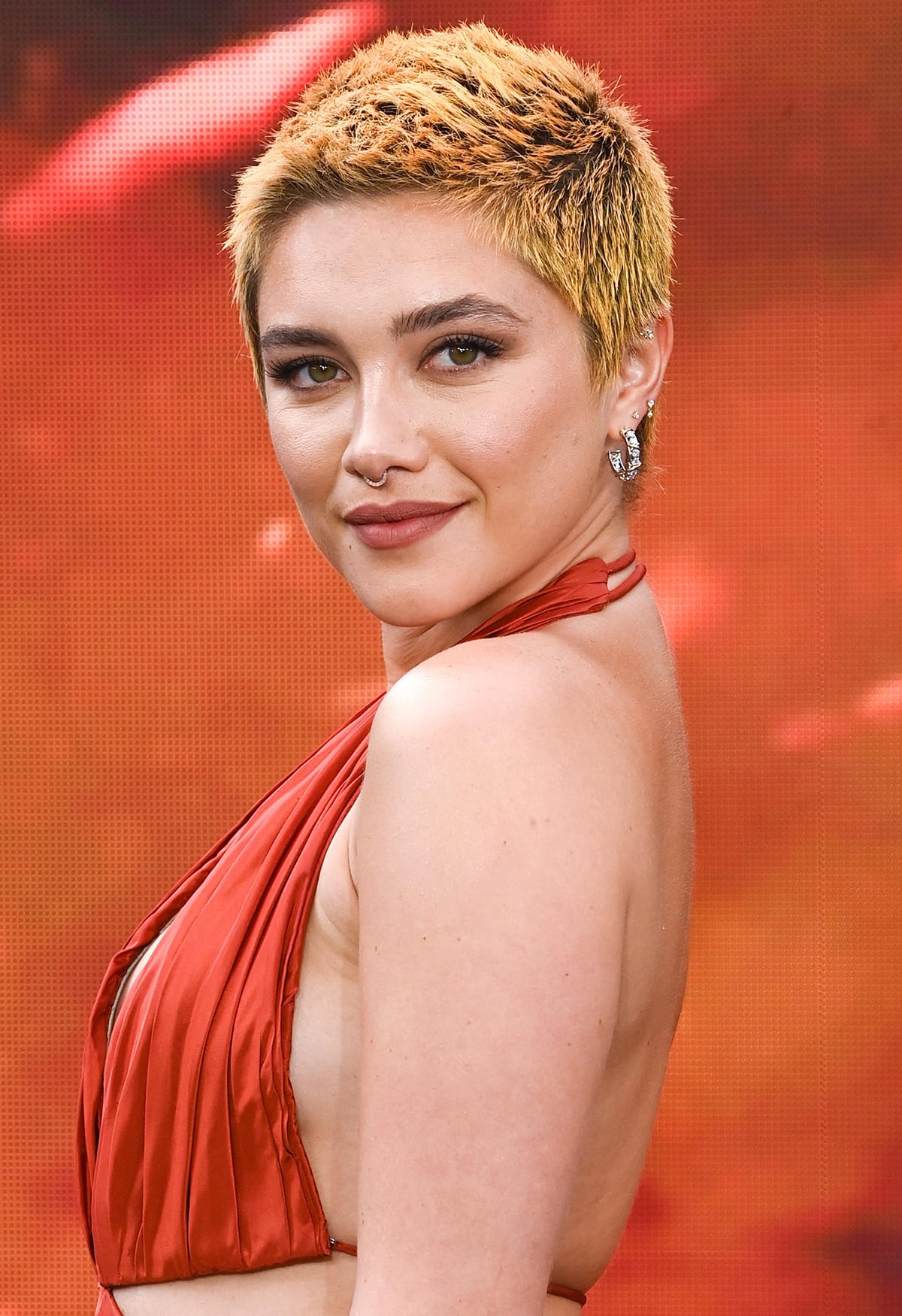 Florence Pugh dyes her edgy buzz cut two-toned orange and wears a warm makeup palette to match her gown (Credit: PA Images / INSTARimages)
In contrast to her blazing orange premiere look, Florence opted for a cool blue outfit for the Oppenheimer photocall held at Trafalgar Square the day before.
Looking hot as usual, the Don't Worry Darling star went braless in a chic royal blue mini dress by Moschino Jeans, available for $695 on Farfetch.
The stretch-cotton dress-jacket hybrid had a plunging neckline with notched lapels, a thigh-skimming hem, and long, wide sleeves to balance it out. It also featured belt loops, two front patch pockets, and contrast white stitching for a chic finish.
Florence Pugh keeps it cool in royal blue Moschino Jeans mini dress and Amina Muaddi white pumps at the London photocall of Oppenheimer at Trafalgar Square on July 12, 2023 (Credit: PA Images / INSTARimages)
She kept the look fresh by pairing her outfit with the Amina Muaddi "Camelia" Pumps in clean white leather with light-catching crystal-embellished hardware on the uppers. These high-heeled pumps retail for $1,013 at Mytheresa.
Florence enhanced her ensemble with a few bling, accessorizing with the same Maria Tash earrings along with a pair of $3,500 Tiffany & Co. Knot Earrings.
She also wore a $38,000 Tiffany Knot Double Row Necklace and adorned her wrists with two gold Knot Double Row Hinged Bangles, ranging from $8,500 to $25,500.
For the photocall, she gave her buzz cut a pink color to match her light pink makeup, which included pink eyeshadow and lip gloss.
Florence Pugh debuts a pink buzz cut hairstyle that matches her light pink feminine makeup (Credit: PA Images / INSTARimages)
Who does Florence Pugh play in Oppenheimer?
In the biographical drama Oppenheimer, Florence Pugh plays Jean Tatlock, a psychiatrist, physician, and member of the Communist Party of the United States of America.
J. Robert Oppenheimer (Cillian Murphy), the "father of the atomic bomb," had a romantic relationship with Tatlock before and during his marriage to Kitty (Emily Blunt). Oppenheimer was also introduced to left-wing politics by Tatlock.
Florence Pugh, who plays Jean Tatlock in Oppenheimer, is 20 years younger than Cillian Murphy, who plays J. Robert Oppenheimer. However, in real life, Tatlock was only 10 years younger than Oppenheimer.
In Oppenheimer, Florence Pugh portrays Jean Tatlock, a character who is 20 years younger than J. Robert Oppenheimer, played by Cillian Murphy, whereas in real life, the age difference between Tatlock and Oppenheimer was only 10 years (Credit: Universal Pictures)