In late March 2021, a Los Angeles court rejected Nick Loeb's final objections regarding the ongoing court battle with his ex-fiancée Sofia Vergara over rights to frozen pre-embryos they created in California while together.
The lengthy legal battle started shortly after they ended their engagement in 2014. The American businessman with a net worth of $10 million sued Sofia in 2015 and requested full custody of the fertilized eggs so that he could have them implanted in a surrogate.
Nick Loeb and Sofía Vergara ended their engagement in May 2014 after having undergone vitro fertilization one year earlier (Credit: Michael Carpenter / WENN)
"Not that anyone should care, but in order to not give the press the chance to invent crazy and hurtful drama, I prefer to tell my fans personally that Nick and I have decided to be apart," the Colombian actress tweeted about their breakup.
"We have been having too many problems with figuring out how to spend time together and because of my work and now his, it's been getting worse and worse. Not fun anymore. We are still very close but we believe it's the best thing for us right now," Vergara added.
Philosophical Perspectives on Pre-Embryos
"Do you want to have a baby or do you want to have her baby?" Egyptian-American broadcaster Hoda Kotb asked Sofía Vergara's ex on the Today show in May 2015.
"It has nothing to do with a baby or her baby…Lives were created," Nick Loeb responded.
"This has to do with the two lives that we've already created, that already exist, that are two female embryos," he added.
"In my view, keeping them frozen forever is tantamount to killing them," he wrote about their embryos in The New York Times.
"A woman is entitled to bring a pregnancy to term even if the man objects," he stated.
"Shouldn't a man who is willing to take on all parental responsibilities be similarly entitled to bring his embryos to term even if the woman objects?"
Height Difference Between Loeb and Vergara
Nick Loeb is significantly taller than Sofia Vergara. Nick Loeb is 6 feet 3 inches (1.91 meters), while Sofia Vergara stands at 5 feet 7 inches (170.2 centimeters).
This means Nick Loeb is approximately 8 inches (20.8 centimeters) taller than Sofia Vergara.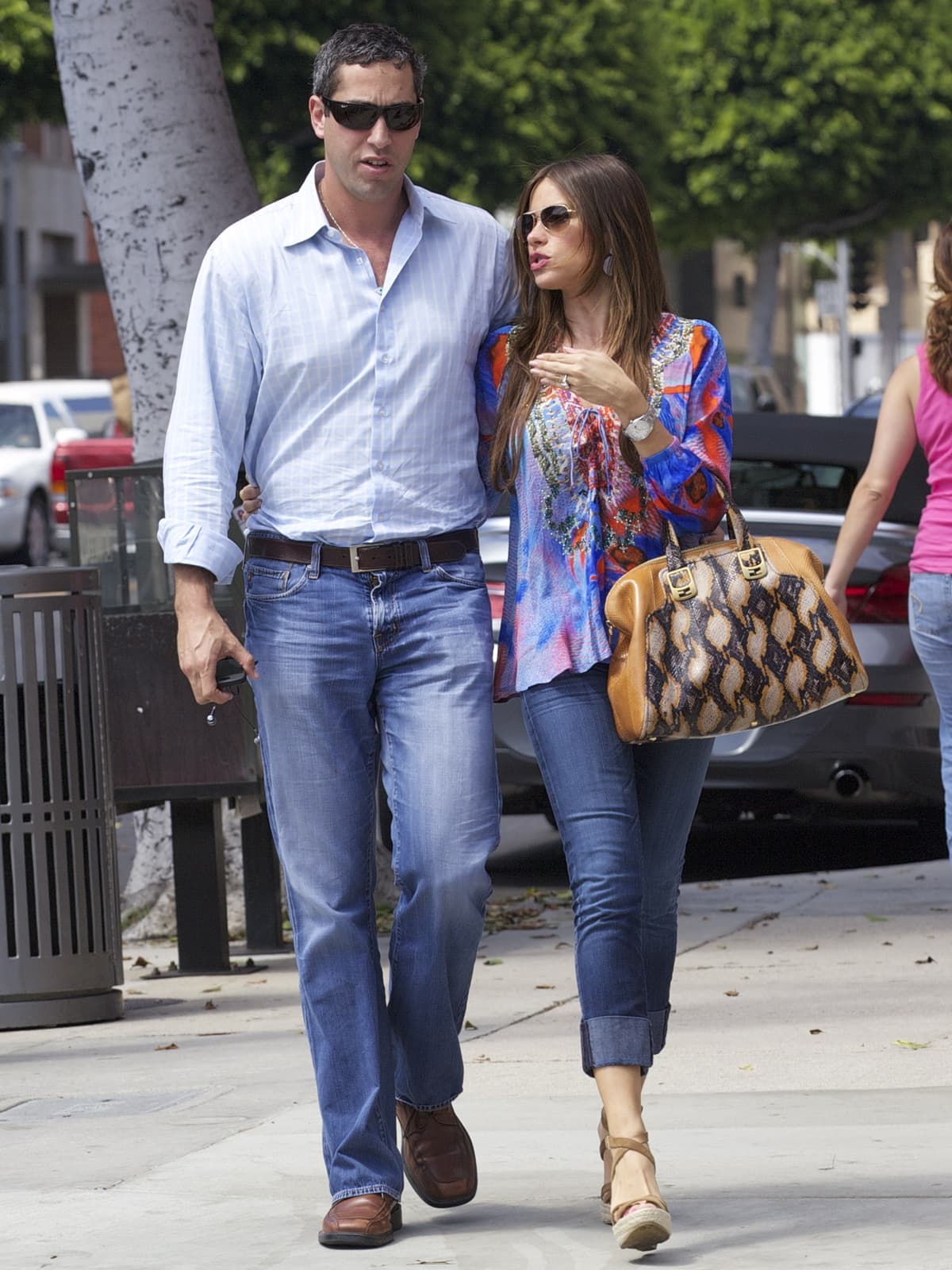 Sofia Vergara, standing at 5 feet 7 inches (170.2 centimeters), and her fiancé Nick Loeb, who measures 6 feet 3 inches (1.91 meters) in height, were seen out shopping together in Beverly Hills, California, on August 21, 2012 (Credit: Owen Beiny / WENN)
Creation of Frozen Pre-Embryos
Their frozen pre-embryos were created via IVF at the ART Reproductive Center in Beverly Hills in 2013. At the time, they both signed a document stipulating that both parties had to agree to do anything with the embryos.
Nick Loeb has argued that he was under "duress" when he signed the forms and that they had had an "oral agreement" allowing him to implant the embryos in a surrogate.
"I really want to make this, like, the last time I talk about it because I don't think it's fair," Sofia told ABC News in an interview.
Sofia Vergara and Nicholas Loeb arrive at the 2014 Vanity Fair Oscar Party Hosted By Graydon Carter on March 2, 2014, in West Hollywood, California (Credit: Brian To / WENN)
"I promote all my movies, all my work, but I don't like promoting my private life and I don't understand why this person…I don't want to allow this person to take more advantage of my career and try to promote himself and get press for this."
"It shouldn't be out there for people to give their opinion when there's nothing to talk about," Sofia emphasized. "There's papers signed. There is a court date. He shouldn't be creating something so ugly out of nothing."
In March 2021, a Los Angeles court ruled in favor of Sofia Vergara in her court case against Nick Loeb over custody rights to frozen pre-embryos (Credit: Nikki Nelson / WENN)
Loeb said in a statement on April 2, 2021, that "the judge was clearly influenced by Hollywood, which is a pattern I expose in my upcoming film Roe v. Wade on April 2. It's sad that Sofia, a devout Catholic, would intentionally create babies just to kill them."
Loeb's Film and Background
The son of John Langeloth Loeb Jr. and Meta Martindell Harrsen, he's believed to have a net worth of around $10 million.
Nick Loeb produced and starred in the 2020 American political-legal drama film "Roe v. Wade," which premiered at the VIFF Vienna Independent Film Festival in October 2020.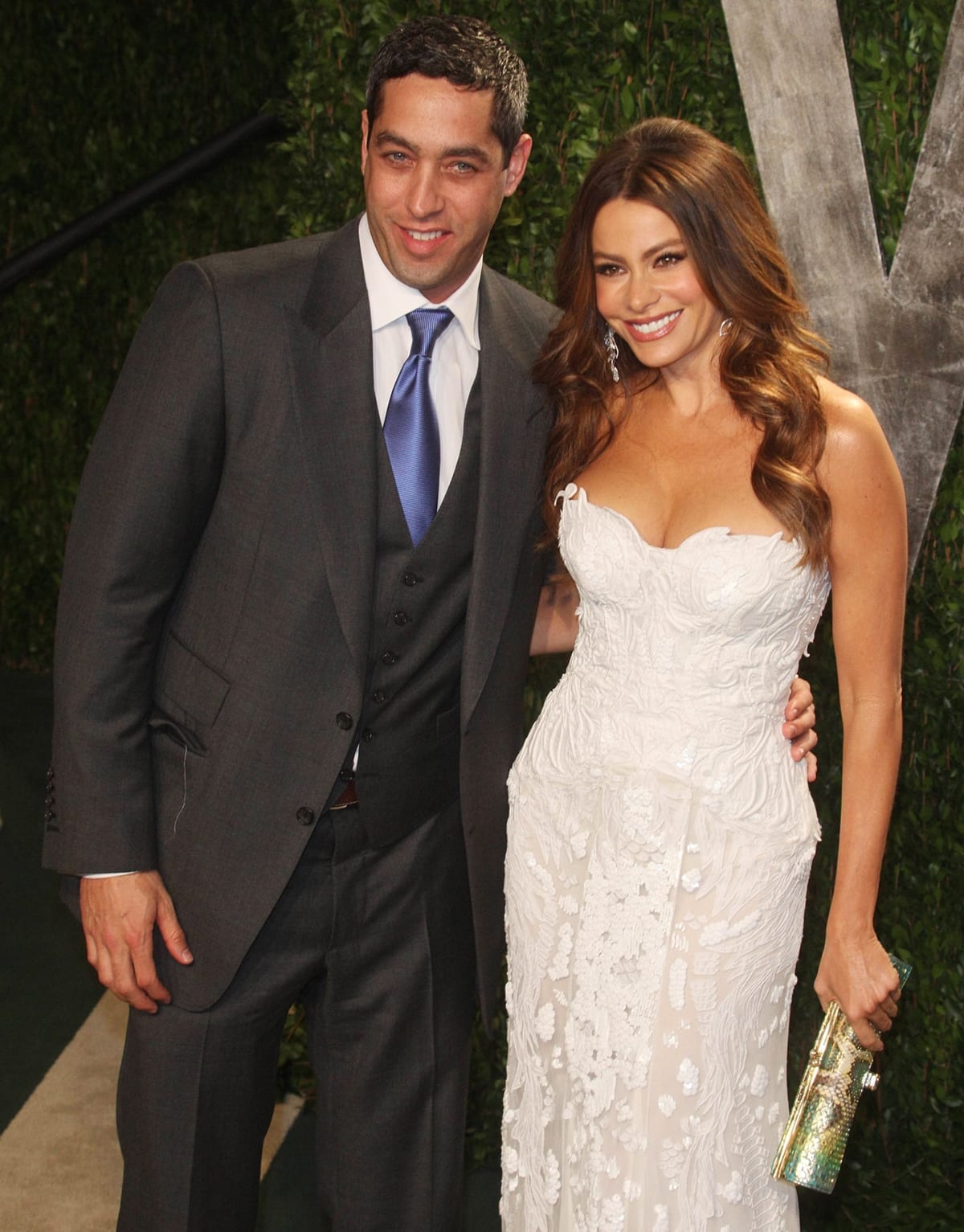 Nick Loeb and Sofia Vergara announced their engagement in 2012 after dating for two years (Credit: Ian Wilson / WENN)
Sofia Vergara Dazzles in Dazzling Crystal-Encrusted Louboutin Pumps
In June 2013, the Modern Family bombshell was at the "Discover Many Hopes" charity event in New York.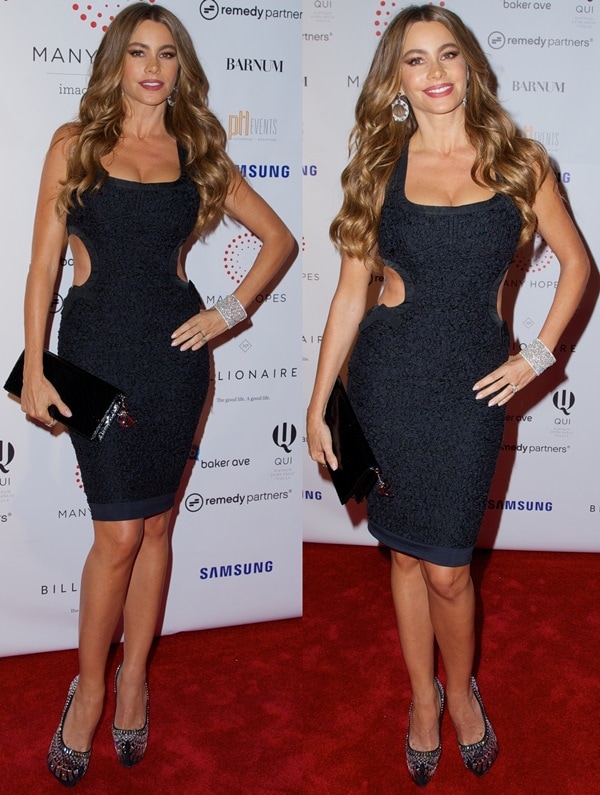 Sofia Vergara wearing a pair of crystal-encrusted pumps from Christian Louboutin for the "Discover Many Hopes" charity event in New York City on June 19, 2013 (Credit: Alberto Reyes / WENN)
The Modern Family actress sizzled in a textured, figure-hugging black dress with peek-a-boo cutouts on the sides.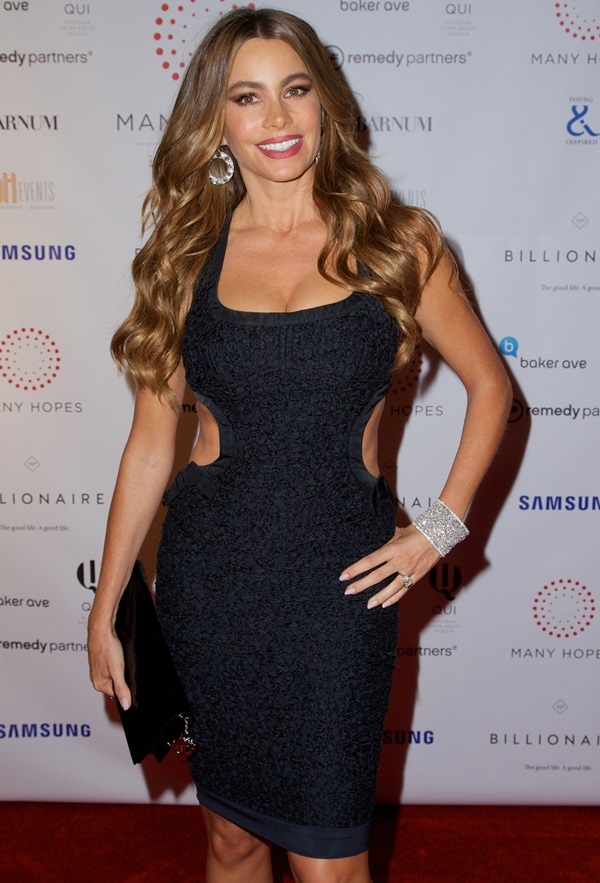 Sofia Vergara sizzled in a textured and figure-hugging black dress with peek-a-boo cutouts on the sides (Credit: Alberto Reyes / WENN)
She paired the dress with a classic clutch and sparkly extras that shimmered all the way to Timbuktu.
Sofia Vergara rocking Christian Louboutin Decora 160mm pumps (Credit: Alberto Reyes / WENN)
No, I'm serious. Her diamond-encrusted earrings and cuff bracelet were too hard to ignore. Even more dazzling were the super crystallized red-soled pumps she slipped into for the occasion.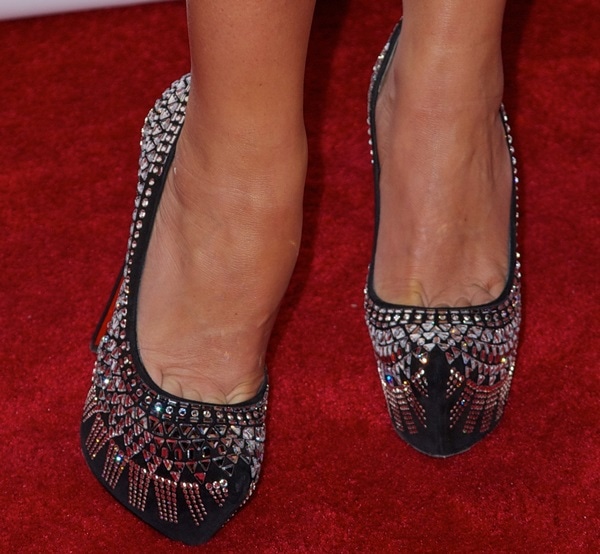 Sofia Vergara's shoes are decorated with geometric crystal beads all over (Credit: Alberto Reyes / WENN)
Those are the Christian Louboutin Decora 160mm pumps, a pair we have featured quite a number of times here on Your Next Shoes. We have seen them worn by Christian Aguilera, Nicki Minaj, and Serena Williams.
They're made of suede leather and decorated with geometric crystal beads all over. They are also seriously sky-high (the heels are 6.25 inches tall!).
The platforms have a thickness of approximately 1.75 inches, though I'm uncertain if this will effectively alleviate the strain on your feet. With the added height of the steep heels, you might find yourself teetering a bit. Nevertheless, it's hard to deny their exquisite appearance, isn't it?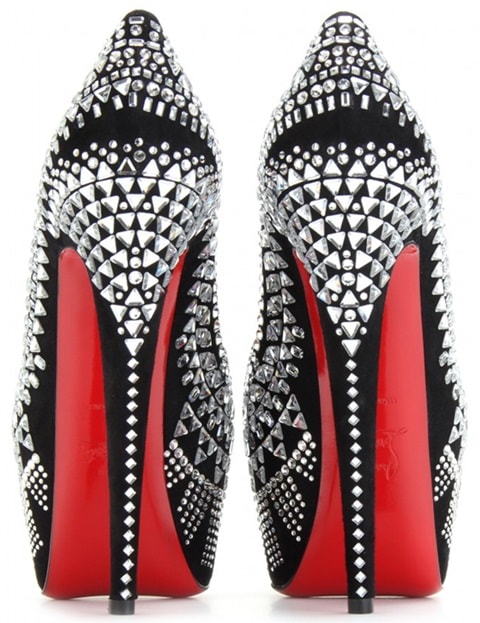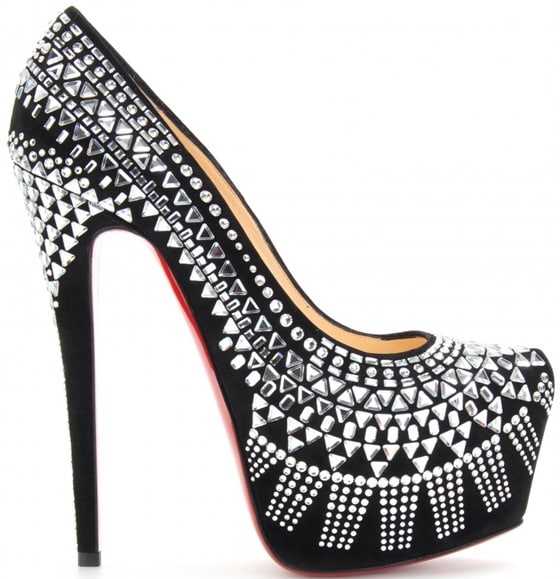 Christian Louboutin Decora 160mm Pumps in Silver, $3,895
The Decora pumps are from Christian Louboutin's Fall 2012 collection and retailed at a whopping $3,895. Sadly, they are sold out everywhere, so you will have to be a little more resourceful if you want to get your hands on them.
Honestly, though, I wouldn't really worry about not being able to find a pair. After all, Christian Louboutin always has something glitzy, glittery, and glam to offer each season, so why not look at what's available instead?
For example, these uber delicate strassed peep-toe pumps are ready for the taking at Nordstrom and Mytheresa. They're just as crystallized but not as high (ergo, more comfortable).
Christian Louboutin Sexy Strass Peep-Toe Pumps, $3,095
And if you want something even more showstopping, try the super-strassed and uber-dazzling Daffodile 160 in candy crystals.
They're much pricier at $6,395, but wearing them will probably feel orgasmic so the splurge might be worth it.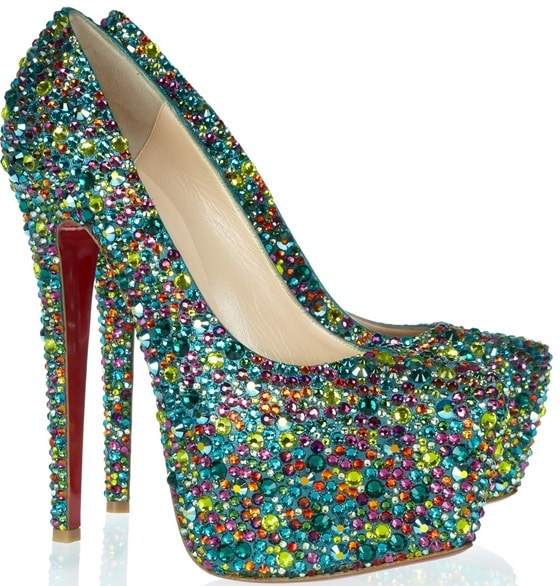 Christian Louboutin Strassed Daffodile Pumps in Multi, $6,395
For the ladies looking for a cheaper alternative, you may try the Two Lips Too Studlee pump. It looks almost like the Decora, only it's a lot cheaper.
Two Lips Too Studlee Pumps, $75
Another good option is these $370 pumps from ZiGi Black Label that are just as embellished.
ZiGi Black Label Brink Pumps, $370