In today's fashion world that's mostly connected through the web, you know that a certain new-in piece is a hit when it gets the attention of fashion bloggers.
And we all know that a lot of style-savvy women today get most of their fashion inspiration from these bloggers; that's what makes all the pieces that they feature so covet-worthy.
One bag that has been featured by some of the top fashion bloggers is the Samudra pouch. It seems like this is one of their favorite summer bags. If you check out the photos below, you'll know why.
Marta Pozzan styled her bag with spiral print straight-leg slim-fit pants by Miu Miu
How can they not love these printed pouch bags that feature gorgeous summer-inspired prints? Just looking at these canvas pouches easily gives you the light, airy, and breezy feel of summer. Don't you agree?
Soraya Bakhtiar, whose blog is no longer online, shows off her favorite Samudra pouch
We're featuring three bloggers below who featured their own favorite Samudra pouch bags and styled them according to their own signature aesthetic.
A sunny ocean-side scene prints Jessica Stein's resort-ready Samudra pouch. Her blog is no longer available online.
Aside from the gorgeous summer-inspired prints that are featured on these pouch bags, probably the best part is the fact that they're totally affordable as well!
We've chosen a couple of prints featuring the beach and palm trees that would no doubt make you want to transport yourself immediately to the nearest beach. Check out these must-have summer bags below:
Samudra "Dream Wave" Pouch, $68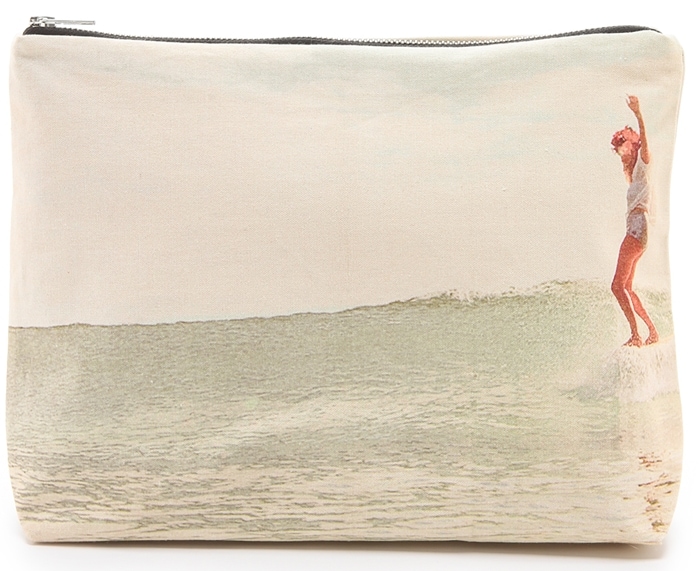 Samudra "Maili" Pouch, $65
Samudra "Rocky Point" Pouch, $65
Samudra "Pupukea" Pouch, $65
Samudra "Sunset Beach" Pouch, $65