Most celebrities have dabbled in plastic surgery, although many aren't as open about it as Cardi B.
The rapper, born Belcalis Marlenis Almanzar but known as Cardi B, is an American songwriter, rapper, and actress.
Raised in the Bronx, her rise to fame was through social media. She quickly grew a large following for her Bronx accent, her humorous rants, and giving an insider look to her stripping career.
Cardi B has been open about getting liposuction and a breast augmentation (Credit: WENN / Brian To / FayesVision / Adriana M. Barraza / Judy Eddy / Avalon / Instar)
This also landed her a role on Love & Hip Hop: New York, where she appeared from 2015 to 2017.
Although relatively well-known at the time, she didn't gain international success until she released Invasion of Privacy in 2018. It quickly earned the number one spot on Billboard 200 and broke several records.
Despite being an award-winning rapper, Cardi B is still just as active on social media. She is notorious for her transparency, authenticity, and speaking of her mind.
It's what so many people love about it. So, it's really no surprise that she would be just as transparent about her plastic surgery journey.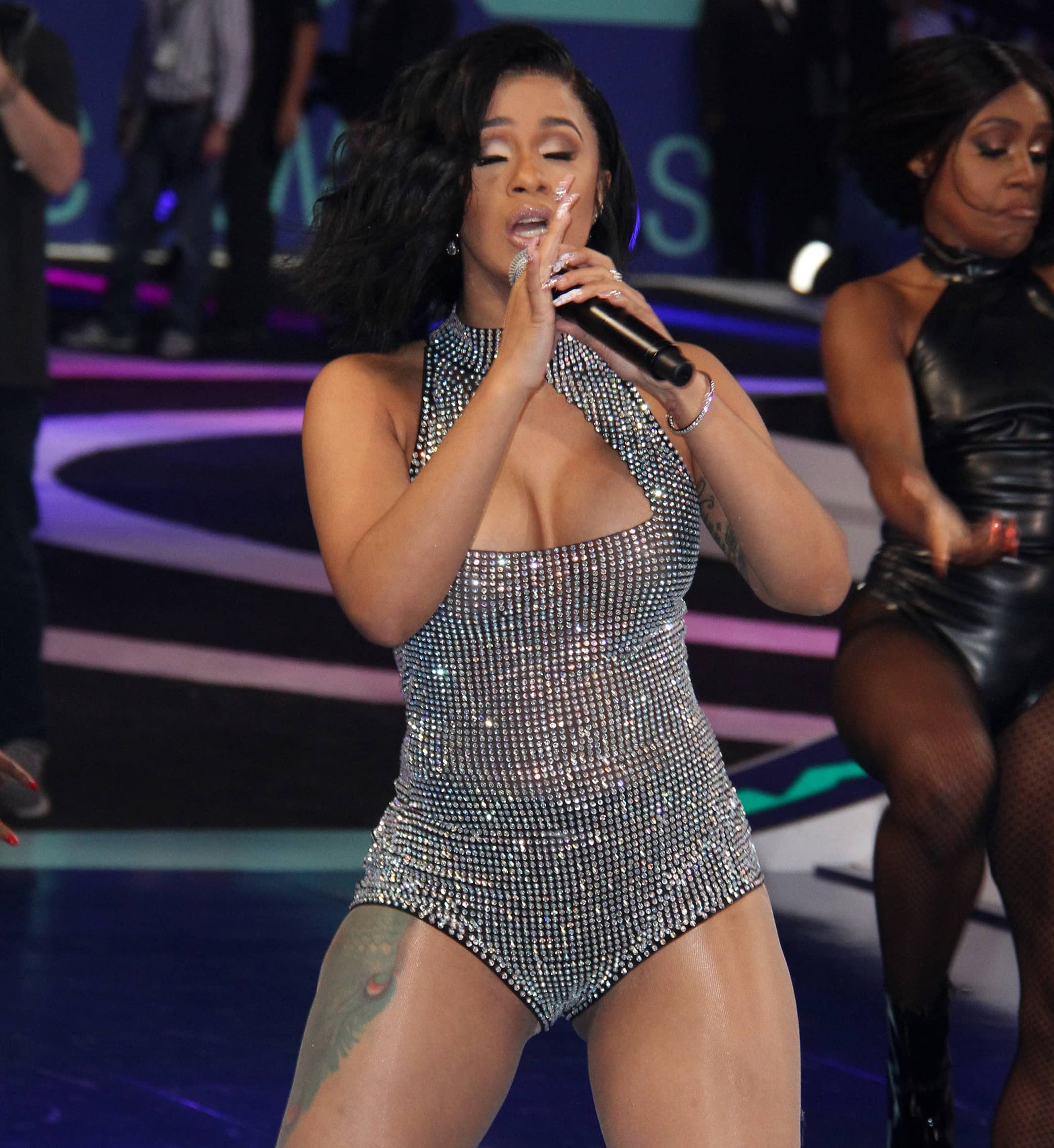 Cardi B performs "Bodak Yellow" in a disco ball-inspired outfit at the 2017 MTV Video Music Awards (Credit: WENN / Brian To / FayesVision / Adriana M. Barraza / Judy Eddy / Avalon / Instar)
From the very beginning, Cardi B has talked about her plastic surgery, including breast augmentation, butt augmentation (silicone injections), veneers, and liposuction.
Unfortunately, her plastic surgery journey hasn't always been smooth sailing. She has encountered complications and has now sworn off getting any further surgery.
Cardi B's Early Plastic Surgery Procedures
In an interview with VladTV on YouTube, Cardi B said she has always felt good about her body and felt pretty; however, she's wanted to "get her boobs done" since she was 16 years old. Small breasts run in her family, so she knew she wasn't going to develop the way she wanted.
These insecurities were exacerbated when she started working in a strip club at 21. As soon as she started stripping, she felt like getting breast augmentation was a necessity.
This surgery went as expected as Cardi went to a plastic surgeon. She was happy with the results but then started to feel insecure about other parts of her body.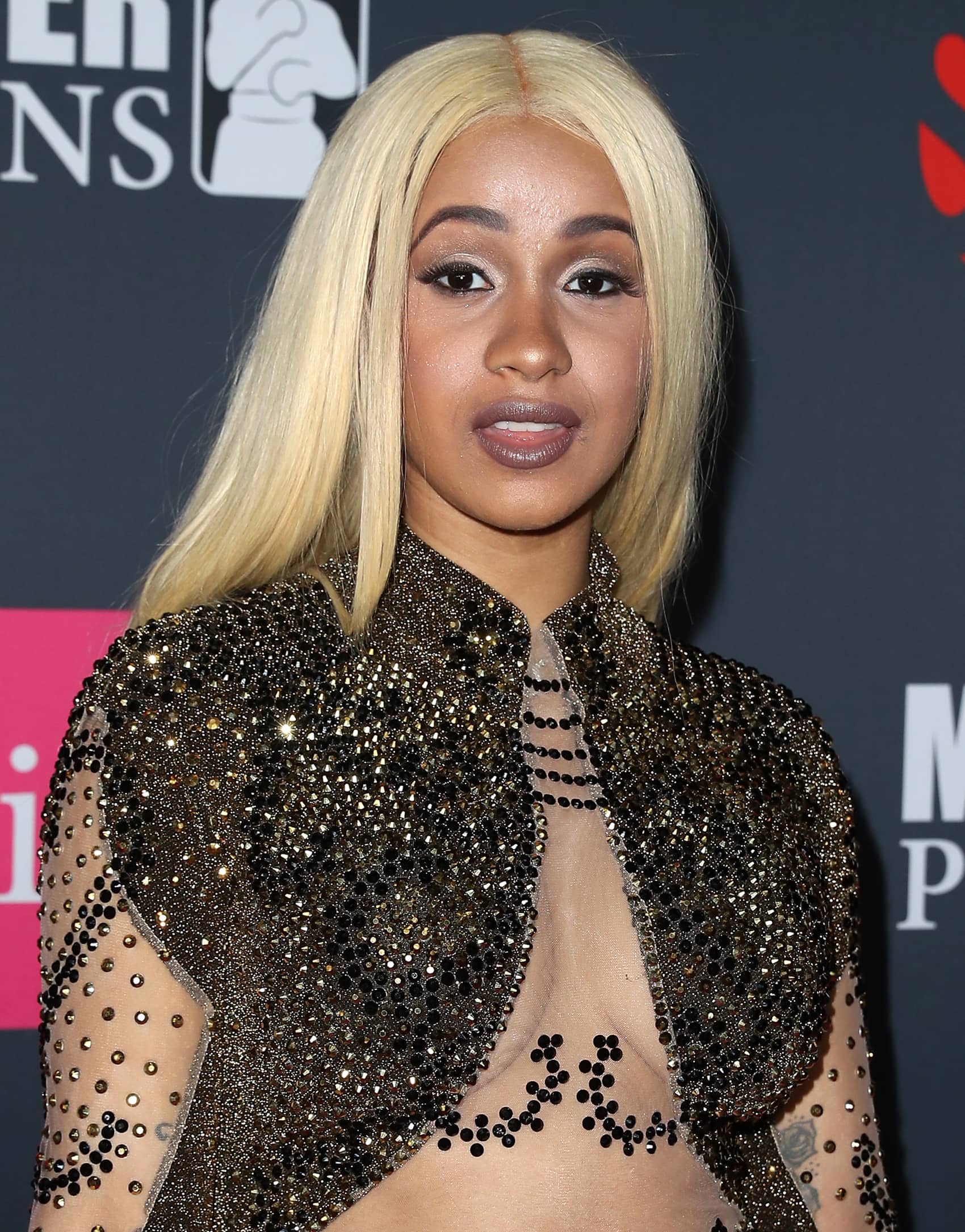 Recording artist Cardi B arrives on T-Mobile's magenta carpet during the Showtime, WME IME, and Mayweather Promotions VIP Pre-Fight Party for Mayweather vs. McGregor at T-Mobile Arena on August 26, 2017, in Las Vegas, Nevada (Credit: WENN / Brian To / FayesVision / Adriana M. Barraza / Judy Eddy / Avalon / Instar)
Following her breast augmentation, she started working in a new club where a lot of the other girls had more curves and bigger butts. She said she began to feel insecure about her curves and that she wasn't "thick enough."
To increase her curves, she sought out illegal silicone injections. She chose this method because she didn't have enough fat for a fat transfer but was desperate for a bigger behind.
Many of the other girls at the strip club were going to a woman in Queens to get silicone injections that would give them a bigger behind. Overall, she was happy with the results.
When asked if she was concerned about the health risks, she said she didn't think she was at risk because so many people were doing it – all the strippers and bartenders in New York were going.
Since small breasts run in her family, Cardi B had her breasts done when working as a stripper (Credit: WENN / Brian To / FayesVision / Adriana M. Barraza / Judy Eddy / Avalon / Instar)
She told GQ that she paid $800 for these unregulated injections in a Queens basement.
Fortunately, she didn't experience any health complications, although she told the magazine, "it was the craziest pain ever. I felt like I was going to pass out. I felt a little dizzy. And it leaks for, like, five days".
After one cheek, she needed a break. The woman gave her some cookies and milk, and then they moved on to the second.
Cardi B had planned to go back for further treatments; however, "by the time I was gonna go get it, the lady got locked up 'cause she's supposedly killed, somebody. Well – somebody died on her table."
This isn't surprising to medical professionals who have spoken about the non-FDA-approved treatment. According to experts, liquid silicone can migrate into the bloodstream, causing loss of limbs, heart complications, and death. Negative health consequences can even show up between 10 and 15 years later.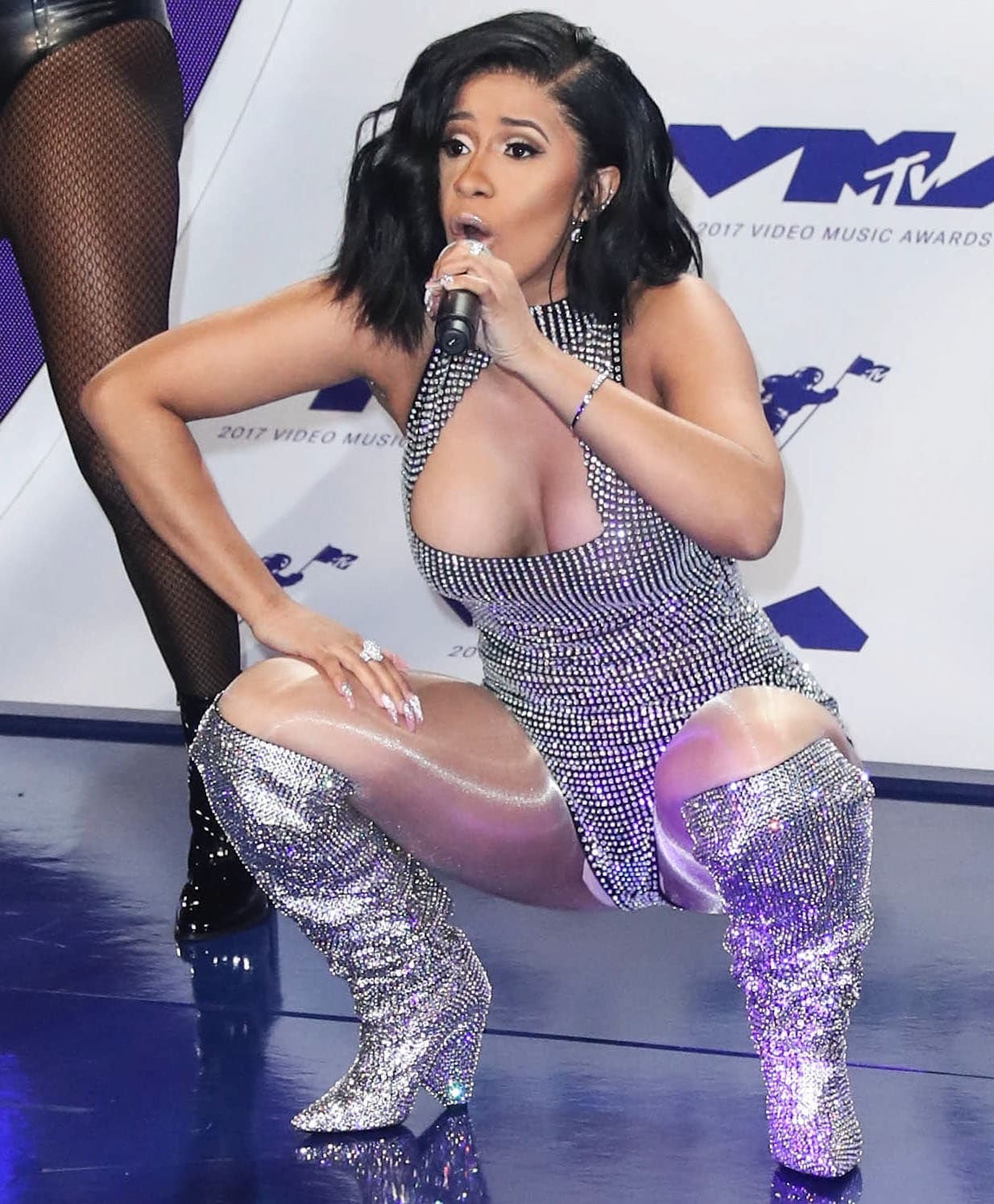 Rapper Cardi B (Belcalis Marlenis Almanzar) performs at the 2017 MTV Video Music Awards (Credit: WENN / Brian To / FayesVision / Adriana M. Barraza / Judy Eddy / Avalon / Instar)
In addition to breast and butt augmentation, the rapper has also been very open about her teeth transformation. In her single "Bodak Yellow," she raps, "I got a bag and fixed my teeth." She has always been very open about her insecurity with her teeth.
Her new smile made its debut in 2017 when she appeared on Season 7 of Love and Hip Hop. These porcelain veneers replaced her self-proclaimed "baby teeth" and are estimated to have cost $12,500.
Cardi still loves her new smile and says she even smiles when she's mad because she wants to show off her teeth.
Plastic Surgery Complications
Following the birth of her daughter Kulture, Cardi B went under the knife once again. This time she got liposuction and another breast augmentation.
This is a fairly standard procedure, especially in Hollywood, and it can seem relatively quick, straightforward, and easy. That's at least what Cardi expected. She thought she would be able to get the procedures and continue working.
Rapper Cardi B, wearing a Nicolas Jebran dress, arrives at The Recording Academy And Clive Davis' 2020 Pre-GRAMMY Gala held at The Beverly Hilton Hotel on January 25, 2020, in Beverly Hills, Los Angeles, California (Credit: WENN / Brian To / FayesVision / Adriana M. Barraza / Judy Eddy / Avalon / Instar)
Unfortunately, this was not the case, and trouble started when Cardi went back to performing too soon after her surgery.
USA Today shared a quote from Cardi when she started to notice things were going array. She was performing at the Beale Street Music Festival in Memphis when she told fans, "I have some news for y'all. I should have canceled today… I shouldn't really be performing because moving too much is gonna f—k up my lip. But… I'm still gonna get my (expletive money back, let's go."
Things appeared to get worse as she canceled several shows following this for health reasons. It was rumored that she blacked out before one show, which spurred the decision to cancel future performances.
The rapper started to experience painful swelling in her stomach and feet. Her representatives informed entertainment news website E! News, "Cardi was overzealous in getting back to work, she didn't take the time necessary to fully recover from her surgery.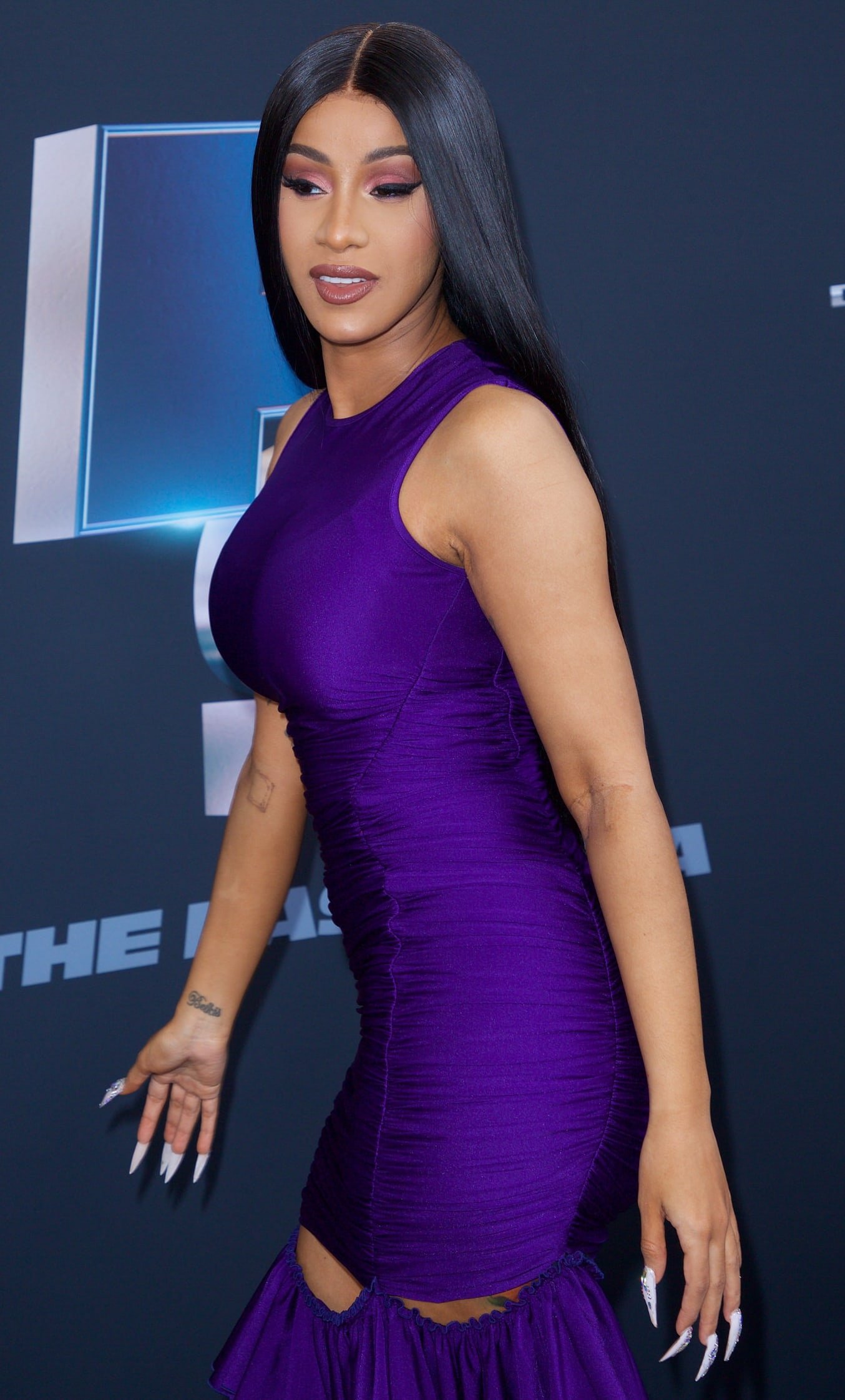 Cardi B shows off her long nails at Universal Pictures Presents The Road To F9 Concert and Trailer Drop on January 31, 2020, in Miami, Florida (Credit: WENN / Brian To / FayesVision / Adriana M. Barraza / Judy Eddy / Avalon / Instar)
Her strenuous schedule has taken a toll on her body, and she has been given strict doctors' orders to pull out of the rest of her performances in May."
Cardi admitted that she didn't realize how long the healing process was and that it takes longer than 3 to 4 months.
Women's Health Magazine reported that Cardi's doctor had told her that the internal stitches from her breast augmentation hadn't healed before she started performing again.
Typically following surgeries like this, doctors advise patients to remain on bed rest with gentle movement to prevent blood clots. The American Society of Plastic Surgeons recommends 6 weeks recovery time for breast augmentation and several months for liposuction.
This was not in the cards for Cardi, as she jumped back into her intense touring schedule, which included flying across the country. There are strict guidelines regarding air travel and plastic surgery as the difference in altitude and pressure can cause increased swelling and damage.
Some fans started to express some unfavorable options about Cardi B getting plastic surgery, and rumors that she canceled the shows because they were sold out triggered Cardi B to go on Instagram Live.
Cardi B and Offset married in a private ceremony in 2017 (Credit: WENN / Brian To / FayesVision / Adriana M. Barraza / Judy Eddy / Avalon / Instar)
Huffington Post shared some of Cardi's responses from her Instagram live. She said, "Listen, I do whatever the f—k I want to do with by body. Let me tell you something, b—tch. I don't have the time of day like you do. Like, my job as an entertainer is a 24-hour job, bro. So no, I don't have time to work out and I wanted specific things that I know that no matter how much I work out – is not get fixed. Like my boobs, no matter how much I work out, they were not gonna lift themselves, so year, I had to get f—king surgery".
She also tweeted her defense to canceling shows, "I even show ya how swollen my feet got when I get off a plane so imagine how much stomach and my back get and the pain I feel due to surgery." She also shared a photo showing the extreme swelling in her feet on Instagram with a similar caption.
After a few close calls, it seems as though Cardi is done with plastic surgery for good. Last year in June, Cardi tweeted, "I been working out for the past 2 weeks cause b–ch I ain't getting surgery again, but let me tell you I haven't got a headache ever since."
She has continued to post on social media about how she feels about her body. She has continued to work-out, share her struggles, and wins. She is one of the few celebrities who will go on social media with no makeup, filter, and natural hair.
Just last month, she addressed the "haters" and said that she is happy with her appearance and feels good about herself.
Cardi B dressed as a nurse in a white zip-up dress paired with red thigh-high boots for her performance at iHeartRadio Powerhouse in 2019 (Credit: WENN / Brian To / FayesVision / Adriana M. Barraza / Judy Eddy / Avalon / Instar)
There is no doubt Cardi does and says what she wants, and it's what her 85.4 million followers on Instagram love about her. Her transparency about her plastic surgery journey is refreshing, and we're just happy she took the time to put her health first.
In a conversation with Mariah Carey for Interview magazine, she once again spoke openly about her experience with plastic surgery.
"I was also really skinny when I was younger, and in the Bronx, it's about being thick and having an a**, so young boys would be like, 'Look at your flat a**. You ain't got no titties.' And it would make me feel so ugly and undeveloped."
"Even when I was 18 and became a dancer, I had enough money to afford to buy boobs, so every insecurity that I felt about my breasts was gone."
"When I was 20, I went to the urban strip club, and in the urban strip clubs, you had to have a big butt. So I felt insecure about that. It took me back to high school. So I got my a** done. And then I felt super confident."
Cardi B Turns the AMAs Red Carpet Into a Garden With Her Floral Look
In October 2018, Cardi B got everyone talking with her floral outfit at the 2018 American Music Awards. She was joined by her husband, Offset, Kelsea Ballerini, Jennifer Lopez, Taylor Swift, and Halsey.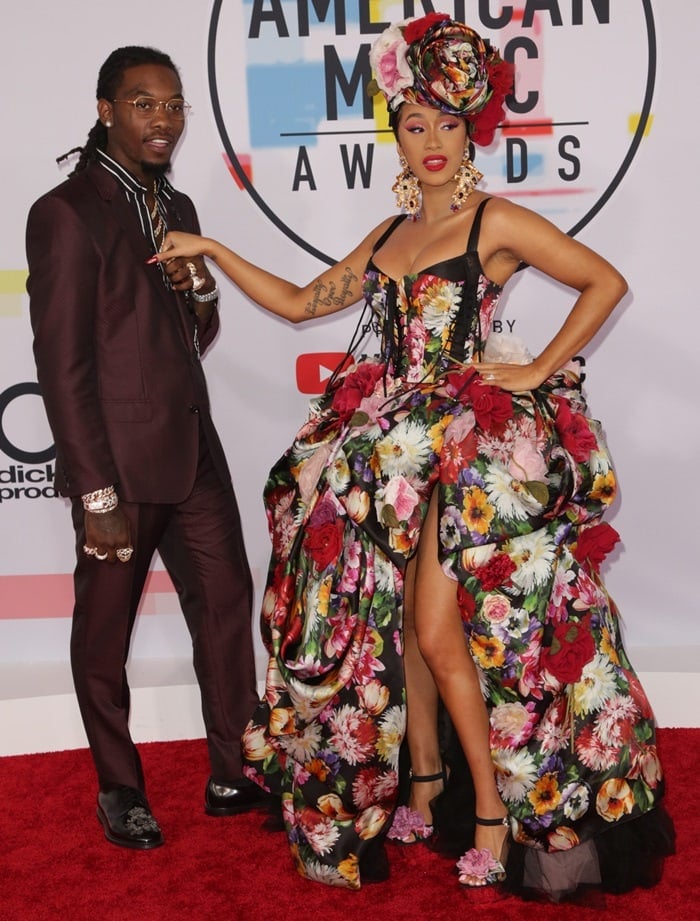 Cardi B posing with her husband Offset on the red carpet at the 2018 American Music Awards at the Microsoft Theater in Los Angeles on October 9, 2018 (Credit: WENN / Brian To / FayesVision / Adriana M. Barraza / Judy Eddy / Avalon / Instar)
In addition to being nominated for eight prizes, during the show, she performed her song "I Like It" with collaborators Bad Bunny and J Balvin.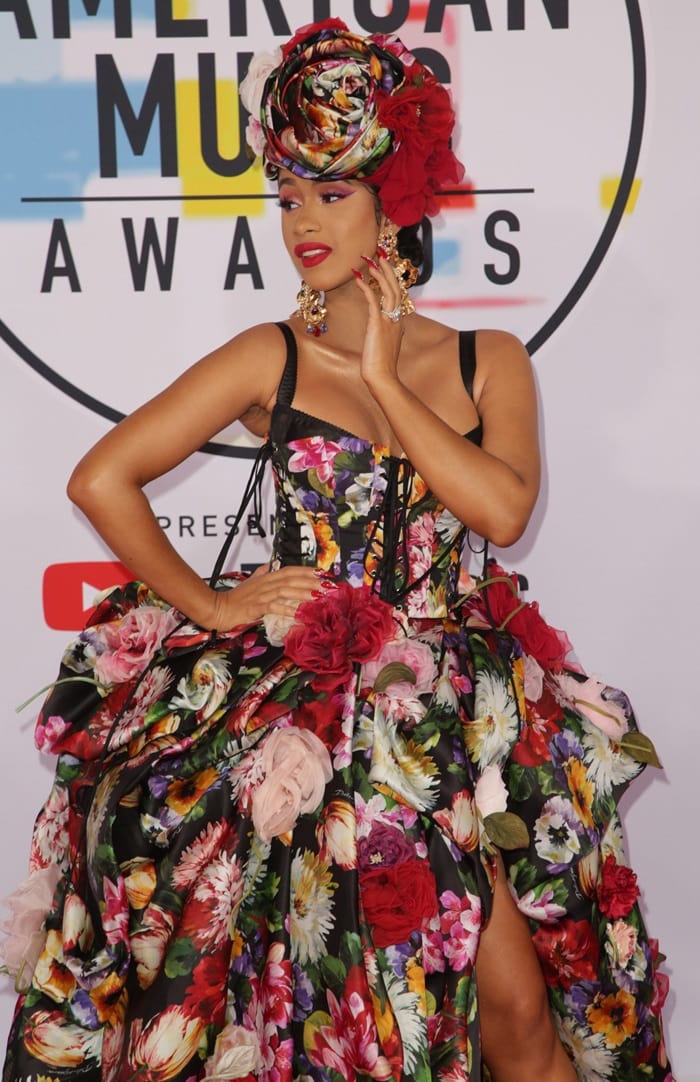 Cardi B caused a stir with a floral-embellished headpiece and large earrings (Credit: WENN / Brian To / FayesVision / Adriana M. Barraza / Judy Eddy / Avalon / Instar)
The then 25-year-old rapper caused a stir in a floral-printed Dolce & Gabbana Spring 2019 gown paired with a matching hat that would fit in at a royal wedding.
Cardi B rocked a floral-printed Dolce & Gabbana Spring 2019 gown (Credit: WENN / Brian To / FayesVision / Adriana M. Barraza / Judy Eddy / Avalon / Instar)
Looking like a walking bouquet in her thigh-high slit dress, Cardi accessorized with incredibly large earrings, soft pink eyeshadow, and gold platform sandals covered in petals.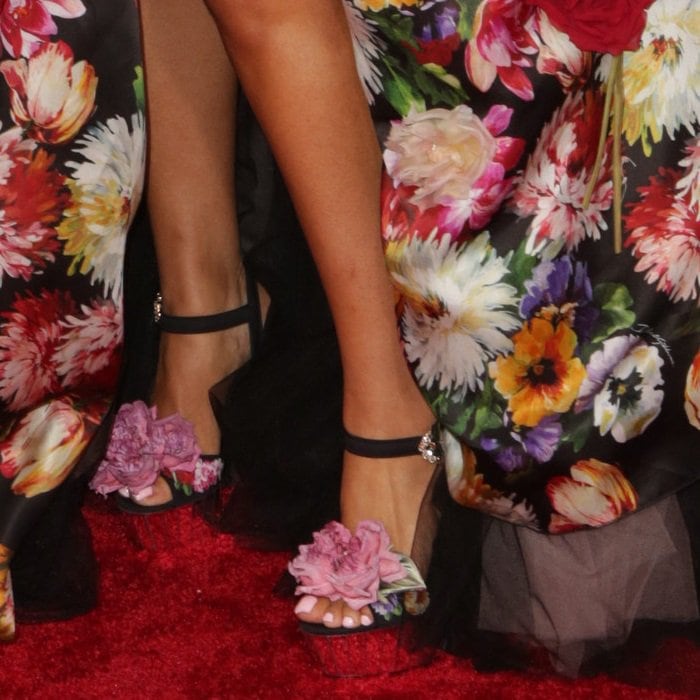 Cardi B shows off her feet in gold platform sandals covered in petals (Credit: WENN / Brian To / FayesVision / Adriana M. Barraza / Judy Eddy / Avalon / Instar)